Personal Loans Market Outlook - 2030
The global personal loans market size was valued at $47.79 billion in 2020, and is projected to reach $719.31 billion by 2030, growing at a CAGR of 31.7% from 2021 to 2030. 
With an economic crisis triggered by the disruption to the global economy, discretionary spending across families has reduced drastically. Moreover, due to the prevailing economic uncertainty, there is a disrupted supply chain which is further responsible for dampening consumer demand and lenders are becoming more cautious while providing loans during the pandemic situation.
Personal loan is an amount of money borrowed by an individual for a variety of purposes such paying for home renovations, consolidate debt, and wedding. In addition, personal loans are generally offered by banks, credit unions, and online loan providers. Moreover, personal loans typically have lower interest rates than credit cards and can be used to consolidate multiple credit card debts into a single and lower-cost monthly payment.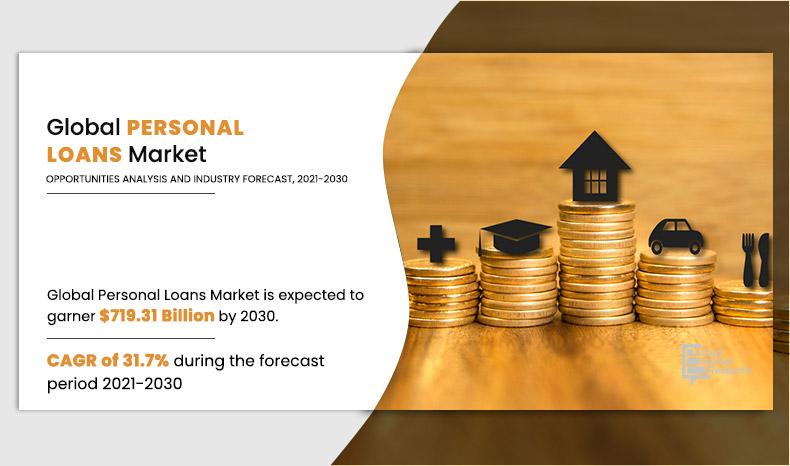 With low interest rates & higher borrowing limits, personal loans are attracting a greater number of consumers, which is a major driving factor for the market growth. In addition, personal loans with a single & fixed-rate monthly payment is easier to manage than several credit cards with different interest rates, payment due dates, and other variables. These factors contribute toward growth of the personal loans market. However, growing number of bad debts among individuals availing personal loans and higher fees & penalties charged for personal loans are some of the factors that limit the market growth. 
On the contrary, developing economies such as India, Malaysia, Bangladesh, China, and South Korea offer significant opportunities for personal loans companies to expand their offerings as huge population of these nations are in a constant need for loans to improve their standard of living, for which consumers hugely depend upon personal loans. Moreover, personal loan firms are rapidly switching toward digitalized business operations, thus, adoption & implementation of technologies such as chatbots, big data analytics, IoT, and artificial intelligence (AI) has increased tremendously, which is anticipated to open new avenues for the market in the coming years.
The report focuses on growth prospects, restraints, and trends of the personal loans market analysis. The study provides Porter's five forces analysis to understand the impact of various factors such as bargaining power of suppliers, competitive intensity of competitors, threat of new entrants, threat of substitutes, and bargaining power of buyers on the personal loans market outlook.
Segment Review
The personal loans market is segmented into type, age, marital status, employment status, and region. By type, the market is bifurcated into P2P marketplace lending and balance sheet lending. Depending on age, it is segmented into less than 30, 30-50, and more than 50. Based on marital status, the market is segregated into married, single, and others. By employment status, the market is divided salaried and business. The salaried segment is further segregated into male, female, and others. Region wise, the market is analysed across North America, Europe, Asia-Pacific, and LAMEA. 
Personal Loans Market

---
By Type
P2P Marketplace Lending segment will grow at a highest CAGR of 32.2% during 2021 - 2030.
Get more information on this report :
Request Sample Pages
Competitive Analysis 
The personal loans market analysis includes top personal loans companies such as American Express, Avant, LLC, Barclays PLC, DBS Bank Ltd, Goldman Sachs, LendingClub Bank, Prosper Funding LLC, Social Finance, Inc., Truist Financial Corporation, and Wells Fargo. These players have adopted various strategies to increase their market penetration and strengthen their position in the personal loans industry.
COVID-19 Impact Analysis
The COVID-19 pandemic has a negative impact on the personal loans, owing to economic slowdown, unpredictability in global financial sectors, and highly volatile market. Furthermore, coronavirus lockdown has resulted in an acute financial crisis, massive fears of unemployment, and salary cuts among individuals. Moreover, lenders are unable to acquire customer through small ticket lending and to target younger & low-income borrowers with short term credit needs, these are becoming major challenging factors to the market. Therefore, demand for personal loans product offerings has declined tremendously during the global health crisis. 
Top Impacting Factors
Numerous Benefits Provided by Personal Loans 
Personal loans have numerous benefits for which it is in huge demands among consumers. It generally does not require collateral to get approved of the loan amount. Furthermore, one major reason for availing personal loans is that it allows to manage several credit cards with different interest rates and payment due dates. Moreover, borrowers that qualify for a personal loan with a lower interest rate than their credit cards are able to streamline their monthly payments and save money for future financial consequences. Therefore, these benefits provided by personal loans are becoming major factors that propels the market growth.
High Fees and Penalty Charges
Generally, personal loans engage in fees and penalties that drive up the cost of borrowing. Some loans come with origination fees of 1% to 6% of the loan amount. The fees are either rolled into the loan or subtracted from the amount disbursed to borrowers. Moreover, several lenders charge prepayment penalties if the borrower pays balance before the end of their loan term. Furthermore, consumers ignoring fine print of details including fees and penalties before taking personal loan creates a sense of distrust in the minds of consumers. Therefore, this is a major factor limiting growth of the personal loans market.  
Technological Advancements in the Field of Lending
Increase in adoption of advanced technologies such as chatbots, IoT, AI, and big data analytics have led to growth of the personal loans market growth. In addition, with increase in digitalization, personal loans providers are looking forward to quickly invest on client engagement by providing digital and voice-enabled assistants. Moreover, chatbots, which is a software application used to conduct an on-line chat conversation, are largely used by personal loans firms, as it helps in offering more personalized & user-friendly experience to customers. 
Furthermore, with the help of advance technology, a greater number of startups are coming up with innovative personal loans schemes, for instance, Zopa is a Person-2-Person platform for personal loans. It enables borrowers to access loans from multiple lenders or investors and provides a credit card for online/offline purchases and a fixed-term savings account. These startups are helping consumers to avail loans at the safety of their homes. Therefore, possibilities of technological advancements are unlimited, which are expected to create remunerative opportunities for the growth of the personal loans market.  
Personal Loans Market

---
By Region
Asia-Pacific would exhibit the highest CAGR of 40.2% during 2021-2030
Get more information on this report :
Request Sample Pages
Key Benefits for Stakeholders 
The study provides in-depth analysis of the global personal loans market share along with current trends and future estimations to illustrate the imminent investment pockets.
Information about key drivers, restrains, and opportunities and their impact analysis on the global personal loans market size are provided in the report.
Porter's five forces analysis illustrates the potency of buyers and suppliers operating in the personal loans market.
An extensive analysis of the key segments of the industry helps to understand the personal loans market trends.
The quantitative analysis of the global personal loans market forecast from 2021 to 2030 is provided to determine the market potential. 
 Personal Loans Market Report Highlights
Aspects
Details
BY TYPE

P2P MARKETPLACE LENDING
BALANCE SHEET LENDING

BY AGE

LESS THAN 30
30-50
MORE THAN 50

BY MARITAL STATUS
BY EMPLOYMENT STATUS
BY REGION

NORTH AMERICA (US, Canada)
EUROPE (UK, Germany, France, Italy, Spain, Netherlands, Rest of Europe)
ASIA-PACIFIC (China, India, Japan, Singapore, Australia, Rest of Asia-Pacific)
LAMEA (Latin America, Middle East, Africa)

Key Market Players
AMERICAN EXPRESS, AVANT, LLC, BARCLAYS PLC, DBS BANK LTD, GOLDMAN SACHS, LENDINGCLUB BANK, PROSPER FUNDING LLC, SOCIAL FINANCE, INC., TRUIST FINANCIAL CORPORATION, WELLS FARGO