Personalized Cancer Medicine Market Research, 2032
The global personalized cancer medicine market size was valued at $180 billion in 2022, and is projected to reach $507.2 billion by 2032, growing at a CAGR of 10.9% from 2023 to 2032. Personalized medicine, also referred to as precision medicine, is an approach to healthcare that revolves around customizing medical treatment based on the individual characteristics of each patient. This approach acknowledges the uniqueness of each patient and recognizes that treatments effective for one person may not be suitable for another.
Personalized cancer medicine focuses on utilizing an individual's distinct genetic makeup, lifestyle, and medical history to develop targeted and more efficient treatments. Through advanced diagnostic tests and tools, healthcare providers identify genetic variations or other biomarkers associated with specific diseases, enabling them to create personalized treatment plans that cater to the specific needs of each patient. Furthermore, personalized medicine is a rapidly advancing field with the potential to revolutionize healthcare by enhancing the accuracy and effectiveness of medical treatments, reducing healthcare expenses, and improving patient outcomes. 
The personalized cancer medicine market was negatively impacted during the lockdown period owing to a disrupted global supply chain, and decrease in hospital visits of patients. However, post COVID-19 prevailing cases of cancer has highlighted the need for innovation in the healthcare sector and thus shown positive impact on the growth of the market.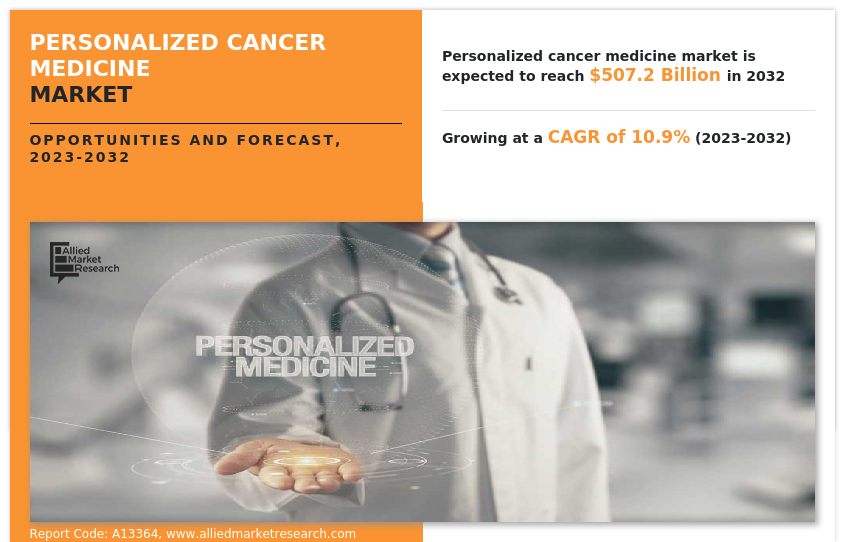 Market Dynamics 
Growth of the personalized cancer medicine market size is mainly attributed to the rise in the prevalence of cancer patients thus, increases the demand for personalized diagnostic and personalized therapeutics solutions. In addition, advancements in genomics and proteomics are further boosting the market growth. The rapid progress in genomics and proteomics has allowed for the identification of disease biomarkers, which are specific molecules or characteristics that indicate the presence of cancer or a predisposition to developing cancer. By identifying these biomarkers, researchers and medical professionals can gain insights into the underlying mechanisms of the disease, as well as develop targeted therapies that are tailored to the individual patient's genetic makeup and specific biomarker profile. 
Additionally, companion diagnostics, an important component of personalized medicine, allows for the identification of patients who are likely to benefit from a particular treatment, and also helps to monitor the patient's response to that treatment over time. By using companion diagnostics, physicians can make more informed decisions about which treatments are most appropriate for the patients, and adjust those treatments as necessary based on the patient's individual response. Thereby driving the personalized cancer medicine market growth. 
Furthermore, presence of large number of key players in the market is further expanding the market growth. Aadi Bioscience, Inc., Abbott laboratories, ARIEL Precision Medicine, Inc., Illumina, Inc. and Qiagen are few of the key players offering personalized cancer medicine solutions. These key players are adopting various growth strategies to expand its business and remain in competition with other key players. For instance, in April 2021, F. Hoffmann-La Roche Ltd., receives FDA approval for first companion diagnostic to identify endometrial cancer patients eligible for anti-PD1 immunotherapy. More such product offering , approvals and strategies adopted by the key players is boosting the growth during personalized cancer medicine market forecast.  
Although various factors are driving the growth of the market, factor such as lack of awareness about personalized medicines among the population in underdeveloped countries is causing hindrance to the market growth. In addition, the high cost of the therapies makes it inaccessible for people in poor countries, which further acts as a restraint to the market growth.  
The COVID-19 pandemic's effects have a severe negative influence on personalized cancer medicine industry. Cancer diagnoses, treatments, and research activities have all been delayed as a result of the outbreak's interference with the healthcare system. The advancement of innovative therapies had been hampered by the suspension or slowing of clinical trials for personalized cancer treatments. Additionally, the pandemic-related economic downturn has put financial strain on both patients and healthcare providers, adding to the burden of the expensive personalized cancer treatments. Thus, pandemic has a detrimental effect on the market for personalized cancer treatments.  
However, the COVID-19 pandemic has highlighted the shortcomings of present therapeutic strategies, emphasizing the need for customized treatments and a greater comprehension of each patient's genetic profile. Additionally, the market for personalized cancer medications is expanding due to the cancer incidence's continued high rate and the increased emphasis on research and development activities. Key market companies have the chance to recoup momentum and deal with the backlog of postponed or delayed cancer cases as healthcare systems stabilize and resume normal operations. Furthermore, governments and healthcare organizations have recognized the importance of enhancing infrastructure, resources, and capacity to provide optimal cancer care, including improving the availability and accessibility of precision medicines. These investments contribute to the favorable prospects and advancement of personalized cancer medicine which drive the growth of the personalized cancer medicine industry during forecast period. 
Segmental Overview 
The global Personalized cancer medicine market is segmented based on product, end user and region. By product, the market is categorized into personalized medicine diagnostics and personalized medicine therapeutics. Based on end user, the market is segmented into hospitals & clinics, and others. Region wise, the market is analyzed across North America (the U.S., Canada), Europe (Germany, France, the UK, and rest of Europe), Asia-Pacific (Japan, China and rest of Asia-Pacific), and LAMEA (Latin America, Middle East & Africa). 
By Product Type  
The personalized medicine diagnostics segment was the largest revenue personalized cancer medicine market share in 2022, and is anticipated to grow at the fastest rate during the forecast period, owing to advancements in genomic technologies, increased collaborations between diagnostic companies, pharmaceutical companies, and academic institutions, regulatory support, and the rising demand for personalized treatment approaches. These factors have collectively stimulated the development and adoption of personalized medicine diagnostics, driving its rapid expansion. In addition, the growing burden of the cancer-affected population is further attributed to the demand of personalized diagnostics.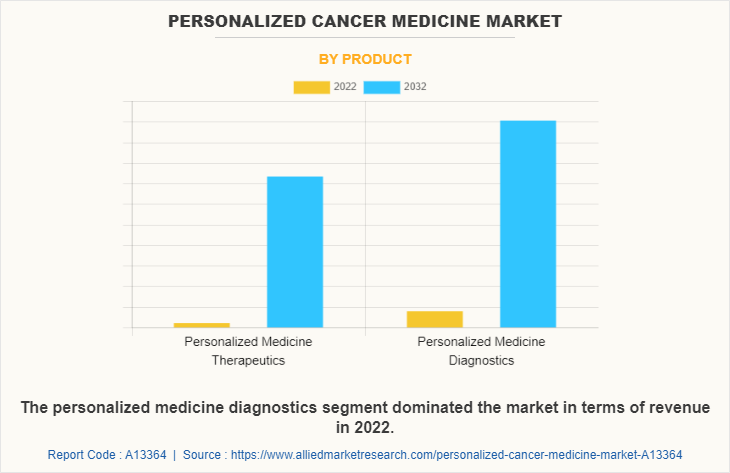 By End User
On the basis of end user, the hospitals & clinics segments was the largest revenue contributor to the market in 2022. This is attributable to an increase in the number of patients receiving individualized care in hospitals, which are home to cutting-edge genomic and proteomic technology required for patient data analysis and illness biomarker identification. On the other hand, the others segment is anticipated to see the highest CAGR during the projection period due to the breakthroughs made in personalized cancer medicine by CROs, research institutes, bio and health informatics firms, pharma & biotech companies, and diagnostic tool companies.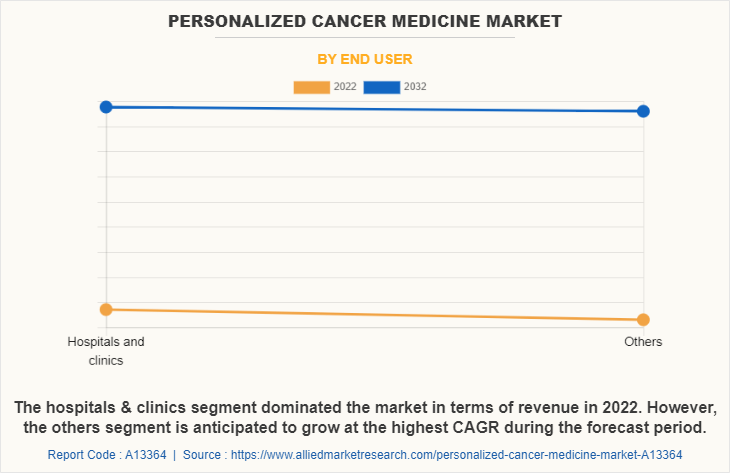 By Region
The personalized medicines market is analyzed across North America, Europe, Asia-Pacific, and LAMEA. North America accounted for a major personalized cancer medicine market share in 2022, and is expected to maintain its dominance during the forecast period owing to presence of several major players, such as F. Hoffmann-La Roche Ltd., ARIEL Precision Medicine, Inc, Abbott Laboratories, and Bristol Meyer Squibb is the prime factor boosting the growth of personalized medicines market in this region. In addition, the high prevalence of cancer in North America, is increasing the demand for personalized medicines solutions that can provide more targeted and effective treatments.
Asia-Pacific expected to grow at the highest rate during the forecast period. The market growth in this region is attributable to presence of pharmaceutical companies in the region as well as growth in the purchasing power of populated countries, such as China and India. Moreover, rise in personalized medicine expenditure and adoption of high-tech processing to improve the production of personalized solutions, is anticipated to drive the growth of the market.  
Furthermore, Asia-Pacific region has a large and growing population, which is driving demand for more personalized healthcare solutions, including personalized cancer medicines. Also, the prevalence of cancer with the ageing population in the Asia-Pacific region, which is driving demand for more effective and targeted treatments. Advances in genomics, bioinformatics, and other technologies are enabling the development of new personalized medicine solutions in this region.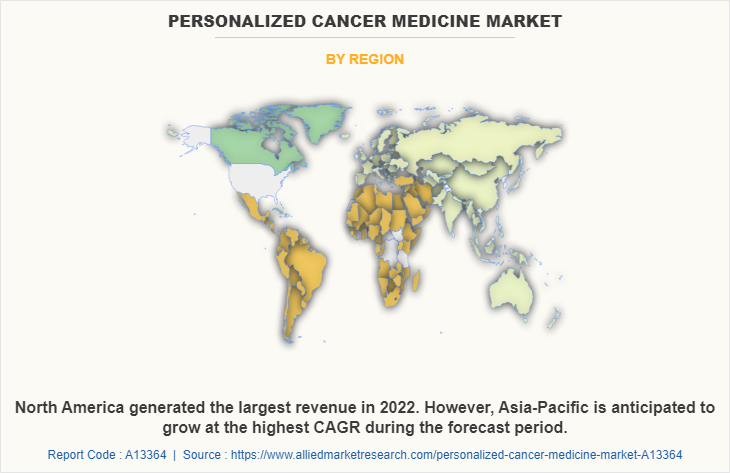 COMPETITION ANALYSIS 
Competitive analysis and profiles of the major players in the personalized cancer medicines market, such as Abbott Laboratories, ARIEL Precision Medicine, Inc., F. Hoffmann-La Roche Ltd., GE Healthcare, Inc, Aadi Bioscience, Inc., Illumina, Inc., Qiagen, Novartis AG, Thermo Fisher Scientific Inc., Bristol-Myers Squibb Company. Major players have adopted product launch, product approval, partnership, acquisition, collaboration, branding, expansion and agreement as key developmental strategies to improve the product portfolio of personalized cancer medicines.  
Recent Approvals in the Personalized Cancer Medicines Market
In December 2022, Qiagen received the U.S. Food and Drug Administration (FDA) approval for its therascreen KRAS RGQ PCR kit as a companion diagnostic test to Mirati Therapeutic's drug KRAZATI (adagrasib) for diagnosis and treatment of non-small cell lung cancer. 
Recent Product Launches in the Personalized Cancer Medicines Market 
In March 2022, Illumina, Inc. announced the launch of TruSight Oncology (TSO) Comprehensive (EU), a single test that assesses multiple tumor genes and biomarkers to reveal the specific molecular profile of a patient's cancer.‐¯ 
In December 2021, F. Hoffmann-La Roche Ltd., announced today the launch of NAVIFY‐¯Oncology Hub, its latest digital solution to further enhance clinical decision support and workflow optimization for oncologists and oncology care teams. 
Recent Partnership in the Personalized Cancer Medicines Market 
In January 2020, Illumina, Inc., announced a multi-year partnership with Agendia N.V., a world leader in precision oncology for breast cancer, to co-develop‐¯in vitro‐¯diagnostic (IVD) tests for oncology testing. The partnership is intended to advance the use of next-generation sequencing (NGS) for decentralized oncology testing and aligns with Illumina's approach to IVD partnerships in oncology. 
Recent Collaboration in the Personalized Cancer Medicines Market 
In November 2021, GE Healthcare, a global leader in medical imaging solutions and Optellum, leader in AI decision support for the early diagnosis,  announced that they have signed a letter of intent to collaborate to advance precision diagnosis and treatment of lung cancer. 
In July 2021, Qiagen announced a strategic alliance with Sysmex Corporation for the development and commercialization of cancer companion diagnostics, thereby expand its leadership in this field. 
Key Benefits For Stakeholders
This report provides a quantitative analysis of the market segments, current trends, estimations, and dynamics of the personalized cancer medicine market analysis from 2022 to 2032 to identify the prevailing personalized cancer medicine market opportunity.
The market research is offered along with information related to key drivers, restraints, and opportunities.
Porter's five forces analysis highlights the potency of buyers and suppliers to enable stakeholders make profit-oriented business decisions and strengthen their supplier-buyer network.
In-depth analysis of the personalized cancer medicine market segmentation assists to determine the prevailing market opportunities.
Major countries in each region are mapped according to their revenue contribution to the global market.
Market player positioning facilitates benchmarking and provides a clear understanding of the present position of the market players.
The report includes the analysis of the regional as well as global personalized cancer medicine market trends, key players, market segments, application areas, and market growth strategies.
 Personalized Cancer Medicine Market Report Highlights
Aspects
Details
Market Size By 2032
USD 507.2 billion
Growth Rate
CAGR of 10.9%
Forecast period
2022 - 2032
Report Pages
209
By Product

Personalized Medicine Diagnostics
Personalized Medicine Therapeutics

By End User

Hospitals and clinics
Others

By Region

North America (U.S., Canada, Mexico)
Europe (Germany, France, UK, Italy, Spain, Rest of Europe)
Asia-Pacific (Japan, China, Australia, Rest of Asia-Pacific)
LAMEA (Latin America, Middle East And Africa)

Key Market Players
Illumina, Inc., Abbott Laboratories, Aadi Bioscience, Inc., ARIEL Precision Medicine, Inc., Qiagen NV., Novartis AG, Bristol-Myers Squibb Company, F. Hoffmann-La Roche Ltd., Thermo Fisher Scientific Inc., General Electric
Analyst Review
The increase in demand for novel therapeutics and rise in investments globally are expected to offer profitable opportunities for the expansion of the market. In addition, favorable government initiatives and a rise in awareness about early diagnosis and treatment of cancer through precision medicine is driving the market growth.
Rapidly expanding clinical trial activities, recent commercialization of personalized therapeutic products, increasing focus of key players in adopting strategies to increase accessibility, and utilization of precision medicine are expected to fuel the market growth during the forecast period. Further, geriatric people are at high risk of cancer due to weekend immunity. Thus, a rise in the number of geriatric population results in rise in demand for effective targeted medications, thereby driving the growth of the market. 
Furthermore, North America accounted for the largest share in terms of revenue in 2022. This growth is attributed to a rise in prevalence of cancer cases and well-established research & commercialization base. However, Asia-Pacific is expected to witness highest growth during the forecast period, owing to rise in geriatric population, unmet medical demands, initiatives by government & non-governmental organizations (NGOs) to promote awareness regarding precision medicine in cancer treatment, and increase in public–private investments in the healthcare sector.