Pest Control Market Research, 2032
The global pest control market was valued at $24.6 billion in 2022, and is projected to reach $42.5 billion by 2032, growing at a CAGR of 5.7% from 2023 to 2032.
Report Key Highlighters:
Quantitative information mentioned in the global pest control market includes the market numbers in terms of value (USD Million) with respect to different segments, pricing analysis, annual growth rate, CAGR (2023-32), and growth analysis.

The analysis in the report is provided based on type, pest type, and application. The study will also contain qualitative information such as the market dynamics (drivers, restraints, opportunities), Porter's Five Force Analysis, key regulations across the region, and value chain analysis.

A few companies, including Anticimex, BASF SE, Bayer AG, Clean kill Environmental Services Ltd., Dodson Pest Control, Inc., Ecolab, FMC Corporation, JG Pest Control, Rollins, Inc., and Syngenta AG, hold a large proportion of the pest control market.

This report makes it easier for existing market players and new entrants to the pest control business to plan their strategies and understand the dynamics of the industry, which ultimately helps them make better decisions.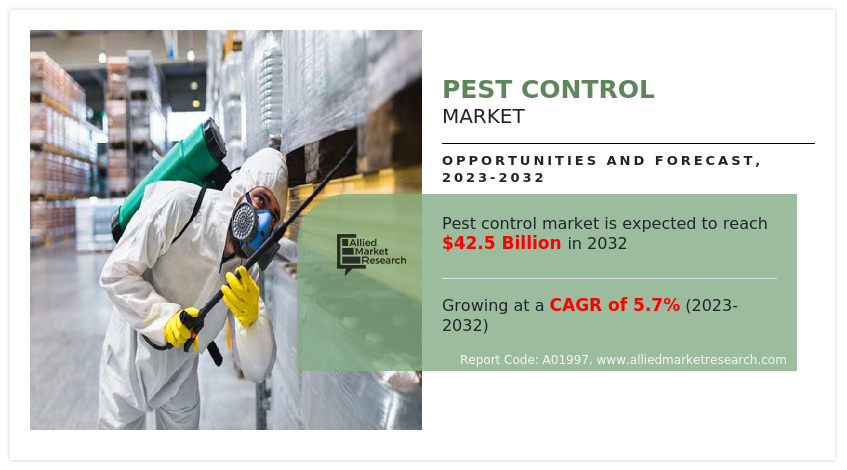 Pesticides are chemicals or mixtures of chemicals that are used for the purpose of mitigating pest damage. Pest control is the management of specific species of insects that are recognized as detrimental to human health. House flies are well-adapted to a wide variety of human habitations, including housing, garbage dumps, and food storage.
Moreover, homeowners have encountered serious issues with bed bugs, mosquitoes, and cockroaches, as these pests destroy property and carry diseases. Thus, pest management has gained significant importance in recent years to repel pests. Chemical control methods are commonly employed for controlling insects and can be applied as sprays, baits, dusts, or fumigants. It is important to use chemicals responsibly and follow safety guidelines to minimize risks to humans, pets, and the environment.
The biological control method involves introducing natural predators, parasites, or pathogens that prey on pests. For example, ladybugs are often used to control aphids in gardens. Furthermore, cultural control practices involve modifying the environment to discourage pests. For example, practicing good sanitation, proper waste management, removing food sources or breeding grounds, and maintaining clean and clutter-free spaces can help prevent pest infestations.
The growth of the global pest control market is attributed to the factors such as increase in urban population all around the world, which has resulted in significant increase in food sources, and conducive living habitats for various pests such as rodents, cockroaches, and mosquitoes.
In addition, rapid migration is being witnessed from rural areas to urban centers, being more prevalent in the developing countries such as India. This has further increased the population density of urban areas, which, in turn, is anticipated to fuel the demand for pest control products and services. Furthermore, rise in concern of consumers from residential and commercial sectors toward maintaining health and hygiene has escalated the adoption of pest control products and services.
Moreover, considerable rise has been witnessed in the prevalence of diseases caused by pests; hence, making it essential to control them. However, health and environmental hazards caused by pesticides, due to their chemical content, is the significant factor anticipated to hamper the market growth during the forecast period.
The global pest control market is segmented into type, pest type, application, and region. Depending on the type, the market is categorized into chemical, mechanical, biological, and others. On the basis of pest type, it is classified into insects, termites, rodents, and others. The insect segment is further segregated into bedbugs, cockroaches, mosquitoes, ants, flies, and others. By application, the market is fragmented into commercial, residential, agriculture, industrial, and others. Region wise, the market is analyzed across North America, Europe, Asia-Pacific, and LAMEA.
Some of the major players analyzed in this report are Anticimex, BASF SE, Bayer AG, Clean kill Environmental Services Ltd., Dodson Pest Control, Inc., Ecolab, FMC Corporation, JG Pest Control, Rollins, Inc., and Syngenta AG.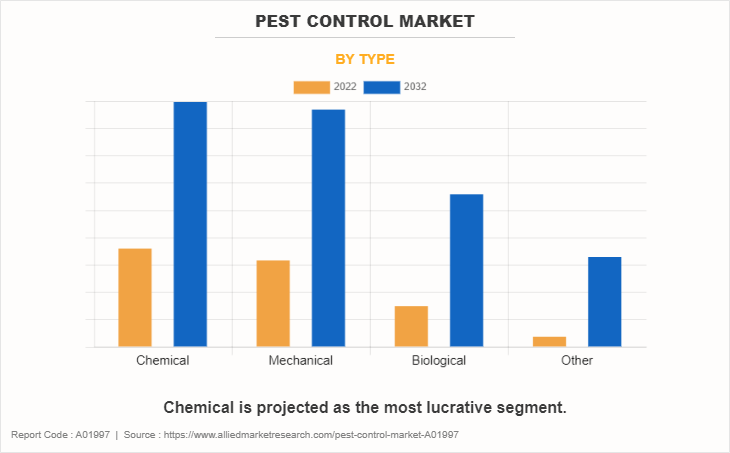 By type, the chemical segment held the largest market share in 2022 and is expected to register the highest CAGR during the forecast period. Advantages of chemical fungicides such as enhanced eradication of mycotoxin-producing pathogen, enhanced value per cost, and efficiency of killing fungi & spores drive the growth of the chemical pest control market.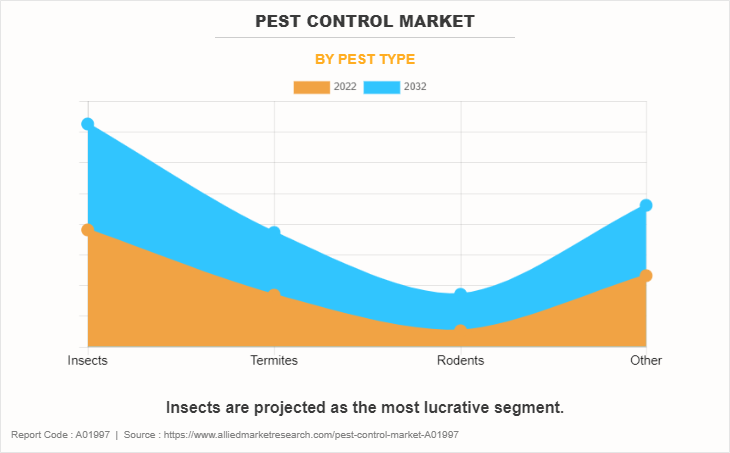 By pest type, the insects segment held the largest market share in 2022 and is expected to register the highest CAGR during the forecast period. There are several methods for controlling pest growth such as mechanical, biological, and chemical methods. Increase in use of insecticides to eradicate insects in hospitals, households, farms, restaurants, and forest plantations has significantly fueled the growth of the pest control for insecticides.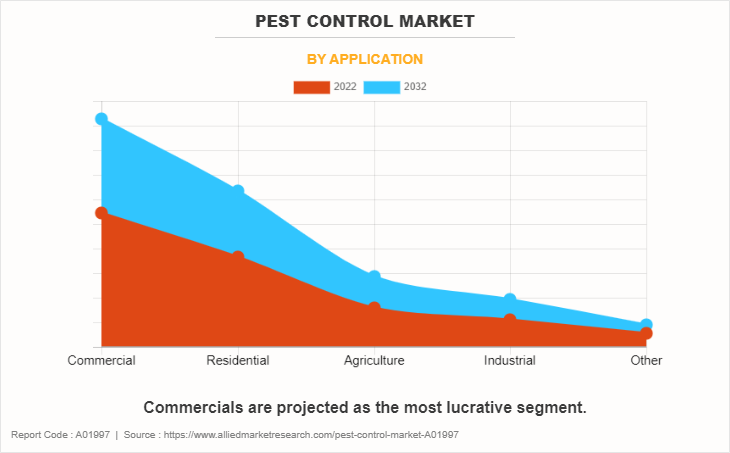 By application, commercial segment held the largest market share in 2022. Utter volumes of stored food, longer time between tenant visits, and types of materials stored are major considerable factors that tend to support the pest growth in storage facilities. Pests such as rodents, cockroaches, bedbugs, and ants are major pest that pose threats to storage facilities. These pests are predicted to spread at least 35 diseases such as tularemia, plague, Hantavirus, and others. Thus, storage facilities need to be controlled with chemical pest for rapid eradication of pest growth.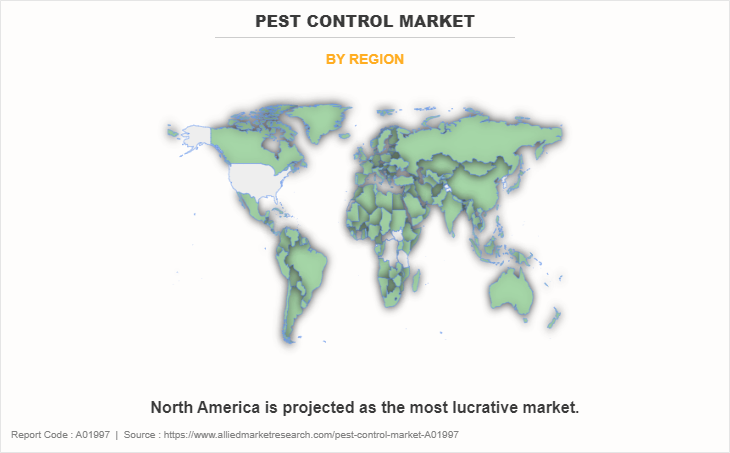 By region, The North America region is one of the fastest-growing regions in the world, with a large population and a growing middle class. Presence of large number of pest control key players in Canada further boost the growth of the North American pest control market. The pest control market is expected to possess high growth potential in North America, owing to increase in construction activities in the region. As per industry experts, the building construction industry will further witness a significant growth over the coming years.
Key Benefits For Stakeholders
This report provides a quantitative analysis of the market segments, current trends, estimations, and dynamics of the pest control market analysis from 2022 to 2032 to identify the prevailing pest control market opportunities.
The market research is offered along with information related to key drivers, restraints, and opportunities.
Porter's five forces analysis highlights the potency of buyers and suppliers to enable stakeholders make profit-oriented business decisions and strengthen their supplier-buyer network.
In-depth analysis of the pest control market segmentation assists to determine the prevailing market opportunities.
Major countries in each region are mapped according to their revenue contribution to the global market.
Market player positioning facilitates benchmarking and provides a clear understanding of the present position of the market players.
The report includes the analysis of the regional as well as global pest control market trends, key players, market segments, application areas, and market growth strategies.
 Pest Control Market Report Highlights
Aspects
Details
Market Size By 2032
USD 42.5 billion
Growth Rate
CAGR of 5.7%
Forecast period
2022 - 2032
Report Pages
370
By Type

Biological
Other
Chemical
Mechanical

By Pest Type

Other
Insects
Termites
Rodents

By Application

Commercial
Residential
Agriculture
Industrial
Other

By Region

North America (U.S., Canada, Mexico)
Europe (Germany, UK, France, Italy, Spain, Netherlands, Belgium, Denmark, Finland, Norway, Sweden, Rest of Europe)
Asia-Pacific (China, Japan, India, South Korea, Australia, Indonesia, Malaysia, Viet Nam, Rest of Asia-Pacific)
LAMEA (Brazil, South Africa,, Saudi Arabia, Argentina, Chile, Peru, UAE, Rest of LAMEA)

Key Market Players
Ecolab, BASF SE, Cleankill Environmental Services Ltd., Bayer AG, Dodson Pest Control, Inc., Syngenta AG, FMC Corporation, Anticimex, JG Pest Control, Rollins, Inc.
Analyst Review
According to the CXOs, pest management products and services are gaining significant traction in the recent years due to exponential population growth, increase in urbanization, and changes in climatic conditions. In addition, implementation of stringent food safety regulations and increase in business &consumer intolerance toward pest issues propel the growth of the market.
The CXOs further added that North America is expected to dominate the global pest control market during the forecast period, due to increase in awareness about health issues related to insects and pests. Implementation of stringent regulations toward hygiene & sanitation and increase in health initiatives is further expected to boost the growth of the market.
As per the CXOs, the industry is characterized by a high number of new market entrants that seek to tap lucrative opportunities in the global market while existing players enter strategic collaborations to increase capacities & expand their reach into emerging markets. Joint venture, merger, and acquisition activities in the industry have increased significantly over the past decade. Companies constantly seek to establish long-term contract agreements with trusted partners for sustainable business operations globally.