The pet furniture market size was valued at $3,443.4 million in 2019, and is projected to reach $5,139.4 million by 2027, growing at a CAGR of 6.5% from 2021 to 2027.
Pet furniture is the furniture's that is developed by manufacturer in accordance to the requirements of different types of pet like dogs, cats, and others. A pet defined as an animal kept primarily for a person's company or entertainment rather than as a working animal, livestock or a laboratory animal. Two of the most popular pets are dogs and cats. Other animals commonly kept include: rabbits; ferrets; pigs; rodents, such as gerbils, hamsters, chinchillas, rats, mice, and guinea pigs; avian pets, such as parrots, passerines and fowls; reptile pets, such as turtles, alligators, crocodiles, lizards, and snakes; aquatic pets, such as fish, freshwater and saltwater snails, amphibians like frogs and salamanders; and arthropod pets, such as tarantulas and hermit crabs. These huge varieties of pets make pet furniture market a booming market in coming years.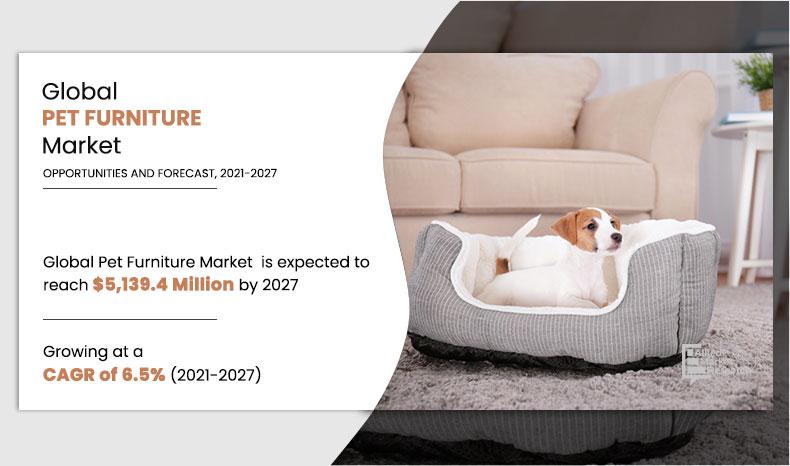 Pet furniture is noticeably popular and expanding with significant pace in developed regions of the Americas and Europe, where manufacturers are coming up with new product innovations considering pets' health and comfort to help pet owners adopt a lifestyle with good convenience such as demand for temperature control and orthopedic beds as well as electrical heating beds has been rising notably due to their health benefit. Also, increasing disposable income which has become major reason to increase spending on pets, rising concerns towards health, fitness of pets and increasing demand in this region are some of the essential elements expected to prompt the pet furniture market demand over the forecast period.
Pet furniture using designer prints and premium fabrics, faux furs, and wickers as well as natural and environment-friendly raw materials such as jute and banana leaves are also gaining popularity among consumers in Asia Pacific region. The pet-friendly offices and travelling related pet furniture are also expected to raise the demand in the near future. Gel packs and other materials are included to keep the bed cool in summer, Donut beds, bolster beds, pillow or cushion beds, and outdoor cots are also becoming popularity over the years and considering future also these products are gaining trend in LAMEA region. In all region pet furniture's are available and sold in pet specialty stores and retail outlets such as supermarkets, hypermarkets and online globally. Dogs and cats' segment are key to the performance of the market as compared to another pet furniture market segment. Advanced cost effective and customized furniture, rising concerns towards pet care, increase in health expenditure for animals as well as huge varieties in furniture for pet creates the demand for pet furniture across the globe.
Pet Furniture Market

---
By Pet Type
Dogs segment dominates the global market and is expected to retain its dominance throughout the forecast period.
Certain factors such as customizable pet furniture is appealing to younger consumers because it has been offering a way to embellish pieces or a way to alter the purpose of a furniture design. Availability of a huge range of fashionable and multifunctional pet furniture. Pet furniture designs have evolved noticeably over the last couple of years and market players are looking innovative ways to combine multiple functions and styles to serve to the demands of pet lovers. Players in the global pet furniture market are investing huge amount of money in research and development work to design smart pet furniture for customers are driving the pet furniture market. Another factor that is pet furniture manufacturer is investing lot in their research and development as well as in their material making all these products very costly is restraint in pet furniture market. Collaborating with new technology not only present the key improvement of the pet furniture but also meet the needs of owners providing numerous pet furniture market opportunities. Drivers, restraints, opportunities, and growth strategies adopted by the key players to understand the dynamics and potential of the pet furniture industry.
Pet Furniture Market

---
By Product Type
Beds and Sofas segment is expected to grow at a highest CAGR of 7.4% during the forecast period.
The pet furniture market is segmented based on pet type, product type, and distribution channel. Depending on pet type, the market is divided into cat, dog and others. And depending on product type, the market is divided into Houses, Beds and sofas, Trees and condos. On the basis of distribution channel the market is segmented in specialty stores, supermarkets/hypermarkets, e-commerce, and others. On the basis of regions, the market is studied across North America, Europe, Asia-Pacific, and LAMEA.
Pet Furniture Market

---
By Distribution Channel
E-commerce segment is expected to grow at a highest CAGR of 8.4% during the forecast period.
Key players in these markets are FurHaven Pet Products, Go Pet Club, MidWest Homes for Pets, Nest Bedding, North American Pet Products, PetPals Group, Inc, Prevue Pet Products, Taizhou Huamao Handicraft Article Co., Ltd, Ultra Modern Pet, Ware Pet Products. Other noticeable players in these markets are Ferranti, Suzy's Creations, Dog Sofa, Berkeley dog beds limited, Miacara, Tateno, Casper, IRIS, Big Barker and many more. 
Pet Furniture Market

---
By Region
North America dominates the market in 2019 and is expected to grow with a CAGR of 5.6% during the forecast period
Covid-19 Impact And Analysis On Pet Furniture Industry
The impact of the Covid-19 crisis on consumer behavior and manufacturing trends has increase the importance of digitalization and automation for the furniture industry. Online consumers looking personalized shopping experiences and competitive prices are pushing pet furniture manufacturers to innovate on their existing product as well as workflow. Advances in digital technology and communication tools are empowering pet furniture manufacturer to respond faster to the changes in consumer demand, gain cost-saving benefits, and boost their operational efficiency.
Some of the observations and analysis that can be made looking at the current and present scenarios related to the pet furniture industry are as follows:
It may sure take some time for the consumers to return to more expensive and convenience products.
A fast rebound in demand is expected in leading countries in pet furniture industry such as India and China.
All the government bodies in almost every country are focusing on getting their industries back to normal and hence the several efforts that are underway may provide support to the industry in 2021.
Manufacturer can develop an effective supply chain response plan to mitigate risk and prepare for any interruptions that the coronavirus outbreak can cause involving supplier engagement response with cross-tier risk transparency, inventory critical part identification, production-capacity optimization, demand management, logistics-capacity pre-booking, and route optimization.
Considering all these scenarios and market conditions, market players with stronger portfolio and market positioning can sustain the COVID-19 storm and can take advantage of the considerable opportunities through collaboration and product launch. 
Moreover, the well-equipped market players should look forward to adjust their strategies to get fit in the "new normal" pet furniture industry demands and scenarios.
Key Benefits For Stakeholders
The report provides an extensive pet furniture market analysis of the current and emerging market trends and opportunities in the pet furniture market.
The report provides detailed qualitative and quantitative analysis of current pet furniture market trends and future estimations that help evaluate the prevailing market opportunities.
A comprehensive analysis of the factors that drive and restrict the growth of the market is provided.
An extensive analysis of the pet furniture market share is conducted by following key product positioning and monitoring the top competitors within the market framework.
The report provides extensive qualitative insights on the potential segments or regions exhibiting favorable pet furniture market growth.
 Pet Furniture Market Report Highlights
Aspects
Details
By PET TYPE
By Product Type

HOUSES
BED AND SOFAS
TREES AND CONDOS

By DISTRIBUTION CHANNEL

Specialty Stores
Supermarkets/Hypermarkets
E-Commerce
Others

By Region

North America (US, Canada, Mexico)
Europe (UK, France, .Italy, Germany, Spain, Rest of Europe)
Asia-Pacific (China, India, Japan, Australia, South Korea, Rest of Asia Pacific)
LAMEA (Brazil, South Africa, Argentina, Rest of LAMEA)

Key Market Players
Taizhou Huamao Handicraft Article Co., Ltd, FurHaven Pet Products, Nest Bedding, PetPals Group, Inc, Go Pet Club, Ultra Modern Pet, Prevue Pet Products, Ware Pet Products, North American Pet Products, .MidWest Homes For Pets