PET Preforms Market Research, 2031
The global pet preforms market was valued at $27.8 billion in 2021, and is projected to reach $42.8 billion by 2031, growing at a CAGR of 4.5% from 2022 to 2031.
KEY HIGHLIGHTERS
The PET preforms market has been analyzed in both value and volume. The value of the PET preforms market is analyzed in millions while the volume is analyzed in kilo tons.

Global PET preforms market is fragmented in nature with many players such as Plastipak Holdings, Inc., Retal Industries LTD., RESILUX 

NV, Taiwan Hon Chuan, Manjushree Technopack Ltd., KOKSAN Pet Packaging Industry Co., Esterform Ltd, RAWASY, CAIBA, and Eskapet Pet Product Ltd.. Also tracked key strategies such as product launches, acquisitions, mergers, expansion etc. of various manufacturers of PET preforms.

Included more than 20 countries in the report which covers market volume as well as market value for all the countries of PET preforms market.

Covered the detailed list of manufacturers by application of PET preforms market. It covers the product information, application, and geographical presence of the companies.

Conducted primary interviews with raw material suppliers, wholesalers, suppliers, and manufacturers of PET preforms market to understand the market trends, growth factors, pricing, and key players competitive strategies.
PET material is super lightweight, easy and efficient to transport, and shatterproof. PET Preforms are completely recyclable and is the most recycled material in the U.S and worldwide. More than 1.5 billion pounds of used PET bottles and containers are recovered in the U.S. each year for recycling. An increasing demand for PET packaging of products such as soft drinks, water, food, cosmetics, chemicals and others. This has resulted in high demand for the PET preforms for packaging of various finished products.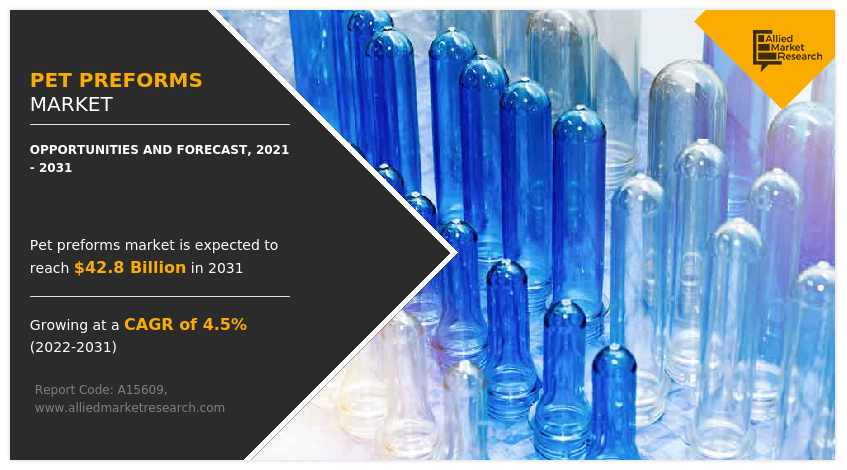 Polyethylene terephthalate (PET) preforms are intermediate components which are subsequently blown into bottles and containers. PET preforms are manufactured in a variety of neck finishes, colours, weights, and shapes to meet the needs of consumers in a variety of applications, including food and beverage and cosmetics. PET preforms are used for packaging in a wide nummber of industries such as food & beverage, pharmaceuticals, home care, personal care, and household products. Owing to the rise in use of packaged beverages, the demand for PET preforms is increasing.   
PET preforms are used by domestic product manufacturers to packaging of products such as edible oil, cleaning solutions, and a range of other products. Companies are using PET preforms to make bottles, which are then utilized to store their products. Hot filling is a method of making bottles using PET preforms that is common in industrialised countries since it does not require the addition of preservatives and is cost-effective. Polyethylene terephthalate and its co-polyesters are widely used for making containers such as bottles for various packaged beverages including carbonated beverages, juice, and water. PET has an excellent combination of clarity, mechanical properties, and gas barrier properties; however, these properties can be improved.  
PET preforms are made by heating the PET polymer starting material to generate a PET polymer melt and then injecting the polymer melt into one or more mould cavities with the appropriate preform shape. Upon cooling, a polymer preform is produced. PET preforms are used in manufacturing of PET bottle by blow molding method. These PET bottles are made according to a two-step process known as injection stretch blow molding. In the first step, a molten crystallizable PET resin is introduced into a mold cavity having the shape of the desired preform. Upon cooling, the molten polymer material produces a solid preform. In the second step, the preform is heated rapidly and then inflated against a two-part mold to form it into the final shape of the PET bottle.  
PET preforms provide a number of advantages, including superior transparency, water resistance, and impermeability. It also has good electrical insulation and does not emit hazardous gases when burned. Furthermore, they have a long shelf life and are light in weight, making PET preforms extremely popular in the food and beverage industry. In addition, PET preforms are also gaining a lot of popularity in the cosmetics and healthcare industries, which are always looking for new ways to package their products. Owing to the numerous benefits of PET products, the global PET preforms market is expected to grow in the near future. The beverage industry is expected to be a major end user of PET preforms.   
High demand for packaged beverages will drive the PET preforms market
PET preforms are used in the production of bottles or containers for mineral water, juices, liquors, soft drinks, and carbonated beverages. HF PET preforms are utilised in the packaging of hot beverages and sauces. HF preforms are commonly used in the manufacture of bottles for juices, ice tea, ketchup, sports drinks, and flavoured water. HF or hot fill preforms are used to make PET bottles that do not deform in high temperatures. They can tolerate temperatures up to 85°C.  
The market is likely to grow over the forecast period as a result of shifting consumer preferences for ready-to-drink beverages and increased per capita beverage consumption as disposable income rises. Additionally, rising per capita consumption of alcoholic beverages and consumer preferences for premium products are expected to drive market expansion. Moreover, during the COVID-19 pandemic, the demand for ready-to-drink beverages witnessed a huge surge, driven by the stockpiling nature of the consumers. In addition, owing to the work-from-home culture during the lockdown, the demand for ready-to-drink (RTD) beverages increased rapidly. Post and during COVID-19, the consumers' increased consciousness and awareness made them switch to more immunity-boosting RTD drinks. The players innovated and introduced immunity-boosting drinks in various flavors to cater to the rising consumer demand.  
Increasing consumer demand for interesting flavors and more pleasant beverages has generated lots of new beverage concepts, such as functional beverages and infused beverages, among others. Owing to the addition of more than one component in ready-to-drink beverages, they are attracting customers' attention due to their excellent nutritional value and lively flavor.  
Functional RTD beverages create an opportunity for brands to differentiate themselves through health claims. Customers want goods with a variety of functional benefits, such as antioxidants, anti-inflammatory properties, low sugar, extra protein, probiotics, and so on. Furthermore, dairy-free and vegan options are gradually being introduced to the market in order to provide convenience and healthful on-the-go beverage categories. PET preform products have various properties such as light weight, long shelf life, and are easy to handle, owing to which PET preform are widely used in packaged food and beverages industries. Increased demand of packaged beverages and juices will lead to increase the demand of PET preforms during the forecast period.
The global PET preforms market is benefiting from the growth of the ready-to-drink (RTD) market. Single-serve RTD beverages are becoming increasingly popular globally. The availability of such products in local supermarkets and convenience stores is likely to aid market expansion and expedite growth. Owing to the changing lifestyles, ready-to-drink (RTD) beverages have become more popular. Food and beverage product packaging is carefully designed by producers with target clients in mind, are also contributing to the causes for growing popularity.   
Furthermore, the need for PET preforms for water packaging is rapidly increasing due to high demand for bottled water in the country. Bottled water is expected to be the most popular beverage as it is the only beverage that is calorie-free, additive-free, sugar-free, and nourishing.  
The PET preform market is segmented on the basis of neck type, neck size, application and region. On the basis of neck type, global PET Preform market is classified into ROPP, Standard PCO, Alaska, CTC Preforms, and others. By neck size, the market is categorized into 25 Mm, 28 Mm, 29 Mm, 30 Mm and others. On the basis of application, the market is divided into carbonated soft drinks, water, food, non-carbonated drinks, cosmetics & chemical, and others. On the basis region, the market is analyzed across North America, Europe, Asia-Pacific, and LAMEA.   
The major players operating in the industry include PLASTIPAK HOLDINGS, INC., Retal Industries LTD., RESILUX NV, Taiwan Hon Chuan, Manjushree Technopack Ltd., KOKSAN Pet Packaging Industry Co., Esterform Ltd, RAWASY, CAIBA, and Eskapet Pet Product Ltd. These players have adopted product launch as their key strategy to increase their market shares.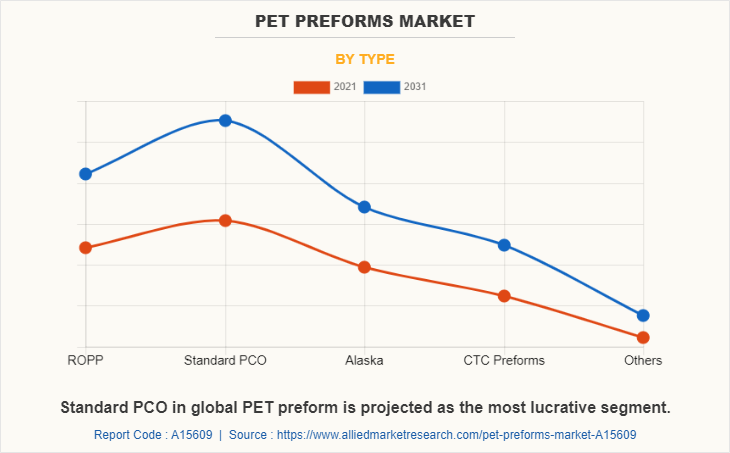 On the basis of  type, the standard PCO segment was the largest revenue contributor in 2021 and is anticipated to register the highest CAGR of 4.9% during the forecast period. Standard PCO PET preforms are broadly utilized in the packaging of carbonated soft drinks, juices, sauces (water products), and industrial chemicals, which fuels market growth.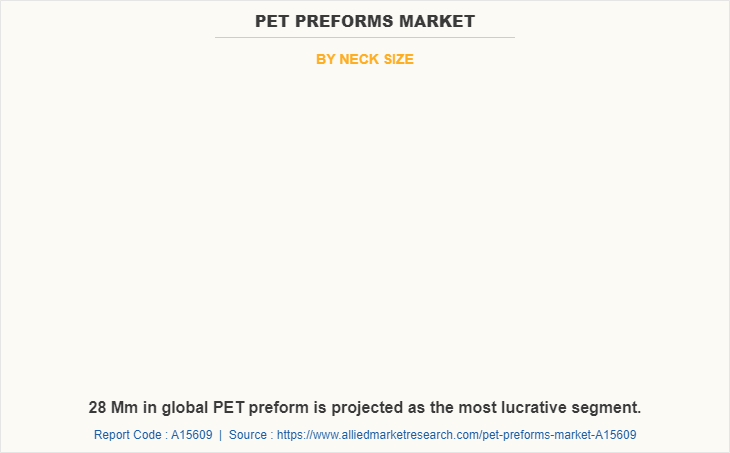 On the basis of neck size, the 28mm segment was the largest revenue contributor, in 2021 and is anticipated to register the highest CAGR of 4.8% during the forecast period owing to high demand for 28 mm PET preform from a variety of end-use industries including pharmaceutical, personal care, food & beverages, and others.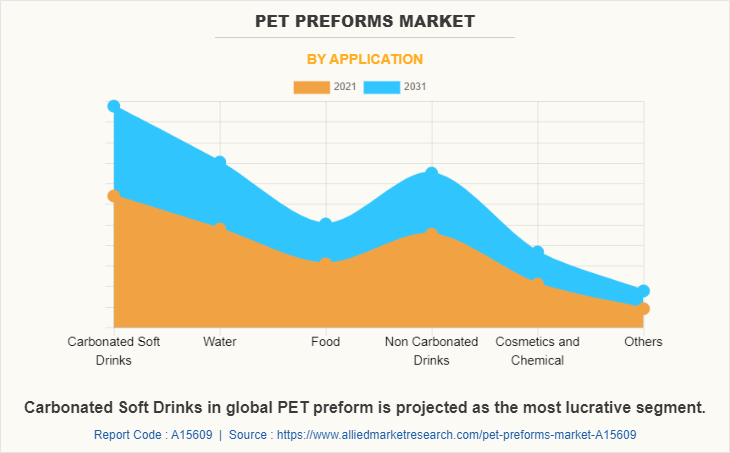 On the basis of application, the carbonated soft drinks segment was the largest revenue contributor, in 2021 and is anticipated to register the highest CAGR of 4.9% during the forecast period owing to high consumption of carbonated soft drinks globally.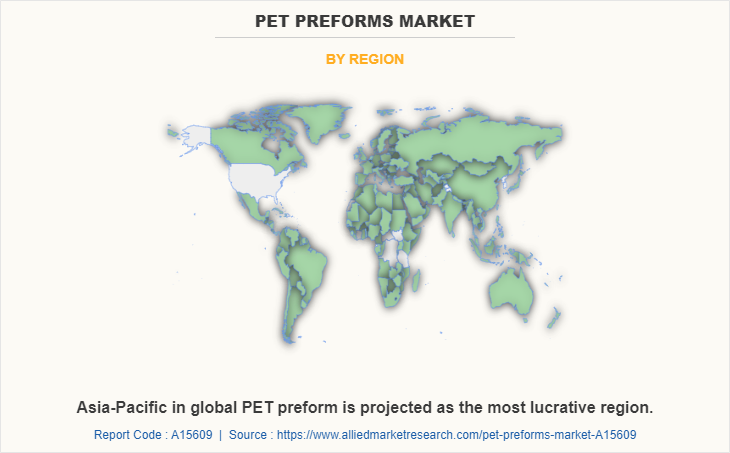 Regionwise, the Asia- segment was the largest revenue contributor, in 2021 and is anticipated to register the highest CAGR of 4.9% during the forecast period owing to increased demand for carbonated soft drinks and water bottles. 
IMPACT OF COVID-19 ON THE GLOBAL PET PREFORMS MARKET
The COVID-19 pandemic severely affected the PET preform demand across the packaging industry. With the outbreak of COVID-19, the PET bottles market was affected owing to factors such as supply chain disruption that slackened the demand for PET resins and lockdowns being enforced in various countries. Moreover, the Russia-Ukraine war has an impact on the overall packaging ecosystem.  
PET preform is widely used in food & beverages packaging and other sectors. Packaging industries have gained momentum and begun started their production process smoothly. Hence, the demand for PET preform has increased post covid.
Key Benefits For Stakeholders
This report provides a quantitative analysis of the market segments, current trends, estimations, and dynamics of the pet preforms market analysis from 2021 to 2031 to identify the prevailing pet preforms market opportunities.
The market research is offered along with information related to key drivers, restraints, and opportunities.
Porter's five forces analysis highlights the potency of buyers and suppliers to enable stakeholders make profit-oriented business decisions and strengthen their supplier-buyer network.
In-depth analysis of the pet preforms market segmentation assists to determine the prevailing market opportunities.
Major countries in each region are mapped according to their revenue contribution to the global market.
Market player positioning facilitates benchmarking and provides a clear understanding of the present position of the market players.
The report includes the analysis of the regional as well as global pet preforms market trends, key players, market segments, application areas, and market growth strategies.
 PET Preforms Market Report Highlights
Aspects
Details
Market Size By 2031
USD 42.8 billion
Growth Rate
CAGR of 4.5%
Forecast period
2021 - 2031
Report Pages
400
By Type

ROPP
Standard PCO
Alaska
CTC Preforms
Others

By Neck Size

25 Mm
28 Mm
29 Mm
30 Mm
Others

By Application

Carbonated Soft Drinks
Water
Food
Non Carbonated Drinks
Cosmetics and Chemical
Others

By Region

North America (U.S., Canada, Mexico)
Europe (Germany, France, Italy, Spain, UK, Rest of Europe)
Asia-Pacific (China, India, South Korea, Japan, Australia, Rest of Asia-Pacific)
LAMEA (Brazil, South Africa,, Saudi Arabia, Rest of LAMEA)

Key Market Players
Eskapet Pet Product Ltd., RESILUX NV, PLASTIPAK HOLDINGS, INC., CAIBA, KOKSAN Pet Packaging Industry Co., Manjushree Technopack Ltd., Esterform Ltd, Retal Industries LTD., Taiwan Hon Chuan, RAWASY