A blockchain sometimes also referred to as Distributed Ledger Technology (DLT) is a time-marked series of immutable, transparent records and documents of data. Each of these blocks of data is secured and bound to each other using cryptographic principles and decentralization. This technology relies on established cryptographic techniques to gain access for each participant in the interconnected network to store, exchange or view information without having a mandate of trust between the interacting parties. Blockchain system doesn't have a central authority and transaction records are stored and distributed across all network participants.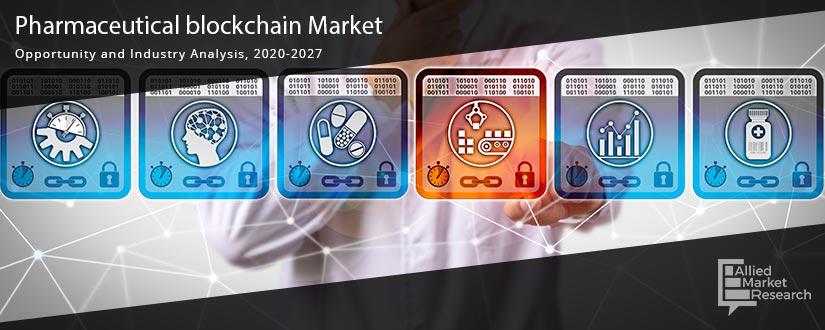 Pharmaceutical organizations currently are facing the tedious issue regarding counterfeit drugs, where the proportion of dosages and ingredients vary, which could trigger unexpected harmful effects on the body and lead to fatal incidences. Deploying blockchain technology into pharmaceutical systems helps to eliminate the major drawback of counterfeit drugs. This technology has optimum potential to transform the pharmaceutical sector, putting the patient at the center of the health care system and assuring better security, privacy, and interoperability of data. This technology could prove to be a new model for critical information exchanges by assisting electronic medical records to be more efficient and secure.
COVID – 19 scenario analysis:  
COVID – 19 pandemic has impacted many businesses worldwide, however Blockchain technology may prove to be an exception in mid and long-term impacts
Blockchain technology can play a vital role in accelerating the speed of getting various businesses back on track post-crisis in various industries including pharmaceutical, biotech and healthcare sectors as well
Travelling restrictions amidst pandemic have caused major impact on global supply chains in pharmaceutical industry where blockchain technology would prove to be handy as it provides faster processing time and shortening the operating processes
Ongoing pandemic situation has also led to increase in online transactions by majority of the population staying indoors and various funding happening to pharmaceutical firms for R&D activities related to inventing a breakthrough vaccine against novel coronaviruses
Blockchain technology would help in providing better security and transparency to these transactions
Top impacting factors: Market Scenario Analysis, Trends, Drivers and Impact Analysis:    
Blockchain technologies would aid to resolve major problems related with to drug traceability; the blockchain structure allows end-user to keep a track of the products through the supply chain by creating an encrypted circuit which is impermeable to counterfeit products. Secondly, blockchain allows stakeholders, to take appropriate actions by locating the exact position of drugs. These attributes promise the
traceability and authenticity of drugs and companies that register a product on the blockchain to be trustworthy
Increasing implementation of blockchain as a service (BaaS) and growing need for transparent and unalterable distributed ledger technology are among major factors expected to boost growth of the global pharmaceutical blockchain market. Adding to this, growing demand to protect the healthcare data and increasing cases associated with healthcare data thefts and breaches are key factors expected to propel the acceptance of blockchain technology in the pharmaceutical industry. This acceptance and need is majorly due to efficient data sharing among pharmaceutical firms and healthcare providers which offers increasing overall ability of healthcare organizations to deliver cost-effective care, high probability of accurate diagnosis and effective treatments. 
However, lack of technical infrastructure in developing countries, limited number of skilled professionals, absence of necessary regulatory norms, lack of awareness about the blockchain technology and lack of data exchange among healthcare firms outside their source are the factors causing hindrance in the growth of blockchain technology in pharmaceutical industry.
Highly potent supply chain segment
Supply chain management can be one of the segments where implementation blockchain technology can do miracles in terms of rapidity, ease in operations and transparency in the data. Blockchain applications help preserve data integrity. The technology also helps the pharmaceutical organization facilitate interoperability of data in compliance with Internet of Things (IoT) devices. It also helps them identify candidates for clinical trials and facilitate the drug supply chain. Blockchain can help organizations reduce data corruption, and healthcare process optimization. The implementation of strict regulations such as the Drug Quality and Security Act (DQSA) in the US and the Falsified Medicines Directive (FMD) in Europe are fueling the acceptance of blockchain technologies for pharmaceutical supply chain management.
Increase in cyber-crimes and data thefts and need for data interoperability
Less than 10% of healthcare and pharmaceutical organizations regularly share medical data with providers outside of their organization. The lack of interoperability of this data and limited linkage between the healthcare organizations, makes it difficult to transmit, retrieve and analyze data. Additionally, concerns regarding security and privacy about storage and exchange of data as healthcare organizations have been subjected to growing number of data breaches and malicious attacks, fraudulent activities in the pharmaceutical sector and medical data tampering is increasing day by day. Blockchain technology is increasingly being considered as the panacea for the interoperability and data security issues that affect the pharmaceutical industry.
The increasing risk of cyber security attacks and data privacy would hike the demand for blockchain technology. Application of blockchain technology such as maintaining drug and data privacy with increasing data access and convenience will expand the application of cyber security and IoT in pharma industry. For example, Embleema, Inc. signed an agreement for collaboration with a leading cancer institute, Gustave Roussy Institute. The partnership emphasized at building blockchain-based platform for secure exchange of healthcare outcomes and patient data of oncology research. TYMLEZ offered its blockchain services to Dutch healthcare services and agreed to deploy blockchain based solution to match supply and demand of drugs and other medical products.
Key benefits of the report:
This study presents the analytical depiction of the global pharmaceutical blockchain industry along with the current trends and future estimations to determine the imminent investment pockets.
The report presents information related to key drivers, restraints, and opportunities along with detailed analysis of the global pharmaceutical blockchain market share.
The current market is quantitatively analysed from 2020 to 2027 to highlight the global pharmaceutical blockchain market growth scenario.
Porter's five forces analysis illustrates the potency of buyers & suppliers in the pharmaceutical blockchain market.
The report provides a detailed global pharmaceutical blockchain market analysis based on competitive intensity and how the competition will take shape in coming years.
Questions answered in the Pharmaceutical Blockchain Market research report:
Who are the leading market players active in the pharmaceutical blockchain market?
What are the current trends that will influence the market in the next few years?
What are the driving factors, restraints, and opportunities in the pharmaceutical blockchain market?
What are the projections for the future that will help in taking further strategic steps?
 Pharmaceutical Blockchain Market: Global Opportunity Analysis and Industry Forecast, 2020-2027 Report Highlights
Aspects
Details
By Type
By Application

Supply chain management
Crucial data exchange and interoperability
Finance and billing management
Others

By End User

Pharmaceutical companies
Healthcare and healthcare service providers
Clinical trials and research

By Region

North America (US, Canada, Mexico)
Europe (France, Germany, UK, Italy, Spain, rest of Europe)
Asia-Pacific (Japan, China, India, Australia, South Korea, rest of Asia-Pacific)
LAMEA (Brazil, South Arabia, South Africa, rest of LAMEA)

Key Market Players
IBM, Microsoft, Guardtime, PokitDok, Gem, Chronicled, iSolve, Hashed Health, Patientory, SimplyVital Health, FarmaTrust, Blockpharma, Medicalchain.