Healthcare Logistics Market - 2031:
The global pharmaceutical logistics market was valued at $66 billion in 2021, and is projected to reach $106.8 billion by 2031, growing at a CAGR of 5.1% from 2022 to 2031.
Pharmaceutical industry uses logistics for the overall management of the resources right from where it is acquired, stored, and moved. The implementation of logistics in this industry allows for the continuous supply of drugs, equipment, and devices from suppliers and distributors in different locations. Moreover, pharmaceutical logistics primarily caters to large pharmacy retail chains, whole sellers of medical products, as well as directly to clinics and hospitals. Furthermore, pharmaceutical logistics chain is not similar to other regular logistics chains in terms of type of complexity, products, and cost as accessibility & availability of products are very important for both governments and companies. Also, unlike pharmaceuticals there are no other products with higher risk of sterilization, instability, or contamination. The packaging & transportation from factory to consumer plays a very important role in pharmaceutical logistics and the process needs to maintain and monitored well. In addition, the products while transportation are tracked with GPS, along with remote temperature monitoring in accordance with good distribution practice (GDP) guidelines, ensuring safe transportation and delivery of the products.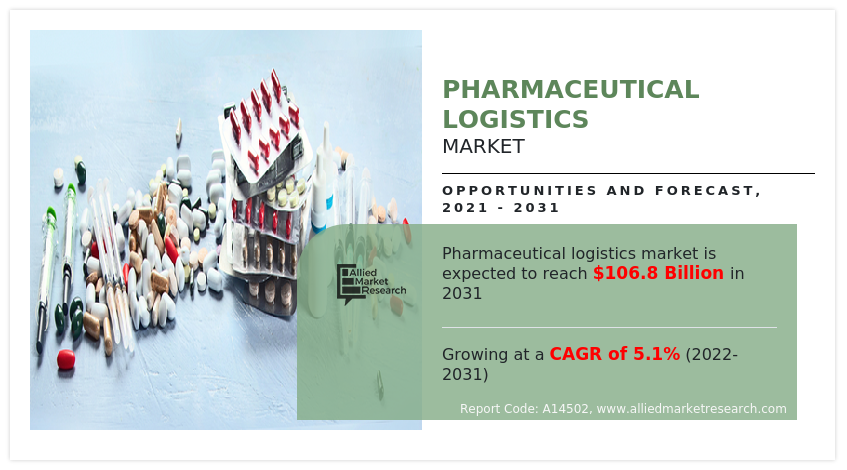 Further, the rising importance of fast-track assistance in the healthcare sector is also driving the growth of the pharmaceutical logistics market. For instance, in December 2020, Cainiao Smart Logistics Network, the logistics division of Alibaba Group, partnered with Ethiopian Airlines to launch an airfreight pharma service that will transport temperature-controlled medicines from Shenzhen Airport.
Factors such as growth in pharmaceutical sector, increase in demand for reverse logistics in pharmaceutical sector and increase in international trade activities are anticipated to boost the growth of the global pharmaceutical logistics market during the forecast period. However, lack of standardization in pharmaceutical logistics and storage, and poor infrastructure and higher logistics costs are expected to hinder the growth of the global market during the forecast period. Moreover, rise in demand for temperature-sensitive pharmaceutical drugs, and RFID technologies for pharmaceutical logistics is expected to create an opportunity for the pharmaceutical logistics industry in near future.
Pharmaceutical logistics market is segmented on the basis of operation, business type, application, type and region. By operation, it is divided into seaways, roadways, railways, airways, and storage & services. By business type, it is divided into transportation, warehousing, and value-added services. Based on application, it is segmented into bio pharma, chemical pharma, and specialty pharma. By type, it is divided into cold chain, and non-cold chain. By region, the market is analyzed across North America, Europe, Asia-Pacific and LAMEA.
Pharmaceutical Logistics Market

---

By Business Type
Transportation segment is projected as the most lucrative segment
The key players that operate in this pharmaceutical logistics market are Agility, Ceva Logistics, CJ Century Logistics, CWT Ltd, DB Schenker, DHL Supply Chain, Gemadept, Keppel Logistics, Kerry Logistics, Kuehne + Nagel, Singapore Post, Tiong Nam Logistics, WHA Corp., Ych Group and Yusen Logistics.
Growth in pharmaceutical sector
Pharmaceuticals manufacturers increasingly focus on the product quality and sensitivity. Factors such as development of complex biological-based medicines and shipments of hormone treatments, vaccines, and complex proteins that require specific result in need of special transportation and warehousing. Temperature-controlled logistics of pharmaceutical products and medical devices is the significantly growing part of the healthcare logistics industry. Moreover, increase in need for effective cold chain logistics services to maintain the quality of goods fuels the growth of the pharmaceutical logistics market.
In addition, the entire cold chain supply chain and logistics for pharmaceutical industry is becoming more strategic and reliable. For instance, from 2011 to 2017, the number of heat-sensitive healthcare products shipped increased by 45%, one in two healthcare products is shipped via the cold chain. In 2018, global sales of biotechnology medicines and biological products were estimated to be more than 300 billion dollars. These high-value pharmaceutical products are mostly shipped via cold chain solutions across the entire distribution network, thus driving the growth of the market. 
Pharmaceutical Logistics Market

---

By Application
Bio Pharma segment is projected as the most lucrative segment
Increase in demand for reverse logistics in pharmaceutical sector
Pharmaceuticals carried from healthcare facilities to reverse logistics companies are classified as solid waste and must be classified as hazardous before transit, increasing the requirement for efficient reverse logistics services. Through the reverse distribution process, unsalable and expired drug goods are returned to producers for credit or disposal. Reverse logistics services can help pharmacies, hospitals, manufacturers, and distributors, among other pharmaceutical end users, with the disposal of waste medical products. As government restrictions for the disposal of medical wastes become more stringent, pharmaceutical corporations are creating reverse logistics infrastructure. The military department has awarded contracts for pharmaceutical reverse distribution services to leading technology companies working in the intelligent commerce network. For instance, Inmar Inc., an intelligent commerce network company, announced that it has been awarded the Pharmaceutical Reverse Distribution Program (PRDP) contract by the Department of Defense CONUS, owing to its reputation among wholesalers, manufacturers, and pharmacies as a reliable partner. An increase in government and private sector initiatives to ensure the safe disposal of medical waste during the forecast period would help the pharmaceutical logistics market to flourish. Moreover, increase in recalls for pharma drugs from various drugs manufacturing companies is also propelling the demand for pharmaceutical reverse logistic activities.
Pharmaceutical Logistics Market

---

By Type
Cold Chain segment is projected as the most lucrative segment
Lack of standardization in pharmaceutical logistics and storage
Pharmaceutical logistics and storage demand comes from many sources with specific needs. The lack of standards and accreditations poses significant challenges to the pharmaceutical industry where quality and flexibility of available warehousing space is major concern at present.
In many cases, companies have to invest further to upgrade the space and its specifications to standards that support the pharmaceutical industry that supports their operations. The standards formulated by the policy makers build pressures on developers as expected. Upgrading the facility in terms of temperature compliance or accommodating automated equipment is not easy. Training and developing the manpower on the technology and handling the products involve heavy capital investment. Thus, lack of standardization in pharmaceutical logistics is anticipated to hamper the growth of the market.
Rise in demand for temperature-sensitive pharmaceutical drugs
As the pharmaceutical industry advancing, the attention is shifting towards cell and gene therapies. Owing to this, the demand for more advanced storage solutions has increased. The need for temperature monitoring in the pharmaceuticals and healthcare cold chain segment is significantly growing with temperature-sensitive products in the sector. Moreover, the temperature requirement varies according to the specific pharmaceutical product. The life of drugs or vaccines degrade in temperature variations encountered in the supply chain is the key factor driving the need for cold chain monitoring solutions. For instance, in September 2020, DHL Global Forwarding, an entity of DHL group, announced technology enhancements to its life sciences services division to meet the evolving pharma logistics needs. It has launched New LifeTrack user interface a temperature-controlled shipment tracking portal, providing its customers with real-time analytics, digitalized standard operating procedures (SOP) information, and the lane risk assessment tool. Thus, rise in demand for temperature-sensitive pharmaceutical drugs can act as an opportunity for growth of pharmaceutical logistics market.
Pharmaceutical Logistics Market

---

By Region
Asia-Pacific would exhibit the highest CAGR of 6.6% during forecast period.
The outbreak of COVID-19 has resulted in flight cancellations, travel bans, and quarantines, which made massive slowing of the supply chain and logistics activities across the world. Although, there are some industries that are struggling due to the pandemic, but some are thriving such as healthcare & pharmaceuticals, e-commerce, and daily essentials goods industry, which are expected to affect the logistics industry positively during the COVID-19 outbreak globally. As B2B logistics industry suffered and came to a halt, B2C emerged during the pandemic, owing to the growth of online and e-commerce industry. COVID-19 pandemic had a positive impact on pharmaceutical logistics market, since the demand for pharma products has increased. Moreover, the job of pharmaceutical logistics company was very crucial during this period for timely delivery of drugs, so that hospitals do not have any shortage. Furthermore, there was a lot of import & export of drugs and equipment from all across the world, which had to be taken care by pharmaceutical logistics. In addition, the vaccine distribution for COVID-19 is expected to drive the demand for pharmaceutical logistics and it will take a long time get fully complete. Thus, COVID-19 driven the demand for market than before the pandemic. In addition, there has been increasing demand for healthcare and pharmaceutical supplies such as hospital supplies, gloves, sanitizers, among others propelling the growth of the pharmaceutical logistics industry during the pandemic.
Key Benefits For Stakeholders
This report provides a quantitative analysis of the market segments, current trends, estimations, and dynamics of the pharmaceutical logistics market analysis from 2021 to 2031 to identify the prevailing pharmaceutical logistics market opportunities.
The market research is offered along with information related to key drivers, restraints, and opportunities.
Porter's five forces analysis highlights the potency of buyers and suppliers to enable stakeholders make profit-oriented business decisions and strengthen their supplier-buyer network.
In-depth analysis of the pharmaceutical logistics market segmentation assists to determine the prevailing market opportunities.
Major countries in each region are mapped according to their revenue contribution to the global market.
Market player positioning facilitates benchmarking and provides a clear understanding of the present position of the market players.
The report includes the analysis of the regional as well as global pharmaceutical logistics market trends, key players, market segments, application areas, and market growth strategies.
 Pharmaceutical Logistics Market Report Highlights
Aspects
Details
Market Size By 2031
USD 106.8 billion
Growth Rate
CAGR of 5.1%
Forecast period
2021 - 2031
Report Pages
389
Business Type

Transportation
Warehousing
Value added Services

Application

Bio Pharma
Chemical Pharma
Speciality Pharma

Type

Non Cold Chain
Cold Chain

Operation

Seaways
Roadways
Railways
Airways
Storage and Services

By Region

North America (U.S., Canada, Mexico)
Europe (Germany, France, Russia, Netherlands, UK, Poland, Spain, Rest Of Europe)
Asia-Pacific (China, India, Japan, South Korea, Asean, Rest Of Asia-Pacific)
LAMEA (Brazil, UAE, Saudi Arabia, South Africa, Rest Of LAMEA)

Key Market Players
AGILITY, CEVA LOGISTICS, CJ Century Logistics, CWT Ltd, DB Schenker, DHL Supply Chain, Gemadept, Keppel Logistics, Kerry Logistics, Kuehne + Nagel, Singapore Post, Tiong Nam Logistics, WHA Corp., Ych Group, Yusen Logistics