Pharmacovigilance Outsourcing Market Overview 2030
The global pharmacovigilance outsourcing market size was valued at $2,489.10 million in 2020 and is projected to reach $9,654.10 million by 2030 registering a CAGR of 14.60% from 2021 to 2030.
Transfer of drug safety operations and processes by a life science company to a third-party service provider is known as pharmacovigilance outsourcing. Collecting ADR data, case processing, developing risk management plans and risk evaluation mitigation strategies, and preparing and submitting aggregate and expedited pharmacovigilance reports are all routine pharmacovigilance activities that are commonly outsourced.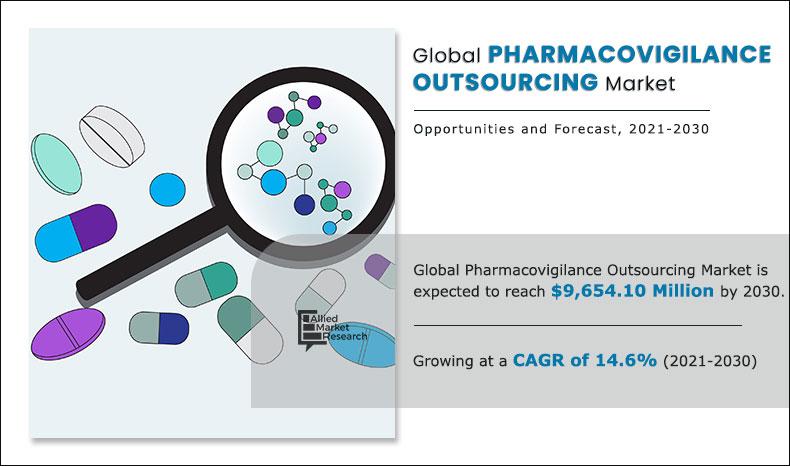 Rise in preference for outsourcing services, owing to benefits associated with pharmacovigilance outsourcing services such as cost-effective services and low operational expenses is one of the major factors that boost growth of the pharmacovigilance outsourcing market. In addition, increase in adverse drug reactions and drug toxicity associated with pharmaceutical products further fuel the market growth. Furthermore, high profile drug recalls due to safety concerns also rises the need for medical information by regulatory authorities, which anticipated to drive growth of the market. However, risk associated with data security and shortage of skilled professionals for maintaining compliance, which hampers growth of the market. In contrast, growth opportunities in emerging markets, owing to availability of cost-effective pharmacovigilance outsourcing services provided by leading CROs and BPOs in emerging economies create lucrative opportunities for the pharmacovigilance outsourcing market. 
The outbreak of COVID-19 has disrupted workflows in the health care sector across the world. The disease has forced a number of industries to shut their doors temporarily, including several sub-domains of health care. However, there has also been a positive effect and surge in demand for various medical services, including pharmacovigilance outsourcings. Medical monitoring and safety reporting are essential as several potential therapies are being used in the treatment of coronavirus-induced infection. Medications such as Lopinavir/Ritonavir, hydroxychloroquine (HCQ), and Remdesivir are being repurposed to treat coronavirus infection. The chances of suspected adverse drug reactions for some of these medicines have already been submitted to individual case safety reports database named VigiBase, managed by Uppsala Monitoring Centre (UMC). Thus, rise in incidences of adverse drug reactions is anticipated to accelerate demand for pharmacovigilance services amid such pandemics. Hence, the outbreak of COVID-19 has positively impacted the pharmacovigilance outsourcing market. 
Pharmacovigilance Outsourcing Market Segmentation  
The global pharmacovigilance outsourcing market is segmented on the basis of type, service providers, end user, and region. By type, the market is divided into adverse drug reaction capture (ADR), case processing, reporting and submission, report publishing, quality check, risk management, knowledge management, and enabling architecture. On the basis of service provider, it is segmented into contract research organization and business processing outsourcing. By end user, it is divided into pharmaceutical industry, research organization, and others. The others segment is further divided into regulatory organization and hospitals. Region wise, the market is analyzed across North America, Europe, Asia-Pacific, and LAMEA.
Segment Review
Based on type, the case processing segment dominated the global market in 2020, and is anticipated to continue this trend during the forecast period. The key factors such as continuous increase in cases from various sources resulting from research and development and rise in need to ensure quality of data.
Pharmacovigilance Outsourcing Market

---
By Product
Case processing segment holds a dominant position in 2020 and would continue to maintain the lead over the forecast period.
Based on service provider, contract research organization segment dominated the global market in 2020, and is expected to remain dominant throughout the forecast period. This is attributed to various advantages of contract research organization such as cost-effective services, time saving processes, advanced technological needs, and evolving and complex regulatory requirements.
Based on end user, the pharmaceutical industry segment held the largest market share in 2020, and is expected to remain dominant throughout the forecast period, owing to increase in adoption of outsourcing services by the pharmaceutical industry to avoid high upfront investments and fixed overhead costs, increase resource flexibility, and secure additional capacity.
Pharmacovigilance Outsourcing Market

---
By Application
Pharmaceutical industry segment is projected as one of the most lucrative segment.
Snapshot of the Asia-Pacific Pharmacovigilance Outsourcing Market  
Asia-Pacific offers profitable opportunities for key players operating in the pharmacovigilance outsourcing market and is expected to register fastest growth rate during the forecast period, owing to economic development and low operating costs. The major driving factors for the market growth in this region include rise in focus in biopharmaceutical R&D, huge production of drugs, and surge in prevalence of cancer. In addition, strict regulations for reporting adverse drug reactions, coupled with large number of companies offering pharmacovigilance outsourcing services across the region. Furthermore, increase in funding for clinical trials further propel the regional pharmacovigilance outsourcing market growth.
Pharmacovigilance Outsourcing Market

---
By Region
North America is expected to experience growth at the highest rate, registering a CAGR of 13.20 % during the forecast period.
The key pharmacovigilance outsourcing market players profiled in the report include Accenture PLC., Bioclinica, Capgemini (IGate Corporation), Cognizant Technology Solutions Corporation, Ergomed Plc., Genpact Limited, International Business Machines Corporation, Icon Plc., IQVIA Holdings Inc. (Clintec), and Labcorp Drug Development (Covance).
Key Benefits For Stakeholders
The study provides an in-depth analysis of the global pharmacovigilance outsourcing market along with the current trends and future estimations to explain the imminent investment pockets.
A comprehensive analysis of the factors that drive and restrict the pharmacovigilance outsourcing market growth is provided in the report.
Comprehensive quantitative analysis of the industry from 2020 to 2028 is provided to enable the stakeholders to capitalize on the prevailing pharmacovigilance outsourcing market opportunities.
Extensive analysis of the key segments of the industry helps to understand the application and services of pharmacovigilance outsourcing used across the globe.
Key market players and their strategies have been analyzed to understand the competitive outlook of the market.
Key Market Segments
By Type
Adverse Drug Reaction Capture (ADR)
Case Processing
Reporting and Submission
Report Publishing
Quality Check
Risk Management
Knowledge Management
Enabling Architecture  
By Service Provider
Contract Research Organization
Business Processing Outsourcing 
By End User
Pharmaceutical Industry
Research Organization
Others  
By Region
North America
Europe

Germany
France
UK
Italy
Spain
Rest of Europe

Asia-Pacific

Japan
China 
Australia
India
South Korea
Rest of Asia-Pacific

LAMEA

Brazil
Saudi Arabia
South Africa
Rest of LAMEA