Pharmacy Automation System Market Overview (2020-230)
The global pharmacy automation system market size was valued at $5001 million in 2020, and is assessed to reach $11211 million by 2030, growing at a CAGR of 8.3% from 2021 to 2030. A pharmacy automation structure is utilized to direct and fit medications mechanically. A vision of zero errors in retail pharmacy, industrial pharmacy benefits of pharmacy automation market over manual medication dispensing, and movement of further developed parts drive the pharmacy automation system market.
The Covid-19 pandemic has had a positive impact on the pharmacy automation systems market. For instance, a surge in patients all around the world created an instant demand for medications all around the globe. Furthermore, the pharmacy automation systems market flourished on the note of rise in demand for medications.
In addition, improvement in healthcare infrastructure in emerging countries is expected to set out new entrances for market extension. However, high capital investment and stringent informal guidelines are significant obstructions that restrain the market growth.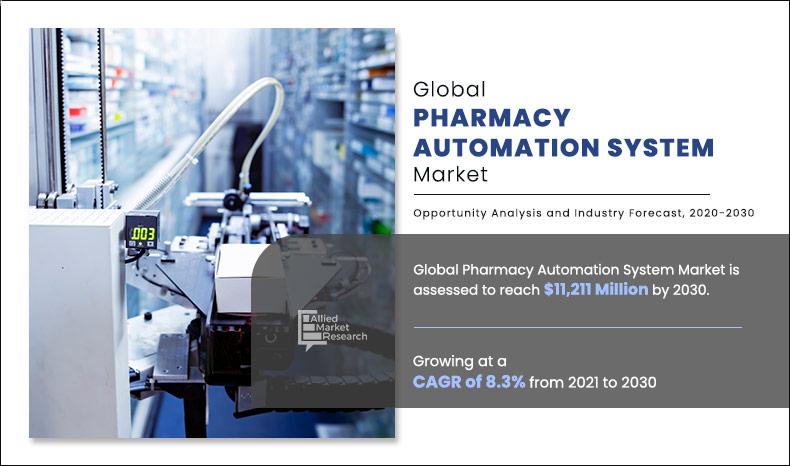 The pharmacy automation system market is driven by need for decline in medication errors, manual medication dispensing, and progress of further advanced parts innovation. In addition, an increase in geriatric population and rise in work cost have incited the growth in pharmacy automation market. To further encourage the healthcare benefits and confirmation security of patients, it is fundamental to diminish medication errors. In this manner, increase in utilization of pharmacy automation system brings minimization of errors related with medication, storage, recovery, dispensing, and use.
Mechanical levels of progress in pharmacy automation system bring about added highlights, higher achievement rate, and more current employments of contraption, depending on their use in different pharmacy processes. Omnipresence for mechanically innovative products to administer, compound, store, and imprint doctor endorsed medications probably ensures definite, precise, and more secure use for better healthcare results.
Pharmacy automation system manage the course of pharmacy works out, like filling &capping of drugs, administration &storing of drugs, and labeling the prescriptions. This system can store and oversee more than 200-300 medications and patients' information, in a solid and secure way. Rise in gathering of automated system is expected to guarantee prominent productivity.
What Is The Impact Of Covid-19 Pandemic On The Pharmacy Automation System Market? 
The World Health Organization (WHO) on January 30, 2020 declared COVID-19 flare-up, a general wellbeing crisis of international concern. Coronavirus has impacted around 210 countries across the globe. Owing to the COVID-19 pandemic, state run administrations across the globe declared inescapable lockdowns as well as friendly distancing measures to forestall breakdown of the healthcare structure.
During the COVID - 19 flare-ups, the pharmacy automation system market has experienced a positive effect. This is due to surge in demand for robotics in pharmacies. Furthermore, the demand for automations System increased during the pandemic due to staff shortages. The pandemic led to rise in number of incoming prescriptions in pharmacies across the world that surged demand for automatic dispensing System, which in turn resulted in growth of the market. 
Pharmacy Automation Market Segmentation  
The pharmacy automation system market is segmented into product type and end user type. By product type, it is divided into automated medication dispensing systems, automated storage & retrieval system; automated labeling System, tabletop tablet counters, and automated compounding devices. By end user, the market is fragmented into retail pharmacy, hospital pharmacy and others. By geographical presence it is bifurcated into North America, Europe, Asia-Pacific and LAMEA
Pharmacy Automation System Market

---
By Product Type
Automated medication dispensing system holds the dominant position
Product Type Segment Review
By product, the automated medication dispensing segment accounted for the largest share of pharmacy automation market in 2020. The large share of segment is attributed to advantages such as improved medication safety, better inventory management, and improved storage capacity with optimal utilization of space, potential time, and cost savings.
Pharmacy Automation System Market

---
By End User Type
Hospital Pharmacy segement holds a dominant position in 2020 and continue to maintain lead in the forecast year
End User Segment Review
By end user type, retail pharmacy is the fastest growing end user segment in pharmacy automation system owing to growth in need of minimizing dispensing errors, rise in number of retail pharmacies, and increased workload on pharmacists.
Pharmacy Automation System Market

---
By Region Type
North America holds the dominant position in 2020 and would exhibit the highest CAGR of 6.9% during 2021-2030
Region Segment Review
By region, North America has accounted for the largest market size in pharmacy automation market followed by the European region. The attributed factor for the growth of the pharmacy automation system market in North America is the increased number of drug prescriptions at pharmacies resulting from growth in aging population. 
Major key players operating in pharmacy automation systems include Becton, Dickinson and Company, Omnicell Inc., Scriptpro Llc, Parata, Lonza, Baxter, Danaher, Capsa Healthcare, Cerner Corporation, and RX Safe
Key Benefits For Stakeholders
The study provides an in-depth analysis of the pharmacy automation system market size along with the current trends and future estimations to elucidate the imminent investment pockets.
It offers pharmacy automation system market analysis from 2020 to 2030, which is expected to enable the stakeholders to capitalize on the prevailing opportunities in the market.
A comprehensive analysis of four regions is provided to determine the prevailing opportunities.
The profiles and growth strategies of the key players are thoroughly analyzed to understand the competitive outlook and global pharmacy automation systems market growth.
 Pharmacy Automation System Market Report Highlights
Aspects
Details
BY PRODUCT

Automated Medication Dispensing Systems
Automated Storage And Retrieval Systems
Automated Packaging And Labeling Systems
Tabletop Tablet Counters
Automated Compounding Devices

BY END USER

Hospital Pharmacy
Retail Pharmacy
Others

BY REGION

North America (U.S, Canada, Mexico)
Europe (Germany, France, UK, Italy, Spain, Rest of Europe)
Asia-Pacific (Japan, China, Australia, India, South Korea, Rest of Asia-Pacific)
LAMEA (Brazil, Saudi Arabia, South Africa, Rest of LAMEA)

Key Market Players
Baxter International Inc., Becton, Dickinson And Company, Capsa, Cerner Corporation, Danaher Corporation, Lonza Group, Omnicell Inc., Parata Systems, Rx Safe, Script Pro