Photonic Crystals Market Overview:
Global Photonic Crystals Market size was valued at $34,199 million in 2015, and is expected to reach $60,230 million by 2022, supported by a CAGR of 8.0% during the forecast period 2014 - 2022. Photonics is the technology that merges optics with electronics. These crystals received attention of both academic & industrial research, and are providing new tools for the manipulation of photons. Photonic crystals are used in information & telecommunication industry, healthcare, optics manufacturing, education & research, optical sensing energy, energy & displays, and others. These are majorly used in several end use industries, as they enable the reduction of size of the photonic crystal-based components. Rise in demand for photonic crystals in LEDs, remarkable growth in R&D activities, and distinctive properties of these crystals drive the growth of the photonic crystals market. However, challenges associated with the formulation of these crystals is projected to hamper the market growth.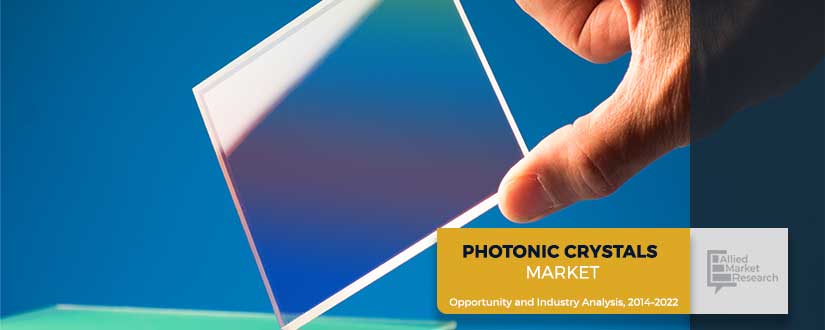 The report emphasizes on the photonic crystals and its different types that include one-dimensional (1D), two-dimensional (2D), and three-dimensional (3D) photonic crystals. Applications covered in the study include optical fiber, LEDs, image sensors, solar & PV cells, lasers, discrete & integrated optical components, and others. The report further analyses the Photonic Crystals Market trends and future opportunities in several end use industries such as industrial, aerospace & defense, life sciences & healthcare, R&D, and others. In addition, it highlights different factors that impact the growth of the global market such as key drivers, restraints, opportunities, and the role of different key players in the market. Further, report presents the quantitative data, in terms of value, which are gathered majorly from the secondary sources such as company publications, Factiva, Hoovers, OneSource, and others. The data are validated after analysis from the C-level executives and directors of the companies present in the market.
Photonic Crystal Market Segmentation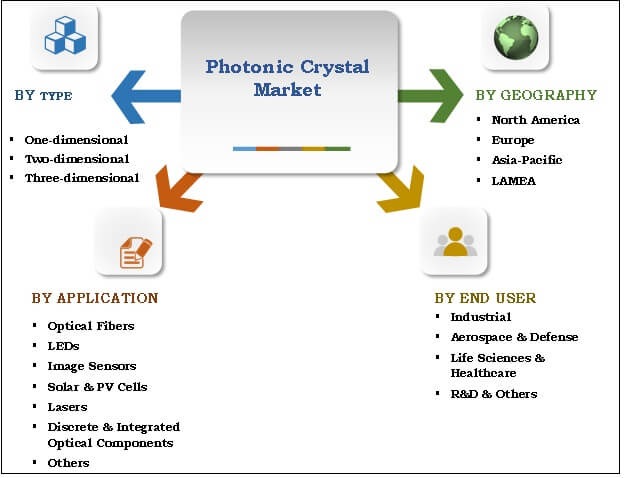 Geographically, the market is analyzed across North America, Europe, Asia-Pacific, and LAMEA. Asia-Pacific leads the global photonic crystals market, in terms of value. LAMEA shows the fastest growth rate owing to the economic development and rise in R&D activities for different application areas such as sensing, optical chip, lasers, and others.
Photonic Crystals Market Share, By Geography, 2015 (%)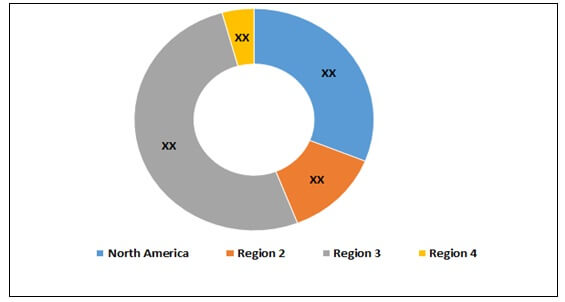 Solar & PV cells is the most lucrative application segment in the market, followed by image sensors and optical fibers. In solar & PV cells, photonic crystals are utilized to stimulate enhanced light trapping to make efficient use of solar energy. Solar energy is the potential resource to replace fossil fuel, which is expected to cater the world's increase in demand for steady power supply, thus providing lucrative growth opportunity to the photonic crystals industry players in the near future.
Photonic Crystals Market - Top Investment Pockets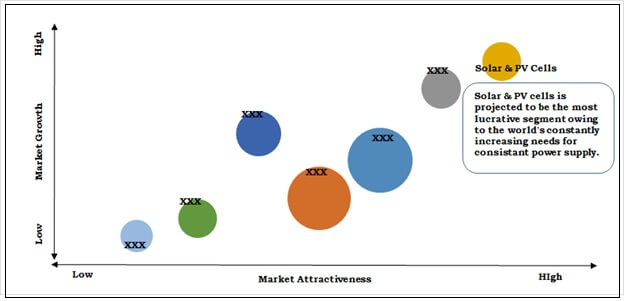 Patent Analysis
Asia-Pacific accounted for 60.9% of the total patents registered during 2010–2017. North America and Europe accounted for 15.9% and 9.1% share, respectively, in the same period.
Patent Publications by Region, 2010–2017 (%)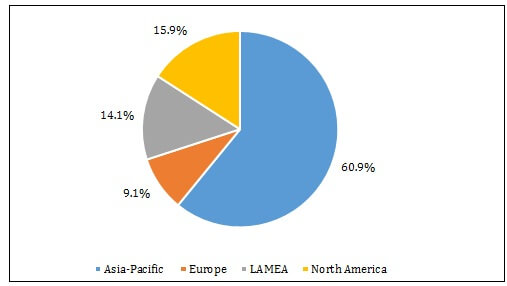 Asia-Pacific Photonic Crystal Market
The demand for photonic crystals is high in Asia-Pacific due to increase in research initiatives to examine the optical properties of photonic crystals and their uses in practical applications. Furthermore, growth in number of research groups and increase in government support are the major factors that boost the market growth. China, Japan, Korea, and Australia are the major countries in the Asia-Pacific photonic crystals market. Japan dominated the market with the highest share in 2015.
Indian Photonic Crystal Market, by Revenue, 2014–2022 ($Million)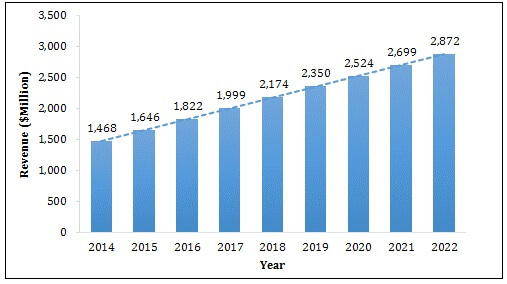 Key players profiled in this report include NKT Photonics, IPG Photonics Corporation, Opalux Inc., Corning Incorporated, Furukawa Electric Co., Ltd., DK Photonics, GLOphotonics SAS, Photonic Lattice Inc., Photeon Technologies GmbH, and NeoPhotonics.
Other major players (not profiled in report) in the market include Agilent Technologies, ICX Photonics Inc., Luminus Devices Inc., NEC Corporation, Advance Photonic Crystals LLC, Epistar, MicroContinuum Inc., Carolinas Photonic Consortium (CPC), Omniguide, and Lightwave Power Inc.
Key Benefits of the Photonic Crystals Market Report:
The report provides an in-depth analysis of the forecast along with the current and future market trends.
This report highlights the key drivers, opportunities, and restraints of the Photonic Crystals Market along with the impact analyses during the forecast period.
A comprehensive analysis of the factors that drive and restrain the Photonic Crystals Market growth is provided.
The qualitative data in this report aims on market dynamics, Photonic Crystals Market trend, and developments.
The Photonic Crystals Market size is provided in terms of volume and revenue.
 Photonic Crystals Market Report Highlights
Aspects
Details
By Type

1-D PHOTONIC CRYSTALS
2-D PHOTONIC CRYSTALS
3-D PHOTONIC CRYSTALS

By Application

Optical Fiber
LED
Image Sensor
Solar & PV Cell
Laser
Discrete & Integrated Optical Component
Others

By End User

Industrial
Aerospace & Defense
Life Sciences & Healthcare
R&D & Others

By Geography

North America
Europe

Uk
Germany
France
Spain
Italy
Rest of Europe

Asia-Pacific

China
Japan
India
Korea
Australia
Rest of Asia-Pacific

LAMEA

Brazil
South Africa
Kingdom of Saudi Arabia
Rest of LAMEA

Key Market Players
DK PHOTONICS, NKT PHOTONICS A/S, GLOPHOTONICS SAS, OPALUX INC., PHOTONIC LATTICE INC., CORNING INCORPORATED, FURUKAWA ELECTRIC CO. LTD., NEOPHOTONICS CORPORATION, PHOTEON TECHNOLOGIES GMBH, IPG PHOTONICS CORPORATION
Other major players in the industry include
Agilent Technologies, ICX Photonics Inc., Luminus Devices Inc., NEC Corporation, Advance Photonic Crystals LLC, Epistar, MicroContinuum Inc., Carolinas Photonic Consortium (CPC), Omniguide, Lightwave Power Inc.