Photosensitive Glass Market Overview:
The global photosensitive glass market accounted for $6,355.8 in 2017 and is anticipated to reach $10,885.3 by 2025, registering a CAGR of 6.8% from 2018 to 2025.
Photosensitive glass is also known as photo-structurable glass or photo-machinable glass which belongs to lithium silicate family. Colored pictures can be produced by exposing this glass to ultraviolet light. The colored images are formed in the photosensitive glass with the help of mask by microscopic metallic particles, when it is exposed to short wave radiations, such as UV light.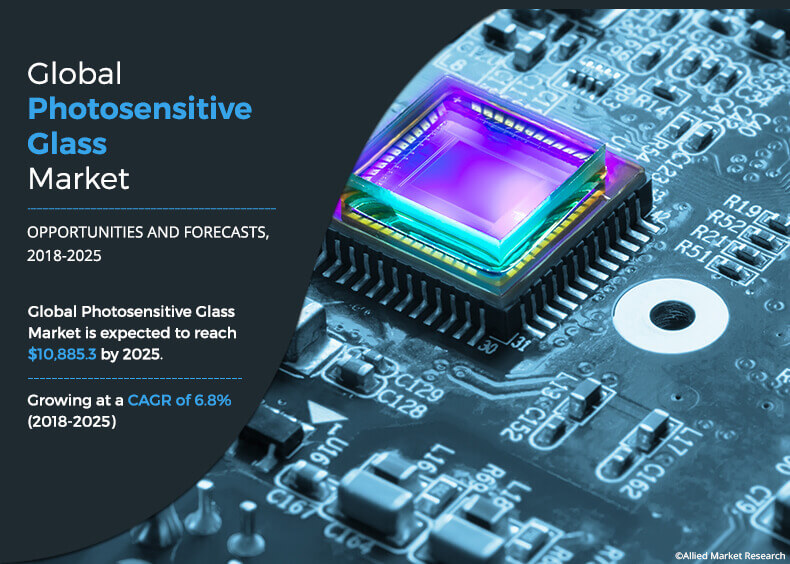 Get more information on this report:
The global photosensitive glass market is still at a nascent stage and is expected to explore considerable growth opportunities during the assessment period (2018-2025). Photosensitive glass is lithium silicate family glass, which is used for decorative purpose in residential application. It is used for decorations owing to its attractive appearance and unique property to capture image. Hence, gradual rise in penetration of photosensitive glass is considered as a key growth factor.
Construction industry is also emerging as a promising consumer of this glass due to its unique appearance. Photosensitive glass is used in ornamental tiles, wall & partition beautification, and in large windowpanes in architectural applications. This in turn drives the growth of the market. Furthermore, developing use of photosensitive glass to produce micro circuits through photosensitive glass in electronic industry also boosts the market growth. Driven by these factors, growth of this market is restrained by high price of photosensitive glass linked with limited presence of photosensitive glass manufacturers. The global photosensitive glass market is expected to witness lucrative growth opportunities due to large-scale usage of the glass in various end use industries, such as automotive and electronics.
The photosensitive glass market is segmented based on application and region. Based on application, the global market is segmented into construction, ornaments, decorative, electronics, and automotive. Based on region, the global market is analyzed across North America, Europe, Asia-Pacific, and LAMEA.
The major key players operating in the photosensitive glass market include Corning Incorporated, Gaffer Glass USA, Schott AG, Hoya Corporation, and IPG Photonics Corporation.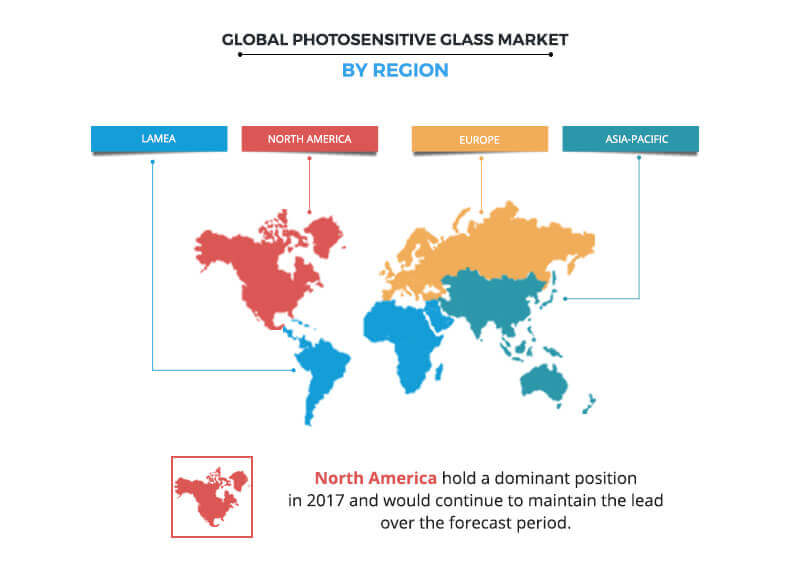 Get more information on this report:
Global Photosensitive Glass market share, by region
Based on region, North America accounts for major share in the global photosensitive glass market, owing to active presence of leading photosensitive glass manufacturers such as Gaffer Glass USA, and Corning Incorporated. In addition, economically strong status of this region and presence of established construction industry has helped in generating additional demand for photosensitive glass.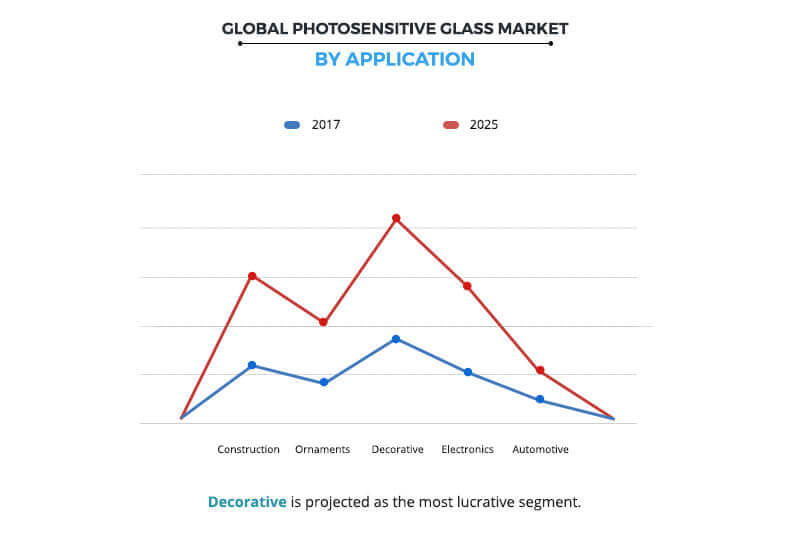 Get more information on this report:
Global Photosensitive Glass market, by Application
Based on application, the decorative application segment dominated the market in 2017, owing to unique appearance and property to capture colorful images. This in turn increased the adoption of photosensitive glass decorative applications in the household industry.
Key Benefits for Photosensitive Glass Market:
Porter's five forces analysis helps to analyze the potential of buyers & suppliers and the competitive scenario of the industry for strategy building.
It outlines the current trends and future scenario of the market from 2018 to 2025 to understand the prevailing opportunities and potential investment pockets.
Major countries in each region have been mapped according to their individual revenue contribution to the global/regional market.
The key drivers, restraints, and opportunities and their detailed impact analyses are elucidated in the study.
The profiles of key players along with their key strategic developments are enlisted in the report.
 Photosensitive Glass Market Report Highlights
Aspects
Details
By Application

Construction
Ornaments
Decorative
Electronic
Automotive

By Region

North America (U.S., Canada, Mexico)
Europe (Germany, France, UK, Italy, Rest of Europe)
Asia-Pacific (China, Japan, India, Australia, Rest of Asia-Pacific)
LAMEA (Brazil, Saudi Arabia, Rest of LAMEA)

Key Market Players
CORNING INCORPORATED, GAFFER GLASS, HOYA CORPORATION, IPG PHOTONICS CORPORATION, SCHOTT AG