Phytosphingosine Market Overview:
Phytosphingosine Market Size was valued at $1,215.5 million in 2016, and is expected to reach $1,882.9 million by 2023, registering a CAGR of 6.5 % from 2017 to 2023. Phytosphingosine is an antibacterial and conditioning lipid derived from the fermentation of yeast. The main function of this lipid is to maintain healthy skin and control the generation and regulation of lipids on the external layers of the skin, thus assuring natural and regular moisturization. Phytosphingosine market displays antimicrobial and anti-inflammatory properties, and is used in a wide range of cosmetic products such as facewash, cleansing wipes, hair conditioning agents, and facial scrubs.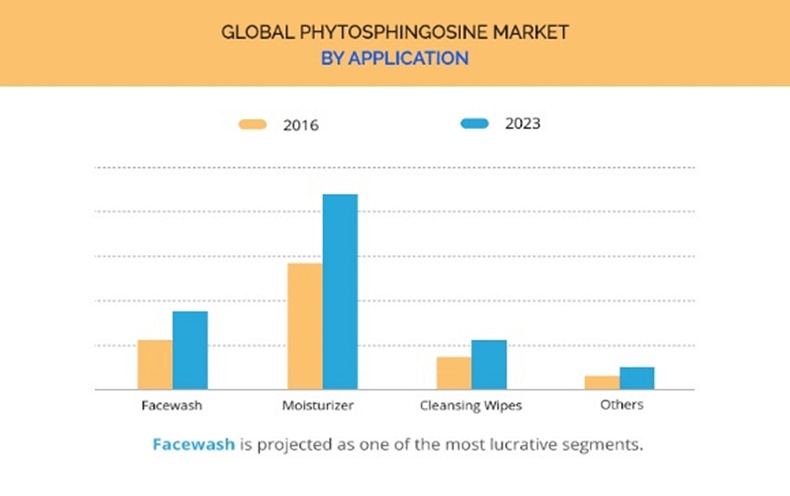 Increase in demand for anti-acne products among young population and high demand for bio-based cosmetic products are major factors driving phyosphingosine market across the globe. The demand for facewash, moisturizer, and cleansing wipes is on an increase due to rise in per capita disposable income and surge in cosmetics industry. Moreover, escalating awareness among the younger population and changing demographics as a result of rapid urbanization, especially in developing economies, drive the demand for phytosphingosine, although, inconsistency yields, poor productivity, and higher costs of phytosphingosine hamper the growth of the global phytosphingosine market. In addition, lack of awareness among consumers, especially in underdeveloped and developing regions worldwide, are some other major elements anticipated to impede the market growth. However, increase in usage of phytosphingosine in the pharmaceutical industry is anticipated to present lucrative opportunities during the forecast period.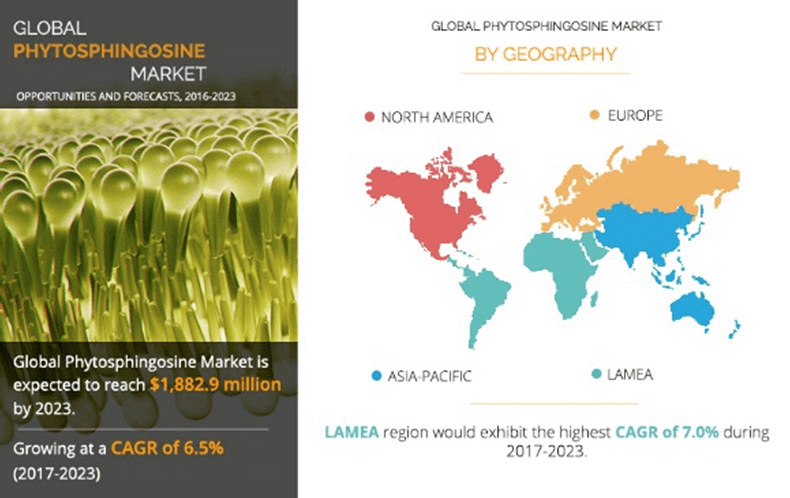 Based on application, the global phytoshingosine market is classified into facewash, moisturizer, cleansing wipes, and others. Phytosphingosine is active at very low concentration and it effectively reduces signs of acne, prevents loss of moisture from the skin, inhibits the growth of microorganisms on the skin, and diminishes redness and inflammation on skin. Facewash containing phytosphingosine cleanses, purifies, and tones the skin. The increase in use of phytosphingosine as an ingredient in facewashes, owing to its quality of reducing spots & blemishes, drives the global market. Currently, consumers are more inclined towards the use of natural solutions to maintain and improve skin functions, which is expected to provide substantial growth opportunity to the industry players.
Based on region, the global phytosphingosine market is analyzed across North America, Europe, Asia-Pacific, and LAMEA. LAMEA possesses high potential for the growing personal care & cosmetic market, owing to the strong economic improvement. Increase in need for skin care products, shift toward the use of natural ingredients, and growth in awareness drive growth in this region. Consumers are more inclined toward the use of mild, natural, and non-animal based products. Thus, improvement in lifestyle and increase in consumer awareness about the possible effects of chemical ingredients are expected to provide growth opportunities to the industry players in this region.
Key leading players operating in this market include AK Scientific Inc., Avanti Polar Lipids, Inc., Beckmann-Kenko GmbH, BOC Sciences, Doosan Corporation, Evonik Industries AG, MolPort, Sigma-Aldrich Co. LLC, Sungwun Pharmacopia Co. Ltd., and Tokyo Chemical Industry Co., Ltd.
Other key market players in the value chain include Cayman Chemical Company, Centerchem, Inc., Chemos GmbH & Co. KG, Chemsky (shanghai) International Co., Ltd., Hangzhou Dayangchem Co. Ltd., J&K Scientific Ltd., Meryer (Shanghai) Chemical Technology Co., Ltd. and Santa Cruz Biotechnology, Inc.
Key Benefits for Phytosphingosine Market:
Porter's five forces analysis helps analyze the potential of buyers & suppliers and their Phytosphingosine market share for building strategies. 
It outlines the current trends and future scenario of the Phytosphingosine market size from 2016 to 2023 to understand the prevailing opportunities and potential investment pockets.
Major countries in four major regions, namely, North America, Asia-Pacific, Europe, and LAMEA have been mapped according to their individual revenue contribution in the Phytosphingosine market analysis at regional and country level.
The key drivers, restraints, and opportunities and their detailed impact analyses are elucidated in the study.
The profiles of key players along with their contribution in Phytosphingosine market growth are enlisted in the report.
 Phytosphingosine Market Report Highlights
Aspects
Details
By Application

Facewash
Moisturizer
Cleansing Wipes
Others

By Geography

North America
Europe

France
Germany
UK
Spain
Italy
Rest of Europe

Asia-Pacific

India
China
Japan
Korea
Australia
Rest of Asia-Pacific

LAMEA

Brazil
KSA
South Africa
Rest of LAMEA

Key Market Players
AK SCIENTIFIC INC., AVANTI POLAR LIPIDS, INC., BECKMANN-KENKO GMBH, BOC SCIENCES, DOOSAN CORPORATION, EVONIK INDUSTRIES AG, MOLPORT, SIGMA-ALDRICH CO. LLC., SUNGWUN PHARMACOPIA CO. LTD., TOKYO CHEMICAL INDUSTRY CO., LTD.