Pigments Market Overview:
The global pigments market size was valued at $20,023 million in 2015, and is expected to garner $26,598 million by 2022, registering a CAGR of 4.1% during the forecast period 2022. Pigments are solid materials that improve the appearance or impart color to the substrate on which they are used; they are black, white, and colored. Pigments are insoluble materials incorporated by physically mixing them with the medium. They have a high tinting strength as compared to the material in which they are added. Pigments serve three main functions: impart color to the medium, hide the substrate, efface the existing color, and enhance the strength of the paint film. The global pigments market is broadly classified as organic, inorganic, and specialty pigments. 
Organic pigments contain carbon atoms, are non-toxic in nature, or have low level of toxicity, thus are environmentally safe. These pigments are obtained from coal tar, petroleum distillates, succinic acid, aniline, and phthalonitrile. Organic pigments offer high color strength with durability and are available in wider range of bright colors, such as blue, green, yellow, red, and orange. They are usually less opaque and are chemically inert. There are various types of organic pigments, such as azo, phthalocyanine, quinacridone, and others.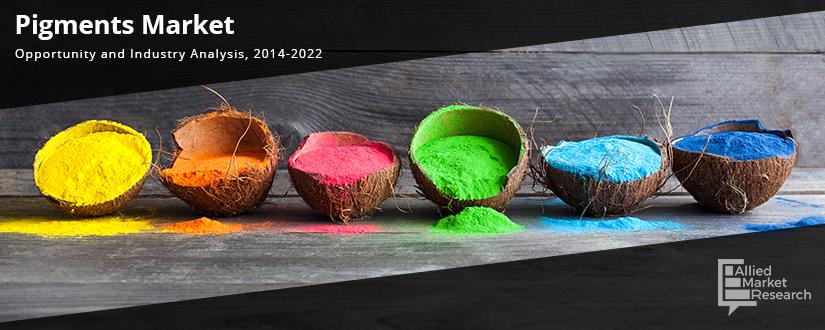 Primary Interview Responses Split
Inorganic pigments are coloring materials obtained from metal oxides by the process of high-temperature calcinations. They possess high light fastness, high hiding power, non-migratory, non-wrapping, and non-bleeding properties. Inorganic pigments are capable of withstanding extreme weather conditions and high temperatures as compared to organic pigments; therefore, they are used widely in paints & coatings, plastics, construction materials, printing ink, and others. Types of inorganic pigments include titanium dioxide pigment, iron oxide pigment, cadmium pigment, carbon black pigment, chromium oxide pigment, complex inorganic pigments, and others
Specialty pigments produce a range of vibrant colors with brilliant luster and have superior hiding power and light fastness, which makes them ideal for high-performance paints & coatings, plastics, and cosmetics. These pigments are usually used to enhance the appearance, value, and performance of the product. These include classic organic pigments, metallic pigments, high-performance pigments, light interference pigments, fluorescent pigments, and luminescent pigments, and thermo-chromic pigments.
Pigments Market Segmentation

Top Winning Strategy
Leading players in the global pigments market have adopted various strategies to achieve additional market share. These key strategies have been gathered from press releases, annual reports of market players, and primary calls made to industry experts. Market players profiled in this pigments industry are pigment producers and distributors catering to industries such as paints & coatings, printing inks, plastics, and construction materials. Key strategies adopted by these players include product launch, joint venture, acquisition, partnership, expansion, and investment.
Pigments Market: Top Winning Strategies, 2012-2016 (%)
The above pie chart represents the percentage split of the strategies adopted by the key market players. Product launch accounted for 46% of all strategies adopted, while acquisition is the second topmost strategy, accounting for 25% of the overall strategies.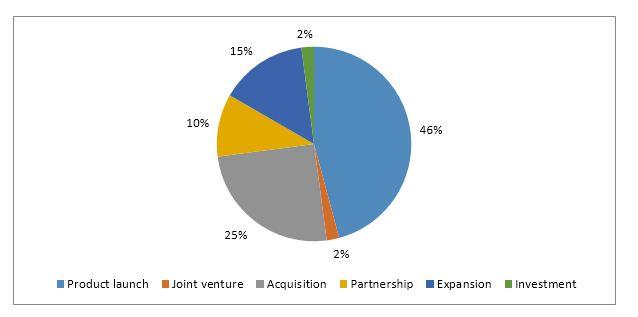 Patent Analysis
Patent Analysis by Company
BASF SE registered maximum number of patents related to pigments as compared to other leading players from January 2015 to October 2016; patents were registered for interference pigments, solvent-borne pigment pastes comprising metallic pigments, iron oxide containing effect pigments, and others. Merck Patent GmbH registered pigments for pigment mixture based on spherical particles, pigments based on bismuth compounds, electrically conductive pigments, and thermally conductive and plate-shaped pigments. The patents registered by Eckart GmbH include weather-resistant pearl gloss pigments, coated ferromagnetic metal pigments, pigments with photocatalytic activity, zinc-magnesium alloy anticorrosion pigments, and others.
Qingdao Zhongren Zhiye Biotechnology Co., Ltd., Canon Kabushiki Kaisha, and DIC Corporation also registered large number of patents for pigments between 2015 and October 2016. In addition, Cobot Corporation, Clariant International Ltd., Hefei Sunrise Pigments Co., Ltd., and others collectively registered 1,224 patents during the same time period.
Patent Analysis By Top Companies, 2015-2016 (%)

Segment Review:
The chemical names of pigments are nomenclated using the Color Index (C.I.) classification system. It is a dual classification system consisting of color index generic name (CIGN) and color index constitution number (CICN). C.I. generic name is used to describe a commercial product by its usage class, hue, and serial number. The C.I. constituent number uses a five-figure or six-figure number on the basis of their chemical structure.  For instance, C.I. pigment blue 15 (C.I. 74160) and C.I. pigment blue 75 (C.I. 74160:2). Colon is introduced in the C.I. to indicate structural differences.  There are approximately 27,000 individual products under 13,000 C.I. generic names. Some of the commonly used colors, such as red, orange, yellow, blue, green, brown, and others are mentioned below along with their color indices and applications.
Phthalocyanine blue is obtained from phthalocyanine compound. It is a crystalline bright blue pigment, which is used in plastic, paints, and inks. Ultramarine blue pigment is obtained from a synthetic inorganic compound, sodium aluminosilicate, containing sulfur. It is manufactured by heating sodium carbonate, sulfur, kaolin, and other ingredients. Cobalt blue is manufactured by heating cobalt oxide and aluminum at high temperature. Egyptian blue pigment is obtained from the compound, calcium copper silicate. These blue color pigments have high light-fastness, weather resistance, and high alkali resistance.
The blue pigments have applications across various industries such as paints & coatings, plastic, textile, paper, and printing inks, among others. They are used as a blue colorant in plastics and masterbatches. They are used in paper, fiber, plastics paints, and rubbers as optical whiteners.
LAMEA Review
The pigments market share in UAE has prospered due to the booming construction industry in this region. In August 2016, UAE planned to invest in Ukraine to focus on strategic developments in key sectors such as aviation, shipbuilding, industrial, aerospace, automotive, furniture, and others. These developments are expected to drive the market for pigments during the forecast period. In January 2016, Ferro Corporation acquired "Ferer" to strengthen its position in the glass market of Turkey. With this acquisition, Ferro increased its production capacity of pigments to meet the current and future demand in Turkey as well as of the Middle East and North African market. In 2015, Ferro Corporation acquired Al Salomi, an Egyptian tile coatings manufacturer, to enhance its high performance pigments business. This is expected to increase the production of pigments during the forecast period.
Turkey Pigments Market Size, 2014-2022 ($Million)
Key players profiled in the pigments market report include The Shepherd Color Company, Clariant International Ltd., Huntsman Corporation, DIC Corporation, ECKART GmbH, BASF SE, Cabot Corp., Sudarshan Chemical Industries Ltd., Heubach GmbH, and Ferro Corporation.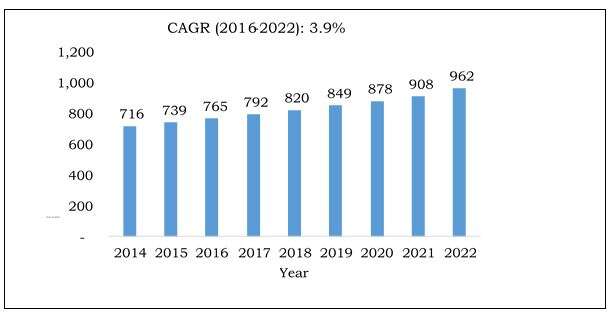 Other key players in the pigment market include CPS Color AG, Kronos Worldwide Inc., LANXESS AG, Cristal, Tronox Ltd., Lonsen, RIKA Technology Co., Ltd., Dainichiseika Color & Chemicals Mfg., Co., Ltd., Toyo Ink Mfg. Co. Ltd.
These companies are not profiled, can be profiled based on client request
Pigments Market Key Benefits
This report provides an extensive analysis of the current trends, future estimations, and dynamics from 2014 to 2022 of the global pigments market growth, which assists to identify the prevailing opportunities.
Geographically, the pigments market is analyzed based on various regions such as North America, Europe, Asia-Pacific, and LAMEA.
Exhaustive analysis predicts the applications that are currently used along with the variants that would gain prominence in the future.
Competitive intelligence of leading manufacturers and distributors highlights the competitive scenario across the geographies.
An in-depth analysis of current research and developments within the market is provided with key dynamic factors that interpret the market behavior.
Extensive analysis is conducted by following key product positioning and monitoring the top competitors within the market framework.
Key market players are profiled and their strategies are analyzed thoroughly, which portrays the competitive outlook.
 Pigments Market Report Highlights
Aspects
Details
BY APPLICATION

Paints & Coatings
Plastics
Printing Inks
Construction Materials
Others

BY COLOR INDEX

Red
Orange
Yellow
Blue
Green
Brown
Others

BY PRODUCT TYPE

Organic Pigments

Azo Pigments
Phthalocyanine Pigment
Quinacridone Pigment
Other Organic Pigments

Inorganic Pigments

Titanium dioxide pigments
Iron oxide pigments
Cadmium pigments
Carbon black pigments
Chromium oxide pigments
Complex inorganic pigments
Others

Specialty Pigments

Classic Organic Pigments
Metallic Pigments
High-Performance Pigments
Light Interference Pigments
Fluorescent Pigment
Luminescent Pigments
Thermo-chromic Pigments

BY GEOGRAPHY

North America
Europe

Germany
France
UK
Italy
Rest of Europe

Asia-Pacific

China
India
Japan
Rest of Asia-Pacific
LAMEA
Rest of LAMEA 

By Key Market Players

THE SHEPHERD COLOR COMPANY
CLARIANT INTERNATIONAL LTD
HUNTSMAN CORPORATION
DIC CORPORATION
ECKART GMBH
BASF SE
CABOT CORPORATION
SUDARSHAN CHEMICAL INDUSTRIES LTD
HEUBACH GMBH
FERRO CORPORATION 

OTHER KEY PLAYERS IN THE MARKET VALUE CHAIN INCLUDE
CPS Color AG, Kronos Worldwide Inc., LANXESS AG, Cristal, Tronox Ltd., Lonsen, RIKA Technology Co., Ltd., Dainichiseika Color & Chemicals Mfg., Co., Ltd., Toyo Ink Mfg. Co. Ltd.