The global pipeline monitoring systems market size was valued at $13,867.2 million in 2020, and is projected to reach $29,115.8million by 2030, registering a CAGR of 7.6% from 2021 to 2030.Pipeline safety and monitoring has become a need for sectors such as natural gas, petroleum, oil and gas, energy, and others. Pipeline monitoring and testing are required to prevent pipeline damage. The leakage or breaking might cause significant damage and have a negative impact on the environment. Pipeline monitoring systems market expansion is fueled by factors such as the rapid rise of leakage issues in the oil and gas sectors, as well as the increased consumption of petroleum products throughout the world.
The COVID-19 outbreak has affected the growth of the pipeline monitoring system industry owing to the lockdown measure in the countries and delay in production and manufacturing of pipeline monitoring system which are utilized in petroleum, water, waste water, and other industries.
As the liquid and gas products that run through the pipelines are extremely reactive, the pipeline can occasionally develop excessive pressure, resulting in pipe breakage. Owing to excessive pressure in the pipes, accidents, or natural disasters, leak detection difficulties are on the rise in the liquid & gas sectors, resulting in numerous occurrences such as pipe leaking, pipe breakage, and pipe bursting. These accidents tend to raise oil & gas prices and supplies throughout the world. As a result, leak detection is a major problem in the sector. And hence such factor is expected to increase the demand for pipeline monitoring systems market growth and provide lucrative opportunities in the market.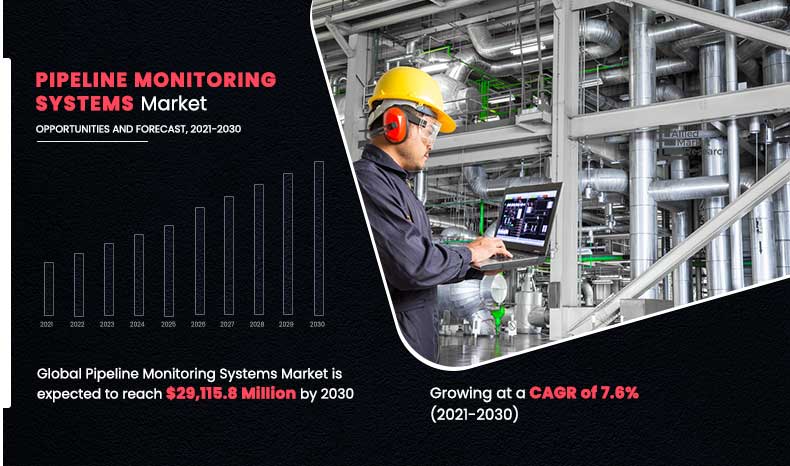 Moreover, pipeline infrastructure has increased significantly owing to growth demands for oil and gas in most major countries. Pipelines for the transportation and distribution of oil and gas products are being installed across various regions across thousands of km. For instance, in May 2021, Honeywell International will provide UOP technology to Numaligarh Refinery Ltd, Indian Ministry of Petroleum and Natural Gas for generating cleaner-burning diesel fuel and enhance crude oil conversion in accordance with India's BS-VI emission requirements. Hence, the need for pipeline monitoring systems has been spurred by the enormous networks of pipelines for oil & gas and petroleum sectors.
The novel coronavirus has rapidly spread across various countries and regions, causing an enormous impact on the lives of people and the overall community. It began as a human health condition and has now become a significant threat to global trade, economy, and finance. The COVID-19 pandemic has halted the production of many products in the pipeline monitoring systems business due to the lockdown. Furthermore, the number of COVID-19 cases is expected to reduce in the near future as the vaccine for COVID-19 is introduced in the pipeline monitoring systems market. This has led to the reopening of pipeline monitoring systems companies at their full-scale capacities. This will help the market to recover by the start of 2022.After COVID-19 infection cases begin to decline, equipment &machinery producers must focus on protecting their staff, operations, and supply networks to respond to urgent emergencies and establish new methods of working.
Pipeline Monitoring Systems Market

---
By Pipe Type
Non-metallic Pipe segment is projected to grow at a significant CAGR
The pipeline monitoring systems market is segmented on the basis of material type, technology, end user, and region. By material type, the market is categorized into metallic and non-metallic. Depending on technology, the market is divided into ultrasonic testing, PIGs, smart ball, magnetic flux leakage technology and others. By end user, it is fragmented into petroleum, water & waste water and others. Region wise, the global market analysis is conducted across North America (the U.S., Canada, and Mexico), Europe (the UK, France, Germany, Spain, Russia, and Rest of Europe), Asia-Pacific (China, Japan, India, South Korea, and Rest of Asia-Pacific), and LAMEA (Latin America, the Middle East, and Africa).
Pipeline Monitoring Systems Market

---
By Technology
Ultrasonic Testing segment holds dominant position in 2020
Competition Analysis
Key companies profiled in the pipeline monitoring systems market report include Orbcomm Inc., Transcanada Company, PSI AG, Pure Technologies, Honeywell International Inc., Perma Pipe Inc., Siemens AG, Huawei Technologies Co. Ltd., BAE Systems, Inc. and Pentair PLC.
Pipeline Monitoring Systems Market

---
By Region
Asia-Pacific holds a dominant position in 2020 and is expected to grow at a significant rate during the forecast period.
Key Benefits For Stakeholders
The report provides an extensive analysis of the current and emerging pipeline monitoring systems market trends and dynamics. 
In-depth pipeline monitoring systems market analysis is conducted by constructing market estimations for key market segments between 2021 and 2030.
Extensive analysis of the pipeline monitoring systems market is conducted by following key product positioning and monitoring of top competitors within the market framework.
A comprehensive analysis of all the regions is provided to determine the prevailing opportunities.
The global pipeline monitoring systems market forecast analysis from 2021 to 2030 is included in the report.
The key players within pipeline monitoring systems industry are profiled in this report and their strategies are analyzed thoroughly, which help understand the competitive outlook of the Pipeline monitoring systems industry.
 Pipeline Monitoring Systems Market Report Highlights
Aspects
Details
BY MATERIAL TYPE

Metallic Pipe
Non-metallic Pipe

BY TECHNOLOGY

Ultrasonic Testing
Smart Ball
Magnetic Flux Leakage Technology
PIGs
Others

BY END USER

Petroleum
Water & Waste Water
Others

BY REGION

North America
Europe

Germany
UK
France
Italy
Rest of Europe

Asia-Pacific

China
India
Japan
South Korea
Rest of Asia-Pacific

LAMEA

Latin America
Middle East
Africa