Planned LNG Market Statistics - 2030
The global planned LNG market was valued at $102.2 billion in 2019, and is projected to reach $58.9 billion by 2030, growing at a CAGR of 9.9% from 2020 to 2030. Inclusion of regasification and liquefaction capacity at LNG terminals is known as planned LNG. Liquefaction can be defined as the physical transformation of gas into liquid. This liquefaction of gas is processed by compression, or by refrigeration, or both in combination. Regasification is a process of transforming liquid LNG into gaseous form. In this process, heat exchangers are used for increasing the temperature of LNG.
The planned LNG market is anticipated to witness significant growth due to numerous factors such as technological advancement, rise in demand for LNG from Asia-Pacific, and others. The liquefied natural gas industry is transforming with the development of technology and the rise of new demand sources. Technological advancement makes the production, liquefaction, and storage of LNG gas achievable at offshore. Floating liquefaction is a relatively new technology, as compared to floating regasification, which has rapidly established itself in the market. However, delay in LNG project is one of the major factors hindering the planned LNG market growth. Most of the LNG projects were going to start its operation in 2020 but there is a delay, owing to outbreak of COVID-19. On the contrary, demand from various types of end users is increasing the consumer base of LNG and providing lucrative opportunities to the market. Asia-Pacific was the largest importer of LNG in 2019; however, the COVID-19 virus outbreak has negatively impacted the demand for LNG. Furthermore, there is a decline in the demand for LNG from China in 2020, and it is anticipated to be the same for other countries as the virus continues to spread. This is attributed to factors such as lower activity of the industrial and commercial sectors.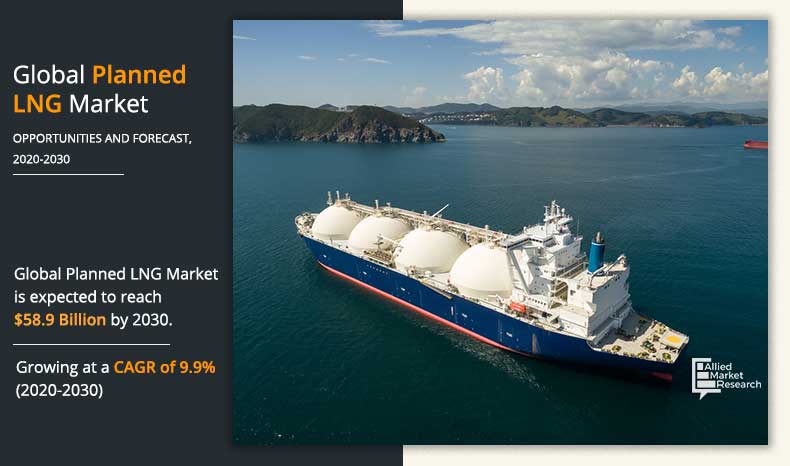 The planned LNG market is segmented on the basis of technology, end-use industry, and region. By technology, the market is divided into liquefaction and regasification. The end-use industry covered in the study includes residential, commercial, and industrial. Region wise, the market is analyzed across North America, Europe, Asia-Pacific, and LAMEA. Planned LNG market share is across all the main regions.
The planned LNG market analysis covers in-depth information of the major industry participants. Some of the major players in the market include Chevron Corporation, Royal Dutch Shell plc, Exxon Mobil Corporation, LNG Croatia LLC, Energy Transfer LP, Cheniere Energy, Inc., Freeport LNG, PETROBRAS, Sempra Energy, ConocoPhillips Company, Equinor ASA, Korea Gas Corporation, Venure Global LNG, and Gasum.
Other players in the value chain of the market include Tokyo Gas Co Ltd, Hitachi, Petronet LNG Ltd, Samsung, C&T Corporation, CTCI Resources Engineering Inc., and others.
The key players are adopting numerous strategies such as partnership, business expansion, acquisition, partnership, collaboration, and agreement to stay competitive in the market.
For instance, in September 2019, Freeort LNG & Redwood Markets, Inc. launched virtual private storefront to sell liquefied natural gas cargoes inside the Redwood Marketplace. This will strengthen the LNG business of the company.
In addition, in October 2019, Sempra Energy signed an agreement with Mitsui & Co. Ltd. This agreement aimed at future expansion of the Energía Costa Azul (ECA) LNG project in Baja California, Mexico, and will grow U.S. LNG export.    
Planned LNG Market, by Technology
By technology, liquefaction has garnered high share in the market in 2019. This is attributed to increase in new liquefaction terminals or expansion of liquefaction capacity in major exporting countries such as the U.S., Qatar, Australia, and others. In addition, an onshore regasification terminal accounted for the highest market share in 2019. This is attributed to factors such as longer-term supply security, greater storage capacity, less operating expenditure, and others. 
Planned LNG Market

---
By Technology
Liquefaction is projected as the most lucrative segment.
Planned LNG Market, by End-Use Industry
On the basis of end-use industry, the industrial sector has garnered highest market share in 2019. This is attributed to increase in demand for LNG from industrial sector, owing to rise in concerns regarding pollution. For instance, some of the countries in developed and developing region reduced its dependency on coal for power generation due to rise in pollution levels. 
Planned LNG Market

---
By Application
Industrial is projected as the most lucrative segment.
Planned LNG Market, by Region
Region wise, Asia-Pacific has garnered highest share in planned LNG market in 2019. The LNG regasification capacity is more in the Asia-Pacific region due to the presence of largest LNG importing countries such as Japan, South Korea, China, and India. China is anticipated to become largest importer of LNG in coming years, owing to rise in demand from industrial sector. In addition, North America has the second highest market share. U.S. is one of the largest exporters of LNG, owing to factors such as increase in natural gas production; decrease in natural gas imports by pipeline, decrease in LNG imports, and expansion of LNG export terminal capacity.
Planned LNG Market

---
By Region
Asia-Pacific holds a dominant position in 2019 and would continue to maintain the lead over the forecast period.
Key Benefits For Stakeholders
Planned LNG market forecast is studied from 2020 to 2030

The report provides an in-depth analysis of the market along with the current and future market trends

This report highlights the key drivers, opportunities, and restraints of the market along with the impact analyses during the forecast period

Porter's five forces analysis helps analyze the potential of buyers & suppliers and the competitive scenario of the planned LNG industry for strategy building

The qualitative data in this report aims on market dynamics, planned LNG market trends, and developments

A comprehensive analysis of the factors that drive and restrain the planned LNG market growth is provided

The planned LNG market size is provided in terms of revenue and volume
Key Market Segments
By Technology
Liquefaction
Regasification
By End-Use Industry
Residential
Commercial
Industrial
By Region
North America
Europe

Russia
Croatia
Cyprus
Turkey
Rest of Europe

Asia-Pacific

China
Japan
India
Australia
Indonesia
Malaysia
Thailand
Bangladesh
Philippines
Vietnam
Rest of Asia-Pacific

LAMEA

Brazil
Argentina
Bahrain
Nigeria
Jamaica
Ghana
Mozambique
Mauritania
Kuwait
El Salvador
Qatar
Rest of LAMEA