Plasma Welding Machine Market Statistics-2030
The global plasma welding machine market size was valued at $1,128.7 million in 2020, and is projected to reach $1,851.7 million by 2030, registering a CAGR of 4.9% from 2021 to 2030.. The plasma welding method, also known as liquid state welding, involves the heating of workpiece by using hot ionized gases. The primary goal of plasma welding is to create a strong connection between two components. Welders deal with metal or thermoplastic and bond them together with a durable filler material. Plasma is employed across a wide range of industries, due to factors such as production volume, consistency, and minimal downtime.
The COVID 19 outbreak has affected the growth of the plasma welding machine industry owing to the lockdown measure in the countries and delay in manufacturing and production of plasma welding machines which are utilized in automotive, defense, aerospace, and other sector.
The global plasma welding machines market growth is driven by rise in need for technical advancements and automation, which will help in decreasing labor costs and increase quality control. Furthermore, high production capacity and lightweight design of micro plasma welding machines are anticipated to provide lucrative opportunities for the expansion of the global market during the forecast period. In comparison to other welding techniques, plasma welding is an effective and efficient procedure. However, the downturn in the automobile sector, on the other hand, is likely to act as a key challenge for the expansion of the plasma welding machine market.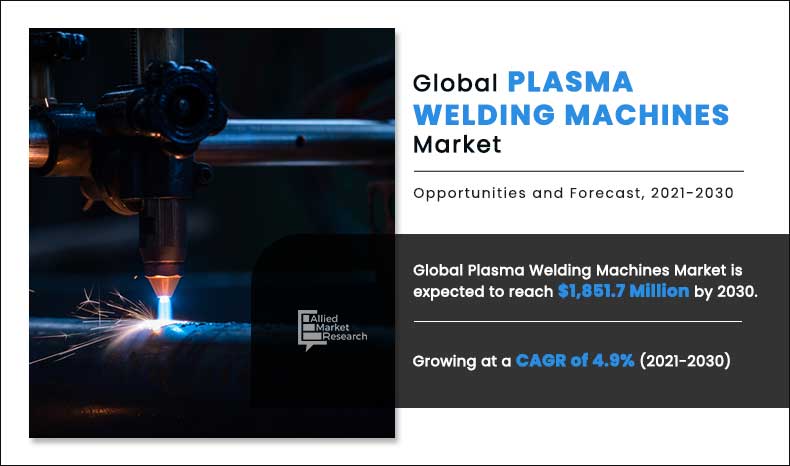 The novel coronavirus has rapidly spread across various countries and regions, causing enormous impact on lives of people and overall community. Originating as a crisis to human health, it now poses significant threat to worldwide trade, economy, and finance. The COVID-19 pandemic has halted production of plasma welding machines, due to the continuous lockdown in key countries. Market players can afford a complete lockdown only for a limited period, after which they would have to alter their investment plans. Furthermore, number of COVID-19 cases are expected to reduce in the near term as vaccine for COVID-19 has been introduced in the market. This is further expected to lead to re-initiation of plasma welding machine companies at their full-scale capacities, which would aid the market to recover by the start of 2022.
After COVID-19 infection cases start to decline, equipment and machinery producers must focus on protecting their staff, operations, and supply networks to respond to urgent emergencies and establish new methods of working.
Plasma Welding Machine Market

---
By Control
Manual segment is projected to grow at a significant CAGR
In the plasma welding machine market, several firms are developing and launching new products. These new goods are more technologically sophisticated than their prior product line. These new goods work more efficiently and effectively, and they are extensively employed in the business. For instance, in May 2021, Kjellberg Finsterwalde has launched new cathodes, E042, F042, and G042 for plasma power sources. These cathodes can be used for stainless steel and aluminum from 1 to 6mm. Hence, these innovation in plasma welding machine equipment is expected to boost the market growth during the forecast period.
Micro plasma welding machines and plasma welding machines are two types of plasma arc welding devices. Micro plasma welding devices are capable of welding metal sheets ranging in size from 100 microns to 1 mm in thickness. Plasma welding equipment can weld metal sheets with thicknesses ranging from 100 microns to 5 millimeters. Hence, companies are launching high-speed welding machines, which help increasing the production volume. For instance, in April 2019, Migtronics, a Danish firm, introduced Pi Plasma, an improved version of the plasma welding equipment. This plasma welding equipment is available in two versions, pulsed and non-pulsed. Pi Plasma offers high-speed plasma welding as well as a high-quality completed product. As a result, finishing treatments after welding can be omitted. Therefore, these innovations in welding machines are expected to fuel the market growth during the forecast period.
Plasma Welding Machine Market

---
By End User
Auomotive segment holds dominant position in 2020
The plasma welding machine market is segmented into control, price range, distribution channel, end user, and region. By control, the market is bifurcated into manual and mechanized. Depending on price range, it is categorized into low, medium, and high. On the basis of distribution channel, it is divided into online and offline.  As per end user, it is segregated into machinery & equipment, aerospace & defense, automotive and others. Region wise, the market analysis is conducted across North America (the U.S., Canada, and Mexico), Europe (Germany, France, UK, Italy, and rest of Europe), Asia-Pacific (China, India, Japan, South Korea, and rest of Asia-Pacific), and LAMEA (Latin America, the Middle East, and Africa).
Competition Analysis
Key companies profiled in the plasma welding machine market report include Air Liquide, Banner Welder, Inc., Carl Cloos Schweisstechnik GmbH, DAIHEN Corporation,  EWM, Fronius International GmbH,  Illinois Tools Works Inc, Panasonic Corporation,  Technocrats Plasma Systems Private Limited, and voestalpine Böhler Welding GmbH.
Plasma Welding Machine Market

---
By Region
Asia-Pacific holds a dominant position in 2020 and is expected to grow at a significant rate during the forecast period.
Key Benefits For Stakeholders
The report provides an extensive analysis of the current and emerging plasma welding machine market trends and dynamics.  
In-depth emerging plasma welding machine market analysis is conducted by constructing market estimations for key market segments between 2021 and 2030. 
Extensive analysis of the emerging plasma welding machine market is conducted by following key product positioning and monitoring of top competitors within the market framework.
A comprehensive analysis of all the regions is provided to determine the prevailing opportunities.
The global emerging plasma welding machine market forecast analysis from 2021 to 2030 is included in the report.
The key players within emerging plasma welding machine market are profiled in this report and their strategies are analyzed thoroughly, which help to understand the competitive outlook of the emerging plasma welding machine  industry. 
 Plasma Welding Machine Market Report Highlights
Aspects
Details
By CONTROL
By PRICE RANGE
By DISTRIBUTION CHANNEL
By END-USER

Machinery and Equipment
Aerospace and Defense
Automotive
Others

By Region

North America (US, Canada, Mexico)
Europe (Germany, France, UK, Italy, rest of Europe)
Asia-Pacific (China, India, Japan, South Korea, rest of Asia-Pacific)
LAMEA (Latin America, Middle East, Africa)

Key Market Players
Panasonic Corporation, EWM AG, DAIHEN Corporation, Technocrats Plasma Systems Private Limited, Illinois Tool Works Inc., BANNER WELDER, INC., Carl Cloos Schweisstechnik GmbH, Air Liquide, voestalpine Böhler Welding GmbH, Fronius International GmbH