Plastic Additives Market Research, 2031
The global plastic additives market was valued at $50.6 billion in 2021, and is projected to reach $83.8 billion by 2031, growing at a CAGR of 5.3% from 2022 to 2031.
Pandemic outbreak across the globe has halted the production activities of various industrial verticals such as automotive, construction, textiles, and electronics amid government imposed lock down measures. Owing to which the growth of plastics additives market is expected to slowdown during the forecast period. However, the increase in the demand for PPE kits manufactured from medical grade plastic to compact the spread of COVID 19 is anticipated to serve as an opportunity for the market to regain its previous momentum.
Chemicals used to polymerize, process, or help attain desirable qualities in the ultimate usage of plastics are known as plastic additives. Increased chemical, water, and scratch resistance, reduced coefficient of friction, improved gloss, improved water repellency, suppression of shark-skin, and reduced surface roughness are just a few benefits of plastic additives. Plastic additives are also used to improve the flow ability of polymers, making them easier to process. Internal lubricants reduce heat dissipation and viscosity, allowing materials to flow more freely. Plastic additives, as opposed to other additives, are more effective at preventing microbiological deterioration of plastic materials that are susceptible to staining, odor, discoloration, and aesthetic loss. These beneficial properties of plastic additives over other additives are responsible for boosting growth of the plastic additives market. Plastic additives are most importantly effective on materials with electrical insulating properties and mechanical properties.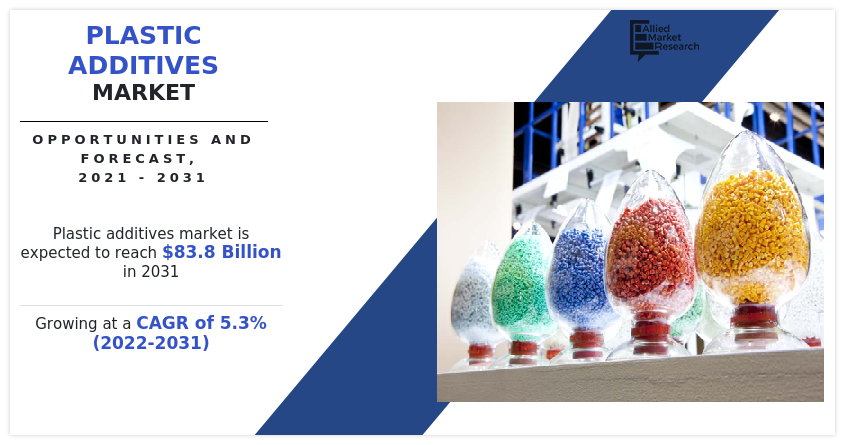 Plastic additives are frequently utilized in the automotive and construction industries due to qualities such as greater impact strength, improved coupling, higher elongation, reduced brittleness, and increased plasticity. These additives have received significant acceptability in the automotive industry for applications, such as interior scratch resistance in trims or panels, and high glossy panels for the decoration of central consoles. The market for plastic additives is predicted to rise as the popularity of low-cost automobile interiors grows. The consumer products industry uses chemicals for the ease with which they can be recycled. In the construction industry, plastic additives are used to maintain appearance and properties, thermal protection, long-term durability, and for maintenance of integrity of polymer properties during processing. Plastic additives also extend the lifetime of UV sensitive construction applications. Growing construction industry around the globe, is in turn, expected to boost growth of the plastic additives market.
The plastic additives market is segmented into type, plastic type, application, and region. Depending on type, the market is categorized into plasticizers, flame retardants, impact modifiers, lubricants, antioxidants, antimicrobials, UV stabilizers, and others. On the basis of plastic type, it is fragmented into commodity plastic, engineering plastic, and high-performance plastics. As per application, it is classified into packaging, automotive, agriculture, building & construction, consumer goods, electrical & electronics, and others. Region-wise, it is analyzed across North America, Europe, Asia-Pacific, and LAMEA.
The global plastic additives market analysis covers in-depth information about the major industry participants. The key players operating and profiled in the report include Albemarle Corporation, Badische Anilin- und SodaFabrik SE, Clariant Ltd., Dow Chemical Co., Evonik Industries AG, Exxon Mobil Corporation, Kaneka Corporation, Lanxess Corporation, Nouryon, and Songwon Industrial Co. Ltd.
Plastic Additives Market

---
By Type
Plasticizers is projected as the most lucrative segment.
By type, the plasticizers segment is expected to retain its dominant position in the global plastic additives market, both by value and volume, largely due to the substantial usage of these additives in high-volume flexible PVC products.
Plastic Additives Market

---
By Plastic Type
High-Performance Plastics is projected as the most lucrative segment.
Depending on plastic type, the high-performance plastics segment accounted for around 65.3% of the global plastic additives market share in 2021. The high-performance plastics segment is expected to remain dominant during the forecast period. High performing plastics are specially designed polymers with high mechanical strength, chemical resistance, and, all-importantly, temperature resistance. Stability at high temperature is the main criterion used to differentiate high performance plastics from regular plastics.
Plastic Additives Market

---
By Application
Building and Construction is projected as the most lucrative segment.
As per application, the building & construction segment accounted for around 30.3% of the global plastic additives market share in 2021. The developing construction industry, increasing demand for electrical and electronics products, and growing demand for e-buses will significantly drive plastic additives market growth in this region.
Plastic Additives Market

---
By Region
Asia-Pacific is projected as the most lucrative market.
Region-wise, Asia-Pacific accounted for the largest share of around 56.2% in 2021. The Asia-Pacific region dominated the global market share. China is one of the lucrative markets for plastic additives due to low-cost raw materials and labor availability. China is one of the largest producers of plastic materials globally.
IMPACT OF COVID-19 ON PLASTIC ADDITIVES MARKET
The COVID-19 pandemic is rapidly spreading and ruthlessly affecting the business environments of major markets. The demand for plastic additives is witnessing significant decline in all segments. Some regions, particularly, North America and Europe, are witnessing greater decline than Asia-Pacific. Amidst the ongoing crisis, plastic additives producers are operating at a lower capacity and are planning to scale up their operation after carefully assessing the course of COVID-19 in the near term.

The demand for end-products such as automotive components, plastic construction materials such as pipes & fittings, and consumer goods has declined. However, industrial operations and construction activities are reviving gradually and projected to generate more demand for plastic additives for their end-products during the forecast period.
On the other side, the increase in the demand for PPE kits manufactured from medical grade plastic to compact the spread of COVID 19 is anticipated to serve as an opportunity for the market to regain its previous momentum.
The health and safety of workers is a growing concern for the government. Governments from different nations have developed a variety of safety standards to prevent accidents and uncertainty in the industrial sector. End-use industries are required by a number of laws and government guidelines to provide workers with protective gear in particular work environments. Wearing protective gear is required for employees in a variety of professions, including manufacturing, construction, and oil & gas. For instance, according to the 2010 memorandum of the U.S. Occupational Safety and Health Administration (OSHA), it is mandatory for workers in the oil & gas industry to wear heat- and flame-resistant clothing. Therefore, all these factors boost the growth of plastic additives market.
R&D efforts to enable the use of sterilized additives with antiviral characteristics for polymers have gained momentum as a result of the COVID-19 pandemic. For instance, Sanitized AG, an antimicrobial product manufacturer with headquarters in Switzerland, claims that a number of its product lines are effective against the virus on non-porous surfaces. These products' efficacy was verified by testing done independently in accordance with ISO 21702:2019. These additives are claimed to be effective for polymers employed in health care, food & beverages, transportation, and other essential applications.
Key Benefits For Stakeholders
This report provides a quantitative analysis of the market segments, current trends, estimations, and dynamics of the plastic additives market analysis from 2021 to 2031 to identify the prevailing plastic additives market opportunities.
The market research is offered along with information related to key drivers, restraints, and opportunities.
Porter's five forces analysis highlights the potency of buyers and suppliers to enable stakeholders make profit-oriented business decisions and strengthen their supplier-buyer network.
In-depth analysis of the plastic additives market segmentation assists to determine the prevailing market opportunities.
Major countries in each region are mapped according to their revenue contribution to the global market.
Market player positioning facilitates benchmarking and provides a clear understanding of the present position of the market players.
The report includes the analysis of the regional as well as global plastic additives market trends, key players, market segments, application areas, and market growth strategies.
 Plastic Additives Market Report Highlights
Aspects
Details
By Type

Plasticizers
Flame Retardants
Impact Modifiers
Lubricants
Antioxidants
Antimicrobials
UV Stabilizers
Others

By Plastic Type

Commodity Plastic
Engineering Plastic
High-Performance Plastics

By Application

Packaging
Automotive
Agriculture
Building and Construction
Consumer goods
Electrical and electronics
Others

By Region

North America (U.S., Canada, Mexico)
Europe (Germany, France, U.K., Spain, Italy, Rest of Europe)
Asia-Pacific (China, Japan, India, South Korea, Australia, Rest Of Asia Pacific)
LAMEA (Brazil, Saudi Arabia, South Africa, Rest of LAMEA)

Key Market Players
evonik industries ag, DOW Plastic Additives, Albemarle Corporation, Nouryon, Clariant Ltd., EXXON MOBIL CORPORATION, Kaneka Corp., LANXESS AG, BASF, Songwon Industrial Co., Ltd