The global plastic antioxidants market was valued at $3,020.9 million in 2018, and is projected to reach $4,962.2 million by 2026, growing at a CAGR of 6.4% from 2019 to 2026. Antioxidants are additives used during plastic production. They are added to plastic to eliminate degradation processes caused by thermo-mechanical as well as thermo-oxidative conditions. Antioxidants help in extending the life cycle of plastic, increase color deterioration, offer tensile strength and elongation, reduced impact resistance, cracking, and other surface deterioration. Primary antioxidants and secondary antioxidants are the two major categories of plastic antioxidants, and plastic made from primary type is often combined with secondary to produce thermally stable plastic products. In addition, a combination of primary and secondary antioxidants provides additional processing stability during plastic production.
The global plastic antioxidants market is in the growth phase in its industry life cycle and is expected to continue growing in a similar phase during the forecast period. These antioxidants are used in plastic production that eliminate the plastic degradation process. Furthermore, growth in use of plastic consumption also boosts the demand for plastic antioxidants. The plastic antioxidants market is expected to grow significantly during the next few decades, owing to unavailability of a perfect and economically viable substitute for plastic introduced in the market. On the other hand, implementation of stringent regulatory policies are expected to restrain the plastic antioxidants market growth.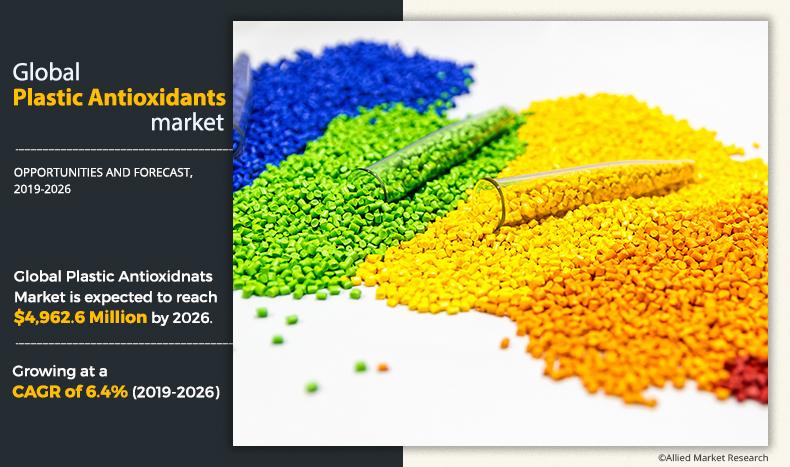 Get more information on this report : Request Sample Pages
The global plastic antioxidants market is segmented on the basis of type, polymer resin, form, and region. Depending on the type, the plastic antioxidants market is fragmented into phenols, amines, phosphites, organic sulfides, antioxidant blends, and others. Depending on the polymer resin, it is categorized into polyethylene, polypropylene, polyvinyl chloride, polystyrene, acrylonitrile butadiene styrene (ABS), and others. Based on form, the market is bifurcated into solid and liquid. Region wise, the global market is analyzed across North America, Europe, Asia-Pacific, and LAMEA. The plastic antioxidants market share has been analyzed across all segments and regions.
Some of the major market players operating and profiled in the global plastic antioxidants market are BASF SE, SI Group, Solvay S.A., Clariant AG, Songwon, Sumitomo Chemical Co., Ltd., Dover Chemical Corporation, Everspring Chemical Co., Ltd., Amfine Chemical Corporation, and 3v Sigma USA Inc.
The other players in the value chain of the market include Omnova Solutions Inc., Oxiris Chemicals S.A., Rifra Masterbatches S.P.A, Lanxess, Krishna Antioxidants Pvt. Ltd., and others. The key players are adopting numerous strategies such as product launch, agreement, and business expansion to stay competitive in the market. 
For instance, In 2018, Solvay launched product named CYASORB CYNERGY B878T for building & construction and CYASORB CYNERGY M535 for injection and blow molding applications. This product launch reinforced Solvay's plastic additives product portfolio, which is expected to increase their consumer base in the near future. 
Global Plastic Antioxidants Market, by Type
By type, the phenol segment accounted for the largest market share in 2018 due to its wide application in polyolefin and other plastic types. Phenols are known to reduce the rate of oxidation of organic matter by transferring hydrogen atom from their OH group to the chain that carries ROO radicals. But before transferring hydrogen atom, the antioxidant capability of phenols is strongly reduced by the hydrogen that accepts solvents. Phenol is a strong antioxidant, once the hydrogen bond gets transferred. It is one of the traditional antioxidants used in plastic production. This makes phenolic antioxidants a largest used plastic additive over other types
Plastic Antioxidants Market

---
By Type
Phenols

is projected as the most lucrative segment.
Get more information on this report : Request Sample Pages
Global Plastic Antioxidants Markets, by Form
By type, plastic antioxidants are mostly preferred in the solid form as major additive types such as phenolic antioxidants and amine antioxidants are in solid state. Solid state accounted for more than 60% market share in 2018, and it is expected to be the largest segment by the end of the forecast period.   
Plastic Antioxidants Market

---
By Polymer Resin
Polyethylene

is projected as the most lucrative segment.
Get more information on this report : Request Sample Pages
Global Plastic Antioxidants Markets, by End User 
By end user, the polyethylene segment accounted for the highest market share in 2018. Polyethylene is a lightweight and durable plastic, which is produced more than 100 million tons every year due to its application in various markets. It is used as films, tubes, plastic parts, laminates, and others in the range of markets including packaging, automotive, electronics, and others. The packaging is the major consumer of polyethylene and its types such as HDPE, LDPE, and LLDPE, which account for around 35% of the market as compared to other markets. 
Plastic Antioxidants Market

---
By Form
Solid

is projected as the most lucrative segment.
Get more information on this report : Request Sample Pages
Global Plastic Antioxidants Markets, by Region
By region, Asia-Pacific acquired the largest market share, owing to established automotive industry, stable growth in the construction industry, and largest electronic and electrical products across the globe, which further boost the demand for plastic and ultimately for plastic antioxidants.           
Plastic Antioxidants Market

---
By Region
Asia-Pacific

holds a dominant position in 2018 and would continue to maintain the lead over the forecast period.
Get more information on this report : Request Sample Pages
Key Benefits for Stakeholders
The report provides an in-depth analysis of the plastic antioxidants market forecast along with the current and future market trends
This report highlights the key drivers, opportunities, and restraints of the market along with the impact analysis
Porter's five forces analysis helps analyze the potential of the buyers & suppliers and the competitive scenario of the plastic antioxidant industry for strategy building
A comprehensive plastic antioxidants market analysis covers factors that drive and restrain the market growth
Plastic antioxidants market size is provided in terms of volume and revenue
The qualitative data in this report aims on market dynamics, plastic antioxidants trends, and developments
 Key Market Segments
By Type

Phenols
Amines
Phosphites
Organic Sulfides
Antioxidant Blends
Others

By POLYMER RESIN

Polyethylene
Polypropylene
Polyvinyl Chloride
Acrylonitrile Butadiene Styrene
Polystyrene
Others

By Form
By Region

North America
Europe

Germany
France
Italy
Spain
UK
Rest of Europe

Asia-Pacific

China
Japan
India
South Korea
Australia
Rest of Asia-Pacific

LAMEA

Brazil
Saudi Arabia
UAE
South Africa
Rest of LAMEA
 
Key Market Players
BASF SE
SI GROUP
SOLVAY S.A.
CLARIANT AG
SONGWON
SUMITOMO CHEMICAL COMPANY, LIMITED
DOVER CHEMICAL CORPORATION
EVERSPRING CHEMICAL CO., LTD.
AMFINE CHEMICAL CORPORATION
3V SIGMA S.P.A.