Plastic Solar Cell Market Outlook - 2026
The global plastic solar cell market was valued at $2.40 million in 2018 and is projected to reach $386.34 million by 2026, registering a CAGR of 88.0% during the forecast period of 2019 to 2026. A plastic solar cell is a type of photovoltaic that uses organic electronics, a branch of electronics that deals with conductive organic polymers or small organic molecules for light absorption and charge transport to produce electricity from sunlight by the photovoltaic effect. Plastic solar cells use nanotechnology and contains the first solar cells which are able to harness the infrared rays. 
Increase in pollution and market assisting programs such as feed in tariffs & renewable certificates fuel the demand for solar energy in various domestic, industrial, and commercial applications. Photovoltaic cells have majorly driven the market owing to increase in installation of rooftop solar panels and government subsidies such as feed-in tariffs that provide significant support for industrial growth.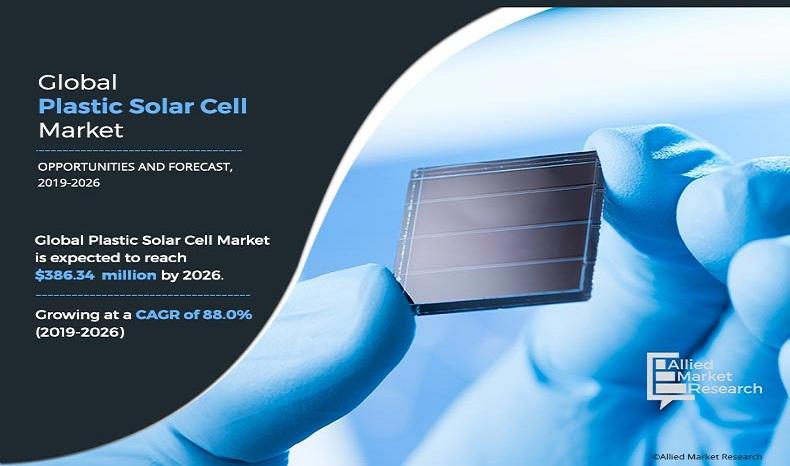 The PN junction Structure type of solar cells have witnessed the major plastic solar cell market share in 2018 owing to lower installation cost, high efficiency, and longevity. Increase in pollution and market assisting programs such as feed in tariffs & renewable certificates fuel the demand for plastic solar cells in various applications such as disposable solar panel posters, hydrogen powered car, wireless devices, and others. 
Factors such as increase in demand for plastic solar cells in electronic industry, favorable government initiatives, and support towards renewable source of energy and surge in demand for energy in remote areas are the major drivers for plastic solar cell market growth. However, conversion efficiency of PV technology acts as a major restraint, which hinders the market growth. Furthermore, R&D in solar cell technologies and emerging new technologies in manufacturing process of plastic solar cells provide lucrative opportunities for growth.
Europe is expected to lead the market with UK, Germany, and Spain to be the leading countries with significant demand.
Plastic Solar Cell Market

---
By Type
Dye-sensitized Nanocrystalline Solar Cell segment would exhibit the highest CAGR of 92.4% during 2019 - 2026
Segmentation
The plastic solar cell market is segmented on the basis of type, application, end user, and region. By type, it is categorized PN junction structure (PN heterojunction) and dye-sensitized nanocrystalline solar cells. 
Plastic Solar Cell Market

---
By Application
Disposable Solar Panel segment is expected to secure the leading position during forecast period
By application, the market is classified into disposable solar panel, hydrogen powered car, wireless devices, and others. The end use segment is divided into automotive, consumer electronics, power & energy, and others. By region, the market is analyzed across North America, Europe, Asia-Pacific and LAMEA. 
Plastic Solar Cell Market

---
By Geography
Europe region holds a dominant position in 2018 and would maintain the lead over the forecast period
Top Impacting Factors
The significant factors impacting the plastic solar cell market include increase in government initiatives and support toward renewable source of energy, surge in demand for energy in remote areas, surge in demand for plastic solar cells in an electronic industry and conversion efficiency of PV system technology either fuels or hampers the market growth.
Increase in Demand for Plastic Solar Cells in an Electronic Industry
There is a significant increase in the demand for alternative energy sources is due to growth in industrial sector and rise in population. Solar energy is the most abundant form of renewable energy. Photovoltaic (PV) cell is one of the way to connect solar energy. PV cells convert sunlight directly to electricity and can be influential in meeting the world's energy demand. 
PV systems are being used in a variety of applications because of its lightweight and flexibility. Plastic solar cells are used for coating on the back of electronics so it can supply power to the portable electronics equipment such as PDAS, laptops, and pocket calculators. The plastic solar cells also open up opportunities for the wearable computing devices.
Conversion Efficiency of PV System Technology
The portion of radiant energy of the sun which is converted into electricity via photovoltaics is referred to as solar cell efficiency. Considerations such as reliability, overall production, and competitiveness do not drive the PV system technology as it did in the initial stages. 
In addition, the overall climatic conditions and geographical latitudes have restricted the growth of the solar energy market especially in regions where snow and rainfall are prevalent. This is expected to hinder the growth of the plastic solar cell in the market. 
Research and Development in Solar Cell Technologies
The solar energy market is in its nascent stage but the growing demand for an alternative non-conventional source of energy has generated potential market growth opportunities in recent years. R&D is expected to play the pivotal role in shaping the solar cell technology and expanding the scope of solar energy in various applications. 
In addition, the increased efficiency of solar panels has boosted the market demand, especially in emerging economies such as China and Japan. Furthermore, researchers are fabricating the new third-generation solar module, which is expected to have huge market potential due to its increased energy efficiency.
Competitive Analysis
The key players in the plastic solar cell industry include Abengoa Solar S.A., Acciona Energia S.A., Applied Materials., Bright Source Energy Inc., eSolar Inc., Gintech Energy Corp., Konarka Technologies., Sunpower Corporation, Canadian Solar Inc., and Tata Power Solar. These key players have adopted strategies, such as product portfolio expansion, mergers & acquisitions, agreements, geographical expansion, and collaborations to enhance their market penetration.
Key Benefits for Stakeholders:
This study includes the analytical depiction of the global plastic solar cell market size along with the current trends and future estimations to determine the imminent investment pockets.
The plastic solar cell market size is determined to understand the profitable trends to gain a stronger foothold.
The report presents information related to key drivers, restraints, and opportunities with a detailed impact on plastic solar cell market analysis.
The current plastic solar cell market forecast is quantitatively analyzed from 2018 to 2026 to benchmark the financial competency.
Porter's five forces analysis illustrates the potency of the buyers and suppliers in the market.
The report includes the key vendors and their plastic solar cell market trends.
 Plastic Solar Cell Market Report Highlights
Aspects
Details
By Type

PN Junction Structure (P-N Heterojunction)
Dye-Sensitized Nanocrystalline Solar Cells

By Application

Disposable Solar Panel
Hydrogen Powered Car
Wireless Devices
Others

By End User

Automotive
Consumer Electronics
Power & Energy
Others

By Region

North America (U.S., Canada, Mexico)
Europe (Germany, UK, France, Rest of Europe)
Asia-Pacific (China, India, Japan, South Korea, Rest of Asia-Pacific)
LAMEA (Latin America, Middle East & Africa)

Key Market Players
BrightSource Energy Inc., eSolar, Inc., Gintech Energy Corporation, Abengoa S.A., Applied Materials Inc., Tata Power Solar Systems Ltd., SunPower Corporation, Konarka Technologies, Canadian Solar Inc., Acciona Energia S.A.