Plastics Modifiers Market Research, 2031
The global plastics modifiers market was valued at $4.2 billion in 2021, and is projected to reach $6.6 billion by 2031, growing at a CAGR of 5.1% from 2022 to 2031.
Report key highlighters
Quantitative information mentioned in the global plastics modifiers market includes the market numbers in terms of value (USD Million) and volume (Kilotons) with respect to different segments, pricing analysis, annual growth rate, CAGR (2022-31), and growth analysis.
The analysis in the report is provided on the basis of type, plastic type and end-use industry. The study will also contain qualitative information such as the market dynamics (drivers, restraints, opportunities), Porter's Five Force Analysis, key regulations across the region, and value chain analysis.
A few companies, including Mitsubishi Chemical Corporation, Formosa Plastics Corporation, Mitsui Chemicals, Inc., Dow, hold a large proportion of the plastics modifiers market.
This report makes it easier for existing market players and new entrants to the plastics modifiers business to plan their strategies and understand the dynamics of the industry, which ultimately helps them make better decisions.
The increasing demand from the plastic industry, as well as the increased use of plastic in end-use industries such as automotive, construction & building, consumer goods, and packaging, is driving the plastics modifiers market. Printed circuit boards (PCB) are in higher demand as a result of the electronics industry's explosive development, which is boosting the market's expansion. Additionally, it is anticipated that the expanding automobile and aerospace sectors will significantly fuel the plastics modifier market during the forecast period.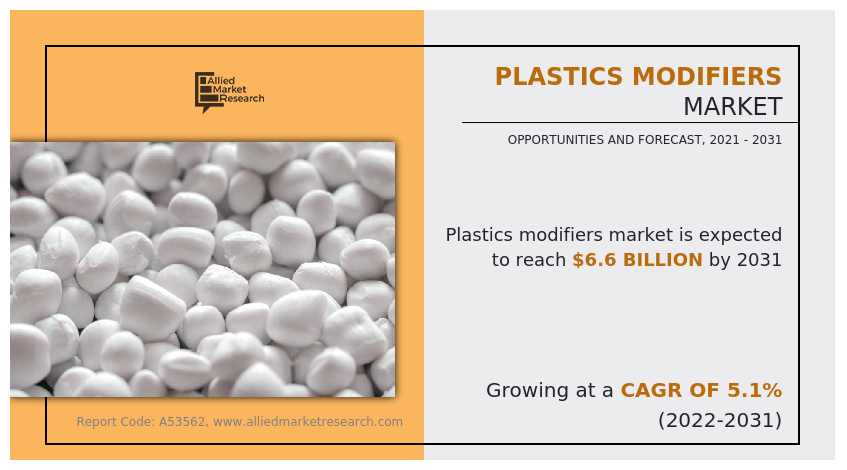 Plastics modifiers are the class of additives used to increase the tensile strength of weather-sensitive polymer compounds. They are available in the form of rubbery resins. The elasticity enables plastic modifiers to absorb impact energy and increase the durability of the polymer compounds in which they are inserted. Plastic modifiers boost the tensile strength and abrasion resistance of plastic, particularly those used in cold-weather or high-impact situations. They compensate for subzero temperature-induced notch sensitivity, fracture propagation, and inherent brittleness or embrittlement.
Numerous industries, including agriculture, packaging, medicine, automotive, consumer goods, textile, and construction utilize plastics for a variety of purposes. Polymers, and engineering plastics in particular, have superior mechanical and electrical qualities, superior chemical resistance, exceptional abrasion resistance, and other properties compared to conventional materials such as metals, glass, paper, and ceramics.
Constant innovation and the demand for lighter materials in a variety of applications motivate the substitution of conventional materials with plastic. Increased polymer consumption has led to an increase in the use of plastic modifiers in the production of products for a variety of purposes. These modifiers improve the mechanical and impact qualities of the finished product and reduce its cycle time. Hence, the growth in demand for plastics will drive the plastics modifiers market during the forecast period.
Growing need for plastic modifiers in the automotive and construction industry
Plastic modifiers are becoming more common in the automotive industry due to their high strength-to-weight ratio. In the automobile sector, plastic modifiers are used in a range of applications, including automobile hoses, rocket panels, wheel arches, dashboards, diaphragms, and sealants. According to the International Trade Administration (ITA), China is the world's largest market for motor vehicles, with production estimated to reach 35 million units by 2025.
According to Invest India, the passenger vehicle market would expand by 22 to 25% by 2022. Increasing automated production would necessitate more automotive components, hence driving the market for plastic modifiers during the forecast period.
The Asia-Pacific construction industry is the largest in the world, and it is expanding as a result of the region's growing population. Infrastructure development contributes to the expansion of plastic modifiers used extensively in windows, flooring, siding, and doors. Due to urbanization, the Asia-Pacific construction industry has been steadily expanding, and the government has launched numerous projects to encourage this trend. India's construction industry is projected to reach US$1.4 trillion by 2025, with investments of 24% in renewable energy, 19% in roads and highways, 16% in urban infrastructure, and 13% in railroads, and the second-highest FDI investment from 2000-2020. Thus, increasing the use of plastic modifiers will increase and will drive the demand and will the market.
Increasing environmental concerns have prompted construction companies to shift their focus from traditional building designs to sustainable or green building designs in order to create energy-efficient commercial buildings. The U.S.  The Green Building Council has developed laws prohibiting the use of PVC in green buildings. Numerous countries, including Spain, Canada, South Korea, and the Czech Republic, have prohibited or restricted the use of PVC within the packaging industry. According to the Center for Health, Environment, and Justice, the use of PVC in food packaging and utensils was banned in July 2022. Consequently, the restriction of PVC products across numerous end-use industries will have a negative impact on the market for plastics modifiers.
Increasing environmental concern is boosting the demand for bio-plastic material. Bioplastics consists of biodegradable substances and cellulose. These plastics are derived from biodegradable or renewable biomass sources, such as polylactic acid (PLA). The major firms in the plastics modifiers market are concentrating on conducting R&D in order to produce plastics modifiers that can be used in a variety of industries and applications. The rising demand for bio-based polymers necessitates the development of novel and enhanced plastics modifiers. Hence, developments in the field of plastics modifiers are anticipated. The development of plastics modifiers for bio-based polymers will provide attractive commercial opportunities.
The plastics modifiers market is segmented into type, plastic type, end-use industry and region. Depending on the type, the market is divided into acrylonitrile butadiene styrene, acrylic impact modifiers, acrylonitrile styrene acrylate, methacrylate-butadiene-styrene, ethylene propylene diene monomer, chlorinated polyethylene and others.  On the basis of plastic type it is categorized into polyvinyl chloride, nylon, polybutylene terephthalate, engineering plastics and others. On the basis of end-use industry, it is categorized into automotive, construction, consumer goods, packaging, and others. Region-wise, the market is studied across North America, Europe, Asia-Pacific, and LAMEA.
The major players operating in the global plastics modifiers market are Mitsubishi Chemical Corporation, Formosa Plastics Corporation, Mitsui Chemicals, Inc., Dow, Akdeniz Chemson, LANXESS, SI Group, Inc, Sundow Polymers Co. Ltd, Arkema, Shandong Novista Chemicals Co., Ltd. Other players operating in the market are LG Chem, Endoor, Indofil Industries Limited and Kaneka Corporation.
Plastics Modifiers Market

---

By Type
Acrylonitrile bitadiene styrene segment is projected as the fastest growing segment.
The acrylic impact modifiers segment accounted for the largest share, plastic modifiers made of acrylic enhance the impact resistance of a plastic product, as well as its surface gloss and weatherability. Impact modifiers made from acrylic are ideally suited for outdoor products and are widely used in PVC sheets, pipelines, boards, and pipe fittings.
The acrylonitrile butadiene styrene segment is the fastest-growing segment with CAGR of 5.9%, the lightweight and high strength properties of acrylonitrile butadiene styrene are expanding usage of acrylonitrile butadiene styrene in equipment, consumer goods, construction, and automotive accessories will be responsible for the market's optimistic outlook in the coming years. Moreover, the concern about rising CO2 emissions is one of the key reasons for the increased interest in lightweight automotive materials.
Plastics Modifiers Market

---

By Plastic Type
Polyvinyl chloride segment is projected as the fastest growing segment.
The polyvinyl chloride segment accounted for the largest share and also is the fastest-growing segment with CAGR 5.4%. Plastics modifiers are added to polymers such as acrylonitrile butadiene styrene and acrylonitrile styrene acrylate to increase the resilience and durability of PVC. Numerous end-use industries, including packaging, automobile, healthcare, and construction, have a high demand for it. PVC is widely used in flooring, windows, doors, pipelines, roofing, blood bags, tubing, wire, and cable insulation due to its low cost, increased durability, and safety for building materials.
Plastics Modifiers Market

---

By End Use Industry
Packaging segment is projected as the fastest growing segment.
The packaging segment accounted for the largest share and also is the fastest-growing segment with CAGR 5.5%, due to their excellent properties such as shock resistance, corrosion resistance, anti-static, and mechanical shock absorption, the increasing demand for plastic packaging will increase the demand for plastic modifiers during the forecast period. Packaging is essential for the preservation of products during transport. Impact modifiers are in greater demand as demand for food packaging films, canisters, and drug packaging rises.
In addition, the global demand for protective packaging in the electric & electronic and medical & pharmaceutical industries is also contributing to the expansion of the plastic modifiers market. According to data presented by Finaria, the number of eCommerce consumers has grown by 9.5% annually and is projected to surpass 3.4 billion by 2020. Amazon and AliExpress are the largest online retailers, accounting for 75% of the global e-market.
Plastics Modifiers Market

---

By Region
Asia-Pacific has garnered major share and is projcted as the fastest growing region.
Asia-Pacific garnered the largest share as a result of the expansion of end-use industries such as appliances, packaging, automobile, construction, electric & electronic, and others. The presence of prominent appliance manufacturers in the region, such as Haier Electronics Group, Gree Electric Appliances, Groupe SEB SA, Panasonic, and LG Electronics, drives market expansion. According to Invest India, the auto component industry was worth US$ 49 billion in 2020 and is anticipated to reach US$ 200 billion by 2026. Consequently, with the expansion of the automobile industry, there will be an increase in the demand for aerospace components, which is expected to propel the Asia-Pacific plastics modifier market.
Key Market Trends
Producing modifiers for biodegradable polymers is of interest to manufacturers. Moreover, the Environmental Protection Agency's (EPA) stringent degradability criteria for polymers and plastics have prompted corporations to invest more in R&D to build plastic-degradability-accelerating modifiers. This is anticipated to have a positive impact on the utilization of plastic modifiers in the region.
The industry's leading firms are diligently researching and developing plastic products that are less hazardous or non-toxic. The government is beginning to advertise plastic products, which will facilitate their use in a variety of industries, including healthcare, vehicles, and construction. In December 2019, Evonik shifted its focus to the development of plastic and rubber recycling technologies.
Market players have recently prioritized the development of new and enhanced products with the aim of enhancing the biodegradability and functionality of their products. The introduction of modifications that drastically reduce this product's rate of deterioration will certainly be a game-changer. The increasing use of pro-oxidant additives by the industrial sector to enhance thermo-oxidation and photo-oxidation is one of the key factors driving the expansion of the plastic modifiers market. The growing need for increasing the performance of plastics in a variety of applications drives sales of plastic modifiers.
Strategic Development by Key Players
On June

15, 2022, Mitsui Chemicals and Prime Polymer in which Mitsui Chemicals holds a 65% stake joined forces to build a new polypropylene factory in the Netherlands have has a 30,000 mt/year capacity, This expansion aimed to meet the increased demand for PP in order to lighten bumpers, instrument panels, and other components.

On June 27 2021, Dow Chemicals partnered with Callaway Golf Company to develop next-generation golf balls with a PARALOID Impact Modifier. Dow Chemicals' product range will be strengthened by the partnership ship.

On September 27 2019, Arkema successfully acquired its partner's interest in Taixing Sunke Chemicals, its joint venture in China that makes acrylic monomers.
Key Benefits For Stakeholders
This report provides a quantitative analysis of the market segments, current trends, estimations, and dynamics of the plastics modifiers market analysis from 2021 to 2031 to identify the prevailing plastics modifiers market opportunities.
The market research is offered along with information related to key drivers, restraints, and opportunities.
Porter's five forces analysis highlights the potency of buyers and suppliers to enable stakeholders make profit-oriented business decisions and strengthen their supplier-buyer network.
In-depth analysis of the plastics modifiers market segmentation assists to determine the prevailing market opportunities.
Major countries in each region are mapped according to their revenue contribution to the global market.
Market player positioning facilitates benchmarking and provides a clear understanding of the present position of the market players.
The report includes the analysis of the regional as well as global plastics modifiers market trends, key players, market segments, application areas, and market growth strategies.
 Plastics Modifiers Market Report Highlights
Aspects
Details
Market Size By 2031
USD 6.6 billion
Growth Rate
CAGR of 5.1%
Forecast period
2021 - 2031
Report Pages
620
End Use Industry

Automotive
Construction
Consumer Goods
Packaging
Others

Type

Acrylonitrile Butadiene Styrene
Acrylic Impact Modifiers
Acrylonitrile Styrene Acrylate
Methacrylate Butadiene Styrene
Ethylene Propylene Diene Monomer
Chlorinated Polyethylene
Others

Plastic Type

Polyvinyl Chloride
Nylon
Polybutylene Terephthalate
Engineering Plastics
Others

By Region

North America (U.S., Canada, Mexico)
Europe (Germany, UK, France, Spain, Italy, Rest of Europe)
Asia-Pacific (China, India, Japan, South Korea, Australia, Rest of Asia-Pacific)
LAMEA (Brazil, Saudi Arabia, South Africa, Rest of LAMEA)

Key Market Players
Mitsubishi Chemical Corporation, Mitsui Chemicals, Inc., Dow, Akdeniz Chemson, LANXESS, SI Group, Inc, Arkema, Shandong Novista Chemicals Co.,Ltd. , Formosa Plastics Corporation, Sundow Polymers Co. Ltd