Plenoptic Camera Market Outlook - 2030
The global plenoptic camera market was valued at $1.08 billion in 2020, and is projected to reach $5.87 billion by 2030, growing at a CAGR of 18.5% from 2021 to 2030.
Plenoptic camera is a specialized light field camera that enables the image to be focused at any part after capturing by capturing the information about the light field coming from a scene and also the direction that the light rays are traveling in space. This technology was developed by Adobe.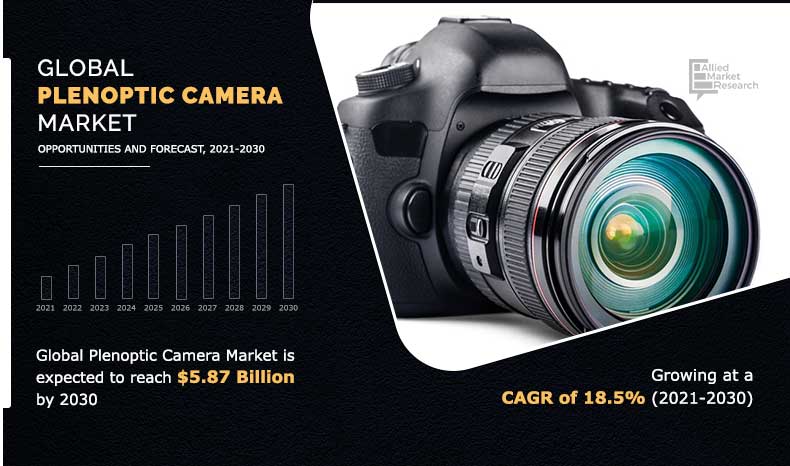 A basic plenoptic camera uses an array of micro-lenses placed between the between the front lens and the camera sensor to sense intensity, color, and directional information. It captures different series of small images from different viewpoints, which later can be manipulated according to the requirement. 
One of the major contributing factors fueling the growth of the plenoptic camera industry is the development of the tourism sector across the globe. With rise in disposable income among, the trend toward adventure sports is increasing for high focus images, which, in turn, has propelled demand for plenoptic cameras to capture high-quality images.
However, high initial cost might act as a restraining factor for the market. On the contrary, surge in demand for high-quality camera modules in different consumer electronics such as smartphones anddigital cameras is expected to offer lucrative opportunities for the growth of the plenoptic camera market.
Segmentation
The plenoptic camera market is segmented into product type, application, and region. By product type, the market is divided into standard plenoptic camera, focused plenoptic camera, and coded aperture camera. On the basis of application, it is classified into individual, enterprise, and industrial. Region wise, the market is analyzed across North America, Europe, Asia-Pacific, and LAMEA along with their prominent countries.
Competitive Analysis
The key players profiled in the report include Canon Inc., Apple Inc., Sony Corporation, Panasonic Corporation, Samsung Electronics, Raytrix GmbH, OTOY Inc., Pelican Imaging Corp., Rebellion Photonics Inc., and Lytro, Inc. These key players have adopted strategies, such as product portfolio expansion, mergers & acquisitions, agreements, geographical expansion, and collaborations to enhance their market penetration.
Plenoptic Camera Market

---
By Product Type
Focused Plenoptic Camera segment will grow at a highest CAGR of 21.3% during 2021 - 2030
COVID-19 Impact Analysis
COVID-19 pandemic has adversely impacted the plenoptic camera market as huge workforce of enterprises across the globe are working from home. This has led to decline in tourism, which, in turn, reduced the demand for plenoptic cameras. Although the COVID-19 pandemic has forced field work of several major projects to pause temporarily, the market is expected to remain robust with cumulative number of shipments being marginally unaffected in the next three-year period from 2020The global market has been impacted by the COVID-19 outbreak.
New projects throughout the world have been stalled, which, in turn, have affected the demand in several industries, including manufacturing, industrial, and retail. Although market players faced minimal impact on procuring raw materials, time and shipping costs were still major concerns. Moreover, rise in investments in development of smart cities have gained importance during the pandemic, subsequently, the demand for plenoptic cameras is anticipated to gain momentum post-pandemic. Key market players have focused on positioning their companies for a strong recovery when the pandemic is over. Market players have meticulously planned strengthening their supply chain to benefit from post-pandemic opportunities. 
They are also further focused focusing on availing additional opportunities with expanded market usage of plenoptic technology, owing to price considerations, use of plenoptic technology, and additional display offerings using micro-lenses. Hence, market players are anticipated to boost market growth from various opportunities generated post-pandemic. Although the COVID-19 has a major negative impact on the growth of the market, the outbreak of COVID-19 will surely provide numerous opportunities for the market growth during the forecast period. These plenoptic camera market tends include a surge in digitization and rise in applications of photography across the globe.
Plenoptic Camera Market

---
By Application
Individual segment is projected as one of the most lucrative segments.
Top Impacting Factors
The global plenoptic camera market forecast is impacted by various top impacting factors including rapid technological advancements in cameras and imaging sensors, surge in tourism industry across the globe, and emergence of light field camera technology for high-speed photography applications. However, high cost associated with Plenoptic Camera are projected to hamper affect the growth of the market. On the contrary growing demand for professional photography courses and advanced photographic devices are expected to provide lucrative opportunities to the market growth. However, each of these factors is anticipated to have a definite impact on the growth of the global plenoptic camera market during the forecast period. 
Technological Advancements in Cameras and Imaging Sensors
Traditional photography captures light, through the lens-and-recorder combination, reflecting from the objects in the frame. In doing so, this technique aggregates collects the information from all the light rays striking each point of an image and misses out on capturing the information on each light ray that makes up the image. The reason for this is that technology, for a large part of the history of the development of photography, did not allow this information to be captured. 
However, recently, with the advances in sensor technology, it has been possible to design cameras that capture the light field for a particular scene. A light field camera, also called a plenoptic camera, is a camera that uses a micro-lens array to capture 4D light field information about a scene. The micro-lens array is placed between the main lens (at, before, or after the focal plane) and the camera sensor. These designs had, so far, suffered from problems of low image resolution and low angular resolution.
High Cost Associated with Plenoptic Camera
High cost for manufacturing, which is the initial prerequisite for plenoptic camera, results in an expensive rate for installation & initial cost in the market. In addition, the initial capital cost expense basis is higher than conventional technologies, thereby limiting incurring additional cost, which is expected to act as key deterrent factor of the global plenoptic camera market growth.
Plenoptic Camera Market

---
By Region
Asia-Pacific would exhibit the highest CAGR of 21.3% during 2020-2030
Key Benefits For Stakeholders
This study comprises analytical depiction of the plenoptic camera market opportunity along with current trends and future estimations to depict imminent investment pockets.
The overall plenoptic camera market analysis is determined to understand profitable trends to gain a stronger foothold. 
The report presents information related to key drivers, restraints, plenoptic camera market size and opportunities with a detailed impact analysis.
The plenoptic camera market outlook forecast is quantitatively analyzed from 2020 to 2030 to benchmark the financial competency. 
The Porter's five forces analysis illustrates potency of buyers and the market share of key vendors.
The report includes the plenoptic camera market trends and the plenoptic camera market share of key vendors.
 Plenoptic Camera Market Report Highlights
Aspects
Details
By Product Type

STANDARD PLENOPTIC CAMERA
FOCUSED PLENOPTIC CAMERA
CODED APERTURE CAMERA

By Application

INDIVIDUAL
ENTERPRISE
INDUSTRIAL

By Region

NORTH AMERICA (U.S, Canada, Mexico)
EUROPE (UK, Germany, France, Italy, Rest of Europe)
.ASIA-PACIFIC (China, Japan, South Korea, Rest of Asia-Pacific)
LAMEA (Latin America, Middle East, Africa)

Key Market Players
Canon Inc., Apple Inc., Sony Corporation, Panasonic Corporation, Samsung Electronics, Raytrix GmbH, OTOY Inc., Pelican Imaging Corp., Rebellion Photonics Inc., Lytro, Inc.