Plumbing Fixtures Market Outlook - 2023
Global Plumbing Fixtures Market size was valued at $75,042 million in 2016 and is projected to reach $1,12,427 million by 2023, growing at a CAGR of 6.0% from 2017 to 2023. Components of plumbing fixtures include sink faucets, showerheads, bath spouts, hand showers, and valves, amongst others. Plumbing fixtures are the basic components used for various domestic as well as commercial purposes such as bathing, cleaning, washing, and others.
High investment in infrastructure facilities, rise in disposable income, and growing investment in smart homes and buildings are expected to fuel the plumbing fixtures market growth. Moreover, rise in construction facilities in countries of Asia-Pacific is expected to drive market growth. Introduction of various new systems including water efficient systems are expected to create lucrative opportunities in the plumbing fixtures market.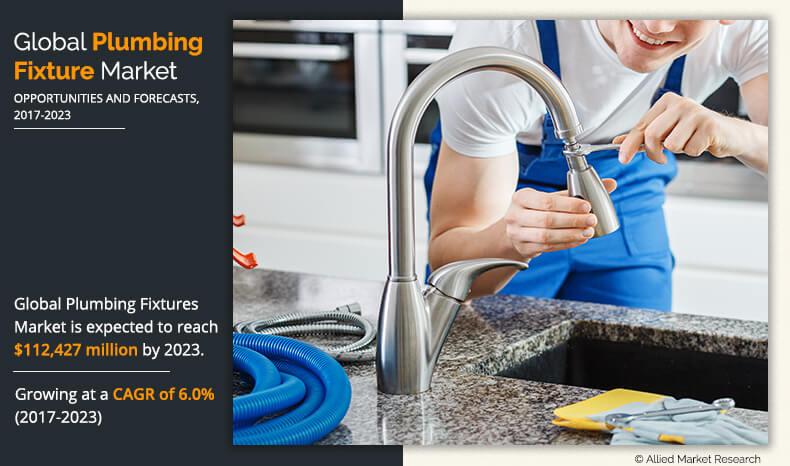 Get more information on this report : Request Sample Pages
Many competitors holds dominant position in the plumbing fixtures market share. Key players profiled in the global plumbing fixtures market are Kohler Co, Globe Union Industrial Corporation, Lixil Group Corporation, Toto Ltd., Masco Corporation, MAAX Holdings, Inc., Hansgrohe, Roca Sanitario, Bradley Corporation, and Elkay Manufacturing Company. These market players have implemented a number of strategies including partnership, expansion, collaboration, joint ventures, and others to heighten their status in the industry.
Segment Overview
The region-wise analysis of the global plumbing fixtures market covers North America, Europe, Asia-Pacific, and LAMEA. Various countries covered under each region are studied and analyzed to identify the major trends demonstrated by these respective regions. Asia-Pacific dominated the market in 2016, followed by Europe.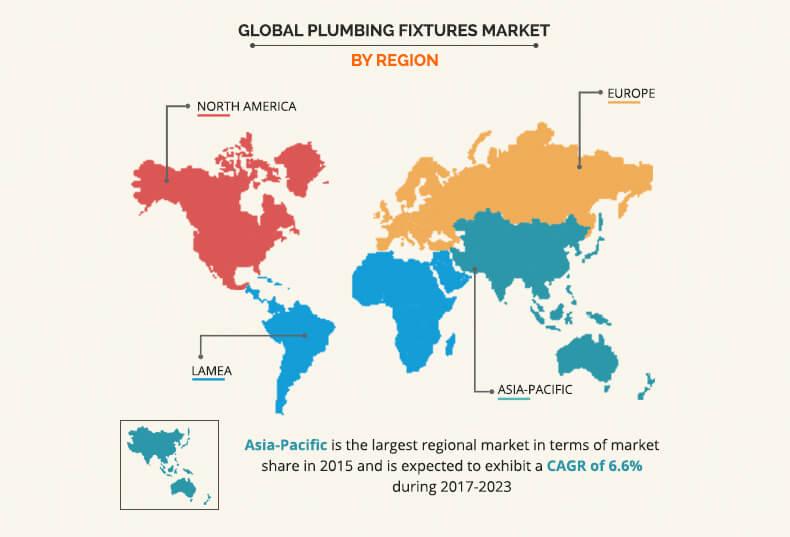 Get more information on this report : Request Sample Pages
Top impacting factors
Growth In Urbanization & Changing Lifestyle Patterns of Consumers
With rising urbanization and overall growth in construction activities, homeowners and builders are widely adopting plumbing fixtures. According to the United Nations, world urbanization prospects, 2014 revision, around 54% of the world population lived in urban areas and another 2.5 billion will be added by 2050. As people are moving to urban areas, they are expected to adopt newer facilities such as luxury plumbing fixtures in their kitchens and bathrooms.
Rise in Disposable Income
As the disposable income of consumers increases, they are more likely to spend on these products. Indias annual GDP growth was 7.3% in 2015 whereas the GDP growth rate in Bangladesh was 6.3%, which was 6.1 % in 2014. Due to high growth in these regions, the market for plumbing fixtures is expected to grow at a faster rate.
Heavy Investments in Smart Homes
Owing to the willingness of consumers to spend on various construction activities and home renovations, the market of plumbing fixtures is expected to grow at a faster pace. Bathroom renovations and willingness to spend on high quality fixtures such as showerheads and faucets, supports the overall plumbing fixtures market growth.
High Cost of Raw Materials
The raw materials used in plumbing fixtures are expected to fluctuate from time to time. The fixtures must adhere to certification and standardization in order to ensure safety and security. Moreover, the stringent regulations imposed on the quality of material such as lead, tin, and nickel to be used in the bathroom as well as kitchen fixtures are expected to hamper the market growth.
Regulatory Requirements
The water efficiency standards for plumbing fixtures are set in order to minimize the water used by residential and non-residential sectors. These standards are generally levied on water used per minute by the showerheads and faucets and per flush by the urinals and toilets. The U.S. defines these as gallon per minute and gallon per flush. Various regions have different standards set on the amount of water to be used for fixtures.
Advancement in Plumbing Technology & Water Efficient Plumbing
According to the Environmental Protection Agency in the U.S., bathrooms consume about 50% of the water used for indoor household purposes. The introduction of water efficient fixtures and plumbing technology such as low flow faucets & sensors and dual flush toilets has helped in conserving fresh water to a large extent. The average flush volume of a dual flush toilet is approximately 1.28 gallons, which helps in saving around 20% water as compared to traditional flush toilets. Therefore, with the introduction of water efficient fixtures, many residential as well as non-residential sectors are replacing old traditional fixtures thereby fueling the growth of the plumbing fixtures market.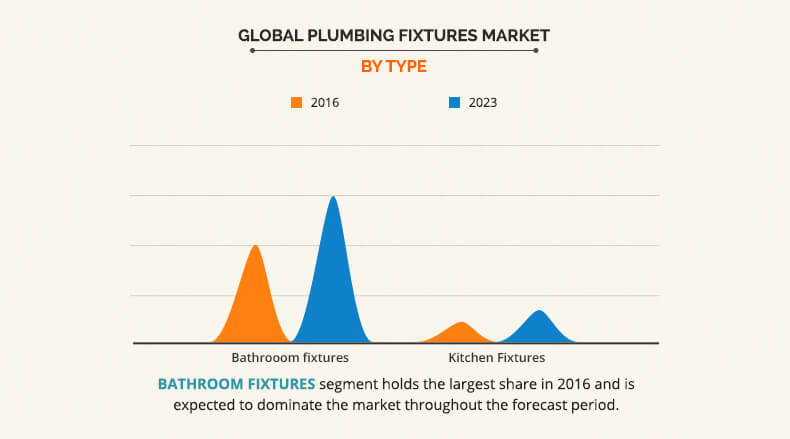 Get more information on this report : Request Sample Pages
The factors affecting the plumbing fixtures market include growth in urbanization and changing lifestyle patterns of consumers, increase in disposable income, heavy investments in smart homes, high cost of raw materials, regulatory requirements, and advancement in plumbing technology & water efficient plumbing. These major factors have boosted the adoption of plumbing fixtures.
The report segments the global plumbing fixtures market on the basis of fixture type, end user, and region. Based on fixtures type, the plumbing fixtures market is classified into kitchen and bathroom fixtures. On the basis of end user, it is bifurcated into residential and non-residential. Region-wise distribution of market includes North America, Europe, Asia-Pacific, and LAMEA. The kitchen fixtures segment is expected to grow at the highest CAGR of 7.0% in the forecast period.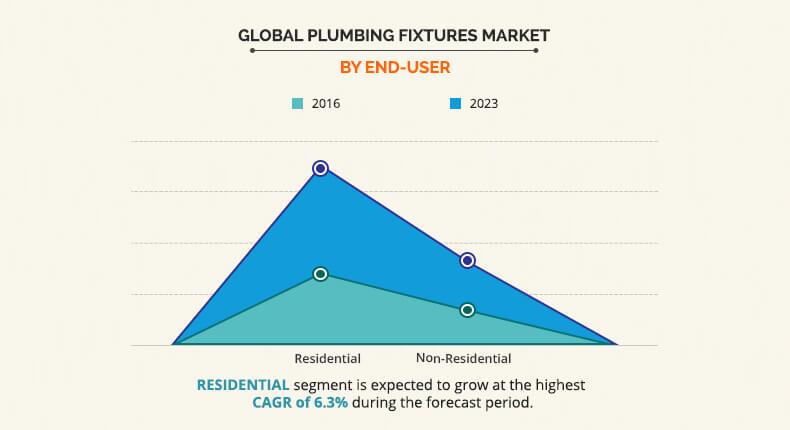 Get more information on this report : Request Sample Pages
Key Benefits
The report provides an in-depth analysis of the global plumbing fixtures market size to identify the potential investment pockets.
The key drivers, restraints, and opportunities and their detailed impact analysis have been elucidated.
Porters Five Forces model helps to analyze the potential buyers and suppliers and the competitive sketch of the global plumbing fixtures market, which is expected to guide the market players to develop strategies accordingly.
Plumbing Fixtures Market Key Market Segments
By Fixture Type
Bathtubs
Showerheads
Faucets
Toilets/Urinals
Others (bidets, hand showers, valves)
By Kitchen fixtures
By End user
Residential
Non-residential
By Geography
North America
Europe

UK
Germany
France
Italy
Rest of Europe

Asia-Pacific

India
China
Japan
South Korea
Rest of Asia-Pacific

LAMEA

Latin America
Middle East
Africa
Key Market Players
Kohler Co
Globe Union Industrial Corporation
Lixil Group Corporation
Toto Ltd.,
Masco Corporation
MAAX Holdings, Inc.
Hansgrohe
Roca Sanitario
Bradley Corporation
Elkay Manufacturing Company