The global pneumatic cylinder market size was valued at $13,375.8 million in 2020, and is projected to reach $23,850.4 million by 2030, registering a CAGR of 5.8% from 2021 to 2030. Pneumatic cylinder, also known as air cylinder, is a mechanical device that generates force in a linear motion using air pressure. These cylinders are similar to a car piston, instead of a fuel explosion, they are propelled by an input of compressed gas. Piston returns to its starting position once each stroke is completed. 
The COVID 19 outbreak has affected the growth of the pneumatic cylinder industry owing to the lockdown measure in the countries and delay in manufacturing and production of pneumatic cylinder which are utilized in automotive, oil & gas, paper & pulp, mining, and other industries.
Demand for pneumatic cylinders is on the rise at an exponential pace, owing to increase in number of manufacturing and other sectors, which is expected to propel the pneumatic cylinder market. Furthermore, incorporation of IoT into pneumatic cylinders is expected to boost the pneumatic cylinder market in near future. Pneumatic cylinder is faster, stronger, and uses less energy to perform an operation. One of the main drivers of the worldwide pneumatic cylinder market is the rising need for high-speed or forced mechanical devices in a variety of industrial applications.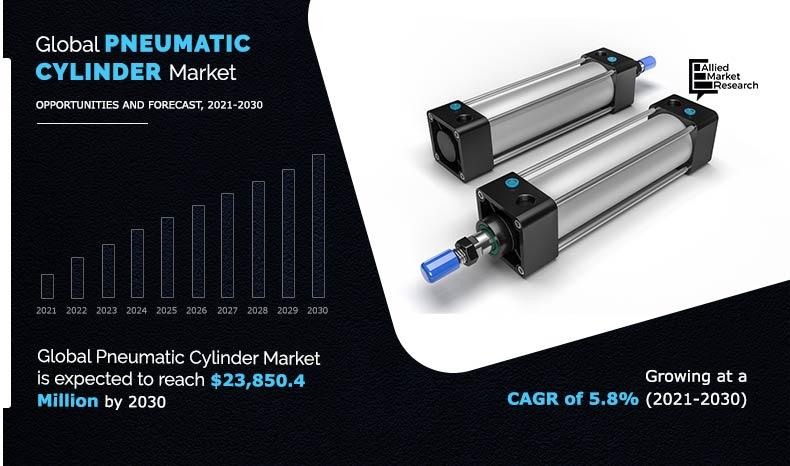 Furthermore, the major key players are focusing on manufacturing faster and stronger motion pneumatic cylinder. For instance, in My 2021, Festo SE & Co. KG has launched fast motion Terminal VTEM Pneumatics. VTEM is energy efficient and quickly activates motion on both the side by increasing flexibility during production process. The VTEM speeds up the production process and makes filling nitrogen or other gases into containers like bottles more profitable and cost-effective. Therefore, such factors are expected to provide significant growth in market during the forecast period.
Pneumatic Cylinder Market

---
By Product Type
Single acting cylinder segment is projected to grow at a significant CAGR
Novel coronavirus has rapidly spread across various countries and regions, causing enormous impact on lives of people and overall community. Originating as a crisis to human health, it now poses significant threat to worldwide trade, economy, and finance. Continuous lockdown in key global countries, owing to the COVID-19 pandemic has halted production of many items in the pneumatic cylinder business. Key players in pneumatic cylinder market can afford a complete lockdown only for a limited period, after which they would have to alter their investment plans. Furthermore, number of COVID-19 cases are expected to reduce in the near term as vaccine for COVID-19 has been introduced in the market. This is further expected to lead to re-initiation of pneumatic cylinder companies at their full-scale capacities, which aid the pneumatic cylinder market to recover by the start of 2022. After COVID-19 infection instances start to decline, equipment and machinery producers must focus on protecting their staff, operations, and supply networks to respond to urgent emergencies and establish new methods of working.
Pneumatic cylinders are widely used for motion control, which is frequently utilized in industrial machines. Pneumatic cylinders are intended to go in two directions on a defined route and have a set distance that they may travel in either direction before stopping. Various key players are focusing on manufacturing such pneumatic cylinders, which increase performance and reduce emissions in gas-power industries. For instance, in march 2021, Eaton introduced its next-generation sodium-filled head hollow valves, which improve gas-powered engine fuel efficiency, emissions, and performance. Valves have one-of-a-kind design that reduces cylinder chamber temperature while reducing engine knock. Such products with advanced technology are expected to provide significant pneumatic cylinder market during forecast period.
Pneumatic Cylinder Market

---
By End User Industry
Oil and Gas segment holds dominant position in 2020
The pneumatic cylinder market is segmented on the basis of product type, motion, end-user industry, and region. By product type, the market is divided into single-acting cylinder and double-acting cylinder. By motion, it is divided into linear and rotary. By end user industry, it is divided into oil & gas, paper & pulp, mining, water and wastewater, foods & beverages, energy & power, automotive, and others. Region wise, the pneumatic cylinder market analysis is conducted across North America (the U.S., Canada, and Mexico), Europe (Germany, France, UK, Italy, and Rest of Europe), Asia-Pacific (China, India, Japan, South Korea, Singapore, Malaysia, Thailand, Indonesia, and rest of Asia-Pacific), and LAMEA (Latin America, the Middle East, and Africa). 
Competition Analysis
Key companies profiled in the pneumatic cylinder market report include Airtac International Group, Camozzi Group S.P.A., DL Pneumatics, Emerson Electric Co., Festo SE & Co. KG, ABB Ltd., Honeywell International INC., Parker Hannifin Corporation, Eaton Corporation PLC, and Rotex Automation. 
Pneumatic Cylinder Market

---
By Region
North America holds a dominant position in 2020 and Asia-Pacific is expected to grow at a significant rate during the forecast period.
Key Benefits For Stakeholders
The report provides an extensive analysis of the current and emerging pneumatic cylinder market trends and dynamics.  
In-depth emerging pneumatic cylinder market analysis is conducted by constructing market estimations for key market segments between 2021 and 2030. 
Extensive analysis of the emerging pneumatic cylinder market is conducted by following key product positioning and monitoring of top competitors within the pneumatic cylinder market framework.
A comprehensive analysis of all the regions is provided to determine the prevailing opportunities.
The global emerging pneumatic cylinder market forecast analysis from 2021 to 2030 is included in the report.
The key players within emerging pneumatic cylinder market are profiled in this report and their strategies are analyzed thoroughly, which help understand the competitive outlook of the emerging pneumatic cylinder industry. 
Global Pneumatic Cylinder Market Segments
By Product Type
Single-acting Cylinder
Double-acting Cylinder
By Motion
By End-user Industry
Oil & Gas
Paper & Pump
Mining
Water & Wastewater
Foods & Beverages
Energy & Power
Automotive 
Others 
By Region
North America
Europe

Germany
France
UK
Italy
Rest of Europe

Asia-Pacific

China
India
Japan
South Korea
Singapore
Malaysia
Thailand
Indonesia
Rest of Asia-Pacific

LAMEA

Latin America
Middle East 
Africa
 Pneumatic Cylinder Market Report Highlights
Aspects
Details
By Product Type

Single-acting Cylinder
Double-acting Cylinder

By Motion

Linear

Belt Type
Rod Type
Screw Type

Rotary

Rack & Pinion
Scotch & Yoke
Vane Type

By End-user Industry

Oil & Gas
Paper & Pump
Mining
Water & Wastewater
Foods & Beverages
Energy & Power
Automotive
Others

By Region

North America (U.S., Canada, Mexico)
Europe (France, Germany, Italy, Spain, UK, Russia, Rest of Europe)
Asia-Pacific (China, Japan, India, South Korea, Australia, Thailand, Malaysia, Indonesia, Rest of Asia-Pacific)
LAMEA (Brazil, South Africa, Saudi Arabia, UAE, Argentina, Rest of LAMEA)

Key Market Players
.DL PNEUMATICS, AIRTAC INTERNATIONAL GROUP, ABB LTD, CAMOZZI GROUP S.P.A., FESTO SE & CO. KG, HONEYWELL INTERNATIONAL INC., .EMERSON ELECTRIC CO., ROTEX AUTOMATION, PARKER HANNIFIN CORPORATION, EATON CORPORATION PLC