Pocket Knives Market Research, 2031
The global pocket knives market size was valued at $578 million in 2021, and is projected to reach $989.1 million by 2031, growing at a CAGR of 5.6% from 2022 to 2031.
A pocket knife is a compact knife with numerous blades that fold into the grip for secure operation. As multipurpose tools, pocketknives can be used for a variety of tasks, including whittling and woodcarving, butchering small game, gutting and filleting small fish, assisting in the preparation of tinder and kindling for fires, boring holes in soft materials, opening envelopes, cutting twine, slicing fruit, and using them as a form of self-defense. 
Pocket knives are expected to gain major traction in developing countries during the forecast period; this is majorly attributed to th growing demand for pocket knives, the high youth population, and the high inclination towards outdoor activities. In addition, multiple application pocket knives are likely to propel the growth of the market across the globe.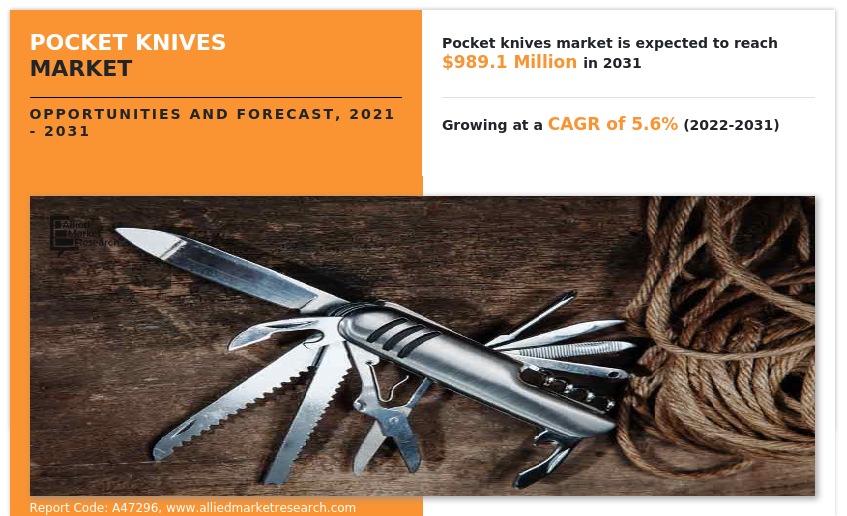 Globally, multipurpose knives are preferred by most people. Although longer blades are also available, the normal length of a multipurpose knife's blade is 3 to 10 cm. It is normally quite thin and hardly ever thicker than 3 mm at the spine.  It is made of stainless steel, which has a hardness rating of between 55 and 58 HRC. Such a blade can be secured with a stronger lock rather than the more normal slip-joint lock, often either a liner-lock or a bolt-type lock. It also has a sleek, lightweight design and a modest assortment of well-done essentials. Multi-tool and multi-purpose pocket knives are also easier to use and carry because they are free of many unnecessary accessories. Hence, effective features of pocket knives are likely to propel the growth of the pocket knives industry. 
Numerous sturdy styles of pocket knives are available, including those made by well-known brands like Spyderco, Gerber, and Buck. There are numerous variations, including lock-back, stainless steel, and wooden designs. Pocket knives are available in a wide range of vivid, organic, rustic, industrial, or fashionable personalized pocket knife designs to suit any personality. Additionally, personalized pocket knives have a lot of advantages, including high quality and occasionally free delivery and customer service from the maker to increase consumers retention. Customers can customize their pocket knives by including valuable stones, diamonds, and their preferred material. Thus, the ability to customize pocket knives is expected to increase the demand for the pocket knives market. 
However, the number of crimes involving pocket knives is rapidly rising. Additionally, it is now common knowledge to hear in courtrooms and police stations that more people are being charged with murder, aggravated bodily injury, and wounding all done by pocket knives. The perpetrators utilize hidden pocket knives to hold the victim hostage, and if the victim doesn't cooperate, they stab and kill the victim. According to National.com, police prosecutors have frequently pushed the courts to address the issue of pocket knives being used in criminal activity. Additionally, alcohol usage and extramarital affairs were key factors in court proceedings, and pocket knives were often employed in these situations. Moreover, majority of the women who are victims of domestic violence are usually injured by pocket knives. Consequently, the market for pocket knives is likely to be constrained as their usage in crimes rises. 
Although they are practical and have a number of benefits, pocket knives carry risks while used without negligence. Additionally, users of the Trek can cut into the skin just as easily as wood or fish and might potentially cause serious injury. Additionally, users should exercise particular caution while using it and be cautious when pulling it out or putting it back. To prevent issues, handling pocket knives properly is recommended. In certain nations, the government has implemented regulations due to the detrimental effects of carrying a pocket knife. Additionally, several locations forbid pocket knives. For instance, carrying or owning a knife in Massachusetts that has a blade longer than 1.5 inches is prohibited. Additionally, it's against the law to carry some blades covertly in New Mexico. Therefore, different regulatory rules for using pocket knives may impede the expansion of the pocket knife market globally. 
On the other hand, to meet consumer demand, there are many different types of pocket knives. The drop-point blade's convex spine, which gently slopes down toward the tip, is another well-liked blade. A wide edge and an easy blade removal mechanism are also features of this type of pocket knife. The sheepfoot blade pocket knife is also a well-liked variation on the market for pocket knives. The sheepsfoot blade's flat or slightly curved edge also acts as a distinguishing characteristic. Although the shape of the tip of pocket knivescan vary, it frequently dips downward near the tip. 
There is a lot of room for developing pocket knives using novel materials rather than traditional ones. Furthermore, a few producers had already created pocket knives using distinctive materials including blue tough ceramic, light grey tough ceramic, and burgundy tough ceramic. Additionally, pocket knives made of unusual materials will probably have the propensity to raise demand in the market for pocket knives. Additionally, customers in the market have a propensity to value a product's originality. The primary target market for manufacturers is the consumer who looks for novel and inventive items. Consequently, there is a lot of demand for novel pocket knives made of new materials in the market for pocket knives. 
The pocket knives market growth has been impacted due to COVID-19. The pandemic is having a significant negative impact on the supply chain industries, which include international manufacturers, wholesalers, and retailers. The supply chain for the delivery of needs causes problems for the affected countries economically. The lack of necessary raw materials is a major obstacle, even though these challenges might encourage local companies to improve their businesses and procedures. 
Due to the lockdowns, manufacture of pocket knives and other knife accessories has ceased; nevertheless, pre-produced supplies of the products are still being sold, particularly through online sales channels, in order to offset any potential losses from the production standstill. However, within three to four months of the lockdown's implementation, production activities were resumed, which re-started the production of pocket knives. Additionally, it is expected that the demand for pocket knives will continue to expand during the post-pandemic period. The market's active participants will use their inventions to develop fresh features for pocket knives, which will attract customers and expand the market. Furthermore, as customers have easier access to pocket knives because of the rise in online pocket knife sales, the market will continue to expand. 
Additionally, it is expected that the demand for pocket knives would rise quickly in the next years due to the resumption of all commercial operations in the post-pandemic period. Additionally, it is estimated that consumer spending on pocket knives will rise as active participants in the knife business launch new innovative items in the pocket knife market to offer consumers safety and security. As a result, the market for pocket knives is expected to have significant growth in the forecast year.
The pocket knives industry is segmented based on type, application, distribution channel, and region. Based on type, the market is categorized into single-blade, multi-blade and Swiss army knives and multi-tools. According to the application, the pocket knives market is fragmented into outdoor activities and indoor activities. As per the distribution channel, the market is divided into E-commerce and offline channel. Moreover, the pocket knives market is further classified into third-level segmentation through the distribution channel. Based on offline channel, the market is classified into hypermarkets/supermarkets, convenience stores, and others. Region-wise, the market is analyzed across North America (the U.S., Canada, and Mexico), Europe (Germany, France, UK, Italy, Spain, Switzerland, and the rest of Europe), Asia-Pacific (China, India, Japan, South Korea, Australia, and the rest of Asia-Pacific), and LAMEA (Brazil, South Africa, UAE, Argentina and the rest of LAMEA). 
Pocket Knives Market

---
By Type
Single-blade is projected to be the fastest-growing segment due to its unique features, simplicity, and compactness. Moreover, due to such features single blade pocket knives market is expected to boost demand across the globe.
By type, single-blade had the pocket knives market share in 2021 with a CAGR of 5.9%. Moreover, single-blade pocket knives exist in many different shapes and sizes, their simplicity and compactness are by far their best qualities. Furthermore, the demand for single blade pocket knives is expected to increase globally as a result of these advantages. Various variety of pocket knives such as multi-tool pocket knives, single-blade folders exclusively focus on the design of one larger blade. These knives frequently have locking mechanisms that stabilize and reinforce them for more difficult operations. These knives are perfect for consumers looking for a sturdy all-purpose knife because they may also have spring-loaded opening mechanisms that allow fast opening, hence contributing towards the growth of the pocket knives market. 
Pocket Knives Market

---
By Application
Outdoor activities contribute the largest share of the market followed by indoor activities due to the increasing number of tourist places for outdoor activities in regions such as North America and Europe.
By application, the outdoor activities were the highest revenue contributor in 2021. Moreover, numerous tasks, including fishing, hunting, making kindling, cutting rope, and splitting firewood, involve the use of pocket knives. Additionally, consumers across the globe are already accustomed to using a pocket knife to clean fish, but they can also use one to prepare the bait and cut the fishing line. Moreover, kindling can be a lifesaver when starting a fire with moist logs. When it comes to slicing little twigs and wood chips into useful fire starters, a pocket knife can also be a lifesaver. Therefore, a variety of uses for pocket knives in outdoor activities is projected to accelerate the market's expansion in pocket knives market forecast period. 
Pocket Knives Market

---
By Distribution Channels
Offline channels contribute the largest share of the market followed by E-commerce due to a large set of product portfolios from various domains including a variety of knives in the market; thus, making it easily accessible for the customers.
By distribution channel, offline channel were the largest share in 2021 and are expected to have the largest market share in 2031 due to pocket knives being widely available to consumers through offline channel, which cover big sets of pocket knives. In addition, it has organized stores with a broad selection of pocket knives and a presence both domestically and abroad. Customers can find several kinds of pocket knives at these kinds of shops, including single-blade and multiple-blade that are on the market. These kinds of stores provide customers with access to niche products that are available on the market. As a result, the development of offline channels in several regions creates profitable openings for the expansion of the pocket knife market. Through these channels, manufacturers provide exclusive discounts and encourage supermarket and hypermarket chains to sell their own goods, which helps to increase the pocket knives market demand.  
Pocket Knives Market

---
By Region
North America holds largest share followed by Asia-Pacific, Europe and LAMEA. The North America region is studied across U.S., Canada, and Mexico. The U.S. leads the pocket knives market in the region due to high demand from consumers in the country.
By region, North America holds the largest pocket knives market size in 2021, due to the market for pocket knives in North America being expected to be driven by the rise in disposable income and the rising popularity of several types of pocket knives, such as single-blade and multi-blade models as well as Swiss army and multi-tool models. Additionally, it is expected that the rising demand for pocket knives in the area would be boosted by the growing popularity of bespoke material-based models. 
The market is being driven by factors such as rapid growth in infrastructural development as well as various advancements in developing countries. The major players operating in the global pocket knives are Spyderco, Microtech Knives, Kershaw, Zero Tolerance, Protech, Gerber, WE knife co., Kizer Knives, Buck Knives, Bladerunners Systems, Columbia River Knife & Tool, Chris Reeve, Cold Steel, Case Knives and Emerson. 
Key Benefits For Stakeholders
This report provides a quantitative analysis of the market segments, current trends, estimations, and dynamics of the pocket knives market analysis from 2021 to 2031 to identify the prevailing pocket knives market opportunities.
The market research is offered along with information related to key drivers, restraints, and opportunities.
Porter's five forces analysis highlights the potency of buyers and suppliers to enable stakeholders make profit-oriented business decisions and strengthen their supplier-buyer network.
In-depth analysis of the pocket knives market segmentation assists to determine the prevailing market opportunities.
Major countries in each region are mapped according to their revenue contribution to the global market.
Market player positioning facilitates benchmarking and provides a clear understanding of the present position of the market players.
The report includes the analysis of the regional as well as global pocket knives market trends, key players, market segments, application areas, and market growth strategies.
 Pocket Knives Market Report Highlights
Aspects
Details
Market Size By 2031
USD 989.1 million
Growth Rate
CAGR of 5.6%
Forecast period
2021 - 2031
Report Pages
265
Type

Single-blade
Multi-blade
Swiss Army Knives and Multi-tools

Application

Outdoor activities
Indoor activities

Distribution channels

E-commerce
Offline channel

Subtype

Hypermarkets/Supermarkets
Convenience stores
Others

By Region

North America (U.S., Canada, Mexico)
Europe (Germany, UK, France, Italy, Spain, Switzerland, Rest of Europe)
Asia-Pacific (China, India, Japan, South Korea, Australia, Rest of Asia-Pacific)
LAMEA (Brazil, South Africa, UAE, Argentina, Rest of LAMEA)

Key Market Players
Columbia River Knife & Tool, Good Sportsman Marketing, LLC, Pro-Tech Knives, LLC, Emerson Knives, Inc., W.R. Case & Sons Cutlery Company, Kizer Knives, WE Knife Co., Ltd., Buck Knives, Inc., Kai USA Ltd., Microtech Knives Inc., Chris Reeve Knives, Bladerunners Systems, Spyderco, Inc., Gerber, Benchmade Knife Co., Inc.