Polyamide Market Outlook - 2021–2028
The global polyamide market size was valued at $26.7 billion in 2020, and is projected to reach $40.6 billion by 2028, growing at a CAGR of 5.4% from 2021 to 2028.
Gigantic investment in research and development of specialty polyamides coupled with increasing demand of polyamides in automotive industry will depict rise in sales of polyamides even during coronavirus pandemic (covid-19).
Polyamides are found naturally in wool and silk, as well as synthetically in nylon, polyamide 6, and aramid, among other materials. Wear resistance, strong mechanical qualities, low gas permeability, and chemical resistance are the characteristics of artificial polyamides. Bio-based polyamides are gaining popularity due to its eco-friendly nature.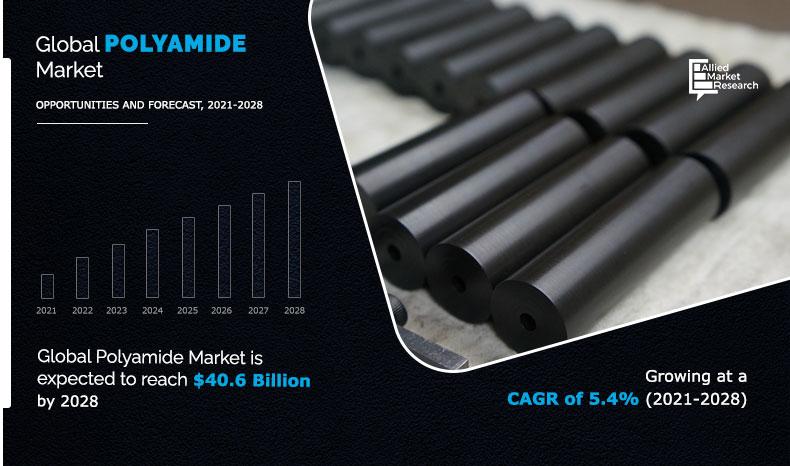 The increased demand for lightweight automobiles propels the growth of the polyamide market. Increased passenger car sales, particularly in emerging nations is anticipated to boost the demand for polyamides in automotive applications. This polymer, which is highly temperature resistant, is predicted to gain popularity with the increase in demand for lead-free soldering in electronics manufacturing. It is commonly used in electronic interconnections as well as conveyor systems and trays as a shielding material. Rise in electrical and electronics industry is anticipated to have a positive impact on this trend and continue to fuel worldwide market expansion. Government regulations, on the other hand, are expected to operate as a barrier to market growth in the Europe and North America regions. This problem is expected to be mitigated by increased manufacturing of bio-based polyamide. Furthermore, the market players are expected to benefit greatly from the shift in trend toward the manufacture of bio-based polyamide and expansion of R&D activity in the industry.
The polyamide market is segmented on the basis of type, application, end-use industry, and region. By type, the market is classified into aliphatic polyamides and aromatic polyamides.  By application, it is segmented into polyamide fibers & films and engineering plastics. By end-use industry, it is divided into automotive, electrical & electronics, textile, construction, packaging, consumer goods, and others. Region wise, the market is analyzed across North America, Europe, Asia-Pacific, and LAMEA.
Global Polyamide Market, by Type
By type, in 2020, the aliphatic polyamides segment held the highest proportion of the market attributed to rise in production and manufacturing need for polyamide in automotive and packaging components, as well as electrical components. This trend is expected to continue during the projection period.
Aliphatic Polyamides is projected as the most lucrative segment.
Global Polyamide Market, by Application
By application, the polyamide fibers & films segment is predicted to account for the majority of revenue. The polyamide fibers and films category makes a substantial contribution to the polyamide market growth. One of the primary drivers of the nylon films market is the increase in demand for materials for packaging microwavable food products.
Polyamide Market

---
By Application
Polyamide Fibers & Films is projected as the most lucrative segment.
Global Polyamide Market, by End-Use Industry 
By end-use industry, the automotive segment is expected to lead the global market with a 30.4% market share and further expected to dominate during the forecast period. Radiator fans, gasoline tanks, oil filter housing, and speedometer gears are among the most common polyamide engineering polymers used in automobiles.
Polyamide Market

---
By End-use Industry
Automotive is projected as the most lucrative segment.
Global Polyamide Market, by Region
By region, Asia-Pacific is expected to dominate the global polyamide market and held for nearly 33.8% market share in terms of value in 2020. Moreover, Asia-Pacific has emerged as a major regional polyamide market driven by rise in automotive and food packaging applications.
Polyamide Market

---
By Region
Asia-Pacific holds a dominant position in 2020 and would continue to maintain the lead over the forecast period.
Impact Of Covid-19 On The Global Polyamide Market
The polyamide industry was unaffected by COVID-19 disruption. However, coronavirus-related lockdowns posed a number of problems for industry participants, including disrupted supply chains, logistical difficulties in shipping end goods, and recruiting staff from quarantines.
The outbreak of coronavirus disease (COVID-19) and subsequent government-imposed lockdowns have temporarily interrupted the activities of big end-use polyamide industries. As a result, the industry is in a downward spiral. Furthermore, negative effects on human health are anticipated to hamper market expansion during the predicted period. 
Key Benefits For Stakeholders
The report provides an in-depth analysis of the polyamide market forecast along with the current trends and future estimations.
This report highlights the key drivers, opportunities, and restraints of the market along with the impact analyses during the forecast period.
Porter's five forces analysis helps analyze the potential of the buyers & suppliers and the competitive scenario of the global polyamide industry for strategy building.
A comprehensive polyamide market analysis covers factors that drive and restrain market growth.
The qualitative data in this report aims on market dynamics, trends, and developments.
 Polyamide Market Report Highlights
Aspects
Details
By Type

Aliphatic Polyamides
Aromatic Polyamides

By Application

Polyamide Fibers & Films
Engineering Plastics

By End-use Industry

Automotive
Electrical & Electronics
Textile
Construction
Packaging
Consumer Goods
Others

By Region

North America (U.S., Canada, Mexico)
Europe (Germany, France, Italy, Spain, UK, Rest of Europe)
Asia-Pacific (China, Japan, India, South Korea, Rest of Asia-Pacific)
LAMEA (Brazil, Saudi Arabia, South Africa, Rest of LAMEA)

Key Market Players
Ascend Performance Materials LLC, Arkema SA, BASF SE, Evonik Industries AG, Gujarat State Fertilizers & Chemicals Limited (GSFC), Koch Industries, Lanxess, Mitsubishi Chemical Holdings, Radici Group, Royal DSM.