Polyethylene Terephthalate Market Research, 2032
The global polyethylene terephthalate market size was valued at $30.3 billion in 2022, and is projected to reach $54.4 billion by 2032, growing at a CAGR of 6.1% from 2023 to 2032.
Report Key Highlighters:
The polyethylene terephthalate market is highly fragmented, with several players including BASF SE, DSM, DuPont, Indorama Ventures Public Company Limited, LANXESS, LOTTE Chemical CORPORATION, LyondellBasell Industries Holdings B.V., NAN YA PLASTICS CORPORATION, RTP Company, and SABIC.

More than 5,765 product literatures, industry releases, annual reports, and other such documents of major industry participants along with authentic industry journals, trade associations' releases, and government websites have been reviewed for generating high-value industry insights.

The study covers nearly 20 countries. The segment analysis of each country in terms of value and volume during the forecast period 2022-2032 is covered in the polyethylene terephthalate market report.
With a growing focus on sustainability and reducing environmental impact, there has been a shift towards lightweight packaging. Polyethylene Terephthalate (PET) offers a lightweight solution for packaging, reducing material consumption and transportation costs while maintaining product integrity. This trend has driven the demand for PET packaging materials thereby bolstering the polyethylene terephthalate market during the forecast period.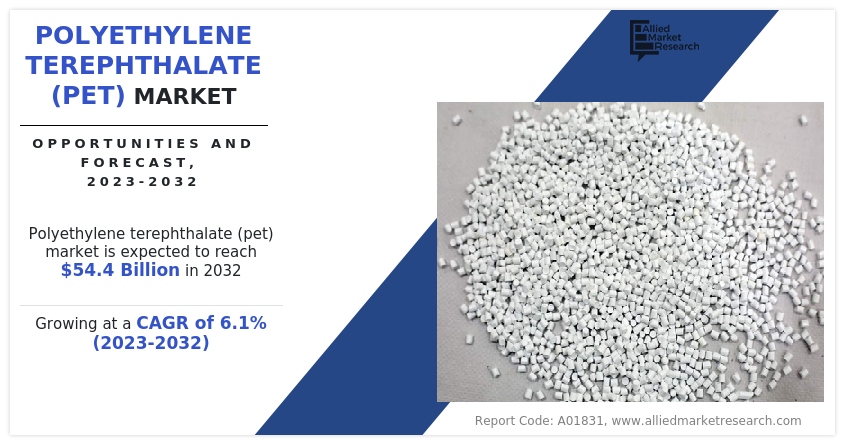 Polyethylene terephthalate is also known as PET/PETE and is the most common thermoplastic polymer resin in the polyester family. It is produced by combining raw materials such as monoethylene glycol and purified terephthalic acid. It is used in thermoforming applications such as in fibers for clothing, containers for liquids and foods, and in combination with glass fiber for engineering resins. It is widely used for the formation of plastic bottles, which are increasingly adopted across the food & beverage industry, owing to its excellent water and moisture barrier material properties. PET is produced from ethylene glycol, which is usually called monoethylene glycol (MEG). It is made from a combination of MEG and dimethyl terephthalate (DMT) (C6H4(CO2CH3)2) but mostly terephthalic acid.
PET is utilized in the medical field. In recent years, the demand for PET-based materials that are stable and durable for antimicrobial property coatings has increased owing to the surge in nosocomial infections and novel drug-resisting bacteria.  Besides, PET can be utilized as a plasticizer for the production of other products. The polymeric plasticizer is obtained from PET plastic waste to further make nitrile rubber and rubber sheets of nitrile-PVC via alcoholysis depolymerization. 
Increase in demand for polyethylene terephthalate from packaging and electrical and electronics industries is driving the polyethylene terephthalate market growth.
Polyethylene terephthalate (PET) is a polymer material with multiple attributes that make it ideal for product packaging. PET is the most widely recycled plastic across the globe. Packaging made from PET can be easily decorated with printed designs or effects in order to suit different product or brand aesthetics. PET plastic is lightweight and strong and thus boxes produced from it resist more wear while taking up less space in warehousing and shipping facilities. Besides, PET is safe for packaging employed for food and beverage products.
Consumers are widely adopting PET, owing to its utilization in packaging food and non-food items. Moreover, it possesses safe, strong, transparent, versatile, lightweight, resealability, shatter-resistance, and recyclability characteristics. In addition, recycled PET packages exhibit the property of recycling again.
PET is commonly used in thermoformed packaging, where the material is heated and formed into shapes or trays. Thermoformed PET packaging is used for products like baked goods, chocolates, fresh produce, electronics, and medical devices. It offers good clarity, rigidity, and barrier properties to protect and showcase the packaged products.
Furthermore, PET films and laminates are used in packaging applications such as flexible packaging, including pouches, sachets, and wrappers for food, snacks, confectionery, and non-food items. PET films offer excellent barrier properties against moisture, oxygen, and aroma, keeping the packaged products fresh and extending their shelf life. PET films are also used for blister packaging, labels, and thermal lamination in the packaging industry.
Moreover, PET is extensively used for packaging cosmetics, toiletries, and personal care products like lotions, creams, hair care products, and perfumes. PET containers and bottles in the beauty and personal care industry often feature attractive shapes, designs, and customizations to enhance product appeal.
The global FMCG industry has seen a surge in the consumption of PET bottles due to their cost-effectiveness, superior quality, and longer shelf life. Developing economies are expected to drive the demand for PET packaging products such as cartons, boxes, and wrappers. In addition, flavored milk has become a preferred nutritious and convenient alternative to other beverages, with demand set to outpace developed regions in Latin America and Asia-Pacific.
Further, PET is utilized in the electrical and electronics industry for applications such as insulating tapes, cable sheathing, connectors, and electrical insulation components. It offers good electrical properties, including high dielectric strength and low dielectric constant. 
Polyethylene terephthalate (PET) is an ideal flexible substrate material for numerous applications in electronics owing to its good mechanical and electrical properties. Due to these good properties, there is growing interest in utilizing PET in applications involving harsh environments. 
PET films and sheets are used as electrical insulation materials in the electrical and electronics industry. They provide excellent dielectric properties and are used as insulating tapes, slot liners, and interlayer insulation in transformers, motors, and other electrical equipment. PET is employed as a sheathing material for cables and wires. It provides mechanical protection and insulation to the conductors within the cable. PET sheathing is resistant to abrasion, chemicals, and moisture, making it suitable for a wide range of cable applications.
Moreover, PET is used in the production of connectors and terminals in electrical and electronic devices. It can be molded or formed into precise shapes to create durable and reliable components for connectors, pins, sockets, and terminal blocks.
Also, PET films are used as a substrate material for flexible printed circuit boards (PCBs). These flexible PCBs are used in applications where bending or flexibility is required, such as in mobile devices, cameras, and wearable electronics. Furthermore, PET is used in various electrical components such as switches, relays, sensors, and capacitors. It can provide insulation, structural support, and protection to these components, helping to ensure their proper functioning.
However, the increase in crude oil prices used to produce virgin plastics coupled with the fluctuation in raw material prices, are expected to hamper the global PET market's growth. Non-biodegradable plastic packaging releases toxins that contaminate soil and water and harm animals that ingest plastic fragments. In addition, chemical additives used in plastic products also have negative environmental and human health effects. As a result, concerns about the ill effects of plastic packaging and the rise in demand for glass and metal packaging products are expected to impede market growth.
The rise in population and change in consumer preferences towards processed and packaged milk are driving market growth. In addition to that, the increase in demand for flavored and white milk, particularly in India and China, where they are major milk consumers. All these factors are anticipated to offer new growth opportunities for the polyethylene terephthalate market during the forecast period.
Key players in the polyethylene terephthalate industry include BASF SE, DSM, DuPont, Indorama Ventures Public Company Limited, LANXESS, LOTTE Chemical CORPORATION, LyondellBasell Industries Holdings B.V., NAN YA PLASTICS CORPORATION, RTP Company, and SABIC. The players in the market have been actively engaged in the adoption of various strategies such as acquisition, product launch, and expansion to remain competitive and gain advantage over the competitors in the market. For instance, in 2020, Indorama Ventures Public Company Limited acquired Industrie Maurizio Peruzzo Polowat, which is a PET recycling facility in Poland. The capacity of these manufacturing locations is 23,000 tons of rPET flakes and 4,000 tons of rPET pellets.
The polyethylene terephthalate market is segmented on the basis of type, application, and region. By type, the market is segmented into virgin and recycled. By application, the market is classified into packaging, automotive, construction, medical, and others. By region, the polyethylene terephthalate market share is analyzed across North America, Europe, Asia-Pacific, and LAMEA.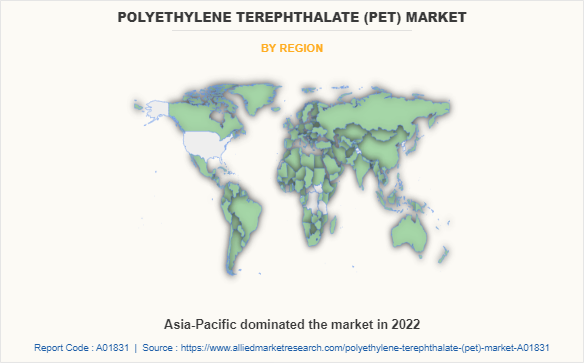 Asia-Pacific dominated the global polyethylene terephthalate market in 2022. The polyethylene terephthalate market in Asia-Pacific is witnessing growth due to a rise in the food & beverage industry. The food & beverage market is driven by rising urbanization and rapid shift in consumer demands by the young population. Besides, there is an increasing demand for ready-to-cook, packaged, ready-to-eat food, and a range of beverages. Polyethylene terephthalate is an essential material utilized for packaging these food & beverages.
Further, in recent years, with the surge in disposable incomes, the purchasing power of the population across Asia-Pacific has been increasing. This has led to an increased demand for automobiles across the region, thereby boosting the demand for polyethylene terephthalate in producing automotive parts.
Moreover, the medical device industry is registering a surge in demand for high-tech medical devices for the treatment of multiple diseases. Polyethylene terephthalate is extensively employed in medical devices such as sutures and implantable parts. Therefore, the growing demand for medical devices is propelling the demand for PET.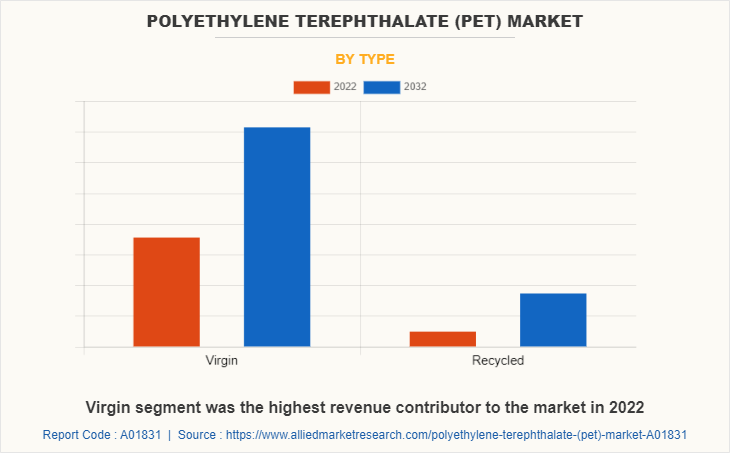 The virgin segment dominated the global polyethylene terephthalate market in 2022. Virgin polyethylene terephthalate (PET) refers to PET resin that has not been previously used or recycled. Virgin PET is made from ethylene glycol and terephthalic acid or its dimethyl ester. These raw materials are reacted through a polymerization process to form long chains of PET polymer. The resulting material has excellent clarity, strength, and barrier properties, making it suitable for many applications.
Virgin PET is known for its high recyclability, and it can be recycled into new PET products or other materials. Virgin polyethylene terephthalate is a widely used material that offers excellent properties for various applications, particularly when high-quality and consistent material is required. Virgin PET is extensively used in the production of plastic bottles and containers for beverages, water, carbonated drinks, juices, food products, personal care products, and household cleaning agents. It provides excellent clarity, strength, and barrier properties, helping to preserve the freshness and integrity of the packaged contents.
Furthermore, virgin PET can be processed into synthetic fibers, commonly known as polyester. These fibers are used in the textile industry for making clothing, upholstery, carpets, and other fabrics. Virgin PET fibers are known for their durability, wrinkle resistance, and ease of care. Also, virgin PET can be manufactured into thin films and sheets. These are used in various applications such as food packaging films, thermoformed trays, blister packaging, and labels. Virgin PET films offer transparency, good printability, and excellent mechanical properties.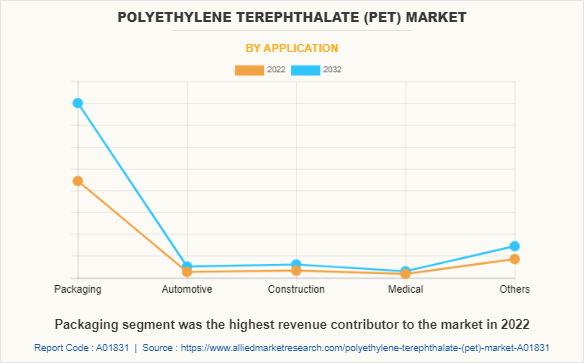 The packaging segment dominated the global polyethylene terephthalate market in 2022. Polyethylene Terephthalate (PET) is almost unbreakable and can be recycled. Due to these properties, PET is used as a packaging material for food & beverages. Besides, it is non-toxic and safe, remarkably ideal for packaging food, electronics, and other products.
Polyethylene Terephthalate (PET) sheets & films have high crack resistance, and excellent barrier properties to oxygen and water vapor, are very light, though they are still strong enough, with high surface hardness, and are superior environment friendly packaging materials. Moreover, PET is widely used to package carbonated soft drinks, dilutable drinks, fruit juices, and bottled water, as it is durable, light, safe and has a smaller carbon footprint.
Key Benefits For Stakeholders
This report provides a quantitative analysis of the market segments, current trends, estimations, and dynamics of the polyethylene terephthalate market analysis from 2022 to 2032 to identify the prevailing polyethylene terephthalate market opportunities.
The market research is offered along with information related to key drivers, restraints, and opportunities.
Porter's five forces analysis highlights the potency of buyers and suppliers to enable stakeholders to make profit-oriented business decisions and strengthen their supplier-buyer network.
In-depth analysis of the polyethylene terephthalate market segmentation assists to determine the prevailing market opportunities.
Major countries in each region are mapped according to their revenue contribution to the global market.
Market player positioning facilitates benchmarking and provides a clear understanding of the present position of the market players.
The report includes the analysis of the regional as well as global polyethylene terephthalate market trends, key players, market segments, application areas, and market growth strategies.
 Polyethylene Terephthalate (PET) Market Report Highlights
Aspects
Details
Market Size By 2032
USD 54.4 billion
Growth Rate
CAGR of 6.1%
Forecast period
2022 - 2032
Report Pages
283
By Type
By Application

Packaging
Automotive
Construction
Medical
Others

By Region

North America (U.S., Canada, Mexico)
Europe (Germany, France, Italy, UK, Spain, Rest of Europe)
Asia-Pacific (China, India, Japan, South Korea, Australia, Rest of Asia-Pacific)
LAMEA (Brazil, Saudi Arabia, South Africa, Rest of LAMEA)

Key Market Players
DuPont, SABIC, BASF SE, LANXESS, RTP Company, NAN YA PLASTICS CORPORATION, Indorama Ventures Public Company Limited, DSM, LOTTE Chemical CORPORATION, LyondellBasell Industries Holdings B.V.
Analyst Review
According to the opinions of various CXOs of leading companies, the polyethylene terephthalate market is expected to witness increased demand during the forecast period. Polyethylene terephthalate is a strong and stiff synthetic fiber, which belongs to the polyester family of polymers. PET has several applications in packaging, electrical & electronics, consumer goods, automotive, and others and is blow molded into disposable bottles, spun into fibers for fabrics, and extruded into magnetic recording tape and photographic film.
High demand from packaging and electrical & electronics application segments boosts the growth of the market. Moreover, an increase in demand from developing countries, such as China and India, owing to rapid urbanization and a rise in consumer spending capabilities, drives global market growth.
The European PET market offers numerous opportunities for the manufacturers, owing to enhanced production of PET resins in Germany, France, Russia, and the UK and an increase in the number of manufacturers. In addition, growth in demand for efficient and cost-effective packaging materials and a rise in disposable income in developing economies, such as Poland and the Netherlands, drive the European market. Asia-Pacific is estimated to account for the largest market share, followed by Europe.