Polymer Bearing Market Research, 2031
The global polymer bearing market was valued at $9.4 billion in 2021 and is projected to reach $14.9 billion by 203, growing at a CAGR of 4.8% from 2022 to 2031.
Report key highlighters
Quantitative information mentioned in the global polymer bearing market includes the market numbers in terms of value (USD Million) and volume (Tons) with respect to different segments, pricing analysis, annual growth rate, CAGR (2022-31), and growth analysis.

The analysis in the report is provided on the basis of the type of material and end-use industry. The study will also contain qualitative information such as the market dynamics (drivers, restraints, opportunities), Porter's Five Force Analysis, key regulations across the region, and value chain analysis.

A few companies, including Radiant ISB Industries, Altra Industrial Motion Corp., Saint-Gobain, Dotmar Engineering Plastics, Waukesha Bearings Corporation, hold a large proportion of the polymer bearing market.

This report makes it easier for existing market players and new entrants to the polymer bearing business to plan their strategies and understand the dynamics of the industry, which ultimately helps them make better decisions.
The polymer bearing market is expected to grow at a steady pace during the forecast period, due to the rising demand in Asia-Pacific and its increasing application in the medical & pharmaceutical, textile, and automotive, food processing industries. On metal surfaces, polymer bearings are extensively used and preferred over other common bearing materials. polymer bearings are increasingly preferred over other bearings because they are chemical-resistant and acidic. Due to their auto-lubrication, they do not transmit heat to other areas, preventing failure due to low maintenance.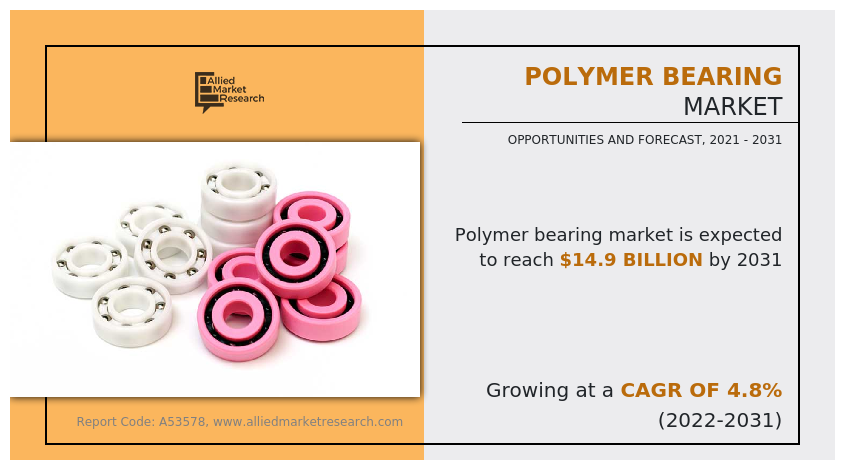 A polymer bearing is a design module used to convey rotational motion in a machine or small mechanism when at least one of two rubbing components is composed of polymer. Consequently, regions once dominated by steel and phosphor bronze are progressively filled with polymers such as Polytetrafluoroethylene (PTFE), polyetheretherketone (PEEK), Polyoxymethylene (POM), and Nylons. A polymer bearing is an element of a machine featuring at least one polymer rubbing part. Because they can survive extreme situations that would ruin conventional bearings, polymer bearings are desirable.
Compared to steel, polymeric materials are 80% lighter. As a result, polymer-based bearings require less energy to move and are less susceptible to energy loss due to friction. When greased, polymer bearings are practically silent and absorb stress loads more effectively than metal bearings. When high loads and perhaps high temperatures are involved, metallic bearings are normally used. Certain polymers, such as polyetheretherketone (PEEK) and Polyimide, can withstand tremendous loads and temperatures of 300°C+, despite the fact that polymers cannot normally withstand large loads or operate at high temperatures. The use of these polymers is limited to aeronautical and medical applications where cost is not a significant factor.
In addition to hospital beds, x-ray equipment, dentist chairs, operating tables, and wheelchairs, polymer bearings may be used in a number of medical devices. Increasing technological developments in the healthcare sector have led to an increase in demand for medical devices, which may have a favorable effect on the market size for polymer bearings.
A polymer bearing consists of at least one and no more than two polymer rubbing components. Because polymer bearings require less energy to move, they are less prone to lose energy due to friction. Polymer bearings were marketed to the automotive sector. The numerous applications of polymer bearings and their low maintenance, lightweight, lubrication-free, high wear and fatigue resistance, corrosion, and chemical resistance characteristics have gained favor in the automobile industry.
Polymer bearings are suited for heavy-duty applications in heavy-duty machinery because of their lightweight and lubricating qualities. This helps to prevent metal-on-metal damage and injury. It is claimed that polymer bearings are increasingly employed in railways and rolling mills, followed by motors and automobile electrification, as well as continuously variable transmissions, which has boosted demand.  Numerous key players are always trying to improve existing products to be more acceptable and effective, which will generate new growth opportunities for the market during the forecast period.
Increasing demand for polymer bearing in industrial applications
Rising demand for polymer bearings in industrial applications such as the medical & pharmaceutical, automotive, textile, and food processing industries is expected to be the primary driver driving the growth of the polymer bearing market. After construction, the automobile industry is the second largest consumer of polymers. According to the Gulf Petrochemicals and Chemicals Association, 1/3 of a vehicle's approximately 30,000 parts are comprised of plastic. About 39 distinct types of plastics and polymers are utilized to construct one vehicle. However, over 70% of the plastic used in automobiles is comprised of four polymers, polypropylene, polyurethane, polyamides, and Polyvinyl chloride (PVC).
In recent years, plastic has become one of the most important materials required for the structure, performance, and safety of automobiles, with the increase in plastic use being driven by trends toward lightweighting to improve fuel efficiency and hence reduce greenhouse gas emissions. In addition, a variety of biological, synthetic, and hybrid polymers are utilized for medical applications. For instance, the Igus company provides plastic solutions for food-processing machines and equipment in order to meet the stringent criteria for food hygiene and food safety at every stage of the process.
However, stringent government requirements may impede the growth of polymer bearings in the food packaging and processing industries. Despite this, technical progress in production processes, growing awareness of its applications, and rising demand for polymer bearings can create multiple opportunities for the market's constant growth.
The expanding use of polymer bearings in the automotive, medical & pharmaceutical, textile, food processing, chemical, office products, and semiconductor industries contributes to the expansion of the worldwide polymer bearing market. On metallic surfaces, polymer bearings are favored. In comparison to other conventional bearing materials, polymers have numerous advantages. Polymer bearings are corrosion and chemical resistant. Because these bearings are self-lubricating, they do not transfer heat to other mechanical assembly areas, eliminating the danger of failure due to lack of maintenance. Therefore, these factors are driving the expansion of the polymer bearing market.
The expense of raw materials for polymer bearings is one of the greatest obstacles faced by manufacturers. If the price of raw materials rises, production expenses will also rise, negatively affecting the market. As the worldwide polymer bearing business expands, rising raw material costs may prove to be a significant obstacle. The raw material prices will continue to climb during the forecast period resulting in higher production costs. Strict regulatory laws limiting their use in the food packaging and processing industries have impeded the spread of polymer bearings, however. In addition to phenolic bearings with a limited thermal conductivity that requires continual water or lubricating oil to remove heat, the market may experience stagnation.
UHMWPE is utilized extensively in EVs. To accommodate the growing demand for electric vehicles, businesses like Celanese Corporation have increased UHM PE production. According to the International Energy Agency (EIA), two-thirds of new electric car registrations and two-thirds of the stock in 2020 will be Battery electric vehicles. China has the greatest fleet of electric vehicles, with 4.5 million, but in 2020, Europe had the largest annual rise, reaching 3.2 million. In 2020, around 3 million new electric vehicles were registered. Europe led the registration of electric vehicles for the first time with 1.4 million new registrations. China registered 1.2 million new electric vehicles, whereas the U.S. registered 295,000. Consequently, the expansion of UHMWPE in electric vehicles would create attractive opportunities for the polymer bearings market.
In addition, government initiatives and environmental laws are anticipated to enhance the demand for automotive mounted bearings, generating lucrative prospects for market participants. In addition, rising worries about car emissions have necessitated a reduction in vehicle mass. These criteria and restrictions offer substantial market expansion opportunities during the forecast period.
The polymer bearing market is segmented into type of material, end-use industry, and region. Depending on the type of material, the market is divided into phenolics, nylon, teflon, acetal, UHMWPE (Ultra High Molecular Weight Polyethylene) and others. On the basis of end-use industry, it is categorized into automobile, medical & pharmaceutical, textile, packaging and others. Region-wise, the market is studied across North America, Europe, Asia-Pacific, and LAMEA.
The major players operating in the global polymer bearing market are ISB Industries, Altra Industrial Motion Corp., Saint-Gobain, Dotmar Engineering Plastics, Waukesha Bearings Corporation, SKF, Igus, Kashima Bearings, Inc., KMS Bearings, Inc., OILES CORPORATION. Other players operating in the market are Synnovia, TOK Inc., Xinzhou Bearing Industrial Inc., Boston Gear LLC, BNL Ltd.
Polymer Bearing Market

---

By Type Of Material
Acetal is projected as the fastest growing segment.
The phenolic segment accounted for the largest share, due to its exceptional strength and shock resistance, as well as its resistance to water, acid, and alkaline solutions. Self-lubricating phenolic polymeric materials supplant metal bearings in a variety of applications.
The acetal segment is the fastest-growing segment with CAGR 5.2%, due to its low coefficient of friction and stability at moderately high temperatures make it an excellent material for bushings and bearings. In many automotive, appliance, and industrial applications, acetal is a preferred bearing material.
Polymer Bearing Market

---

By End Use Industry
Automobile is projected as the fastest growing segment.
The automobile segment accounted for the largest share and is the fastest-growing segment with CAGR 5.2%. Automobiles comprise a sizeable portion of the market. Belt tensioners, center armrests, pedal systems, gear actuators, steering systems, stub axels, and seating systems are manufactured using polymer bearings in the automobile industry. According to the International Energy Agency, by 2030 there will be 125 million more electric vehicles on the road than there were in 2018. This will bolster market expansion.
Polymer Bearing Market

---

By Region
Asia-Pacific has garnered major share and is projcted as the fastest growing region.
Asia-Pacific garnered the largest share i.e., 40.5%. This is primarily attributable to the rise in demand for polymer bearings from diverse end-use industries in this region, including automotive, textile, food processing, medical & pharmaceutical, packaging, and chemical. Due to the rising demand for polymer bearings in the food and beverage, transportation & logistics, and delivery & logistics industries, the Asia-Pacific polymer bearings market has been expanding steadily.
Key Market Trends:
Technology improvements in sealing, lubrication and lightweight materials in high-performance products are giving manufacturers a lot of business opportunities. By directly integrating electromechanical elements into bearings, performance can be enhanced, and costs decreased. Several industry participants are investing in digital operations and connectivity to improve consumer engagement and automate procedures throughout the value chain. Utilizing digital production equipment and automation, digital processing facilitates product development and increases worker productivity, hence contributing to automated and adaptable production processes that stimulate market expansion.
Increasing manufacturing of commercial vehicles is one of the primary market drivers for polymer bearings. The expansion of the industrial and automotive sectors is directly proportional to the expansion of the polymer bearings market. In addition, global construction activity expansion leads to the expansion of the polymer bearing market. Thus, the global market for polymer bearings is anticipated to expand during the forecast period due to the aforementioned factors.
Regulatory Guidelines:
American Society for Testing and Materials International (ASTM International) is a regulating body that defines plastic quality standards. The standards of ASTM International help manufacturers and consumers determine the quality of plastics and their derivatives for safe use.

The standards are broadly acknowledged across the supply chain for plastics. By establishing material parameters, ASTM standards level the playing field for bearing selection. Included in the ASTM standard for automobile bearings are stiffness, flexural characteristics, heat deflection, and impact and stress resistance.

In addition, BS 4480-2 specifies the dimensions and tolerances for plastic bearings with an internal diameter ranging from 3 mm to 60 mm. For the processing of milk and other dairy products, diverse dairy technology is available, such as filling machines and valves and secondary packaging devices for yoghurt (cups), cheese, butter, cream, milk bags, and coffee cream.

Plain bearings constructed from FDA/EU-approved materials must meet Sanitary Standards in the dairy industry to assure product quality and protect consumer health.
Key Benefits For Stakeholders
This report provides a quantitative analysis of the market segments, current trends, estimations, and dynamics of the polymer bearing market analysis from 2021 to 2031 to identify the prevailing polymer bearing market opportunities.
The market research is offered along with information related to key drivers, restraints, and opportunities.
Porter's five forces analysis highlights the potency of buyers and suppliers to enable stakeholders make profit-oriented business decisions and strengthen their supplier-buyer network.
In-depth analysis of the polymer bearing market segmentation assists to determine the prevailing market opportunities.
Major countries in each region are mapped according to their revenue contribution to the global market.
Market player positioning facilitates benchmarking and provides a clear understanding of the present position of the market players.
The report includes the analysis of the regional as well as global polymer bearing market trends, key players, market segments, application areas, and market growth strategies.
 Polymer Bearing Market Report Highlights
Aspects
Details
Market Size By 2031
USD 14.9 billion
Growth Rate
CAGR of 4.8%
Forecast period
2021 - 2031
Report Pages
460
Type of Material

Phenolics
Nylon
Teflon
Acetal
UHMWPE (Ultra High Molecular Weight Polyethylene)
Others

End Use Industry

Automobile
Medical and Pharmaceutical
Textile
Packaging
Others

By Region

North America (U.S., Canada, Mexico)
Europe (Germany, France, Italy, UK, Spian, Rest of Europe)
Asia-Pacific (China, India, Japan, South Korea, Australia, Rest of Asia-Pacific)
LAMEA (Brazil, Saudi Arabia, South Africa, Rest of LAMEA)

Key Market Players
Altra Industrial Motion Corp., Dotmar Engineering Plastics, Igus Bearings Inc., OILES CORPORATION, KMS Bearings, Inc, Saint-Gobain, SKF, ISB Industries, waukesha bearings corporation, Kashima Bearings, Inc.