The global polystyrene foam market was valued at $46.2 billion in 2020, and is projected to reach $73.8 billion by 2030, growing at a CAGR of 5.1% from 2021 to 2030.
Polystyrene foam is a semi-finished product made from Styrene monomer. Based on the type of manufacturing process it undergoes, Polystyrene is divided into two types: expanded and extruded. As the name suggests, expanded Polystyrene (EPS) is made by expanding Polystyrene using gas, whereas extruded polystyrene (XPS) is an extruded product.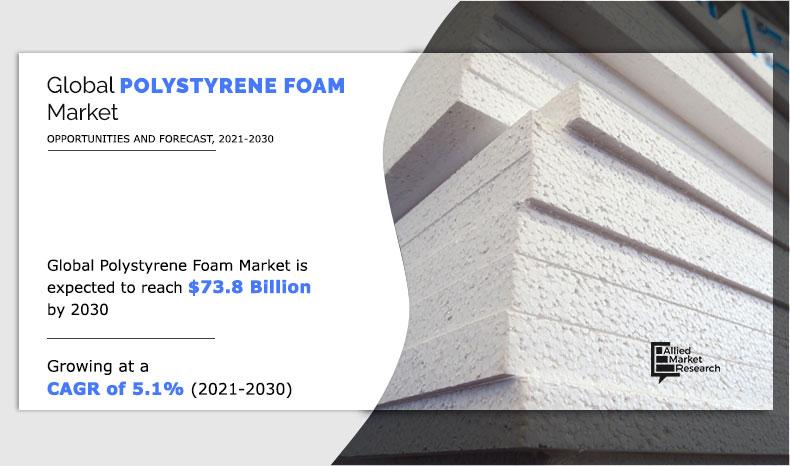 EPS is a rigid, closed cell, thermoplastic foam material produced from solid beads of polystyrene by gas expansion. The gas expands when heat in the form of steam is applied, thus forming closed cells of EPS. EPS has a more cellular structure and fragments into individual beads when broken. XPS has a more closed-cell structure and when examined closely it is possible to tell EPS from XPS. EPS foam thermal insulation sheets have a spectrum of applications in the building sector. Applications include use in ceilings and walls of buildings and pipes to isolate the heat. In buildings, thermal insulation is essential to save energy costs on HVAC systems. When a building is properly insulated thermally, there is less or no transfer of heat energy into the building, thus keeping the building at the occupant's preferred temperature. 
Extruded Polystyrene (XPS) thermal insulation board is a rigid foam board having closed cell structure and is produced in a fully automated continuous extrusion process. Its unique properties of high compressive strength, higher R value and low water absorption makes it an ideal insulating material for roofs, walls and floors. Thus, Polystyrene foam insulation is employed by building constructors to regulate a building's internal temperature. EPS foam is also used in thermal insulation for refrigeration cabinets. Apart from insulation boards and panels, Polystyrene foam molded parts are used in food and non-food packaging and in other storage applications. EPS is lightweight and is used in the production of food packaging. An XPS food container is 40 to 55% less than alternatives made of other polymeric materials.
When comparing the moisture resistance of EPS and XPS, EPS has been shown to retain less moisture than XPS rigid-foam insulations. However, it all depends on the type of tests carried out by manufacturers. XPS producers test their product by performing underwater tests for 2-24 hours. When tested through this method, XPS is seen as the more resistant option as compared to EPS foam. However, it releases absorbed moisture at a relatively rate as compared to EPS. Simply put, any moisture that gets inside the XPS cell will be present in it for longer periods. 
There are various drivers currently influencing the Global Polystyrene foam market. Rising urbanization, rise in the demand for energy efficiency and fire safety policies, and rising use of Polystyrene packaging solutions are the key drivers of the Global Polystyrene foam market. In order to increase the pace of industrialization, countries increase basic public service and infrastructure near major industrial bases. This creates scope for more residential and commercial infrastructure. For instance, in China, the urbanization rate was faster in the central and western regions than in the eastern and north eastern areas. China has been taking various measures to boost urbanization and ensure residents can enjoy improved basic public service and social security. Similarly, the Canadian government introduced the ''Housing Now'' plan in 2019. The program plans to build over 40,000 new residential units in Canada within the timeframe of 12 years. Such initiatives directed towards infrastructural expansions. In addition, the demand for more energy efficiency in buildings has increased the demand for EPS foam thermal and moisture insulation boards. Changing building energy codes will offer a new opportunity for insulation producers. For instance, according to the Energy Performance of Buildings Directive (EPBD), as of beginning December 2020 all new buildings must be nearly zero-energy buildings (nZEBs). Simply put, buildings must make substantial use of thermal insulation, in turn, driving insulation materials sales. Both EPS and XPS foam products, thus will benefit from this change of regulations. Moreover, the demand for non-food packaging such as electronics and electrical appliances has also increased in recent years, owing to the rising penetration of e-retailers such as Amazon and Flipkart.  On the other hand, the global food & beverage market is growing at a rapid rate and is backed by solid consumer demand for processed food, in turn increase the demand for Polystyrene foam.
Polystyrene is a synthetic polymer made from styrene monomer, which is a liquid petrochemical. Being a petrochemical, Styrene prices are driven by sudden changes in supply which could be affected by rate changes, maintenances and unforeseen temporary plant shutdowns. This volatility has a negative impact on the supply of Polystyrene foam. During scarcity of Polystyrene, users tend to opt for polymers that are more stable in prices.  This factor could act as a restraint in the future growth of Polystyrene foam market.
The use of Polystyrene in other applications such as marine floatation and floating decks is poised to offer fresh opportunities for Polystyrene foam market during the forecast period. Being a durable and lightweight material, EPS foam is used in making buoys, pontoons, and floating decks. Due to its good buoyancy and resilience properties, EPS foam is used in floating platforms for boat or yacht landing area, or at fishing area. 
The polystyrene foam market is segmented into product, end use industry, and region. By product, the market is divided into EPS and XPS. By end use industry, the market is classified into packaging, building & construction, and others. By region, it is studied across North America, Europe, Asia-Pacific, and LAMEA. Key players engaged in the production of Polystyrene foam include Alpek, BASF SE, ChovA, Drew Foam, DuPont, Kingspan Group, Knauf Insulation, Sunpor Kunststoff GmbH, Synthos S.A., and Xella International. Acquisitions done by Alpek and Kingspan in order to increase market presence and strengthen its product offerings are the key development strategies adopted.
Polystyrene foam market, by region  
Asia-Pacific accounted for the largest share of the market in 2020 as well as the fastest growing region, owing to the presence of well-established building and packaging markets such as India and China. 
Polystyrene foam Market

---
By Region
Asia-Pacific would exhibit highest CAGR of 6.2% during 2021-2030.
Polystyrene foam market, by Product 
In 2020, EPS segment accounted for the largest market share and is projected to grow at the highest CAGR of 5.4%. Compared to XPS foam, EPS foam has high demand and is used in a variety of applications. 
Polystyrene foam Market

---
By Product Type
Expanded Polystyrene Foam segment is projected as the most lucrative segment.
Polystyrene foam market, by end-user industry
Based on the end use industry, packaging, building & construction, and others. The building & construction segment accounted for the largest market share in 2020, while the packaging segment is projected to grow at the highest CAGR of 6.0%.  
Polystyrene foam Market

---
By Application
Packaging segment is projected as the most lucrative segment.
Key benefits for stakeholders
Porter's five forces analysis helps to analyze the potential of buyers & suppliers and the competitive scenario of the industry for strategy building.
It outlines the current Polystyrene foam market trends and future estimations from 2020 to 2030 to understand the prevailing opportunities and potential investment pockets.
The major countries in the region have been mapped according to their individual revenue contribution to the regional market.
The key drivers, restraints, and opportunities and their detailed impact analysis are explained in the study.
The profiles of key players and their key strategic developments are enlisted in the report.
 Polystyrene foam Market Report Highlights
Aspects
Details
By Product

Expanded Polystyrene Foam (EPS)
Extruded Polystyrene Foam (XPS)

By End Use Industry

Packaging
Building & Construction
Others

By Region

North America (U.S, Canada, Mexico)
Europe (France, Germany, UK, Spain, Italy, Rest of Europe)
Asia-Pacific (India, China, Japan, Korea, Rest of Asia-Pacific)
LAMEA (Brazil, Saudi Arabia, South Africa, Rest of LAMEA)

Key Market Players
Alpek, BASF SE, ChovA, Drew Foam, DuPont, Kingspan Group, Knauf Insulation, Sunpor Kunststoff GmbH, Synthos S.A., Xella International