The global pool tables market size was valued at $214.1 million in 2020, and is estimated to reach $291.6 million by 2028, registering a CAGR of 5.4% from 2021 to 2028. 
Pool is a type of cue sport that is played on a table with six pockets along the rails into which balls are dropped. Each pool game has its own name; some of the more popular ones are eight-ball, blackball, nine-ball, ten-ball, seven-ball, straight pool, one-pocket, and bank pool.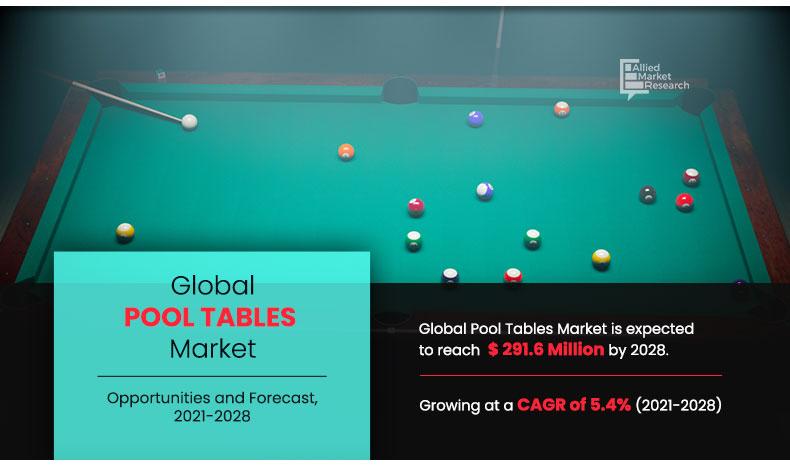 There are various types of pool tables that are used for different kinds of pool games. Some of these pool tables are carom billiards tables, pocket pool tables, and snooker tables. The dimensions, pockets, cushions, bed, markings, cloth, and materials of each of these pool table types may differ.
A pool table is a bounded table used for cue sports. In the modern era, all pool tables (whether for carom, billiards, or snooker) have a flat surface made of quarried slate that is covered with cloth (usually a tightly woven worsted wool called baize) and surrounded by rubber cushions, all elevated above the floor. More specific terms, such as snooker table and billiard table, are used for specific sports, and different-sized pool balls are used on these table types.
Pool tables are available in a variety of sizes, including 9-foot (2.7 m), 8.5-foot (2.6 m), 8-foot (2.4 m), and 7-foot (2.1 m). In all cases, the pool table is rectangular. The World Pool-Billiard Association (WPA) and its various regional and national affiliates have only two sizes approved for tournament play by the International Olympic Committee–recognized sport governing body of pool; these are the 94.5 ft. and 84.5 ft. models, according to the standardized rules of pool in the world. 
The standard of pool facilities continues to improve, with an increasing number of official academies opening around the world. One of the major factors and pool tables market trends driving pool tables market sales globally is increase in the number of grassroots programs in schools, colleges, and clubs. Projects such as World Disability Snooker, the World Women's Snooker Tour, and Cue Zone into Schools, all of which are supported by accredited coaching programs, are gaining popularity. Various governing bodies and associations also play an important role in promoting pool as a sport.
Pool tables market demand is expected to increase due to the region's strong penetration of cue sports and various recreational activities as well as the numerous associations promoting the sports. The demand for pool tables is being fueled by favorable support from various governing bodies. The market's major players are implementing online retail strategies in order to cut costs and increase margins, which may benefit the market during the forecast period. This can also create one of the important pool tables market opportunity. 
Pool games rely on precision and technique, which necessitates consistent practice in order to maintain muscle memory. They are one of the most technically demanding sports in the world when compared to others. As a result, players must engage in regular practice. Snooker, pool, and billiards games were halted in 2020 for three months due to COVID-19, which will have a long-term impact on the players' game. 
Pool is a recreational as well as a competitive sport. The individual must select a pool table at their own discretion. Pool tables were designed in a variety of styles depending on the time period and materials available locally. The change occurred as a result of evolving of the game's rules. Pool tables, which were originally made of slate, are now made of metal and wood, with velvet cushions to add an amazing aesthetic value. This has resulted in an additional cost for manufacturers. The cost of raw materials used to make pool tables, such as slate, wood, and cloth, is high, which influences the price of the finished product. Furthermore, most pool table manufacturers charge extra costs for shipping and installation, which raises the pool table prices for the customer. The high cost of manufacturing a pool table is expected to restrict the pool tables market growth.
The global pool tables market is segmented on the basis of type, material, end use, distribution channel, and region. On the basis of type, the market is categorized into American pool table and British pool table.
As per material, it is divided into slate pool table, wooden pool table, metallic pool table and rubber pool table. Based on end use, the pool tables market is bifurcated into residential, commercial and professional.
According to distribution channel, it is fragmented into hypermarkets & supermarkets, departmental stores, specialty stores, and online sales channel. Region-wise, the pool tables market is analyzed across North America, Europe, Asia-Pacific, and LAMEA. In this way, pool tables market analysis is done. 
By type, the American pool tables segment garnered the highest market share in 2019 according to pool tables market forecast, due to an increase in the number of visitors to pool halls, sports clubs, and recreational centers. On the basis of material, the slate pool tables segment is anticipated to dominate with the highest pool tables market share during the forecast period. This is attributed to slate's quality and properties as it needs to be tough, long-lasting material that has ability to be levelled to a precise tolerance, which is ideal for pool tables. By end use, the professional segment registered the highest market share during 2019, because of increased utilization of pool tables in schools, colleges and sports clubs. Depending on distribution channel, the specialty stores segment led the market in 2019. This is due to the fact that specialty stores offer options such as discounts and convenience of instant gratification. Region-wise, North America is expected to dominate the market. Due to rising consumer purchasing power and a huge number of associations promoting the sport, North America accounted for the largest revenue share of the global pool tables market.
The prominent pool tables industry participants include American Heritage Billiards, Beijing Xingpaiweiye Sports Goods Co. Ltd, Blatt Billiards, Brunswick Billiards, Gabriels Billiards, Imperial International, Legacy Billiards, Olhausen Billiard Mfg. Inc., Riley England and Valley Dynamo Inc.
Key Benefits For Stakeholders
This report provides a quantitative analysis of the current trends, estimations, and dynamics of the global pool tables market from 2021 to 2028 to identify the prevailing market opportunities.
Porter's five forces analysis highlights the potency of buyers and suppliers to enable stakeholders to make profit-oriented business decisions and strengthen their supplier–buyer network.
In-depth analysis of the market segmentation assists to determine the prevailing market opportunities.
Major countries in each region are mapped according to their revenue contribution to the global industry. 
The market player positioning segment facilitates benchmarking while providing a clear understanding of the present position of the key market players.
The report includes analyses of the regional as well as global market, key players, market segments, application areas, and growth strategies.
Key Market Segments
By Type
American pool table
British pool table
By Material
Slate pool table
Wooden pool table
Metallic pool table
Rubber pool table
By End Use
Residential
Commercial
Professional
By Distribution Channel
Hypermarkets & Supermarkets
Departmental Stores
Specialty Stores
Online Sales Channel
By Region
North America
Europe 

UK
France
Netherlands
Germany
Turkey
Rest of Europe

Asia-Pacific

China
Japan
India
South Korea
Australia
Rest of Asia-Pacific

LAMEA

Brazil
South Africa
UAE
Rest of LAMEA