The global port equipment market size was valued at $17.6 billion in 2021, and is projected to reach $32.7 billion by 2031, growing at a CAGR of 6.9% from 2022 to 2031.
Port equipment is the type of equipment that are used in ports which can be used for loading and unloading of the materials in a short period of time. Port equipment are primarily used to handle 20- or 40-foot equivalent unit (TEU) in port terminals and warehouses. The equipment's such cranes, forklift trucks, reach stackers, terminal tractors, and others are considered during the study. These equipment's are usually used to handle fully loaded or unloaded cargo containers, which can approximately weigh up to 400 tons varying on the usage.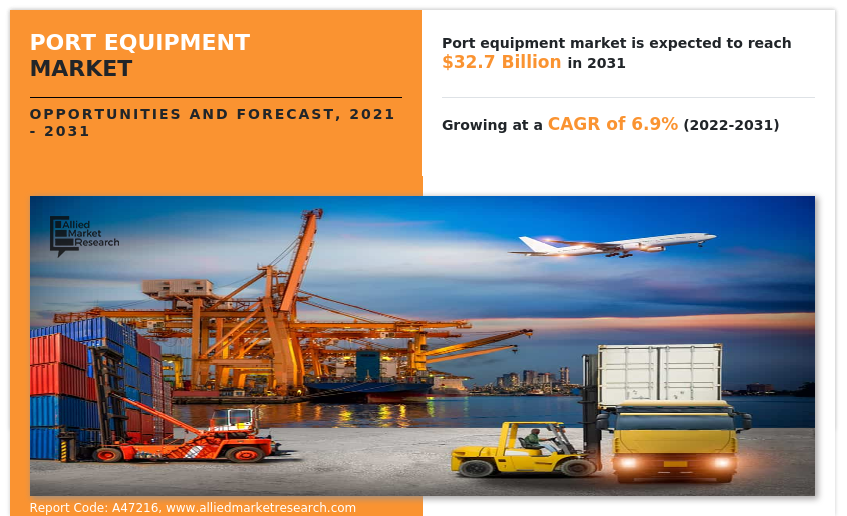 The port equipment market is segmented into Fuel Type, Equipment Type, Lifting Capacity and Application.
The cargo ships are used to transport the containers or goods that has grown immensely in the recent years. As per the recent report from UNCTAD, the global transportation of cargo has risen to 849 million TEUs in 2021 from 758 million TEUs in 2020 due to which port terminals are becoming busier. This progress in the worldwide trade in cargo is likely to increase the sales for port handling equipment.
The growth in projects of port infrastructure in several regions to improve the import-export industry which is likely to push the global sales for port equipment over the forecast period. The leading companies at global level are more focused on establishment of warehousing & manufacturing facilities and after-sales services to meet the demands of end-users. The key players in the port equipment market are also focusing on creating advanced technologies like EV technology, automation, and sensors to achieve more revenue benefits. They are also investing drastically in research and development of heavy-lifting capacity vehicles and electric vehicles.
However, the Europe region has a strong economy, and the countries in Europe is the home to few of the prominent companies of port equipment, which pushes the global market share. Liebherr in Switzerland and Kalmar & Konecranes in Finland are the leading players, distributors, and dealers of the port equipment. The naval industry in Europe is among main contributors of proper water weapons and thus the region certifies the protection of their coastlines. Europe has been one of the major regions to adopt the industrial automation, owed due to surge in investments in the revolution of industry 4.0. As per CBI Ministry of Foreign Affairs, Europe holds for more than one-third of investments in the global industry 4.0. Northern and Western Europe are its major markets, mainly Germany, where the term was originally acting as frontrunner.
Additionally, millions of cargo containers from various trades, such as consumer goods, petrochemicals, materials, chemicals, and automotive are shipped every year in the Asia Pacific with other regions. In recent years, the highest shipping of containers has been noticed from India, Singapore, China, and South Korea. As per the reports of World Shipping Council, of the top 50 port terminals in terms of importing and exporting million TEU in 2021, around 15 were in Asia region. These included Thailand, Singapore, Malaysia, Japan, China, and Indonesia.
Also, China is likely to hold the largest economy by 2023 and is one of the biggest markets for trading over the world. The trading through waterways has grown into progressively more important part of China's overall economy and it's been a substantial tool used to modernize the economy. Most of its, imports entail on apparatus (including chemicals, office machines, computers, fuels, and semiconductors) and machinery The most import sources for China are the U.S., Australia, South Korea, Taiwan, Japan, and EU countries. Regionally, nearly half of their imports of China come from Southeast and East Asia, and around one fourth of its exports go to the same regions.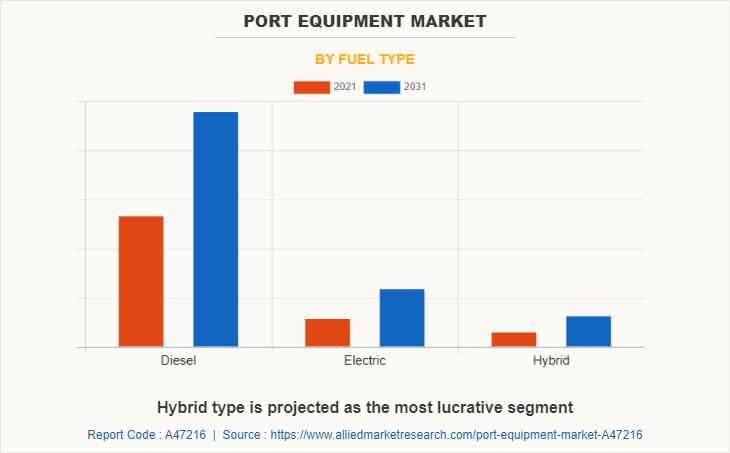 LAMEA is also efficiently expanding its demography and resources buoyant. Hence, it is a favorable market for port equipment. The ports of LAMEA region enhance the economy and industrial development of each country, thus increasing the consumption power of the whole region. The logistics companies that frequently ship cargo to and from LAMEA region, or work with local representatives in this region, use one of the region's 453 ports. Panama ports, Port of Colon and the Port of Manzanillo covers an area of around 58 hectares. However, the authority of ports intends to increase the port area by another 100 hectares. The port handles more than 140,000 of Ro-Ro (roll-on/roll-off) vehicles daily. Additionally, between 1.9 million and 2.1 million TEUs of goods are handled annually. In LAMEA, we have considered Latin America, Middle East, and Africa.
The shipping and cargo industry in LAMEA region has the unique appearances of the leading players in this industry that are mainly privately owned, having a small fleet, and are not too distant in diverse expertise and environmental reach. The ports in Panama are the straight operational path linking maritime trade between the Pacific and Atlantic oceans. It is also the quickest route for gas cargo from North Asia to the Gulf of Mexico. The Panama Canal is crucial to worldwide trade, with more than $ 270 billion in cargo passing away through the canal every year. It operates over 140 sea routes in more than 80 countries. This increase in competition, shipping activity and cargo tonnage, and port trade within the LAMEA region.
Factors such as rising operation in seaborne trading, increase in usage of electric port equipment to minimize the carbon consumption, and growing demand for cargo transportation supporting the adoption of port equipment solutions. Moreover, the factors such as huge investments and maintenance cost, and shortage of port labors are restraining the growth of port equipment market. Furthermore, the factors like development of new port projects, and rising trend of automation in marine transportation to create an immense opportunity for port equipment key players operating in the market.
The global port equipment market is segmented on the basis of equipment type, fuel type, lifting capacity, application, and region. By equipment type, it is divided into cranes, forklift trucks, reach stackers, terminal tractors, and others. By fuel type, it is classified into diesel, electric, and hybrid. By lifting capacity, it is classified into up to 20 Tons, 20 to 40 Tons, and above 40 Tons. Based on the application the global port equipment market is segmented into ship handling and container handling. By region, the market is analyzed across North America, Europe, Asia-Pacific, and LAMEA.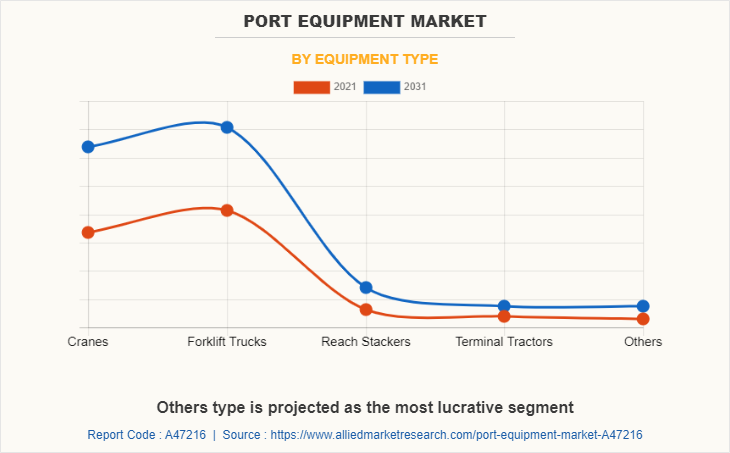 Growth drivers, restraints, and opportunities are explained in the study to better understand the market dynamics. This study further highlights key areas of investment. In addition, it includes Porter's five forces analysis to understand the competitive scenario of the industry and the role of each stakeholder. The study features strategies adopted by key market players to maintain their foothold in the market.
The leading players operating in the port equipment market are Anhui Heli Co., Ltd., Cargotec Corporation, Gaussin S.A., Konecranes, Liebherr Group, Lonking Machinery Co., Ltd., Mitsubishi Logisnext Co., Ltd., Sany Heavy Industry Co., Ltd., Shanghai Zhenhua Heavy Industries (ZPMC), and Toyota Material Handling.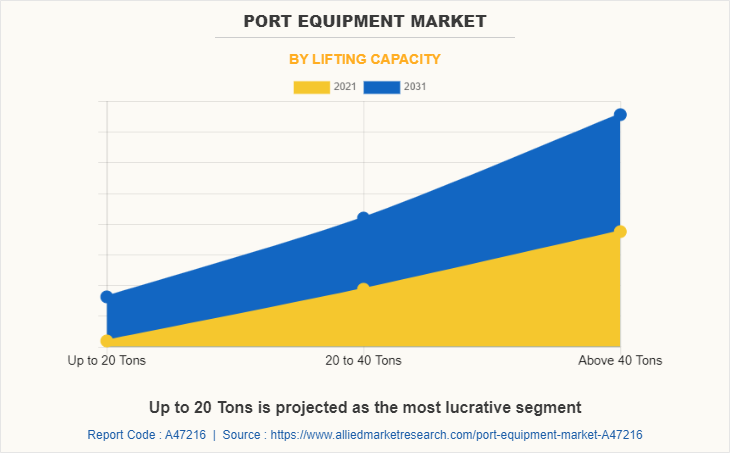 Rising operation in seaborne trading to boost global sales of port equipment's
The rise in import & export trade activities around the globe in emerged and emerging regions is one of the key factors driving the sales for different types of port equipment. As per UNCTAD, the most used transport mode for worldwide trade is ocean shipping, and over 80% of the international trade volume in goods is transported by ocean, and the proportion is even greater for most emerging countries.
The transport through ocean is more feasible and cheaper for international trade as compared to air, rail, and road transport. Asia Pacific region has become known as a global manufacturing hub in very short period of time, owed due to its wealth of manpower and raw materials. The speedy boost in demand of port equipment in 2021 after the dismal situation in 2020 due to the pandemic stemmed in shortages of shipping equipment & containers and capacity.
As per UNCTAD report, worldwide ocean trade grew by 4.1% in 2021 and is likely to surge at an annual rate of more than 2.4% over a period of 2022 to 2026. The rise of the cross-border shipping fleet showed similar trends, and it strengthened by 3.0% in 2021. Thus, the global sales of port equipment are likely to increase due to the surge in seaborne trade activities across the world.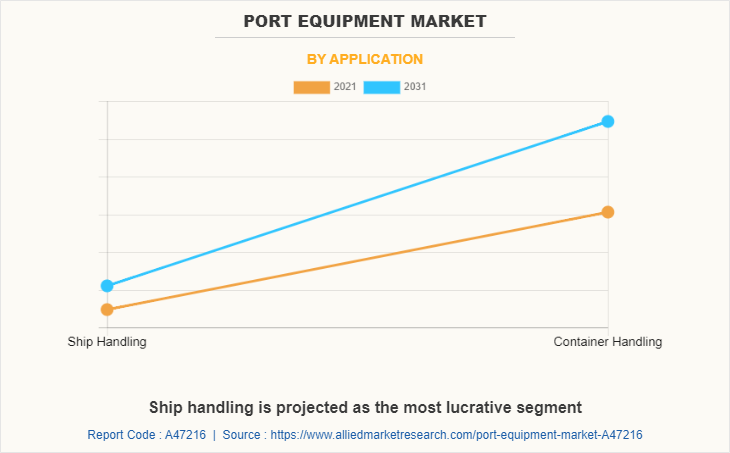 Growing demand for cargo transportation to increase the demand for port equipment's
There is a certain rise in demand for the cargo transportation through water courses owed due to number of cargos are competently transported to the other end in a steadier way as compared to other mode of transportation. Furthermore, cargo ships are way cheaper to ship the goods as compared to air and road transits.
The ships can carry more load from one end to another within a short span of time. As per the International Chamber of Shipping reports, approximately 11 billion tons of goods is transported by ship every year.
The recent improvements in leading players innovation and commercial vessels of efficient and better cargo ships armed with latest technology such as advanced navigation system, sensors, and other components is producing a need for the transportation of cargo through ships. This indicates to the growth of the cargo industry and eventually the port equipment market.
Huge investments and maintenance cost to pose a challenge for the port equipment market
Port equipment involves a huge investment in terms of installing different type of equipment for different purposes. Advancements and innovations have played a major role in supporting a new standpoint to the bulk cargo and container handling industry. Though, such technologies have improved the complication of heavy machines while maintaining or operating installed systems by the machinist.
Endless efforts in R&D have developed extremely advanced products which is capable of managing numerous tasks by the operators. All actions engaged in the production, designing, and distribution of port equipment needs huge investments, which is manifesting the machinery cost made available to consumers. The growing focus on constantly changing emission norms and cabin comfort, the port equipment companies are regularly upgrading their products, which further boosts the cost of the overall system.
For instance, equipment such as forklifts needs a high to medium range of capital investments. Moreover, the battery-operated installation and manufacturing costs of hydrogen fuel cell forklift are very high as compared to similarly powered ICE forklifts. The high maintenance and installation costs is one of the major factors stopping the companies from entering key markets such as Asia Pacific region.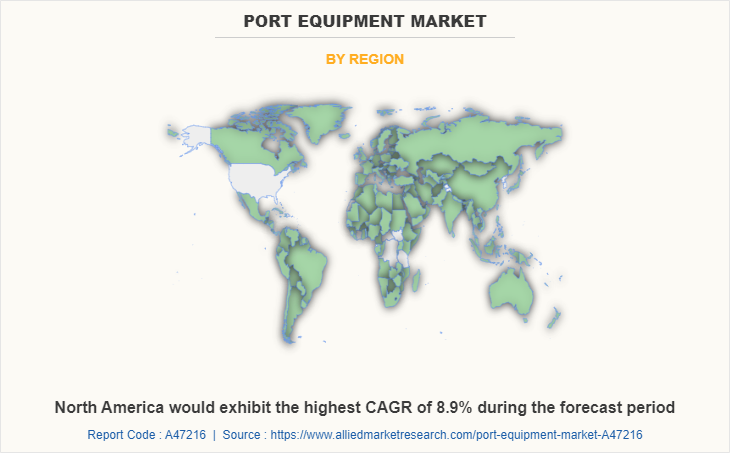 Development of new port projects to offer lucrative opportunities for the companies
The infrastructure of ports plays a major role in their respective regional economy and trade activities. According to the ship technology, more than 1,000 port projects were launched in the first quarter of 2022 which is worth more than $ 25 million. India is expected to hold highest number of port projects i.e., around 95, after that the U.S. with 61 and Brazil with 55 ports.
The ports are in constant pressure nowadays to increase their proficiencies while reducing their expenses. The government around the world are putting pressure on their seaports to improve overall capability with the same infrastructure and more control as the sizes of ships have grown, shipping lines have gone digital, competition has risen, and there is more competition between shipping lines. Thus, surge in number of new port projects through government as a major investor is likely to offer productive opportunities to port equipment manufacturers over the forecast period.
The global port equipment industry was likely to grow between 2% to 3% in 2020; but, due to the Covid-19 impact pandemic, it has seen a major downfall of growth owing to restrictions arising in global trade. Consequently, port equipment was also negatively affected due to disturbance in the global supply chain. The COVID-19 lockdown has its monetary toll which disrupted the supply chain, ceased the service/production cycle, and affected inventories, thus, making a situation of apprehension and uncertainty, due to interruptions in inventory management, payments, wage bills and cash flows.
Key Benefits For Stakeholders
This report provides a quantitative analysis of the market segments, current trends, estimations, and dynamics of the port equipment market analysis from 2021 to 2031 to identify the prevailing port equipment market opportunities.
The market research is offered along with information related to key drivers, restraints, and opportunities.
Porter's five forces analysis highlights the potency of buyers and suppliers to enable stakeholders make profit-oriented business decisions and strengthen their supplier-buyer network.
In-depth analysis of the port equipment market segmentation assists to determine the prevailing market opportunities.
Major countries in each region are mapped according to their revenue contribution to the global market.
Market player positioning facilitates benchmarking and provides a clear understanding of the present position of the market players.
The report includes the analysis of the regional as well as global port equipment market trends, key players, market segments, application areas, and market growth strategies.
 Port Equipment Market Report Highlights
Aspects
Details
Market Size By 2031
USD 32.7 billion
Growth Rate
CAGR of 6.9%
Forecast period
2021 - 2031
Report Pages
299
By Fuel Type
By Equipment Type

Others
Cranes
Forklift Trucks
Reach Stackers
Terminal Tractors

By Lifting Capacity

Up to 20 Tons
20 to 40 Tons
Above 40 Tons

By Application

Ship Handling
Container Handling

By Region

North America (U.S., Canada, Mexico)
Europe (UK, Germany, France, Italy, Russia, Rest of Europe)
Asia-Pacific (China, Japan, India, Australia, South Korea, Rest of Asia-Pacific)
LAMEA (Latin America, Middle East, Africa)

Key Market Players
gaussin group, liebherr group, Mitsubishi Logisnext Co., Ltd., konecranes, Toyota Material Handling, zpmc, Sany Heavy Industry Co Ltd (SHI), lonking holdings limited., Anhui Heli Co., Ltd., Cargotec Corporation