The global portable dishwasher market size was valued at $4,594.3 million in 2020, and is projected to reach $9,829.1 million by 2030, registering a CAGR of 9.9%. Asia-Pacific was the highest revenue contributor, accounting for $2,092.7 million in 2020.  
A dishwasher is a machine for cleaning dishware and cutlery automatically. This machine does not need any kind of supervision, which saves time. Portable dishwashers are not only a necessity in developed countries but they are also luxury that are being used by consumers of developing nations.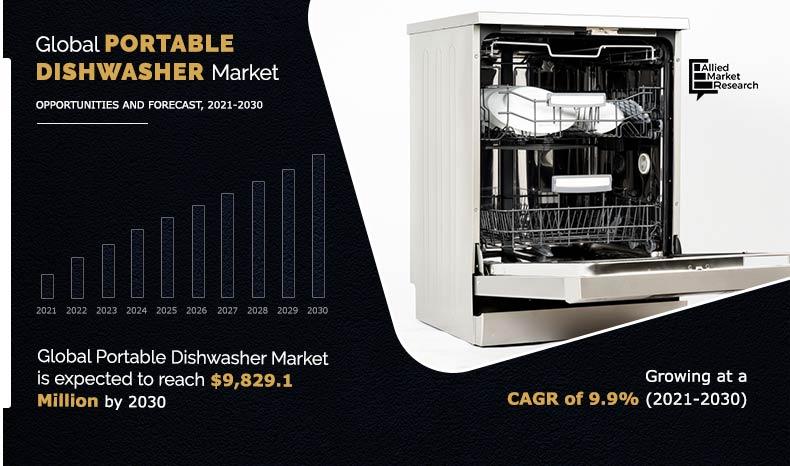 It is expected that focus on R&D will increase during the forecast period, as companies are expected to offer products that are better than their rivals. Manufacturers of home appliances products are focused on the positioning their brands better to improve their sales. 
Exponential increase in population density in metro cities has been majorly driving the growth of the kitchen appliances market. People are majorly migrating from rural areas to metro cities in the search of job opportunities and plan to settle there permanently. This migration creates huge opportunities for real estate, hotels & restaurants, hospitals, and clinics, where various kitchen appliances products are required.
Rise in urbanized population creates huge demand for white goods such as dishwasher, air conditioners, refrigerators, vacuum cleaners, and water heaters, as populace living in metro is considerably seeking for high standard of living.
People are actively involving themselves in home improvement by installing smart appliances such as portable dishwasher, smart refrigerators, air conditioners, and vacuum cleaners. Furthermore, increase in personal disposable income and affordable credit facilities are promoting people to improve and design their living rooms and kitchens, thus augmenting the demand for portable dishwashers. In addition, increase in innovation in home appliances is promoting people to replace their old model appliances with new smart appliances, which is anticipated to foster the growth of the global portable dishwasher market.
According to the portable dishwasher market analysis, the market is segmented on the basis of price-range, end use, distribution channel, and region. Depending on price-range, the market is divided into economy, mid-range, and luxury. By end user, it is segregated into residential and commercial. According to distribution channel, it is divided into supermarket & hypermarket, specialty store, convenience store, e-commerce, and others. Region wise, it is analyzed across North America (the U.S., Canada, and Mexico), Europe (Germany, France, the UK, Spain, Italy, Russia, and rest of Europe), Asia-Pacific (China, Japan, India, Australia, South Korea, Thailand, Singapore, and rest of Asia-Pacific), and LAMEA (Brazil, Argentina, the UAE, Nigeria, Saudi Arabia, South Africa, and rest of LAMEA).    
On the basis of price-range, the economy segment accounted for the maximum share in the global portable dishwasher market in 2020, and is expected to remain dominant during the portable dishwasher market forecast period. Economy pricing is based on a low-cost approach. Moreover, it assists businesses to survive in times of economic uncertainty by allowing them to establish lower pricing that appeal consumers who are financially pressured. Hence, this type of price tag is preferred across globe. 
On the basis of end-use, the commercial segment accounts to higher value share. Increase has been witnessed in the demand for commercial kitchen appliances such as dishwasher due to rise in number of food service establishments especially in the emerging countries such as India and China. The hectic lifestyle and busy schedule accelerate the trend of dining out at cafes, restaurants, hotels, and similar other food establishments, which, in turn, supplements the growth of the food service industry.
On the basis of distribution channel, the supermarket/hypermarket segment held the significant Portable Dishwasher market share in 2020. Supermarket/hypermarket is gaining popularity due to the availability of broad range of consumer goods under a single roof, in addition to ample parking space and convenient operation timings. Consumers across the globe prefer to buy products that are on sale. Moreover, products are arranged nearby, which aids buyers for easy comparison among similar products, thereby helping consumers to decide which product to buy.
On the basis of region, Asia-Pacific dominated the portable dishwasher market in 2020, and accounted for maximum market share. Rapid urbanization and high standard of living especially in the developing countries including India and China are driving the growth of the portable dishwasher market in Asia-Pacific. Rise in disposable income and high spending on home improvement are some of the major factors positively influencing the market growth. People in India are replacing old household appliances with smart and advanced appliances, which is further creating huge demand for portable dishwasher. 
Players in the Portable Dishwasher market have adopted business expansion and product launch as their key developmental strategies to expand their market share, increase profitability, and remain competitive in the market. The key players profiled in the report include Danby, Electrolux AB, Haier lnc., Havells India Limited, LG Electronics Inc., Midea Group, Panasonic Corporation, Samsung Electronics Co. Ltd., the Middleby Corporation, and Whirlpool Corp. 
Key benefits for stakeholders    
The report provides quantitative analysis of the current portable dishwasher market trends, estimations, and dynamics of the market size from 2020 to 2030 to identify the prevailing portable dishwasher market opportunities. 
Porter's five forces analysis highlights the potency of buyers and suppliers to enable stakeholders to make profit-oriented business decisions and strengthen their supplier–buyer network.
In-depth analysis and the market size & segmentation assist to determine the market potential.
The major countries in each region are mapped according to their revenue contribution to the market.    
The market player positioning segment facilitates benchmarking and provides a clear understanding of the present position of the market players in the portable dishwasher industry. 
Key market segments 
By Price-Range
By End-use
By Distribution Channel
Supermarket/Hypermarket
Specialty Stores
Convenience Stores
E-commerce
Others
By Region
North America
Europe

Germany 
France
UK
Italy
Spain 
Russia
Rest of Europe

Asia-Pacific

China
Japan
Australia
South Korea
Thailand
Singapore
Rest of Asia-Pacific 

LAMEA 

Brazil
Argentina
UAE
Nigeria 
Saudi Arabia 
South Africa
Rest of LAMEA