The global portable spectrometer market size was valued at $1,675.7 million in 2020, and is projected to reach $4,065.7 million by 2030, registering a CAGR of 9.1% from 2021 to 2030. The portable spectrometer is a device that measures the fluctuation in a physical property across a specified range, or spectrum. It is used to determine and identify quantity of a compound within a sample, and traces of components at minute concentrations. It allows scientists and researchers to comprehensively catalogue sophisticated samples in a single analysis. 
The COVID 19 outbreak has affected the growth of the portable spectrometer industry owing to the lockdown measure in the countries and delay in manufacturing and production of portable spectrometer which are utilized in industries such as life science, healthcare, and others.
The portable spectrometer industry is booming, with high demand all around the world. Life sciences, material chemistry, food & beverage, agriculture, environmental testing, forensics, nanotechnology, and drug development are just a few of the applications for these devices. Furthermore, the portable spectrometer market is being driven by the increasing usage of portable spectrometers to monitor environmental changes with data and information. Similarly, spectrometers are increasingly being used to identify the quantity of uric acid in a patient's urine. The portable spectrometer business is also driven by technology advancements such as smartphone spectrometers.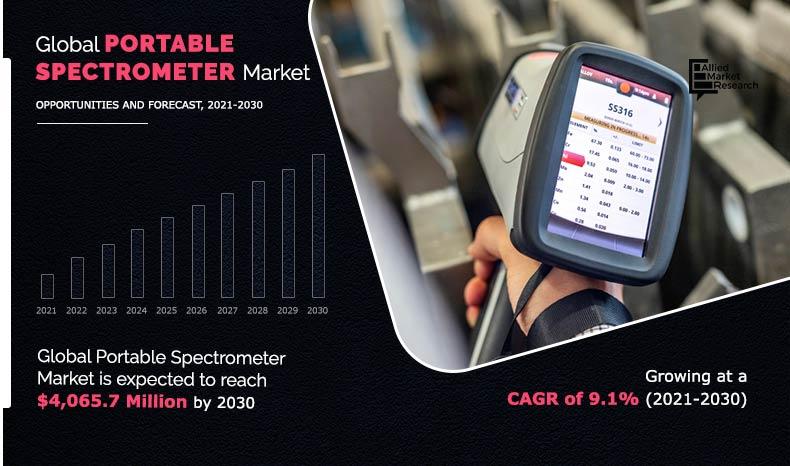 The novel coronavirus has rapidly spread across various countries and regions, causing enormous impact on lives of people and overall community. Originating as a crisis to human health, it now poses significant threat to worldwide trade, economy, and finance. Due to the continuous lockdown in key global countries, the COVID-19 pandemic has halted production of many items in the portable spectrometer business. The players in portable spectrometer market can afford a complete lockdown only for a limited period, after which they would have to alter their investment plans. Furthermore, number of COVID-19 cases are expected to reduce in the near term as vaccine for COVID-19 has been introduced in the market. This is further expected to lead to re-initiation of portable spectrometer companies at their full-scale capacities, which would aid the portable spectrometer market to recover by the start of 2022. After COVID-19 infection instances start to decline, equipment and machinery producers must focus on protecting their staff, operations, and supply networks in order to respond to urgent emergencies and establish new methods of working.
Portable spectrometers are widely used for the purpose of diagnosis. Medical mass spectrometry is used in medical labs to detect metabolic problems to detect whether biomarkers or enzymes are present, and conduct toxicity testing. Hence, many key players are implementing strategic moves such as business expansion, product development, product launch and collaboration, to develop medical application spectrometer and also to strengthen its position in portable spectrometer market. For instance, in August 2021, AstraZeneca's clinical sequencing business and Thermo Fisher Scientific Clinical sequencing business announced a collaboration to develop the next-gen sequencing (NGS)-based companion diagnostics machine (CDx) to complement AstraZeneca's growing range of targeted medicines. The firms will work together on a multiyear, worldwide basis. Hence the rise usage of spectrometer in medical application will provide lucrative growth in the portable spectrometer market during the forecast period.
Portable Spectrometer Market

---
By Type
Mass spectrometer segment is projected to grow at a significant CAGR
The portable spectrometer market is segmented on the basis of product type, distribution channel, application, and region. By type, the market is divided into optical spectrometer, mass spectrometer, and others. By distribution channel, it is divided into online, and offline. By application, it is divided into life sciences, chemistry, food & agriculture, and others. Region wise, the portable spectrometer market analysis is conducted across North America (the U.S., Canada, and Mexico), Europe (the UK, France, Germany, Italy, and Rest of Europe), Asia-Pacific (China, Japan, India, South Korea, and Rest of Asia-Pacific), and LAMEA (Latin America, the Middle East, and Africa).
Portable Spectrometer Market

---
By Application
Life science segment holds dominant position in 2020
Competition Analysis
Key companies profiled in the portable spectrometer market report include Agilent Technologies, Inc., Thermo Fisher Scientific Inc., ABB Ltd., Metrohm AG, Perkinelmer Inc., Bruker Corporation, Jasco Corporation, Hitachi High-Tech Corporation, MKS Instruments, Inc., and Anton Paar GmbH.
Portable Spectrometer Market

---
By Region
North America holds a dominant position in 2020 and Asia-Pacific is expected to grow at a significant rate during the forecast period.
Key Benefits For Stakeholders
The report provides an extensive analysis of the current and emerging portable spectrometer market trends and dynamics.  
In-depth emerging portable spectrometer market analysis is conducted by constructing market estimations for key market segments between 2021 and 2030. 
Extensive analysis of the emerging portable spectrometer market is conducted by following key product positioning and monitoring of top competitors within the market framework.
A comprehensive analysis of all the regions is provided to determine the prevailing opportunities.
The global emerging portable spectrometer market forecast analysis from 2021 to 2030 is included in the report.
The key players within emerging portable spectrometer market are profiled in this report and their strategies are analyzed thoroughly, which help understand the competitive outlook of the emerging portable spectrometer industry. 
 Portable Spectrometer Market Report Highlights
Aspects
Details
BY PRODUCT TYPE

Optical Spectrometer
Mass Spectrometer
Others

BY DISTRIBUTION CHANNEL
BY APPLICATION

Life sciences
Chemistry
Food and Agriculture
Others

By Geography

NORTH AMERICA
EUROPE

Germany
.France
UK
Italy
.Rest of Europe

ASIA-PACIFIC

China
India
Japan
South Korea
Rest of Asia-Pacific

LAMEA

Latin America
.Middle East
Africa

Key Market Players
ABB LTD., AGILENT TECHNOLOGIES, INC., ANTON PAAR GMBH, BRUKER CORPORATION, HITACHI HIGH-TECH CORPORATION, JASCO CORPORATION, METROHM AG, MKS INSTRUMENTS, INC., PERKINELMER INC., THERMO FISHER SCIENTIFIC INC.