Potential Analysis Of Human Dna Vaccines Market Overview:
Global Potential Analysis of Human DNA Vaccines Market is expected to account for $3,762 million in 2020 and reach $9,337 million by 2030, by growing at a CAGR of 9.5% during the period, 2020 - 2030.
A DNA vaccine is a small, circular DNA plasmid that encodes one or more protein antigens under the control of a promoter to produce a specific immune response against disease. DNA vaccines are the third-generation vaccines specifically designed to overcome the unsought properties of conventional vaccines. Increase in vulnerability of the population to infectious diseases and rise in number of antibiotics-resistant pathogens have created the need for effective and low-cost vaccination, which would provide long-lasting immunity. DNA vaccines have potential advantages over traditional methods, for example, low risk of infection, easy transportation, and stability at room temperature. The potential of global human DNA vaccines market is expected to be rapid, owing to property of DNA vaccines of specific antigen targeting, reduced risk of infection compared to conventional vaccines, and improved stability. Moreover, relative ease of large-scale manufacturing compared to traditional approach and low storage requirement are anticipated to be present few key market opportunities.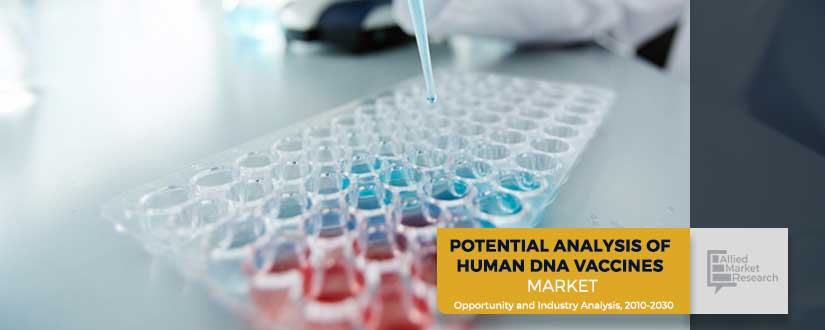 According to the World Health Organization, ~18 million deaths occurred due to the unavailability of effective treatment for infectious disease in 2014, which demonstrates the global burden of infectious disease, providing an opportunity for DNA vaccine manufacturers. Moreover, rapid development in the field of molecular biology, immunology, and DNA synthesis is further expected to drive the growth of this market. Factors that may lead to increased demand for DNA vaccines include inefficient drug therapies and increased microbial resistance to existing antimicrobials and antibiotics treatments in the future.
Potential Analysis of Human DNA Vaccines Market Segmentation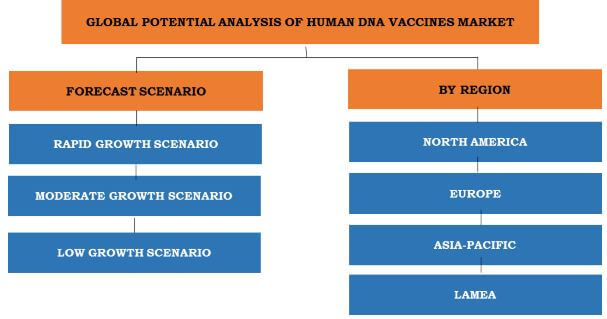 Segment Review
The global potential analysis of human DNA vaccines market is analyzed based on forecast scenario, such as rapid growth, moderate growth, and low growth. In the rapid growth scenario, maximum percentage of total population having infectious diseases, HIV, cancer, and other diseases is estimated to be vaccinated in the first year of DNA vaccine.
Geographical Review
Geographically, the market is analyzed across North America, Europe, Asia-Pacific, and LAMEA. North America is expected to possess the highest market share, owing to availability of advanced healthcare facilities, followed by Europe, in 2020. However, Asia-Pacific is anticipated to grow at the highest rate in future, due to increase in pool of patient population, rise in geriatric population, and growth in government investments for development of better healthcare facilities and R&D activities.
High Prevalence of Diseases
DNA vaccine involves the administration of DNA components that stimulate protective immunity against a specific infectious agent. The demand for vaccines has increased significantly over the past few years, owing to high incidence of diseases worldwide. These vaccines are highly efficient in preventing infectious diseases, and hence offer opportunity for the market players.
Introduction of DNA vaccines would facility eradication of diseases, such as cancer, hepatitis, HIV, and others. In addition, vaccines are essentially recommended for travelers as they are at a high risk of exposure to various diseases. For instance, travelers are advised to be vaccinated against cholera, hepatitis, meningococcal diseases, Japanese encephalitis, typhoid fever, yellow fever, rabies, polio, and tick-borne encephalitis while traveling. The incidence of aforementioned diseases in selective travel destinations has increased the need for DNA vaccines across different geographies. Furthermore, certain diseases require routine vaccinations, such as cholera; dengue; diphtheria, tetanus, pertussis (DTP), haemophilus influenza type B; hepatitis A; hepatitis B; and human papilloma virus. Furthermore, increase in incidence of pneumococcal diseases and influenza boosts the demand for DNA vaccines. In addition, DNA vaccines provide both humoral and cell-mediated immunity, thus having a wide application area.
The major selected clinical targets for DNA vaccines are influenza, human papillomavirus, and HIV. According to the World Health Organization, cervical cancer (caused due to HPV) is the third leading cause of death worldwide. Preventive HPV vaccines, such as Gardasil (Merck) and Cervarix (GlaxoSmithKline) have been developed, in 2006 and 2009, respectively. But the impact of these vaccines is slow due to high economic burden and high incidence of HPV. Thus, DNA vaccines can provide strong cellular response, and hence provide faster immunization against HPV. Several DNA vaccine clinical trials have been recently completed or are currently ongoing, such as ZYC101 (Eisai Pharmaceuticals) has completed phase I trial. HPV-16 and HPV-18 E6/E7 are being evaluated in a phase I clinical trial (Inovio Pharmaceuticals).
The key players profiled in the report include Inovio Pharmaceuticals, Inc., GeneOne Life Science Inc., MedImmune, Immunomic Therapeutics, Inc., Astellas Pharma, Inc., Pharos Biologicals, Sanofi S.A., F. Hoffmann-La Roche AG, CureVac, and Boehringer Ingelheim GmbH.
Key Market Benefits of the Report:
It offers an in-depth study of the global potential market for human DNA vaccines market based on the current disease prevalence, target population, and pricing for generating market size and forecast from 2020 to 2030
It provides potential analysis of opportunities to understand different aspects of the human DNA vaccines that are currently under various phases of clinical trials, along with the variants that would gain prominence in the future
It covers vaccine pipeline products against DNA, which are under various clinical stages
It profiles key market players and their strategies to understand the various technologies adopted by them to manufacture DNA vaccines
Potential Analysis of Human DNA Vaccines Market Key Segment:
By Forecast Scenario Analysis
Rapid Growth Scenario
Moderate Growth Scenario
Low Growth Scenario
By Region
North America
Europe
Asia-Pacific
LAMEA
 Potential Analysis of Human DNA Vaccines Market Report Highlights
Aspects
Details
By FORECAST SCENARIO ANALYSIS OF HUMAN DNA VACCINES MARKET

Rapid growth scenario
Moderate growth scenario
Low growth scenario

By GEOGRAPHY

North America
Europe

France
Germany
Italy
Spain
UK
Russia
Rest of Europe

Asia-Pacific

China
Japan
India
South Korea
Australia
Thailand
Malaysia
Indonesia
Rest of Asia-Pacific

LAMEA

Brazil
South Africa
Saudi Arabia
UAE
Argentina
Rest of LAMEA

Key Market Players
MEDIMMUNE, PHAROS BIOLOGICALS, ASTELLAS PHARMA, INC., SANOFI S.A., CUREVAC, INOVIO PHARMACEUTICALS, INC., GENEONE LIFE SCIENCE INC., IMMUNOMIC THERAPEUTICS, INC., F. HOFFMANN-LA ROCHE AG, BOEHRINGER INGELHEIM GMBH