Poultry Diagnostics are the most widely used treatment to detect various types of diseases present in the poultry. The disease like Avian Encephalomyelitis, Anemia Virus Infection, Avian Influenza, Egg Drop Syndrome (EDS) Tuberculosis, Flow Cholera, Botulism, Newcastle Disease and many more disease, which can be treated with the help of poultry diagnostic treatment. Diagnostic testing may include Elisa, PCR test, different serological test (Agglutination, Haemagglutination Inhibition Test). The serological testing is most popular in the poultry industry for the diagnostic testing and monitoring livestock birds. Marek's Disease and Avian Reticuloendotheliosis are the most common infection occurred in birds and these infectious diseases can cause cancer like disease which occur mostly in chicken. Due to these infectious diseases, the generation losses of chicken and death of livestock animal disease occur. The global poultry diagnostic market is experiencing a significant growth, and will grow considerably in next few years.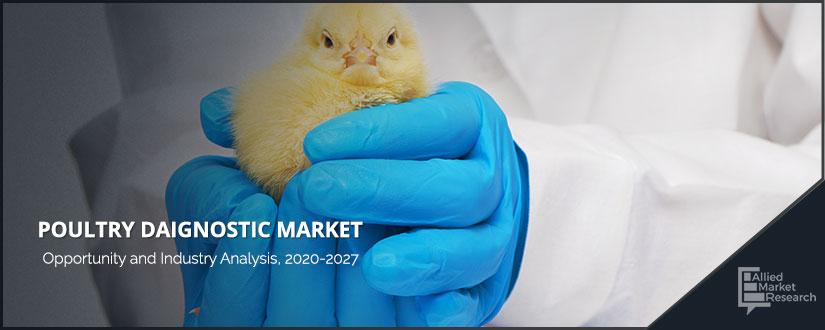 COVID-19 Scenario Analysis:
At the early phase of COVID-19 pandemic, there was no availability of specific diagnostic tests to detect the disease in patients. Alternative diagnostic tests were used initially but were not much effective. This unavailability of specific COVID-19 diagnostic tests presented lucrative opportunities for diagnostic manufacturers to introduce their COVID-19 diagnostic kits. Many leading players as well as some start-ups from various countries utilized this opportunity and introduced COVID-19 diagnostics kits into local as well as global market. These players achieved edge over other diagnostics players capitalizing the opportunity from demand for COVID-19 diagnostic tests, which, in turn, helps them in maintaining their revenues in such a crisis. Ongoing COVID-19 pandemic disease growing day by day and it is impacting the demand and supply chain of the product. Production process being adversely affected due to the temporarily shutdown of various industries. It affect more on major key player of the poultry diagnostic market and most of the industries losses their business.   
Top impacting factors: Market Scenario Analysis, Trends, Drivers and Impact Analysis:
Globally, North America and Europe dominate the poultry diagnostic market due to well-developed hospital facilities, advance multiple diagnostic option, increasing awareness of poultry treatment, presence of animal health research and development industries, availability of veterinary drug manufacturers, and large number of poultry medication. Whereas, Asia-Pacific and Latin America considered to develop the market growth during the forecast period. Because of increase in diagnostic testing, rise in population, increasing demand of poultry, derive food product, increase in animal health testing, and increase in awareness about serological testing method. 
Rising the receptions of vaccinations, improve testing procedure, enhance laboratory quality control, rising awareness about the animal health poultry treatment, rising R&D Centers, rising poultry related industries, and cost effective products are the major driving factor that drive the poultry diagnostic market growth. Lack of poultry care awareness, rising cost of production, trade disagreement (like import prohibition), non-appearance of diagnostic testing, adverse reaction, and limited amount of poultry medication are the factors that restraint the poultry diagnostic market growth. 
New product launches to flourish the market:
Manufacturers have been focusing on producing new products for specific applications as there are varying demands based on the utilization. Leading market players have determined how improved accuracy can be influential in many applications. Now a days a newly made CVRM2 vaccine is most commonly used to treat poultry. This is very effective vaccine which protect chicken from various infectious diseases. 
"Zoetis" has launched new product such as "ProFLOK Enzyme Linked Immune-Sorbant Assay (ELISA) testing kit and Rapid Immunomigration Assay (RIM)" these product help to detect Avian Influenza Antigen, and also launches ProFILE 3.2 Software helps to receive quickly result related to poultry disease.    
Key benefits of the report:
This study presents the analytical depiction of the global poultry diagnostics market industry along with the current trends and future estimations to determine the imminent investment pockets.
The report presents information related to key drivers, restraints, and opportunities along with detailed analysis of the poultry diagnostics market share.
The current market is quantitatively analyzed to highlight the global poultry diagnostics market growth scenario.
Porter's five forces analysis illustrates the potency of buyers & suppliers in the market. 
The report provides a detailed global poultry diagnostics market analysis based on competitive intensity and how the competition will take shape in coming years. 
Questions answered in the Poultry Diagnostics Market research report:
What are the leading market players active in the poultry diagnostics market?
What the current trends will influence the market in the next few years?
What are the driving factors, restraints, and opportunities in the poultry diagnostics market?
What are the projections for the future that would help in taking further strategic steps?
 Poultry Diagnostics Market: Global Opportunity Analysis and Industry Forecast, 2019–2027 Report Highlights
Aspects
Details
By Test Type

ELISA test
PCR Test
Other Diagnostic Test

By Disease Type

Avian Influenza
Avian Salmonellosis
Avian Mycoplasmosis
Avian Pasteurellosis
Avian Encephalomyelitis
Avian Reovirus
Infectious Bronchitis
Infectious Bursal Disease
Newcastle Disease
Chicken Anemia

By Service

Bacteriology
Parasitology
Virology

By Region

North America (U.S., Canada, Mexico)
Europe (France, Germany, Italy, Spain, UK, Rest of Europe)
Asia-Pacific (China, Japan, India, South Korea, Australia, Rest of Asia-Pacific)
LAMEA (Brazil, South Africa, Saudi Arabia, Rest of LAMEA)

Key Market Players
BioNote Inc., Affinitech Ltd., Scientific Inc., QIAGEN N.V., IDvet, IDEXX Laboratories Inc., Zoetis Inc., Thermo Fisher, BioChek, AgroBioTek International, GD animal Health