The global povidone iodine market was valued at $152.6 million in 2021, and is projected to reach $242.2 million by 2031, growing at a CAGR of 4.7% from 2022 to 2031.
The outbreak of COVID-19 has positively impacted povidone iodine market owing to increased demand for disinfectant and instrument sterilizer during COVID-19.
Povidone, commonly known as polyvinylpyrrolidone (PVP), is primarily used as antiseptic and disinfectant agent. Povidone's chemical properties such as biological inertness and the ability to bind and form complexes with other materials make it a popular compound in many sectors. Many artificial tear and eye lubricant products contain povidone as a component. Some contact lens manufacturers include povidone as a wetting agent in their lenses to improve moisture retention. Povidone is further utilized as a binder in the manufacture of pharmaceutical tablets and liquid oral medications. Moreover, it is frequently found in cosmetic products such as shampoos, lipstick, hair spray, and gels.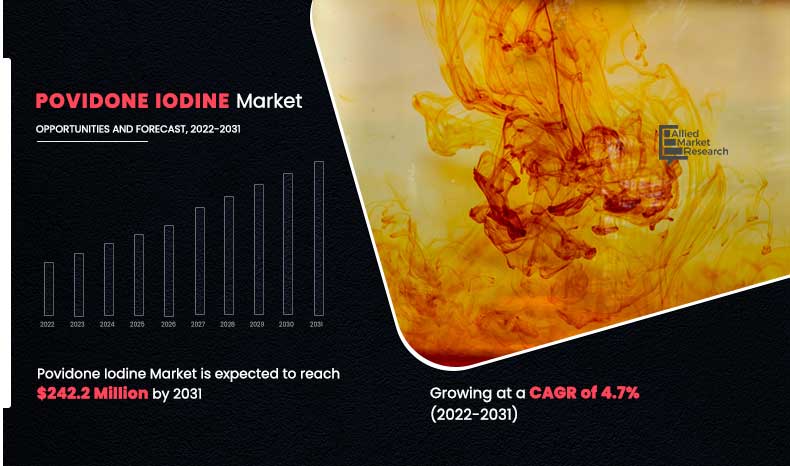 Get more information on this report : Request Sample Pages
Povidone iodine can minimize the irritating or poisonous properties of other medications. it is frequently mixed with iodine as an antiseptic. This combination product is sold as Betadine®, a skin antiseptic, but it is also available in lower concentrations for treatment of the eyes and vaginal area. In addition, povidone iodine is commonly used as an antiseptic in surgical operations in hospitals. For healthcare professionals, nose and oral cleansing with povidone iodine has recently been recommended as a COVID-19 infection prevention intervention. As the effectiveness of this medication is unknown, using povidone iodine to prevent COVID-19 is still considered experimental.
 
The antibacterial properties of povidone iodine enable it to kill bacteria, viruses, and fungus. As a disinfectant, povidone iodine is becoming increasingly popular in the healthcare sector. Antiseptic product demand is rising as invasive procedures become more common and the healthcare business expands rapidly in both developed and developing nations. In addition, rise in prevalence of numerous diseases in hospitals and clinics has boosted the demand for instrument sterilizers, boosting the demand for povidone iodine.
Furthermore, rise in incidence of injuries at workplace propels the growth rate of povidone iodine market. Moreover, surge in adoption in pet animals and growing demand for animal health care products coupled with its usage in antiseptic cream formulation drive the market growth. The expansion of the end-use industries is further projected to bolster the market's growth.
However, local swelling, inflammation, itching, and rash are common side effects of povidone iodine eye drops and skin formulations. Owing of its iodine concentration, povidone iodine can be corrosive if used excessively. Stomach distress, thyroid malfunction, and gastrointestinal burns can all result from ingestion. Heart and renal failure may develop in extreme situations. Iodine poisoning causes harmful effects that often necessitate expert treatment in a hospital environment. Thus, all these factors are hindering the demand for povidone iodine.
The global povidone iodine market is segmented on the basis of formulation type, application, and region. Depending on formulation type, the market is categorized into scrub, topical solution, ointments, and others (powder and gel). By application, it is segregated into skin sterilization, instrument sterilization, disinfectant, and others. Region wise, it is studied across North America, Europe, Asia-Pacific, and LAMEA. 
Major players operating in the global povidone iodine market include 3M Company, Avrio Health L.P., BASF SE, Glide Chem Private Limited, Lasa Supergenerics Ltd., Luxica Pharma Inc, NIPPON SHOKUBAI CO., LTD., Samrat Pharmachem Limited, Thatcher Company, and Vishal Laboratories.
Other players operating in the povidone iodine market are Evonik Industries AG, LG Chem Ltd., Sumitomo Seika Chemicals Co. Ltd, Sanyo Chemical Industries, and KAO Corporation.
Povidone Iodine Market

---
By Formulation Type
Topical Solution segment holds major market share and is projected as the most lucrative segment.
Get more information on this report : Request Sample Pages
Povidone iodine Market, by Formulation Type
The topical solution segment accounted for the largest share, i.e., 34.3% followed by scrub segment. The topical solution segment registers the highest growth, growing around 4.9% CAGR during the forecast period, due to increased demand from the healthcare industry.
Povidone Iodine Market

---
By Application
Disinfectant has garner major share in the Povidone Iodine market in 2021 and Instrument Sterilization is projected as the most lucrative segment.
Get more information on this report : Request Sample Pages
Povidone iodine Market, by Application
The disinfectant segment accounted for the largest share of 35.4%. Instrument sterilization segment is the fastest growing segment, growing around 5.1% CAGR over the forecasted period. This is due to increased demand for instrument sterilization in COVID-19 pandemic.
Povidone Iodine Market

---
By Region
Europe holds a dominant position in 2021 and Asia-Pacifc region is projects as the most lucrative region growing at around CAGR of 5.3%.
Get more information on this report : Request Sample Pages
Povidone iodine Market, by Region
Europe contributed the 41.9% market share in 2021, and is projected to grow at CAGR of 4.2% during the forecast period, owing to the presence of large consumer base for healthcare and pharmaceutical industry.
KEY BENEFITS FOR STAKEHOLDERS
The report provides in-depth analysis of the global povidone iodine market along with the current trends and future estimations. 
This report highlights the key drivers, opportunities, and restraints of the market along with the impact analysis during the forecast period.
The Porter's five forces analysis helps to analyze the potential of the buyers & suppliers and the competitive scenario of the global povidone iodine market for strategy building.
A comprehensive market analysis covers the factors that drive and restrain the global povidone iodine market growth.
The qualitative data about market dynamics, trends, and developments is provided in the report.
IMPACT OF COVID-19 ON THE GLOBAL POVIDONE IODINE MARKET
The recent outbreak of coronavirus had a positive impact on the povidone iodine market. Surge in demand for povidone iodine even during the pandemic is due to its antibacterial properties. 
The povidone iodine market is expected to gain high traction, due to growing sanitation requirements. Moreover, gargling with both povidone iodine and chlorinated tap water to prevent upper respiratory tract infections is becoming increasingly important during the COVID-19 outbreak. 
Povidone iodine manufacturers are improving their designing and formulation capabilities to capitalize on revenue opportunities in dental devices and povidone iodine-induced dental floss products. Companies should increase their production capabilities because chlorhexidine-alcohol (CA) is an alternative to povidone iodine before elective CS (caesarean section), and the low cost of PVP-I offsets the advantages of CA. 
Povidone iodine companies are increasing their efficacy in in vitro and in vivo studies to investigate the effectiveness of povidone iodine against the virus that causes COVID-19.
 Key Market Segments
By Formulation Type

Scrub
Topical Solution
Ointments
Others



By Application

Skin Sterilization
Instrument Sterilization
Disinfectant
Others



By Region

North America
Europe

Germany
France
Belgium
Italy
Netherlands
Rest of Europe

Asia-Pacific

China
Japan
India
South Korea
Australia
Rest of Asia-Pacific

LAMEA

Brazil
UAE
South Africa
Saudi Arabia
Rest of LAMEA



 Key Market Players
3M Company
Avrio Health L.P.
BASF SE
Glide Chem Private Limited
Lasa Supergenerics Ltd.
Luxica Pharma Inc
NIPPON SHOKUBAI CO., LTD.
Samrat Pharmachem Limited
Thatcher Company
Vishal Laboratories