Powder Coatings Market Outlook - 2026
Powder Coatings Market size is expected to garner $15.0 billion by 2026, registering a CAGR of 5.4% during the forecast period 2019-2026.
Report Key Highlighters:
The powder coating market study covers 20 countries. The research includes a segment analysis of each country in terms of both value ($million) and volume (kilo tons) for the projected period 2019-2026.
The study integrated high-quality data, professional opinions and analysis, and critical independent perspectives. The research approach is intended to provide a balanced view of global markets and to assist stakeholders in making educated decisions in order to achieve their most ambitious growth objectives.
Over 3,700 product literatures, annual reports, industry statements, and other comparable materials from major industry participants were reviewed to gain a better understanding of the market.
The powder coating market is highly fragmented, with several players including AkzoNobel N.V., PPG Industries, Sherwin Williams, BASF SE, Axalta Coating Systems, Kansai Nerolac Paints Limited, Jotun, IFS Coatings, The Valspar Corporation, and Tiger Coatings.   Also tracked key strategies such as acquisitions, product launches, mergers, expansion etc. of the players operating in the powder coating market.
Powder coating is a finishing process commonly used to apply a protective and decorative coating to various types of surfaces, such as metal, wood, and plastic. It involves applying a dry powder made of finely ground particles onto the surface, which is then heated to fuse and bond the powder particles together, creating a smooth, durable, and uniform coating. The advantages of powder coating over conventional liquid paint include superior durability, resistance to chipping, scratching, and fading, as well as a wide range of color options. It is also an environmentally friendly process since it produces minimal waste, and any overspray can be collected and reused.
Powder coating finds applications in various industries, including automotive, appliances, architecture, furniture, and more. It is used on a wide range of products, from metal parts and machinery to household items and outdoor furniture, providing a durable and aesthetically pleasing finish.
Powder coatings in automotive application segment occupied the major share in 2018 and is expected to maintain its lead throughout the analysis period. Powder coatings provides economical, long lasting, and durable quality finish for metal parts and products.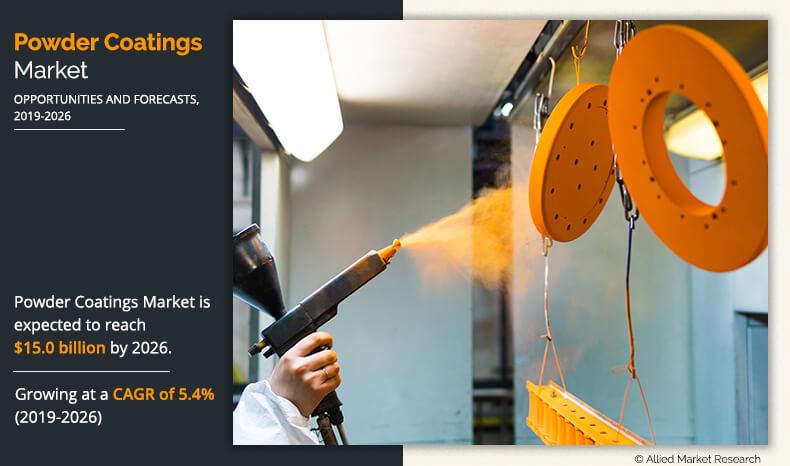 It offers benefits such as superior durability, scratch resistance, gloss retention, and resistance to chalking. It is mainly used for applications on metal parts exposed to extreme weather conditions. It adheres to the AAMA specifications and is an ecofriendly process. Powder coating are cost-efficient, as they do not contain solvents and volatile organic compounds (VOCs). In addition, over-sprayed powder coating can be retrieved and recycled for use, thereby reducing cost.
Various Powder Coating Applications
Powder coating is popular for architectural and construction applications due to its durability, weather resistance, and aesthetic versatility. It is used to coat metal doors, window frames, fences, railings, aluminum extrusions, and other structural elements. The wide range of colors and finishes allows for customization to match different architectural styles and design requirements. Many furniture pieces, including outdoor furniture, utilize powder coating for a durable and attractive finish. It provides resistance to scratches, impacts, and fading, making it suitable for both indoor and outdoor furniture. Appliances such as refrigerators, washing machines, and ovens also benefit from powder coating for their aesthetic appeal and durability.
Powder coating is applied to metal enclosures and cabinets used in electronics and electrical equipment. It offers protection against corrosion, moisture, and chemical exposure while providing an appealing appearance. The powder coating can be formulated with electrostatic discharge (ESD) properties for applications that require static control. Many sporting goods and recreational equipment manufacturers use powder coating to enhance the appearance and durability of their products. Items such as bicycles, golf clubs, exercise equipment, playground equipment, and outdoor sports equipment benefit from the corrosion resistance and impact resistance provided by powder coating.
Powder coating is commonly used in the industrial sector to coat machinery, equipment, and metal parts. It provides protection against wear, corrosion, and chemical exposure, extending the lifespan of the equipment. Additionally, the powder coating's smooth and even finish allows for easy cleaning and maintenance. Powder coating is utilized in retail environments for fixtures like shelves, racks, displays, and store fittings. It offers a durable, scratch-resistant, and visually appealing finish that withstands the demands of commercial use. These are just a few examples of the wide-ranging applications of powder coating. The versatility, durability, and aesthetic options provided by powder coating make it a preferred choice in numerous industries where protection, longevity, and visual appeal are important.
The report on the world powder coatings market exclusively focuses on the current powder coatings market trends, future growth, and opportunities such as thermoset and thermoplastic. It focuses on various powder coating applications, which include appliances; automotive; architectural; furniture; agriculture, construction & earthmoving equipment (ACE); general industrial; and others. It provides information on coating method of powder coatings such as electrostatic spray and fluidized bed. Moreover, it analyzes the current powder coatings industry trends across different geographies and suggests the future growth opportunities by analyzing the government regulations & policies, thereby increasing the consumer acceptance of powder coatings.
The demand for powder coatings has increased owing to growing technological advancements and increasing demand from applications, namely, architectural; appliances; automotive; furniture; agriculture, construction, and earthmoving equipment (ACE); general industrial; and others. This trend is expected to continue as it is a volatile organic compound (VOC) and solvent-free. Strict environmental regulations also boost the powder coatings market growth. The market has witnessed moderate growth during the past few years and is expected to grow at a CAGR of 5.4%, in terms of revenue, during the forecast period.
Setting up a powder coating system requires initial investment in equipment, such as spray guns, booths, curing ovens, and pretreatment systems. This can be a significant cost for small businesses or individuals who have limited resources. The cost of equipment and its maintenance should be taken into account when considering powder coating as an option. Some materials, such as certain plastics or heat-sensitive components, may not withstand the high temperatures required for curing powder coatings. The heat can cause deformation, melting, or damage to the substrate, limiting the use of powder coating in such cases. Alternative coating methods, like liquid painting or low-temperature curing powder coatings, may be more suitable for heat-sensitive materials.
While powder coating is generally more environmentally friendly than liquid painting, it still requires energy-intensive curing processes and can generate waste in the form of overspray. Proper management of waste powder and overspray is necessary to minimize environmental impact. Additionally, specific local regulations may govern the handling, disposal, or emissions associated with powder coating operations. Initial investment & equipment, color limitations, heat sensitivity of substrates, and environmental consideration are some restraining factors which may impact the growth of powder coating over the forecast period.  
However, as consumers increasingly prioritize products with long-lasting durability and environmentally friendly attributes, the demand for powder coating continues to rise. Powder coating provides a durable and sustainable finish that meets these requirements, making it a preferred choice across industries such as automotive, architecture, furniture, and appliances. The industrial sector offers significant opportunities for powder coating. With its ability to provide corrosion resistance, chemical resistance, and impact resistance, powder coating is well-suited for coating machinery, equipment, and metal parts used in various industries, including manufacturing, agriculture, energy, and transportation.
Powder coating offers opportunities in retrofitting and refurbishing existing products or structures. Coating worn or outdated surfaces with powder coating can rejuvenate their appearance, extend their lifespan, and provide improved protection against environmental factors. This market includes opportunities in industries like architecture, furniture restoration, and industrial equipment refurbishment. While powder coating is commonly associated with metal substrates, there are opportunities to explore its application on non-metallic materials. Innovations in powder coating formulations and application processes have allowed for coating materials like wood, plastics, and composites. This expansion into non-traditional substrates widens the scope of industries that can benefit from powder coating.
Segment Review
Thermosets are used to coat appliances, as they are resistant to extreme temperatures. Leading companies in this powder coatings market have heavily invested in R&D activities to offer product customization as per the requirements of the end user industry. Supportive government policies have fueled the growing adoption of powder coatings especially thermoset powder coatings across end user industries during the forecast period.
Electrostatic spray is the most adopted coating technique as it enables coating of intricate shapes and does not require preheating of components. This segment is expected to continue its dominance throughout the forecast period.
Automotive segment dominated the global powder coating market with about 20% share in terms of revenue, in 2018. Appliances application for powder coating is expected to grow at the highest CAGR during the forecast period.
Asia-Pacific Review:
The Asia-Pacific powder coatings market is expected to grow at the highest CAGR in terms of both volume and value, due to its stable economy, increasing disposable income, and improving standards of living in countries such as China, Japan, Singapore, Malaysia, and Vietnam. The powder coatings market is expected to witness rapid growth during the forecast period due to proactive government measures to promote the use of eco-friendly coating systems such as powder coatings. The Chinese metal furniture industry is expected to witness rapid growth during the forecast period, owing to availability of inexpensive raw materials.
In Asia-Pacific region, the automotive industry is expected to grow, owing to growth in transportation infrastructure, changing lifestyle, and rising disposable income. The green coatings manufacturing companies and research institutions have heavily invested to develop advanced, eco-friendly, and nonhazardous powder coatings. China is the largest producer of refrigeration appliances. In China, the demand for electric home appliances has considerably increased due to rising disposable income and strong growth in the real estate sector.
IMPACT OF COVID-19 ON THE GLOBAL POWDER COATING MARKET
The pandemic led to disruptions in global supply chains due to lockdowns, restrictions, and reduced manufacturing activities. This resulted in challenges in the availability and timely delivery of raw materials required for powder coating production. Disrupted supply chains affected the overall production capacity and led to temporary shortages in some regions.

The powder coating market experienced fluctuations in demand during the pandemic. In some industries, such as automotive and construction, demand decreased due to lockdowns, reduced consumer spending, and project delays. On the other hand, sectors like home appliances, e-commerce, and industrial equipment witnessed increased demand as consumers shifted their spending patterns.

As economies gradually recover and vaccination efforts progress, the construction and infrastructure sectors are expected to rebound. This recovery is likely to drive the demand for powder coating in architectural applications. Investments in infrastructure projects, such as transportation and energy, can also contribute to increased demand for powder coating in the industrial sector.

The pandemic reinforced the importance of sustainability and environmental consciousness. Powder coating, with its low VOC emissions and eco-friendly attributes, aligns well with these sustainability goals. As a result, there is an increasing preference for powder coating over traditional liquid paint systems, especially in industries striving for sustainable practices.

While the pandemic initially impacted the powder coating market with supply chain disruptions and fluctuating demand, the market is expected to recover as economic activities gradually resume. The long-term outlook for the powder coating industry remains positive, driven by the growing demand for durable and sustainable coating solutions in various sectors.
Key Benefits for Powder Coatings Market :
The report provides detailed examination about the driving and limiting factors of the powder coatings market, which would give a deeper understanding of the subject and help in analyzing the various resin types, coating method and applications of powder coatings

The powder coatings market projections for the period 2019-2026 along with their impacting factors are included in the report.

The report helps in analyzing the various application segments, thus helping the stakeholders understand opportunities in the various fields of powder coatings market

The report provides quantitative as well as qualitative trends to assist stakeholders in formulating effective growth strategies.

Competitive intelligence highlights the business practices adopted by leading powder coatings market players across various geographies
 Powder Coatings Market Report Highlights
Aspects
Details
By Application

Appliances
Automotive
Architectural
Furniture
Agriculture, Construction, & Earthmoving Equipment (ACE)
General Industrial
Others

By Resin Type

Thermoset

Epoxy
Polyester
Epoxy Polyester Hybrid
Acrylic

Thermoplastic

Polyvinyl Chloride (PVC)
Nylon
Polyolefin
Polyvinylidene Fluoride (PVDF)

By Region

North America (U.S., Canada, Mexico)
Europe (Germany, France, Italy, UK)
Asia-Pacific (China, Japan, India, Rest of Asia-Pacific)
LAMEA (Brazil, Turkey, Africa, Rest of LAMEA)

By Coating Method

Electrostatic Spray
Fluidized Bed 

By Key Market Players

AkzoNobel N.V.
PPG Industries
Sherwin Williams
BASF SE
Axalta Coating Systems
Kansai Nerolac Paints Limited
Jotun
IFS Coatings
The Valspar Corporation
Tiger Coatings