Power Electronics Market Research, 2031
The global power electronics market size was valued at $26.6 billion in 2021, and is projected to reach $43.7 billion by 2031, growing at a CAGR of 5.1% from 2022 to 2031.
Power electronics play an important role in electrified vehicle applications that provide compact and high-efficient solutions to power conversion. Power electronics is a circuitry device that transfers power from a source to a load in an efficient, compact, and robust manner to ensure convenient utilization. This device is used to control the conversion of electric power from one form to another using diodes, transistors, and thyristors. Operations at high voltage or high current can be efficiently executed by utilizing power electronics devices, as they exhibit a faster switching rate at higher efficiency. Moreover, power electronics control both unidirectional as well as the bidirectional flow of energy, depending upon the usage, and the regenerated energy can be sent back for utility. Power electronics devices are expected to serve as the future key technologies, which help to increase system efficiency and performance in automotive and energy-saving applications.
The power electronics market is significantly affected by the emergence of COVID-19, owing to the lack of availability of skilled professionals to operate the technology.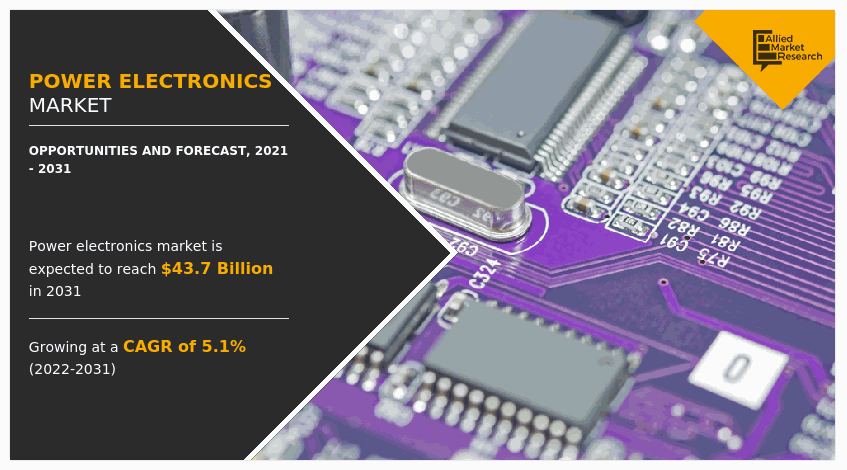 Power module, also known as power electronic module, offers physical containment for several power components, usually power semiconductor devices. As compared to discrete power, the power packages offer higher power density and are more reliable in many cases. Power MOSFET is an acronym for metal oxide semiconductor field-effect transistor and can be defined as a power semiconductor that is used as an electronic switch device to control the loads as per requirement. Power devices can attain extremely low resistance and high-frequency switching. These properties are exploited in high-efficiency power supplies, electric vehicles (EVs), hybrid electric vehicles (HEVs), photovoltaic inverters, and RF switching. In addition, these devices are applicable in power supplies for servers, IT equipment, high efficiency & stable power supplies, and EV & HEV devices.
Factors such as an increase in demand for power electronics across various industry verticals, due to the growth of power electronics is driven by its increase in usage in several applications such as industrial motor drives, electric grid stabilization, and consumer electronics. The need for power management devices has increased across various industries such as automotive, consumer electronics, and energy & power owing to the aggrandized use of high voltage operating devices; and the rise in the adoption of power electronics components in electric vehicles. Moreover, the surge in demand for SiC-based photovoltaic cells in the developing countries, including China, Brazil, and India fuels the growth of the global market.
However, one of the major restraints is the complex integration process for advanced electronics devices. Designing of complex devices requires robust methodology, skillsets, and different toolsets for integration, which also raises the cost of the devices. This high cost of devices restraints users to switch to new innovative technology devices. On the contrary, the rise in demand for plug-in electric vehicles (PEVs) and innovation in power metal-oxide–semiconductor field-effect transistor (MOSFET) is anticipated to provide lucrative opportunities for the expansion of the power electronics market share during the forecast period.
The outbreak of COVID-19 has significantly impacted the growth of the power electronics market growth in 2020; however, with the rise in demand for fundamentals of power electronics and power electronics devices solutions are expected to witness relatively high growth by the end of 2021. Nevertheless, the market was principally hit by several obstacles created amid the COVID-19 pandemic such as lack of skilled workforce availability and delay or cancelation of projects owing to partial or complete lockdown globally. In contrast, a rise in penetration of power electronics inverters solutions is expected to drive the growth of the test and measurement equipment market during the forecast period.

The power electronics market growth is segmented into Device Type, Material, Application, and End-Use.
Power Electronics Market

---
By Device Type
The power module acquired the highest share in 2020
On the basis of device type, the power electronics market forecast is classified into power discrete, power module, and power IC.
Power Electronics Market

---
By Material
The silicon carbide dominate the market in 2020
By material, it is categorized into silicon carbide, gallium nitride, sapphire, and others.
Power Electronics Market

---
By Application
Power Mangement holds major share in the applciation iin 2020
The applications covered in the market include power management, uninterruptible power supply (UPS), renewable, and others. The other segment dominate the power electronics market opportunity in 2020. 
Power Electronics Market

---
By End Use
By end user, the energy and power dominated the market
Depending on the industry vertical, the power electronics market outlook is fragmented into telecommunication, industrial, automotive, renewable, consumer & enterprise, military & defense, energy & power, and others.
Power Electronics Market

---
By Region
Asia-Pacific dominated the power electronics market in 2020.
Region-wise, the power electronics market trends are analyzed across North America (U.S., Canada, and Mexico), Europe (UK, Germany, France, and Rest of Europe), Asia-Pacific (China, Japan, India, South Korea, and Rest of Asia-Pacific), and LAMEA (Latin America, Middle East, and Africa). North America accounted for the highest share, owing to the expansion of the electronics market and the rise in sales of EVs.
The power electronics market provides numerous growth opportunities to the players such are ABB Group, Fuji Electric Co. LTD, Infineon Technologies AG, Microsemi Corporation, Mitsubishi Electric Corporation, Renesas Electronics Corporation, and Rockwell Automation, Inc., STMicroelectronics, Texas Instruments Incorporated, and Toshiba Corporation.
Key Benefits For Stakeholders
This report provides a quantitative analysis of the market segments, current trends, estimations, and dynamics of the power electronics market analysis from 2021 to 2031 to identify the prevailing power electronics market opportunities.
Market research is offered along with information related to key drivers, restraints, and opportunities.
Porter's five forces analysis highlights the potency of buyers and suppliers to enable stakeholders to make profit-oriented business decisions and strengthen their supplier-buyer network.
An in-depth analysis of the power electronics market segmentation assists to determine the prevailing power electronics industry opportunities.
Major countries in each region are mapped according to their revenue contribution to the global market.
Market player positioning facilitates benchmarking and provides a clear understanding of the present position of the power electronics industry players.
The report includes the analysis of the regional as well as global power electronics market trends, key players, market segments, application areas, and market growth strategies.
 Power Electronics Market Report Highlights
Aspects
Details
By Device Type

Power Discrete
Power Module
Power IC

By Material

Silicon Carbide
Gallium Nitride
Sapphire
Others

By Application

Power Management
UPS
Renewable
Others

By End Use

Telecommunication
Industrial
Automotive
Consumer Electronics
Military and defense
Energy and Power
Others

By Region

North America (U.S., Canada, Mexico)
Europe (United Kingdom, Germany, France, Rest of Europe)
Asia-Pacific (China, Japan, India, South Korea, Rest Of Asia Pacific)
LAMEA (Latin America, Middle East, Africa)

Key Market Players
ABB, Ltd, FUJI ELECTRIC CO, LTD., INFINEON TECHNOLOGIES AG, MICROSEMI CORPORATION, MITSUBISHI ELECTRIC CORPORATION, RENESAS ELECTRONICS CORPORATION, Rockwell Automation, Inc., STMICROELECTRONICS N.V., TEXAS INSTRUMENTS INCORPORATED, TOSHIBA CORPORATION