Power Metering Market Research, 2032
The global power metering market was valued at $11.2 billion in 2022, and is projected to reach $21.0 billion by 2032, growing at a CAGR of 6.2% from 2023 to 2032.
Key Report Highlighters:
The report outlines the current power metering market trends and future scenario of the market from 2023 to 2032 to understand the prevailing opportunities and potential investment pockets.

The global power metering market has been analyzed in terms of value ($ million). The analysis in the report is provided for 4 major regions and more than 15 countries.

The power metering market is fragmented in nature with few players such as General Electric, Toshiba Corporation, ABB Ltd., Eaton Corporation plc, and Siemens AG, which hold significant share of the market.

The report provides strategy planning and industry dynamics to enhance decision making for existing market players and new entrants entering the power metering market.
Smart meters are widely deployed across the regions, providing real-time data on energy consumption to homeowners and utilities. These meters enable demand response programs, allowing consumers to reduce energy consumption during peak periods. Regulatory policies and incentives are encouraging the adoption of advanced metering infrastructure (AMI) and smart grid technologies.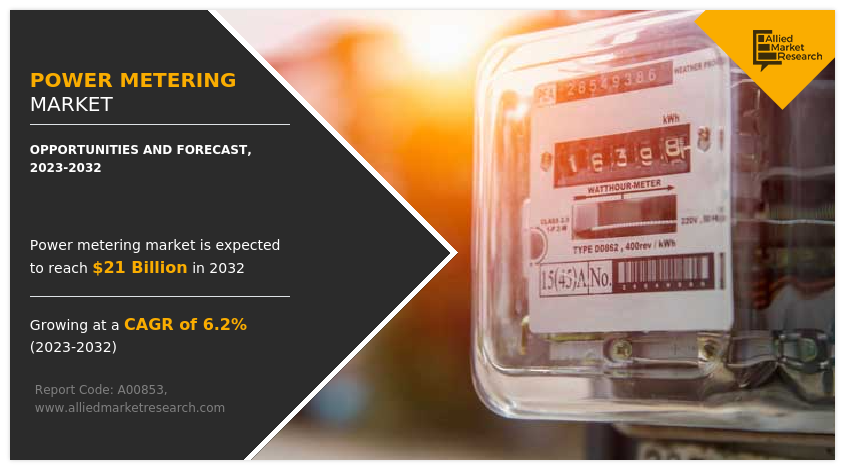 The monitoring and documentation of electrical energy usage in residences, companies, and other locations is known as power metering, sometimes referred to as energy or electricity metering. Power metering is primarily used to measure and track the amount of electricity used, giving customers more financial control, more energy efficiency, and increased awareness of their energy usage. To keep track of how much electricity is being consumed, power meters are positioned carefully throughout an electrical system. Megawatt-hours (MWh) and kilowatt-hours (kWh), which indicate the total amount of energy utilized over a given time period, are examples of the units used to measure data.
Advanced power metering systems provide real-time statistics on energy consumption. Users monitor their electrical consumption continuously and adjust as needed to control costs. Power metering is essential for utility companies to bill customers accurately based on their energy consumption. Different tariff structures apply to residential, commercial, and industrial users. Power meters create load profiles, which show how energy consumption varies throughout the day and across different days. This data helps utilities and consumers understand patterns of electricity usage. Some meters measure demand, which is the rate at which electrical energy is being consumed at a specific moment. Demand charges are frequently included in electricity bills for businesses and industries.
Real-time monitoring of energy consumption by users empowers them to make well-informed decisions aimed at lowering energy expenses. For homes and companies looking to properly control their energy bills, this is very helpful. Power metering helps identify energy-efficient practices and equipment. Users adjust their operations to reduce waste and improve overall energy efficiency. Utility companies use power metering to bill customers accurately based on actual energy consumption data, reducing billing disputes and ensuring fair charges. Load profiles generated by power meters provide insights into usage patterns, helping utilities optimize grid operations and plan for future infrastructure needs. Utilities use power metering data to implement demand response programs, reducing peak load and the risk of power outages.
Smart meters, which collect detailed real-time data, have raised privacy concerns, as they provide insights into consumers' daily routines and activities. Upgrading to advanced power meters or smart meters is costly, both for utilities and customers. Nonetheless, the long-term advantages frequently outweigh these expenses. Strong security measures are needed for the data collection and transmission from smart meters in order to guard against cyberattacks and data breaches. Some areas have technical challenges, such as unreliable internet or cellular connectivity, which affect the functionality of smart meters.
Market Dynamics
As energy costs continue to rise, consumers and businesses are increasingly motivated to monitor and manage their energy consumption effectively. Power metering allows them to identify energy-saving opportunities and reduce costs. Organizations and consumers are increasingly focused on reducing their carbon footprint. Power metering helps track and reduce energy consumption, aligning with sustainability goals.
Globally, governments and organizations are promoting energy efficiency as a means of reducing greenhouse gas emissions and addressing climate change. By providing decision-makers with the data they need to make educated decisions, power metering aids in these efforts. The evolution of smart grids, driven by the integration of advanced technologies, requires robust power metering infrastructure. Smart meters provide real-time data, enable demand response programs, and enhance grid reliability. The growing adoption of renewable energy sources, such as solar and wind, necessitates power metering to track energy production and consumption. This integration supports net metering and grid stability.
Implementing power metering, especially smart meters, requires addressing complex legal and regulatory challenges, such as data privacy and metering standards. Some consumers and organizations resist the installation of smart meters due to concerns about data collection, radiation (in the case of wireless meters), and perceived loss of control.
For securing data that is transmitted through smart meters is a concerning factor. It requires a strong security from unauthorized access and cyberattacks to safeguard the data. Power metering is a crucial aspect when it comes to developing smart cities. This is because it provides real time data tracking. Moreover, through IoT enabled sensors and devices are used for controlling energy use. The evolving energy-as-a-service models also offers lucrative power metering market opportunities.
The power metering market size is studied on the basis of type, application, and region.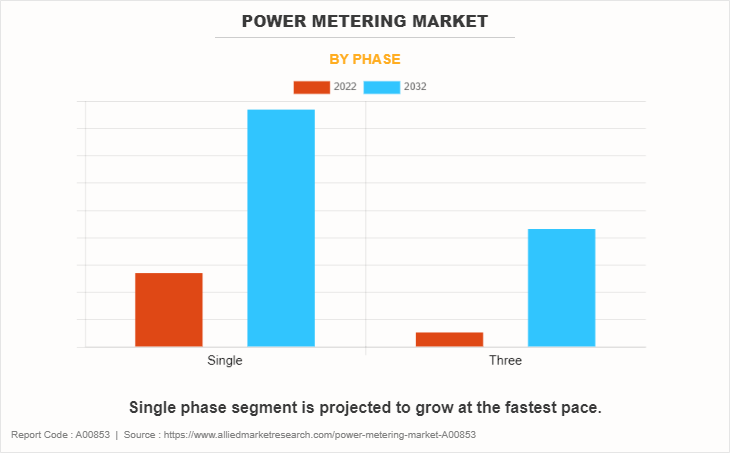 By type, the power metering market is divided into single and three. The single phase segment dominated the power metering market share in 2022. It is also projected to grow at the highest pace during the power metering market forecast period. The data collected by single power meters is used by utility companies to bill customers accurately for their electricity consumption. Many modern single-phase power meters are part of smart grid infrastructure, enabling remote data collection and two-way communication with utility providers. Single power meters are used in homes with solar panels to measure both the electricity consumed from the grid and surplus energy generated by the solar system. All such factors contribute to the power metering market growth.
Moreover, Single-phase power metering is suitable for electrical systems with a single-phase AC power supply. Many homes, workplaces, and small businesses are like this. Kilowatt-hours (kWh) are one unit used by single power meters to quantify electrical energy usage. They offer information on the total energy consumed for a given time frame.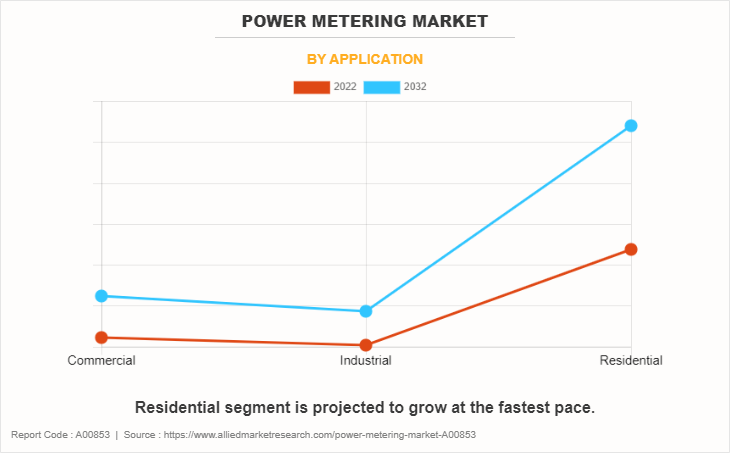 By application, the market is categorized into commercial, industrial, and residential. The residential segment garnered was the major contributor to power metering market revenue in 2022. It is further projected to grow at a significant CAGR during the forecast period propelling the power metering market growth. Power metering in residential applications involves the measurement and monitoring of electrical energy consumption in households. It provides homeowners with insights into their electricity usage and allows them to make informed decisions about energy management. Power metering enables homeowners to monitor their energy usage, identify high-consumption appliances, and implement energy-saving measures. This leads to reduced electricity bills and cost savings over time. Power metering data helps residents optimize their energy consumption and reduce energy waste. This supports environmental sustainability and lowers the carbon footprint of households.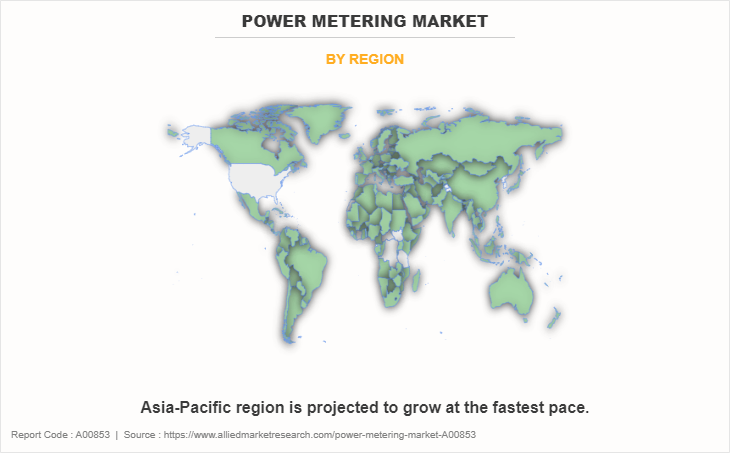 By region, the power metering market analysis is done across North America, Europe, Asia-Pacific, and LAMEA (Latin America, the Middle East, and Africa). Asia-Pacific region was the highest revenue contributor to power metering market revenue and is projected to maintain its dominance throughout the forecast years. The need for smart meters and advanced metering infrastructure (AMI) is rising in the Asia-Pacific area. Demand response initiatives, energy conservation measures, and system optimization are driving the implementation of power metering. More advanced metering and data analytics are becoming possible because of distributing energy sources like rooftop solar panels. Data security and privacy are crucial considerations, and legal frameworks are emerging to address these problems. Governmental agencies, utilities, and IT businesses are expected to collaborate more in the power metering industry to foster innovation.
The major players operating in the power metering market are General Electric, Toshiba Corporation, ABB Ltd., Eaton Corporation plc, Siemens AG, Holley Metering Ltd., Aclara Technologies LLC, Melrose Industries plc, Wasion Holdings Limited, and Sensus. The companies adopted key strategies such as collaboration to increase their market share.
Recent Market Scenario
ABB Ltd. Launched M1M11, M1M DS, M1M 20B and M1M 30B which cover the main submetering easily and cost effectively powering quality monitoring requirement inside power factor correction boards motor control Centre or sub distribution switch boards of commercial and industrial building claim ABB.
The expansion of the power metering sector is facilitated by government initiatives like India's "Smart City" program. For example, in August 2019, the Uttar Pradesh smart meter project in India received investments of INR 2,700 crore from Energy Efficiency Services Limited (EESL), a joint venture of four public sector firms under the Union Ministry of Power of India. In three years (2019–2022), EESL hopes to install four million electricity meters on state power consumers' properties as part of this ambitious project.
The Chandigarh administration was given permission by the Indian Union Government in December 2021 to replace the 2 lakh energy meters with smart ones, at a cost of INR 119 crore. The Chandigarh government requested the appointment of an agency to begin the work on the ground by sending a comprehensive proposal to the Ministry of Home Affairs (MHA).
SENSUS USA INC. and Grey Stone Corporation collaborated to roll out 120,000 new smart electricity meters in March 2020. New Stratus IQ household power meters and an upgrading from the mesh technology to the FlexNet communication network are part of the cooperative's smart utility network.
Schneider Electric SE unveiled the EasyLogic PM2000 series power meters in June 2020, designed for use in commercial buildings for energy cost management purposes.
Siemens AG secured a new contract in December 2022 to set up an infrastructure for smart meters and a distribution management system in Egypt.
Policies Across Globe
ANSI C12 Standards: These standards are developed by the American National Standards Institute (ANSI) and cover various aspects of electricity metering. They define the accuracy requirements, communication protocols, and testing procedures for electricity meters. ANSI C12.1 and ANSI C12.10 are examples of relevant standards.
IEC Standards: The International Electrotechnical Commission (IEC) publishes a series of standards related to electricity metering. These standards cover topics such as meter accuracy, data exchange, and communication protocols. IEC 62053 and IEC 62056 are commonly referenced standards.
Key Benefits For Stakeholders
This report provides a quantitative analysis of the market segments, current trends, estimations, and dynamics of the power metering market analysis from 2022 to 2032 to identify the prevailing power metering market opportunities.
The market research is offered along with information related to key drivers, restraints, and opportunities.
Porter's five forces analysis highlights the potency of buyers and suppliers to enable stakeholders make profit-oriented business decisions and strengthen their supplier-buyer network.
In-depth analysis of the power metering market segmentation assists to determine the prevailing market opportunities.
Major countries in each region are mapped according to their revenue contribution to the global market.
Market player positioning facilitates benchmarking and provides a clear understanding of the present position of the market players.
The report includes the analysis of the regional as well as global power metering market trends, key players, market segments, application areas, and market growth strategies.
 Power Metering Market Report Highlights
Aspects
Details
Market Size By 2032
USD 21 billion
Growth Rate
CAGR of 6.2%
Forecast period
2022 - 2032
Report Pages
230
By Phase
By Application

Commercial
Industrial
Residential

By Region

North America (U.S., Canada, Mexico)
Europe (Germany, UK, France, Italy, Spain, Rest of Europe)
Asia-Pacific (China, Japan, India, South Korea, Australia, Rest of Asia-Pacific)
LAMEA (Brazil, Saudi Arabia, South Africa, Rest of LAMEA)

Key Market Players
Siemens AG, Eaton Corporation plc, holley metering ltd., Aclara Technologies LLC, Wasion Holdings Limited., Sensus, Toshiba Corporation., General Electric, Melrose Industries PLC, ABB Ltd.
Analyst Review
According to the insights from the CXO's, understanding and optimizing energy use, increasing efficiency, and enabling informed decision-making are all made possible by power metering. The power metering market involves the measuring, tracking, and management of electrical power usage in a range of sectors, including residential, commercial, and industrial. Because of the increase in energy use, urbanization, and industry, effective power metering is necessary. Precise power metering is necessary to comply with regulations that support energy efficiency and conservation. The grid's ability to include renewable energy sources is facilitated by power metering. The gathering and sharing of usage data gives rise to security and privacy concerns. Utility companies and consumers find it difficult to implement smart metering systems due to the initial costs. Opportunities for the introduction of advanced metering infrastructure (AMI) are presented by the demand for more resilient and efficient electricity grids. Energy management services are seeing potential as consumers' interest in controlling and optimizing their energy use grows. The integration of power metering with the Internet of Things (IoT) for smart home and industrial applications is a growing market segment that offers lucrative opportunity for the power metering industry