Power Rental Market Outlook - 2030
The global power rental market was valued at $9.5 billion in 2020, and is projected to reach $17.8 billion by 2030, growing at a CAGR of 6.6% from 2021 to 2030. Power rental is defined as renting of generator sets for power generation and that runs on gas, diesel, or any other fuel. It delivers functioning power equipment along with various scalable components, which are installed in power stations. In addition, it offers reliability, flexibility, speed, and cost-effectiveness to businesses for coping with brief shortages of power. The power rental services are aimed to stabilize utility power grids and provide additional energy to industries and support communities. Thus, it finds extensive application across the construction, mining, and oil & gas industries.
COVID-19 pandemic outbreak across the globe has resulted in halting of commercial and industrial activities amid government imposed lock down measures. Due to this the demand for power rental systems is expected to decline which is likely to hamper the growth of power rental market.
Shortage of power supply is likely to increase in the use of power rental equipment, which is expected to drive the growth of the global market. Power rental systems cater to the needs of numerous industries during periods of power suspension, as these units provide power back-up to keep operations running. Emerging economies and high population rates require more power supply each day.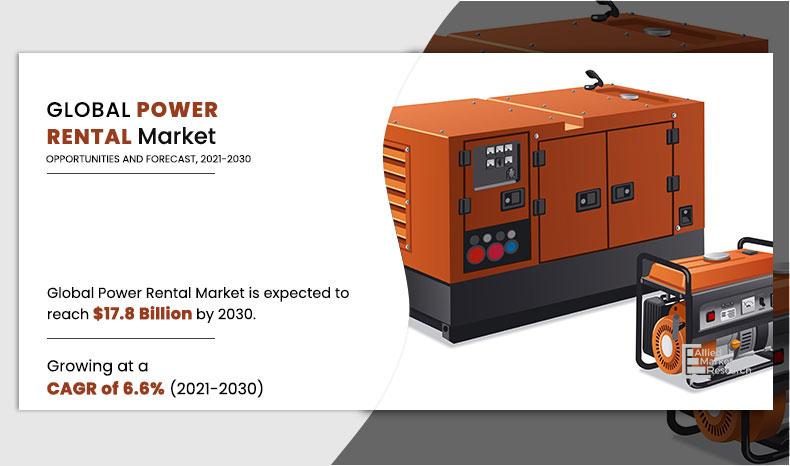 Surge in demand for uninterrupted power supply and rapid industrialization across the globe are the key factors driving the market growth. In addition, increase in instances of unreliable power supply generated through small-scale power grids and limited access to the main transmission network have propelled the demand for rental generators across the utility and manufacturing industries. Furthermore, rise in requirement for scalable rental equipment that can overcome the problems associated with voltage sags & swells and power outages notably contribute toward the growth of the market, globally. Moreover, rise in awareness regarding the benefits of outsourcing power rental systems is positively impacting the market growth. This is attributed to the fact that power rental systems enable consumers to obtain equipment according to their requirements in a cost-effective manner. Moreover, the implementation of favorable government initiatives to expand metro and airport networks and increase in construction of hotels & shopping malls are propelling the demand for power rental across both developed and emerging nations. Surge in adoption of natural gas-based power generators and increase in deployment of renewables as an alternative power source to reduce carbon emissions are further projected to drive the market growth, globally.
However, enforcement of stringent regulations pertaining to emission reduction in fossil fuel-powered equipment is expected to hamper the growth of the power rental market during the forecast period. On the contrary, advent of digital technology solutions for operation enhancement are expected to provide remunerative growth opportunities for the expansion of the power rental market during the forecast period.
The global power rental market size is segmented into fuel type, power rating, application, end-use industry, and region. By fuel type, the market is fragmented into diesel, natural gas, and others. Depending on power rating, it is segregated into up to 50 KW, 51 to 500 KW, 501 to 2,500 KW, and above 2,500 KW. The applications covered in the study include peak shaving, standby power, and continuous power. On the basis of end-use industry, the market is differentiated into utilities, oil & gas, events, construction, mining, manufacturing, telecom & data centers, and others. Region wise, the market is studied across North America, Europe, Asia-Pacific, and LAMEA.
The key players operating in the global power rental industry include Atlas Copco AB, Caterpillar, United Rentals, Cummins, Inc., Aggreko, Generac Power Systems, Inc., Kohler Co., Ashtead Group plc., HERC Rentals Inc., and Wacker Neuson SE. Other players operating in this market include Speedy Hire Plc., Bredenoord, and Allmand Brothers.
Global Power Rental Market, By Region
Asia-Pacific accounted for a major share in 2020, owing to rapid expansion of commercial spaces comprising malls, hotels, and retail stores, which, in turn, has significantly boosted the demand for stable power supply, thereby augmenting the utilization of power rentals. Southeast Asian countries such as Thailand and Indonesia are witnessing mega commercial infrastructure development on account of increase in government expenditure on public establishments. Moreover, rapid digitization coupled with prevailing Industrial Revolution 4.0 are likely to impart substantial impetus to the industry expansion.
Global Power Rental Market, By Fuel Type
The diesel segment garnered significant share in the power rental market in 2020, as diesel-fueled units are witnessing a steady deployment rate driven by their ability to provide weather-independent, scalable, and flexible operations. In addition, round the clock power availability and low up-front costs are anticipated to drive the demand for diesel-fueled power rental equipment. Moreover, diesel enhances engine performance and offers higher operational efficiency, which are the key parameters that provide substantial impetus to the power rental market.
Global Power Rental Market, By Power Rating
The 501 to 2,500 KW segment acquired the major power rental market share in 2020. This is attributed to the fact that generators with power of 501 to 2,500 KW can be used to provide standby power as well as continuous power supply during outages peak shaving. Furthermore, developing countries face power outages more frequently than developed nations. This is due to poor transmission and distribution infrastructure as well as older power plants. To ensure that electricity is easily and reliably accessible to all industries, utility-scale power generation plants have been set up in some parts on a rental basis, which is driving the market.
Global Power Rental Market, By Application
The continuous power segment dominated the market, in terms of share, in 2020, as power rental systems are progressively finding applications in the oil and gas, construction, and mining sectors. Such sectors require constant supply of electricity, as they are far-off from the power grid areas. Moreover, some of the renewable and hydroelectric power plants require an add-on backup power solution. 
Global Power Rental Market, By End-use Industry
The utilities segment led the power rental market in 2020, as utilities are connected through a grid to develop a distribution network for the supply of power. Generation utilities are the companies that are engaged in the generation of power, which is then sold by distribution utilities with transmission utilities, acting as a bridge to deliver power from generation to distribution site. In developing regions, such as Africa and Asia-Pacific, local grids cannot provide reliable supply due to the poor transmission network. Unreliable supply from a local grid or limited access to the main transmission network prohibits the delivery of electricity to industrial, commercial, and residential users. A weak network results in fluctuations in the power levels inside the grid, threatening its stability and integrity. Thus, the demand for power rental solutions is expected to increase in applications such as peak shaving, wherein power rental solutions come handy for stabilizing the grid within a short duration of time at economical prices.
COVID-19 ANALYSIS
According to the International Monetary Fund (IMF), owing to the outbreak of novel coronavirus (COVID-19), the global economy shrunk by 3.0% in 2020. Many countries are under strict lockdown, which have forced several sectors to shut down their operations. This has halted manufacturing activities and reduced the demand and production of power rental equipment.
According to the United Nations Industrial Development Organization (UNIDO), the micro, small, & medium enterprises (MSME) sector across developing economies, such as India, has been worst affected due to the COVID-19 outbreak and the lockdown imposed thereafter. This is expected to decline the demand for power rental equipment from various end-use industries such as oil & gas, events, construction, mining, and manufacturing. In addition, in the second half of 2020, some countries began to lift restrictions and gradually started business operations in various sectors. Even with the gradual lifting of the lockdown, it is expected to be challenging for the manufacturing sector to get back to normal working conditions. This is expected to subsequently affect the power rental market growth in the coming years.
According to the UNIDO, 30.0–70.0% of pre-COVID-19 workforce of various manufacturing industries such as automotive, building & construction, and mining have migrated back to their hometowns due to uncertainties and loss of income during the lockdown. This unavailability or less availability of workforce is expected to directly affect production activities of these industries, thereby resulting in decline in demand for power rental equipment. This is expected to decline growth of the market during the forecast period. 
The outbreak of COVID-19 across the world in the first half of 2020 forced multiple countries into complete lockdown. Since governments and local authorities issued stringent guidelines, all nonessential operations were halted. This adversely affected the power rental market, owing to suspension of activities of various end-use industries. In addition, production and supply chain delays are expected to pose a short-term challenge to the power rental market, since end-user industries are still not operating at their full capacity. However, many companies have turned this crisis into an opportunity to offer services to the society. For instance, Cummins converted its air filter manufacturing facility into a respirator (filtration material for face masks) manufacturing unit.
Key Benefits For Stakeholders
The global power rental market analysis covers in-depth information of major industry participants.
Porter's five forces analysis help analyze potential of buyers & suppliers and the competitive scenario of the industry for strategy building.
Major countries have been mapped according to their individual revenue contribution to the regional market.
The report provides in-depth analysis of the global power rental market forecast for the period 2021–2030.
The report outlines the current global power rental market trends and future scenario of the global power rental market from 2020 to 2030 to understand the prevailing opportunities and potential investment pockets. 
Key drivers, restraints, & opportunities and their detailed impact analysis are explained in the global power rental market study.
Key Market Segments
By Fuel Type
By Power Rating
Up to 50 KW
51 to 500 KW
501 to 2,500 KW
Above 2,500 KW
By Application
Peak Shaving
Standby Power
Continuous power
By End-Use Industry
Utilities
Oil & Gas
Events
Construction
Mining
Manufacturing
Telecom & Data Centers
Others
By Region
North America
Europe

Germany
France
Italy
Spain
UK
Rest of Europe

Asia-Pacific

China
Japan
South Korea
India
Australia
Rest of Asia-Pacific

LAMEA

Brazil
Saudi Arabia
South Africa
Rest of LAMEA