Power Ship Market Research, 2031
The global power ship market was valued at $3.4 billion in 2021 and is projected to reach $22.8 billion by 2031, growing at a CAGR of 21.4% from 2022 to 2031.
Report Key highlighters:
The power ship market is analyzed in terms of value that is in $ million.
The power ship market is classified by type, system, and application across the world, with detailed analysis for each segment across 4 major regions covering more than 18 countries.
The report offers detailed insights into the GDP analysis of specific countries.
The report also includes the detailed profiling of 15 major manufacturers in the industry.
As economic shortcomings complicated efforts to bring electricity to every corner of the planet, powership was in demand so that it can be set offshore and plugged into local grids at short notice. Thus, during the pandemic, powership played an important role and had a very low impact on market growth. The demand-supply was met through powership in many remote areas that lacked electricity and utility infrastructure or suffered power outages for a longer time.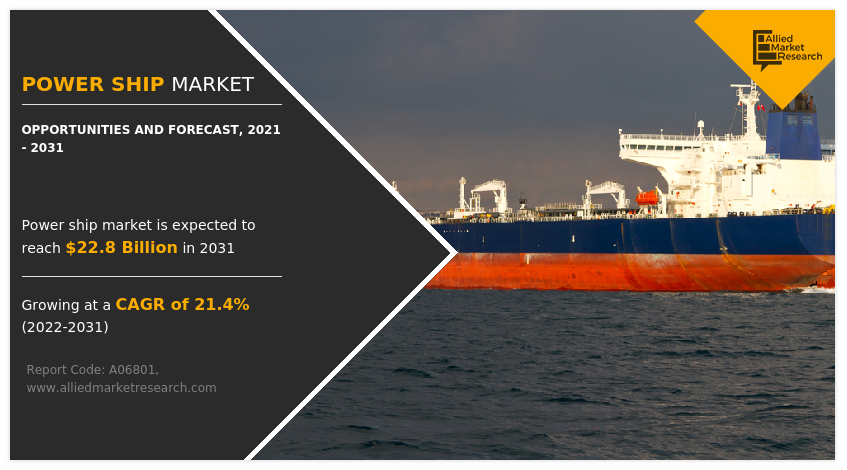 A powership specifically refers to a special-purpose ship, which inhibits a power plant that will serve as a source for power generation. A ship is modified for generating power or a marine ship/vessel can be installed with a power plant. This can be done to cater to the rising demand for electricity. There are some powership built in recent times that are self-propelled. They also inhibit ready infrastructure so that they can be used easily in developing nations. They can be connected to any country's electricity grid based on requirements. They are also referred to as power barges and can be decked on ports. They are also known as "barge-mounted power plants" or "floating power plants". One of the earliest powership was the SS Jacona, converted in 1931 by the Newport News Shipbuilding and Drydock Company of Virginia for the New England Public Service Company of Augusta, Maine. Saranac was a 1942-built fleet oiler before her conversion into a powership following the Second World War to serve in the US Navy and Army. The first floating nuclear reactor ship was the MH-1A, used in the Panama Canal zone from 1968 to 1975
Powership is a reliable fast track, plug & play, and effective solution that delivers electricity in 30 to 100 days. It is also highly efficient using the most economical fuel available in the market and with higher efficiency compared to similar solutions that lead to an economical generation cost. The rise in demand for primary energy has led many nations and the private sector to opt for powership and thus creating future opportunities for global powership market growth. The powership can be used mainly by local & national governments & ministries, energy, oil & natural resources, electrical utility companies, national & state private sector, and mining companies. They can be hired and quickly deployed to utility-grade power plants and can be taken under electricity generation services contracts, power rental contracts, energy conversion works contracts, and power purchase agreements.
The rise in demand for electricity in developing countries is attracting significant investment in the power generation sector. According to BP Statistical Review of World Energy, 2021, global primary energy demand rose by 6% with electricity generation rising by 6.2%. Powership is a reliable option for generating power. It has wide applications in regions that lack power generation infrastructure. The aforementioned characteristics act as a driving factor for the global powership market size. Rising demand for electricity has led the world to look out for options that are economic, efficient, sustainable, require minimum maintenance, and are environmentally friendly. This has led to a rising demand for electricity through powership which is readily available on demand and thus, augments the market growth. Moreover, rising demand from end users due to enhanced fuel flexibility acts as a driving factor for the global powership market growth.
The global powership market forecast is done on the basis of type, system, application, and region.
Power Ship Market

---
By Type
Fully Electric is projected to be most lucrative.
Depending on the type, the market is divided into fully electric, hybrid, and plug-in hybrid. A hybrid powership is one that can offer electricity generation and even conversion in some cases and/or any combination of mentioned uses. They are both gas-fired and oil-fired, that is they use both oil and gas to generate electricity. Such factors led to the growth of hybrid powership and are projected to grow at a higher CAGR.
Power Ship Market

---
By System
Power conversion is projected to row at a higher CAGR.
On the basis of the system, the division of the market is done into electricity storage, power conversion, power generation, and others. The power conversion segment dominated the powership market share and is further projected to grow at a higher CAGR owing to its capability to generate electricity whereas, other kinds of powership can only store, convert and/or transport electricity. Thus, acting as a driving factor for power generation global powership market growth.  
Power Ship Market

---
By Application
The defense segment is projected to offer a lucrative opportunity.
By application, the market bifurcation is done into commercial and defense. The defense segment dominated the market share and the same is expected to grow at a higher CAGR owing to high demand from defense activities that occur in remote areas. Moreover, countries with continued civil and internal unrest and military interventions also require service from powership to help in meeting electricity demand.
Power Ship Market

---
By Region
LAMEA is projected to grow at a higher CAGR.
Region-wise, powership market analysis is done across North America, Europe, Asia-Pacific, and LAMEA (Latin America, Middle East, and Africa). LAMEA dominated the market share for 2021 and is projected to grow the fastest owing to high demand from the middle eastern and African economies. The key players in the market are ABB Ltd., Konsberg, GE, Wartsila, MAN Energy Solutions, Siemens AG, Corvus Energy, General Dynamics electric boat, Norwegian Electric Systems AS, Leclanch SA, Karadeniz Holding, Mitsui osk, and Volkswagen AG.
Key Projects:
Karpowership launched the Powership Project in 2007 and supplied the first floating power plant to Iraq in 2010. The Turkish company sent four more ships to Indonesia and an additional vessel to Ghana in 2016 and 2017 to help developing nations solve their power supply issues.

The first of two floating LNG-fueled power generation systems, which Brazil contracted with during its emergency power auction in 2021, has started sailing toward the country. Turkish energy company Karpowership owns both ships Brazil hired, which have the capacity of generating 370MW. The electricity is to be delivered to Rio de Janeiro state, on the country's southern coast.

As announced in the press release of Mitsui O.S.K. Lines dated March 29, 2019, Karpowership and MOL announced the LNG-to-Powership project under the name KARMOL, which is to be administered jointly in Nacala, Mozambique. This co-branded project with a power generation capacity of 120MW is expected to create a reliable supply of electricity for the people of Nacala, Mozambique.

In 2020, Karpowership, a subsidiary of Karadeniz Energy Group, started using LNG as a source of fuel for powership instead of using heavy fuel oil, which emits toxic residuals. This has helped the company to substantially curb harmful emissions.

Accelleron Capital Markets Day – turbochargers were helping the world to move further, more efficiently, and more sustainably.

Corvus Energy leads an innovative research project to optimize the combined use of hydrogen fuel cells and batteries in vessel propulsion.

Dalian Shipbuilding Industry Co. Ltd. has ordered 2 × MAN B&W 7S35ME-GI dual-fuel engines in connection with the construction of two 7,500 cubic-meter, liquid CO2 carriers for Northern Lights, the joint venture between Equinor, Shell, and Total Energies.

Turkish company Karpowership, one of the world's largest powership builders, operators and owners, is reportedly in talks with four EU member states for the supply of floating power plants with a 2 gigawatts capacity. According to Karpowership, power ships could save Europe between 30 and 60% on gas costs and generate 2,000 medium voltage (mV) of power. Connecting such floating power plants to European countries' grids would take only 30 days, says the company.
COVID impact analysis
According to the global powership market trends, the COVID-19 pandemic has severely impacted the global transmission and distribution networks as projects have stalled, which, in turn, led to a significant decrease in demand for defense. The emergence of COVID-19 has declined the growth of the global powership industry in 2021 and is estimated to witness slow growth till the end of 2021. The implementation of partial or complete lockdowns across various countries globally is the prime reason for this decline in the growth rate. As industries were temporarily shut, it reduced the need for maintenance from various defenses. The instances of the spread of new variants of the virus resulted in repeated travel and trade bans, which further impacted the global economy. The economies that are neighbors to the origin country have suffered huge losses and have later shown positive recovery. However, the Omicron variant, known to be more infectious, is again creating concerns regarding the uncertain future of the global economy and the powership market. As economic lockdowns complicate efforts to bring electricity to every corner of the planet, powerships are putting generation units on ships that can sit offshore and plug into local grids at short notice.
Key Benefits For Stakeholders
This report provides a quantitative analysis of the market segments, current trends, estimations, and dynamics of the power ship market analysis from 2021 to 2031 to identify the prevailing powership market opportunities.
The market research is offered along with information related to key drivers, restraints, and opportunities.
Porter's five forces analysis highlights the potency of buyers and suppliers to enable stakeholders to make profit-oriented business decisions and strengthen their supplier-buyer network.
In-depth analysis of the powership market segmentation assists to determine the prevailing market opportunities.
Major countries in each region are mapped according to their revenue contribution to the global market.
Market player positioning facilitates benchmarking and provides a clear understanding of the present position of the market players.
The report includes an analysis of the regional as well as global powership market trends, key players, market segments, application areas, and market growth strategies.
 Power Ship Market Report Highlights
Aspects
Details
Market Size By 2031
USD 22.8 billion
Growth Rate
CAGR of 21.4%
Forecast period
2021 - 2031
Report Pages
240
Type

Fully Electric
Hybrid
Plug-in-hybrid

System

Electricity Storage
Power Conversion
Power Generation
Others

Application
By Region

North America (U.S., Canada, Mexico)
Europe (Germany, Italy, Spain, UK, France, Rest of Europe)
Asia-Pacific (China, Japan, India, South Korea, Australia, Rest of Asia-Pacific)
LAMEA (Brazil, South Africa,, Saudi Arabia, Rest of LAMEA)

Key Market Players
ABB Ltd, Konsberg, GE, Wartsila, MAN Energy Solutions, Siemens AG, Corvus Energy, General Dynamics electric boat, Norwegian Electric Systems AS, Leclanch SA, Karadeniz Holding, Mitsui osk, Volkswagen AG