Power Transformer Market Outlook - 2027
The global power transformer market size was valued at $27.7 billion in 2019, and is expected to reach $50.8 billion by 2027, registering a CAGR of 7.9% from 2020 to 2027. Power transformer is a type of transformer used primarily to receive low voltage generator electric power and transmit it across distribution channels across the power grid network. It forms a crucial part of the power grid and helps in transmission of power from one network to the other without change in frequency.  Generation of electric power in low voltage is cost effective, but it leads to high line current. The transmission of high current leads to more line losses. But if the voltage of the incoming power is increased then efficient power transmission is enabled. Hence, a power transformer is mainly used to step-up the voltage. Power transformers thus play a vital role in power transmission. These transformers operate at peak load and are designed to have maximum efficiency at full load. Decades of research in the transmission networks has led to an increase in the transmission voltages. Power transformers enable the power transmission low-voltage to high-voltages.
Various factors drive the global power transformer market. Apart from the growing consumption of electricity, the increasing focus on renewable electric power generation, deployment of smart grids and smart transformers, replacement of existing aged power transformers are some other factors responsible for the global power transformer market growth. As power sector is the key indicator of economic growth, countries are investing in strengthening their power infrastructure and meeting the growing demand for electricity. Investments include new power grid projects that integrate electric power generated through renewable sources to the main power grid.  Increase in renewable power generation such as hydro, wind, and solar are prominent drivers for the global market of power transformer.
Power transformers are necessary devices, which help connect generating stations to transmission networks. It is anticipated that increase in utilization of renewable and non-conventional energy resources will drive the global power transformer market in the forecast period. Power transformers form a critical part of a power grid. With the increase in awareness related to CO2 emissions, the adoption of smart grids is expected to grow. Smart grid facilitates the remote access monitoring of grid instruments and respond to fluctuating power demand instantly. Smart power transformers are increasingly being used due to their advantages. It gives optimized power supply, responds to voltage fluctuations quickly, offers efficient cooling, and is energy efficient; thus, it reduces CO2 emissions. Stringent government regulations related to carbon emissions are expected to remain strict throughout the analysis period, thereby supporting the growth of the global power transformer market. Increase in demand for electricity and emergence of renewable power sources increases the adoption of high voltage transmission technologies such as UHV, HVAC and HVDC power transformers. Utilization of ultra-high-voltage transmission technology is already being used in many countries such as China.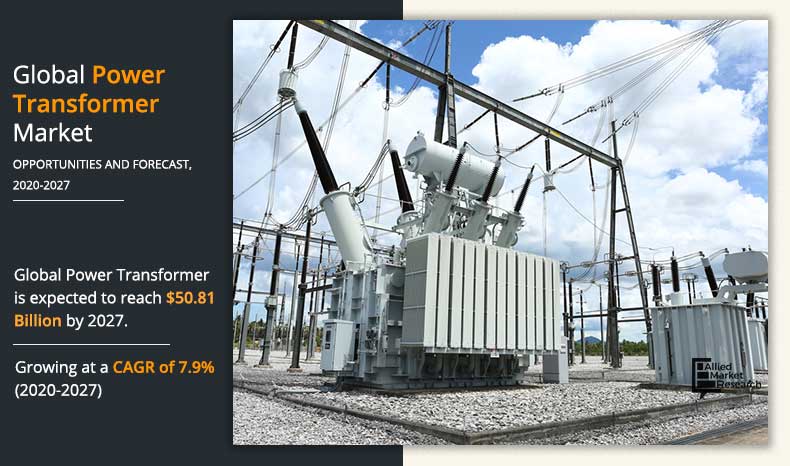 Get more information on this report : Request Sample Pages
Price is the most significant factor that affects the whole power system throughout the world. Manufacturing of power transformers requires longer construction time as well as huge capital investment. Also, high quality electrical grade steel is manufactured by only selected few companies. Moreover, constructing the supporting infrastructures needed for stable and life-long transformer operation makes power transformers expensive and unaffordable. However, overall cost of transformers can be reduced with better supervision techniques and use of better materials. This also improves their overall life expectancy. On the contrary, meeting future electricity demands requires the setup of more high voltage transmission networks. Further, the technologies concerning power transformers are dynamic. Such factors will be conducive to the replacement of aging transformers with modernized versions.
Global power transformer market is segmented based on transformer rating and region. Based on rating, the market is divided in low, medium, and high rating power transformers. Based on geography, it is divided into North America, Europe, Asia-Pacific, and LAMEA.  Region wise, the market is analyzed across North America, Europe, Asia-Pacific, and LAMEA. 
Major players in the power transformer industry include Bharat Heavy Electricals Ltd., CG Power and Industrial Solutions Ltd., EMCO Ltd., General Electric Company, Hitachi Ltd., Kirloskar Electric Co. Ltd., Schneider Electric SE, Siemens AG, TBEA Co. Ltd., and Toshiba Corporation.
Global Power Transformer Market, By Region
Asia-Pacific accounted for a major revenue share in 2019 in the global power transformer market, owing to upcoming power grid expansion projects and upsurge in renewable power generation.
Power Transformer Market

---
By Region
Asia-Pacific would exhibit an CAGR of 9.0% during 2019-2027.
Get more information on this report :
Request Sample Pages
Get more information on this report : Request Sample Pages
Global Power Transformer Market, By Rating
The medium power transformer segment garnered the largest power transformer market share of 45.85% in 2019 and is expected to increase to 48.45% in 2027, growing at a CAGR of 8.7%. The growth is mainly attributed to surge in electrification globally, mainly by industries that need stable electric power.
Power Transformer Market

---
By Rating
Medium Power Transformer segment is projected as the most lucrative segment.
Get more information on this report :
Request Sample Pages
Get more information on this report : Request Sample Pages
Key Benefits For Stakeholders
The report provides an in-depth analysis of the current and emerging power transformer market trends and dynamics in the global market.
It offers detailed quantitative analysis of the current market and estimations through 2019-2027, which assists in identifying the prevailing power transformer market opportunities.
Comprehensive analysis of all regions helps determine the prevailing and future opportunities in these regions.
Comprehensive analysis of factors that drive and restrict the growth of the global power transformer market is provided. For instance, worldwide high energy demand and need for upgrade of existing transmission infrastructure will drive the global power transformer demand; however, high initial cost is expected to be a major restraint for the market growth.
Exhaustive global power transformer market analysis by rating helps understand the ratings of power transformer that are currently being used along with the variants that are expected to gain prominence in the future.
 Key Market Segments & Key Market Players
Segments
Sub-segments
By Rating

Low (5 MVA to 100 MVA)
Medium (100 MVA to 500 MVA)
High (above 500 MVA)



By Region

North America
Europe

Russia
Germany
France
UK
Italy
Rest of Europe

Asia-Pacific

China
India
Japan
Australia
Rest of Asia-Pacific

LAMEA

Brazil
South Africa
Middle East
Rest of LAMEA



Key Market Players

CG Power and Industrial Solutions Ltd.
Siemens AG
Schneider Electric SE
TBEA Co. Ltd.
EMCO Ltd.
Kirloskar Electric Co. Ltd.
Toshiba Corporation
Hitachi Ltd.
Bharat Heavy Electricals Ltd.
General Electric Company