The global precast construction market size was $139,100.0 million in 2021, and is expected to reach $227,567.1 million by 2030, growing at a CAGR of 4.9% from 2021 to 2030.  The precast construction technique is used to manufacture custom components such as columns, slabs, walls, stairs, beams, and others. Precast construction is a technology where concrete and other construction materials are mixed, poured, or cured in a controlled environment in production units. These prefabricated components are then transported to the place of use and assembled.
The COVID-19 outbreak has affected the growth of the precast construction market owing to the lockdown measures in the countries and delay in manufacturing and supply of precast construction components which are utilized in residential, commercial, and industrial spaces.
The increase in developments in precast technology together with dimensional accuracy offers architects and engineers the opportunity to develop unique and groundbreaking constructions of exceptional quality. Precast construction also allows designers and engineers to plan for future construction projects as the components can be rearranged.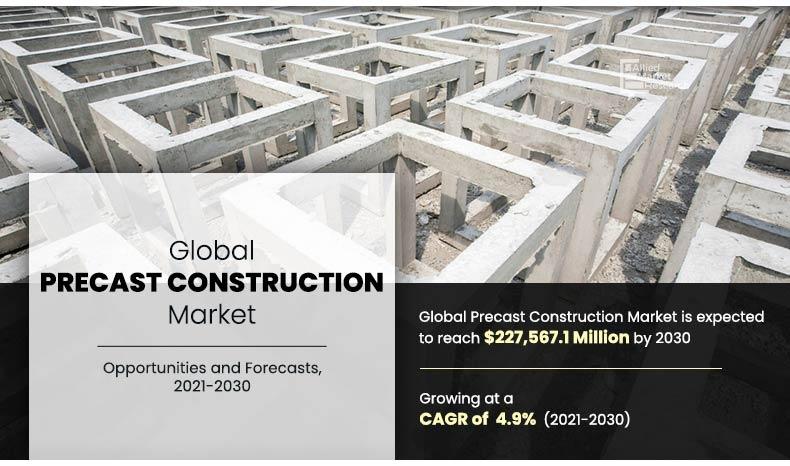 The increase in construction spending and the rise in urbanization and industrialization in emerging countries such as Germany, France, and the U.S. propel the growth of the precast construction market globally. For instance, degree of urbanization in the India increased by 1.2% from 2018 to 2020.
In addition, more than 50% of all urban growth is anticipated to take place in emerging economies such as Asia and Africa, for the next 20 years. Over the past few years, with significant growth in population, the rise in need for the development of low-cost housing units, higher efficiencies achieved through precast methods, and increase in construction speed through precast technology drive the market. Besides, conversion, refurbishment, renovation of old buildings boost investment in the construction industry and thus, increase the demand for prefabricated parts, which positively contributes toward of the precast construction market growth.
The surge in investment in the building and construction industry due to various government sponsored public housing programs has recently boosted the demand for precast construction. In addition, factors such as increase in disposable income and a surge in home buying is expected to boost the market growth further. The rapid growth and development of urban housing demand leads to shorter construction times and reduced costs.  For instance, by 2030, almost 590 million people are expected to shift to urban locations globally. Moreover, increase in investment in construction activities is expected to drive the growth of the precast construction market share. For instance, in May 2019, the government of India announced an ambitious investment agenda plan of $1.5 trillion in construction sectors for a six-year period ending 2025. This investment focuses on improving the quality of construction for schools & higher education, health, sports, and basic infrastructure.
The COVID-19 pandemic forced many companies in the global precast construction market to halt business operations for a short term to comply with new government regulations to curb the spread of the disease. This halt in operations directly impacts revenue flow of the market. In addition, there is a halt in manufacturing of construction products, owing to lack of raw materials and manpower in the lockdown period. Further, no new consignments are received by companies that operate in this sector. Hence, stop in construction activities and lockdowns for several months have affected the global precast construction and the market is anticipated to witness a slow recovery during the forecast period.
Precast Construction Market

---
By Product Type
Rolling Scaffolding segment is projected to grow at a highest CAGR of 7.2%.
However, lack of customer confidence in precast construction in earthquake prone regions are anticipated to hamper the growth of the precast construction market. Conversely, increase in urbanization and industrialization is anticipated to provide lucrative opportunities for the growth of the market.
The global precast construction market is segmented into product type, construction type and end user. By product type, the market is divided into columns & beams, floors & roofs, walls, staircases, girders, paving slabs, and others. By construction type, it is classified into modular, manufactured homes. By end user, the market is categorized into residential and non-residential.
Precast Construction Market

---
By Construction Type
Modular segment holds dominant position in 2020
By region, it is analyzed across North America, Europe, Asia-Pacific, and LAMEA. Asia-Pacific is expected to hold the highest market share during the forecast period.
Competition Analysis
The key players profiled in the market report include ACS Group, Balfour Beatty plc, Bouygues Construction, Julius Berger Nigeria plc, Kiewit Corporation, Komasu Ltd., Laing O' Rourke, Larsen & Turbo Limited, Red Sea Housing Services, and Taisei Corporation.
Precast Construction Market

---
By Region
Asia-Pacific holds a dominant position in 2020 and LAMEA is expected to grow at a significant rate during the forecast period.
Key Benefits For Stakeholders
The report provides an extensive analysis of the current and emerging global precast construction market trends and dynamics. 
In-depth precast construction market analysis is conducted by the estimations for key market segments between 2020 and 2030.
Extensive analysis of the market is conducted by following key product positioning and monitoring of the top competitors within the market framework.
A comprehensive analysis of all the regions is provided to determine the prevailing opportunities.
The global precast construction market forecast analysis from 2021 to 2030 is included in the report.
The key market players within market are profiled in this report and their strategies are analyzed thoroughly, which help understand the competitive outlook of the global precast construction industry.
 Precast Construction Market Report Highlights
Aspects
Details
BY PRODUCT TYPE

Columns & beams
Walls
Floors & Roofs
Staircases
Girders
Paving Slabs
Others

BY CONSTRUCTION TYPE

Modular
Manufactured homes

BY END USER

Residential
Non-residential

BY REGION

North America
Europe

Germany
Italy
UK
France
Spain
Rest of Europe

Asia-Pacific

China
Japan
India
South Korea
Rest of Asia-Pacific

LAMEA

Latin America
Middle East
Africa