Precision Medicine Market Overview:
The precision medicine market was valued at $3,516 million in 2016, and is estimated to reach at $7,746 million by 2023, registering a CAGR of 11.9% from 2017 to 2023. Precision medicine is based on a unique concept that states, two people infected with same disease dont need to have same physical response toward the disease. However, it depends on the surrounding environment and influence of genes and symptoms of patient. Moreover, it also depends on patients ability of responding to that particular disease, which enables the doctors and researchers to organize the required treatment. Precision medicine commonly includes use of system biology and panomics to determine the reason for an individual patient's illness at the molecular level. Followed by the use of concentrated medications to address individual patient's illness. Precision medicine offers many advantages such as efficient treatment customized to patients needs and category of disease. Moreover, precision medicine can reduce cost of treatment and help decrease repeated administration of medications.
The precision medicine market is segmented based on technology, sequencing technology, product, application and geography. Based on technology, it is divided into genomics, transcriptomics and epigenomics. Based on sequencing technology, the market is bifurcated into sequencing by synthesis, ion semiconductor sequencing, sequencing by ligation, pyrosequencing, single molecule real time sequencing, chain termination sequencing and nanopore sequencing. Based on product, the precision medicine market is subdivided into consumables, instruments and services. Based on applications it is classified into oncology, CNS, immunology, respiratory medicine, infections, and other applications. Based on end users, it is categorized into diagnostic tool companies, pharma & biotech companies, clinical laboratories, and healthcare IT/big data Companies. Geographically, it is analyzed across North America, Europe, Asia-Pacific, and LAMEA.
Global Precision Medicine Market Segmentation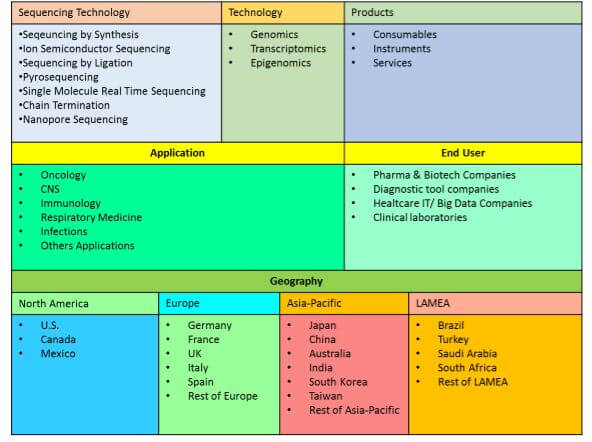 The precision medicine market is expected to grow at a productive rate during the forecast period. Surge in global incidence of cancer and increase in ageing population susceptible to disease are expected to boost the demand of precision medicines. Government initiative & grants and private companies investing in R&D of precision medicines is expected to boost the market growth.
Global Precision Medicine Market, By Geography, 2016 (%)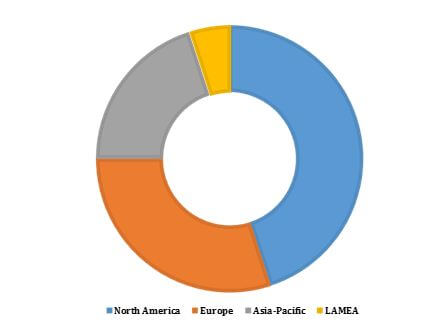 The report provides extensive competitive analysis and profiles of key market players, such as, Roche Holding AG, Illumina Inc., Thermo Fisher Scientific Inc., QIAGEN, Quest Diagnostics, Laboratory Corporation of America Holdings, Novartis AG, AstraZeneca, Bristol-Myers Squibb, and Eli Lilly & Company.
The other players in the value chain include Abbott Laboratories, Almac Group, Ltd, Asuragen, Inc., Cepheid Inc, Cetics Healthcare Technologies GmbH, Ge Healthcare, Glaxosmithkline Plc, Intomics A/S., Biocrates Life Sciences Ag, and Pfizer Inc.
Key Benefits
This report entails a detailed quantitative analysis of the current market trends from 2016 to 2023 to identify the prevailing opportunities.
Market estimations are based on comprehensive analysis of the key developments in the industry.
In-depth analysis based on geography assists to understand the regional market and the strategic business planning.
The development strategies adopted by key manufacturers are enlisted to understand the competitive scenario of the market.
Precision Medicine Market Segments:
By Technology
Genomics
Transcriptomics
Epigenomics
By Sequencing Technology
Sequencing by Synthesis
Ion Semiconductor Sequencing
Sequencing by Ligation
Pyrosequencing
Single Molecule Real Time Sequencing
Chain Termination Sequencing
Nanopore Sequencing
By Product
Consumables
Instruments
Services
By Application
Oncology
CNS
Immunology
Respiratory Medicine
Infections
Others Applications
By End user
Diagnostic Tool companies
Pharma & Biotech Companies
Clinical Laboratories
Healthcare IT/ Big Data Companies
By Geography
North America
Europe

Germany
France
UK
Italy
Spain
Rest of Europe

Asia-Pacific

Japan
China
Australia
India
South Korea
Taiwan
Rest of Asia-Pacific

LAMEA

Brazil
Turkey
Saudi Arabia
South Africa
Rest of LAMEA