Premium Messaging Market Outlook: 2023
Premium Messaging Market was valued at $54,579 million in 2016, and is projected to reach at $78,349 million by 2023, with a CAGR of 5.4%. Premium Messaging is a process of sending mobile messages such as SMS and MMS from an application to a mobile user. It includes A2P (application to person messaging)-typically used for alerts, notifications and marketing messages-and P2A (person to application messaging)-commonly used for various SMS lottery campaigns, TV voting campaigns, subscriptions, competitions.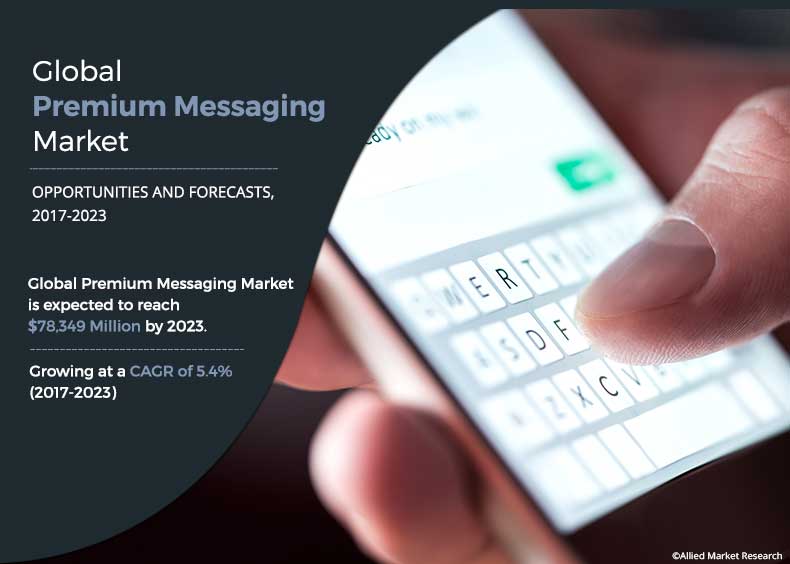 Increase in mobile subscriber base; focus on enhancing customer interaction; and surging adoption of A2P (two-factor authentication) are some of the driving factors that are anticipated to create new growth opportunities for prominent players. However, grey routes denting revenue; and increase in mobile messaging spam is projected to limit the market during the forecast period.
The report includes the study of the premium messaging market focusing on various growth prospects and restraints, based on the regional analysis. The study highlights Porter's Five Forces analysis for the market that comprises the impact of suppliers, competitors, new entrants, substitutes, and buyers.
Key players operating in the market include Verizon, Mblox, Twilio, Inc., AT&T, Beepsend, CLX Communications, Dialogue Communications Ltd., Infobip Ltd., Mahindra Comviva, and Tata Communications Ltd.
Segment Overview
The global premium messaging market is segmented based on tools, end user, and geography. Based on the tools, the premium messaging market is divided into cloud API messaging platform and traditional and managed messaging services. By end user, the premium messaging market is segmented into banking and financial institutions, transport and travelling, healthcare, media and entertainment, retail and others. Geographically, the premium messaging market is segmented into North America, Europe, Asia-Pacific, and LAMEA.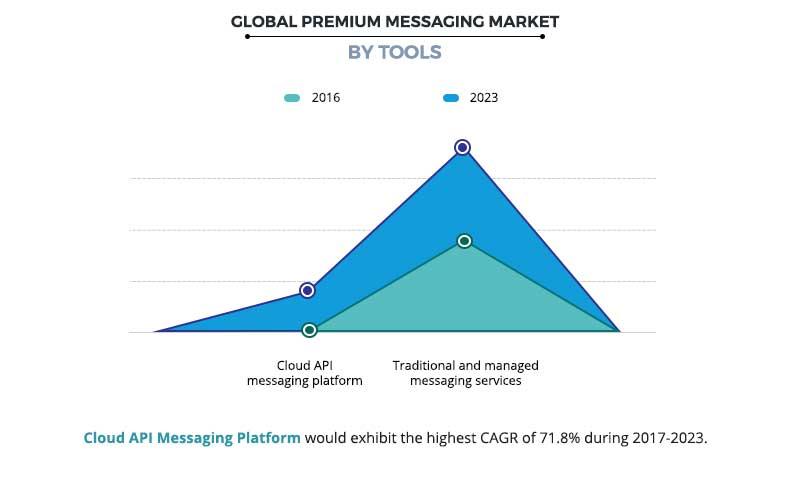 The graph below signifies the growth potential of the premium messaging industry by end user. Among end users, the banking and financial institution is projected to grow at the highest CAGR owing to the increase in adoption of enterprise mobility and spending on premium A2P messaging services.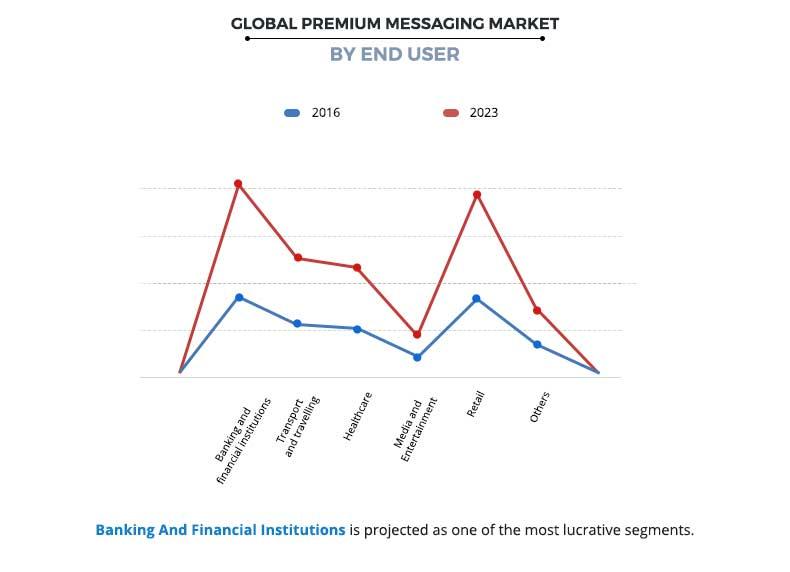 Rise in Mobile Subscriber Base
SMS is a ubiquitous and discreet technique for reaching people using basic mobile handsets without any additional access to data services. With increasing mobile phone penetration in developing economies of Asia, Africa, Latin America, and the Middle East, the mobile subscriber base is projected to grow at a rapid pace over the next 4 to 5 years. According to Groupe Speciale Mobile Association (GSMA) Intelligence, a body run by the GSMA, the unique mobile subscriber base was 3.6 billion in 2014 and is estimated to reach 4.6 billion by 2020. This is expected to create a huge market opportunity for premium messaging providers during this period.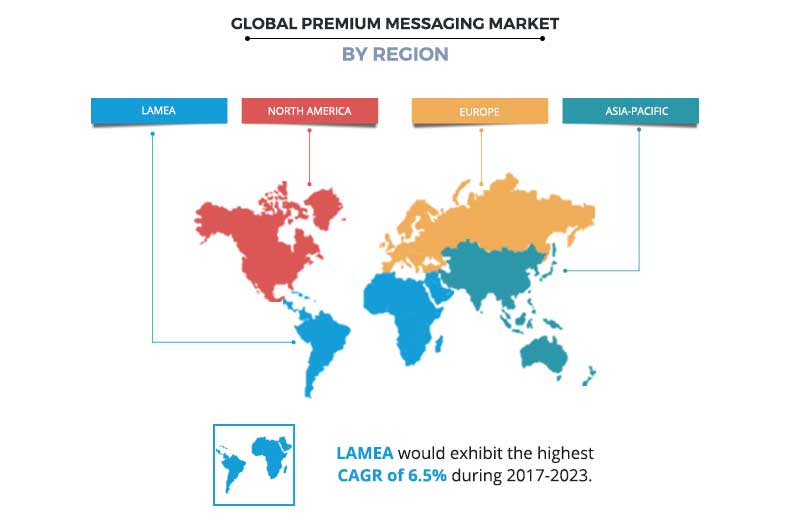 Focus on Enhancing Customer Interaction
Messaging services, especially premium messaging, is being widely adopted by various enterprises including travel and transport, healthcare and hospitality, retail shops, e-commerce, and financial institutions for customer communications. Enterprises are adopting SMS as a gridlock solution to native mobile apps in order to enhance customer interaction. Enterprises are using cloud APIs with embedded contextual communications for applications such as CRMs and field service software. For instance, Tel Aviv-based Gett, Inc. utilizes Nexmo's cloud API (a messaging platform) to register its users and send status updates on pending services across 60 cities globally
Surging Adoption of 2FA (Two-Factor Authentication)
Key features of SMS include instant delivery, high-open rate, and cost-effectiveness. Despite the fact that only private financial institutions initially adopted two-factor authentication, this feature is now increasingly being implemented by companies across all industry verticals for numerous application such as new registration authentication, password resets, and changes in user profile information. For instance, in 2015, Authy, a subsidiary of Twilio, announced an agreement with the Identity and Access Management division of Dell Inc., to provide its SMS 2FA service across all geographies
Increasing Mobile Messaging Spam
Phishing, spam, spoof, and malware transmitted via the mobile messaging system impacts subscribers' trust, diminish brand loyalty, and increases operating costs. Mobile spam hurts revenue and brand value of the operators, app developers, advertisers, subscribers, and device manufacturers.  
Key Benefits
The study provides an in-depth analysis of the premium messaging industry along with current and future trends to elucidate the imminent investment pockets.
Information regarding key drivers, restraints, and opportunities along with their impact analysis on the premium messaging market is provided in the report.
Porter's Five Forces analysis illustrates the potency of buyers and suppliers operating in the premium messaging industry.
The quantitative analysis of the global market from 2017 to 2023 is provided in the report to determine the premium messaging market size and potential.
 Premium Messaging Market Report Highlights
Aspects
Details
By Tools

Cloud API messaging platform
Traditional and managed messaging services

By End User

Banking and financial institutions
Transport and travelling
Healthcare
Media and entertainment
Retail
Others

By Region

North America (U.S., Canada, Mexico)
Europe (Germany, UK, France, Italy, Rest of Europe)
Asia-Pacific (China, India, Japan, Rest of Asia-Pacific)
LAMEA (Latin America, Middle East, Africa)

Key Market Players
Mblox, Beepsend, Dialogue Communications Ltd., Infobip Ltd., CLX Communications, Twilio, Inc., Verizon, Mahindra Comviva, Tata Communications Ltd., AT&T