Pressure Vessel Composite Materials Market Overview:
Global Pressure Vessel Composite Materials Market was valued at $434 million in 2016, and is expected to reach at $1,871 million by 2023, growing at a CAGR of 23.0% from 2017 to 2023. Pressure vessels are ergonomically designed chambers that enclose gases or liquids at a pressure substantially different from the ambient pressure. These vessels consist of various shapes, the most common being cylindrical and conical for industrial applications. They form an integral part of the industrial infrastructure for safe handling of gases and liquids. These vessels are made of steel alloy, other metal alloy, and composites. Furthermore, the use of composites has increased for manufacturing these vessels, owing to enormous possibilities in design and high strength-to-weight ratio.
The global pressure vessel composite materials market is segmented based on material, end-use industry, and geography. Based on material, it is classified into epoxy resin, carbon fiber, and glass fiber. Based on end-use industry, it is categorized into CNG vehicles, hydrogen vehicles, and gas transport. The market is analyzed based on geography into North America, Europe, Asia-Pacific, and LAMEA.
In 2016, epoxy resin accounted for the largest market in terms of volume and is expected to maintain its dominance in the global market during the forecast period. Its high adhesion property and high mechanical strength makes it suitable for fabrication of composite pressure vessels. It enables improved impact-resistance, better dynamic-fatigue, and low-temperature performance. Moreover, it is coated on most of the pressure vessels due to high weather resistant properties. In 2016, the CNG vehicles segment accounted for the highest revenue in the global market, owing to the lower cost as compared to other vehicles. The metallurgical skills and equipment needed to produce them are widely available across the globe. In addition, CNG counterparts reduce the weight of the storage container by 30-40%. Moreover, the hydrogen vehicles segment is estimated to register the highest growth rate during the forecast period, as it eliminates pollution and has higher fuel efficiency than CNG and other gas engines vehicles.
Global Pressure Vessel Composite Materials Market Segmentation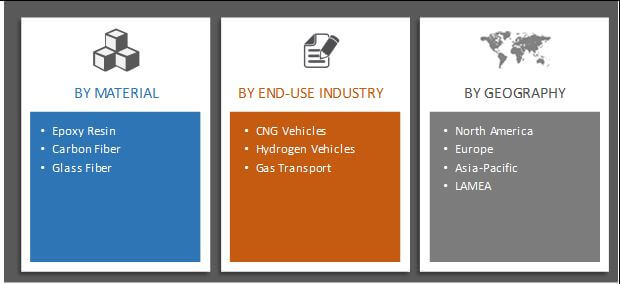 Top Investment Pocket
China and India dominated the global pressure vessel composite materials market in 2016, owing to the surge in the number of automobile manufacturers including Toyota, BMW, Ford, and Nissan. The number of natural gas vehicles (NGVs) has increased from 1.5 million units in 2012 to 5 million units in 2016. Similarly, for India, the number for NGVs was 1.25 million units in 2012, and has reached 1.8 million units in 2016. These trends are expected to drive the growth of the global pressure vessel composite materials market.
Pressure Vessel Composite Materials Market Top Investment Pockets By Key Countries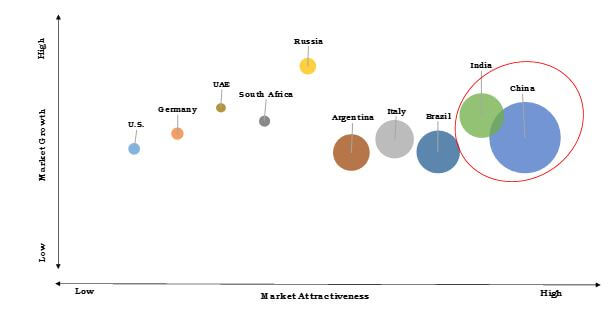 Segment Review
The CNG vehicle segment dominated the global market in 2016. Approximately, more than 80% of the heavy and medium trucks and transit buses use CNG-based fueling systems. Emerging economies exhibit the maximum demand for CNG pressure vessels. In 2008, around 90% of 2 million CNG vehicles were delivered to customers outside Europe and North America. Approximately 32 million CNG vehicles were delivered to customers outside North America and Europe during 2009-2013; thereby, indicating high demand for these vehicles in developing economies.
Natural Gas Vehicle Fleet, By Region, 2004-2016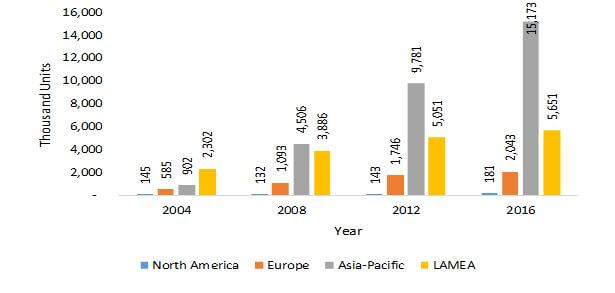 LAMEA Review
Brazil and Argentina are the most lucrative pressure vessel composite materials markets in LAMEA. Major players in these countries have expanded their manufacturing units to produce CNG vehicles. Inflex-Argentoil S.A., an Argentina-based supplier of pressure vessels for CNG vehicles, has expanded its business throughout South America and Middle East by entering into a joint-venture with local manufacturers. This is expected to increase the demand for composites material for manufacturing pressure vessels for automobiles.
Brazil Pressure Vessel Composite Materials Market, 2015-2023 ($Million)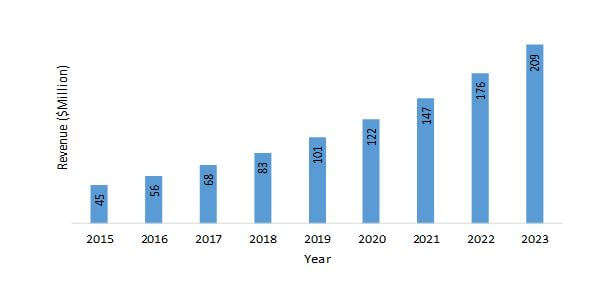 The key players operating in the global pressure vessel composite materials market are Samuel Pressure Vessel Group, Doosan Heavy Industries & Construction, Mitsubishi Heavy Industries, Ltd., Bharat Heavy Electricals Limited, Larsen & Toubro Limited, Westinghouse Electric Company LLC, General Electric, Halvorsen, IHI Corporation, and Pressure Vessels (India).
The other players (not profiled in the report) operating in this market are Babcock and Wilcox Enterprises, Inc., Dongfang Electric Machinery Co., Ltd., Abott, and Alloy Products Corp.
Key Benefits for Stakeholders
This report provides an extensive analysis of the global pressure vessel composite materials market trends, future estimations, and dynamics from 2016 to 2023 to identify the prevailing opportunities.
A detailed analysis of the key segments demonstrates the consumption of composite materials in different end-use industries.
Detailed analysis is conducted by following key product positioning and monitoring the top competitors within the market framework.
Key players are profiled and their strategies are analyzed thoroughly to understand the competitive outlook of the market.
 Pressure Vessel Composite Materials Market Report Highlights
Aspects
Details
By Material

Epoxy Resin
Glass Fiber
Carbon Fiber

By End Use Industry

CNG VEHICLES
HYDROGEN VEHICLES
GAS STORAGE

By Geography

North America
Europe

UK
Germany
France
Italy
Russia
Rest of Europe

Asia-Pacific

Japan
China
India
Rest of Asia-Pacific

LAMEA

Brazil
Argentina
South Africa
UAE
Rest of LAMEA

Key Market Players
SAMUEL CNG PRESSURE VESSEL GROUP, DOOSAN HEAVY INDUSTRIES & CONSTRUCTION, MITSUBISHI HEAVY INDUSTRIES, LTD., BHARAT HEAVY ELECTRICALS LIMITED, LARSEN & TOUBRO LIMITED, WESTINGHOUSE ELECTRIC COMPANY LLC., GENERAL ELECTRIC, HALVORSEN, IHI CORPORATION, CNG PRESSURE VESSELS (INDIA)