Process and Preparative Chromatography Market Outlook - 2027
Chromatography is essentially a physical method of separation in which the components of a mixture are separated by their distribution between two phases. One of these phases in the form of a porous bed, bulk liquid, layer or film is generally immobile (stationary phase) while the other is a fluid (mobile phase) that percolates through or over the stationary phase. Different components of the mixture travel through the stationary phase at different speeds, causing them to separate from one another. The nature of the specific mobile and stationary phases determines which substances travel more quickly or slowly and how they are separated. Process scale chromatography is a scalable GMP manufacturing technique for the separation of biomolecules from a feedstock or slurry to produce bio therapeutics. This purification technique can be used in a variety of applications from gene therapies to biosimilars and bio-betters to vaccines and more. It is a cost effective and efficient purification solution that enables high purity and high yield of the target molecule under optimal conditions. Preparative chromatography refers to the process of using HPLC to isolate material from an injected sample. It is the best generic method for the purification of small drugs and valuable chemical components at <10kg.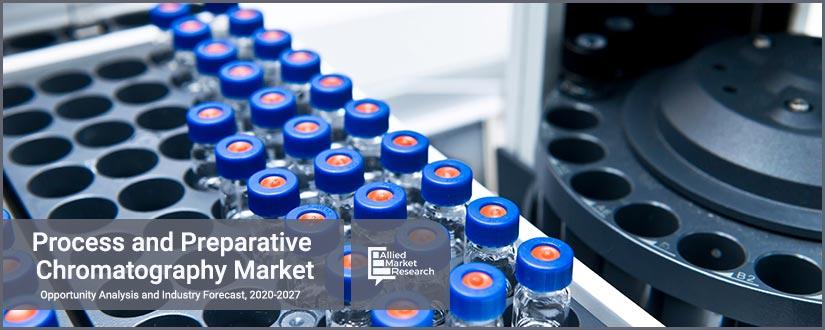 COVID-19 scenario analysis: 
Pharmaceutical and biotech companies together with governments around the globe are working to address the COVID-19 outbreak, from supporting the development of vaccines to planning for medicines supply chain challenges. Currently, around 115 vaccine candidates and 155 molecules are in the R&D pipeline. 
Moreover, commonly used drugs, such as hydroxychloroquine, have witnessed dramatic surge in demand for the treatment of COVID-19. Such high demand for these drugs has presented huge opportunity for manufacturers of COVID-19 drugs as many developed countries are short of these drugs. 
The pharmaceutical & biotechnology industry is expected to witness significant growth in the future, owing to the demand for vaccine and treatment drugs for COVID-19. COVID-19 can have a positive impact on the process and preparative chromatography market as separation process and preparative chromatography can used in the analysis of ingredients for preparation of vaccine for coronavirus. 
Top impacting factors: Market scenario analysis, trends, drivers, and impact analysis
The wide application of chromatography is the main reason for its increased usage. Chromatography plays an important role in many pharmaceutical industries, chemical, and food industry. Environmental testing laboratories generally want to identify very small quantities of contaminants, such as PCBs, in waste oil and pesticides. Chromatography is used to test drinking water and monitor air quality. Pharmaceutical industries use this method to prepare huge quantities of extremely pure materials and analyze the purified compounds for trace contaminants. High-performance liquid chromatography is used in protein separation such as insulin purification, plasma fractionation, enzyme purification, DNA fingerprinting, and bioinformatics. It is used in different kinds of companies and departments, such as fuel industry, biotechnology, biochemical processes, and forensic science, due to the principle of separation in chromatography. Furthermore, it is used for quality analyses and checker in the food industry by identifying, separating, analyzing additives, vitamins, preservatives, proteins, and amino acids. The increase in the investment for innovation in chromatography techniques, wider applications, and continuous advancement are the driving factors of the process and preparative chromatography market. 
New product launches to boost the market
ÄKTA chromatography system is a product of GE Healthcare that can handle both simple and complex purification tasks and accelerate daily routines. All systems are controlled by UNICORN software, a common control platform and user interface for all scales of operation. This system includes other products, such as AKTA pure, which is a flexible and intuitive chromatography system for fast purification of proteins, peptides, and nucleic acids from microgram levels to tens of grams of the target product. ÄKTA start is a preparative chromatography system for laboratory scale protein purification. ÄKTA process is an automated liquid chromatography system built for process scale-up and large-scale biopharmaceutical manufacturing. Merck has tailored its Prepsolv range of solvents to the requirements of preparative HPLC to facilitate scale-up from analytical to preparative separations. With their high purity, extremely low levels of evaporation residue (< 1 mg/l), and low water contents, Prepsolv solvents for preparative chromatography ensure optimal protection for columns and offer maximum reproducibility of final results. With increase in investment, continuous innovations are made, which are expected to foster the growth of the process and preparative chromatography market. 
Key benefits of the report:
This study presents the analytical depiction of the market along with the current trends and future estimations to determine the imminent investment pockets.
The report presents information related to key drivers, restraints, and opportunities along with detailed analysis of the process and preparative chromatography market share.
The current market is quantitatively analyzed to highlight the process and preparative chromatography market growth scenario.
Porter's five forces analysis illustrates the potency of buyers & suppliers in the market. 
The report provides a detailed analysis based on competitive intensity and how the competition will take shape in coming years. 
Questions answered in the process and preparative chromatography market research report:
Which are the leading market players active in the market?
What are the current trends that will influence the market in the next few years?
What are the driving factors, restraints, and opportunities of the market?
What are the projections for the future that would help in taking further strategic steps?
 Process And Preparative Chromatography Market Report Highlights
Aspects
Details
By Type

Process Chromatography
Preparative Chromatography

By Product

Solid Supports and Reagents
Resins

Affinity Resins
Ion Exchange Resins
Protein A Resins
Hydrophobic Interaction Resins
Mixed Mode multimode Resin

Columns

Pre packed Columns
Empty Columns

Systems

Liquid Chromatography System
Others

By End User

Biotechnology and Pharmaceutical Industries
Food and Nutraceutical Industries
Academic Research Laboratories
Others

By Region

North America (UNITED STATES, CANADA, MEXICO)
Europe (FRANCE, GERMANY, ITALY, SPAIN, UNITED KINGDOM, Rest of Europe)
Asia-Pacific (CHINA, JAPAN, INDIA, SOUTH KOREA, AUSTRALIA, Rest of Asia Pacific)
LAMEA (Brazil, South Africa,, Saudi Arabia, Rest of LAMEA)

Key Market Players
Danaher Corporation, Shimadzu Corporation, Agilent Technologies Inc., Merck KGaA, Sartorius Ag, Bio Rad Laboratories Inc, Novasep, Daicel Corporation, Thermo Fisher Scientific Inc, GE Healthcare