Prosthetic Heart Valve Market Research, 2031
The global prosthetic heart valve market size was valued at $6.9 billion in 2021, and is projected to reach $19.7 billion by 2031, growing at a CAGR of 11.1% from 2022 to 2031.
In patients who have valvular incompetence, stenosis, or both, prosthetic heart valves (PHVs) are utilized to replace diseased native valves. Heart valve replacement therapies are in high demand due to factors such as aging population and increasing number of individuals diagnosed with heart valve diseases. Prosthetic heart valves are increasingly being used to replace native heart valves that need to be replaced. Mechanical heart valves, bioprosthetic heart valves, and homograft valves are the three main types. The goal of an artificially implanted valve is for it to behave like a natural valve in terms of hemodynamics and side effects (low thrombogenicity). Over the last few years, major technological advancements have enabled manufacturers to build extremely effective, long-lasting devices with improved hemodynamics, resulting to an increase in demand for prosthetic heart valves. In the coming years, sales are likely to be driven by the development of durable tissue heart valves, suture-less valves, and anti-calcification technologies. These devices, which are surgically placed into the heart to replace a broken heart valve, offer a number of benefits. Mechanical heart valves, for example, are extremely long-lasting and can last up to 30 years in optimum conditions. Furthermore, because they lower the risk of blood clotting on the valve surface, these valves are in high demand.
The outbreak of COVID-19 disrupted workflows in healthcare sector across the globe. As per the government ban and restrictions, surgeries were postponed and manufacturing of prosthetic heart valves was delayed during the pandemic causing the global market to witness decline in the growth during initial wave of COVID-19.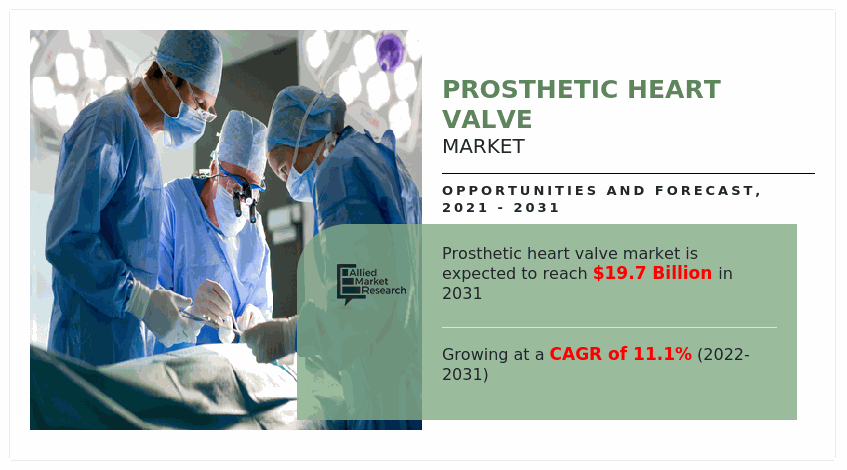 Rise in burden exerted by valvular heart diseases, increase in geriatric population, shift towards sedentary lifestyle of people, novel advancements in heart valves, increase in awareness regarding surgical treatment options, and growing demand for minimally invasive surgeries are factors propelling the market growth. For instance, according to the American College of Cardiology, approximately 5 million Americans are detected with heart valve disease annually. However, high cost of prosthetic heart valves and availability of alternative options for treatment of heart valve disease are some of the major factors limiting the growth of the market. Other fluid mechanics characteristics, such as pressure drops, regurgitation volumes, or turbulence, can also be approximated using computational tools, which is another important driver of the heart valve repair and replacement business. Furthermore, the availability of computational tools allows for accurate valvar disease detection, which leads to proper treatment, boosting the prosthetic heart valve repair and replacement industry.
The necessity for transcatheter aortic valve replacement (TAVR) surgeries has grown as the prevalence of valvular heart disease has increased, thus propelling the market for prosthetic heart valve devices and equipment. Aortic stenosis is a valvular heart condition that affects the heart's aortic valve. TAVR is a minimally invasive surgical method used to treat it. Aortic stenosis causes the aortic valve to stiffen, preventing blood from flowing normally through it. A transcatheter valve is utilized to replace the damaged aortic valve. Volumes have increased every year, according to a research from The Society of Thoracic Surgeons (STS)/American College of Cardiology (ACC) TVT Registry. For the first time in 2019, TAVR passed all kinds of surgical aortic valve replacement (SAVR). According to the FDA's approval of TAVR for low-risk patients, the yearly volume of TAVR is increasing every year, and in 2019, the total volume of TAVR (72,991) passed all kinds of SAVR (57,626). As the incidence of valvular heart disease rises, the number of TAVR procedures performed is likely to escalate as well, thus increasing the demand for transcatheter valves, which, in turn, is expected to drive the prosthetic heart valve market growth.
In response to the second wave of COVID-19, the prosthetic heart valves industry grew at a stagnant pace, owing to surge in prevalence of cardiovascular disorders among COVID patients. This eventually led to increase in use of various types of prosthetic heart valves, which are inserted using a minimally invasive surgery. Thus, overall COVID-19 had a minimal impact on the global prosthetic heart valve market.
The prosthetic heart valve market is segmented into and Product. On the basis of product, the market is segregated into mechanical heart valve, tissue heart valve, and transcatheter heart valve. The tissue heart valve segment is further bifurcated into stented tissue heart valve and stentless tissue heart valve. Region wise, it is analyzed across North America, Europe, Asia-Pacific, and LAMEA.
Segment Review
Prosthetic Heart Valve Market

---
By Product
Transcatheter heart valve segment holds a dominant position in 2021 and would continue to maintain the lead over the forecast period.
Get more information on this report :
Request Sample Pages
By product type, the transcather heart valve dominated the market in 2021, and is anticipated to continue this trend during the forecast period, owing to surge in cardiovascular disorders and surge in demand of cardiac valve replacement therapy.
Snapshot of prosthetic heart valve market, by region
Prosthetic Heart Valve Market

---
By Region
Asia Pacific is expected to experience growth at the highest rate, registering a CAGR of 13.1 % during the forecast period.
Get more information on this report :
Request Sample Pages
Among region, the North America captured major prosthetic heart valve market share, owing to rise in medical expertise,  new product launches,  and government regulations that provide an easy access to production & maintenance of cardiac valve devices. Moreover, rise in prevalence of lifestyle disorders such as diabetes and obesity acts as a major factor contributing toward the dominance of the region. Asia Pacific is expected to register higher CAGR during the prosthetic heart valve market forecast owing to increase in prevalence of cardiac disorders such as aortic stenosis, developing healthcare infrastructure in countries like China, India and constant focus of market players to invest in emerging markets. For instance, according to the data published by the Hope for Hearts, it is estimated that 1 in 8 geriatric people in Australia is suffering from aortic stenosis. Also, it was estimated that a minimum of 97,000 Australians above the age of 55 years are living with severe aortic stenosis (AS).
The key market players profiled in the report include Abbott Laboratories, Medtronic plc.,MERIL LIFESCIENCES, Boston Scientific Corporation, Micro Interventional Devices, Inc., Direct Flow medical, Inc., Edwards Lifesciences Corporation, LivaNova PLC., JenaValve Technology, Inc., and Cryolife, Inc.
Key Benefits For Stakeholders
This report provides a quantitative analysis of the market segments, current trends, estimations, and dynamics of the prosthetic heart valve market analysis from 2021 to 2031 to identify the prevailing prosthetic heart valve market opportunity.
The market research is offered along with information related to prosthetic heart valve industry, key drivers, restraints, and opportunities.
Porter's five forces analysis highlights the potency of buyers and suppliers to enable stakeholders make profit-oriented business decisions and strengthen their supplier-buyer network.
In-depth analysis of the prosthetic heart valve market segmentation assists to determine the prevailing market opportunities.
Major countries in each region are mapped according to their revenue contribution to the global market.
Market player positioning facilitates benchmarking and provides a clear understanding of the present position of the market players.
The report includes the analysis of the regional as well as global prosthetic heart valve market trends, key players, market segments, application areas, and market growth strategies.
 Prosthetic Heart Valve Market Report Highlights
Aspects
Details
By Product

Mechanical Heart Valve
Tissue Heart Valve

Stented Tissue Heart Valve
Stentless Tissue Heart Valve

Transcatheter Heart Valve

By Region

North America (U.S., Canada, Mexico)
Europe (Germany, France, U.K., Italy, Spain, Rest of Europe)
Asia-Pacific (Japan, China, Australia, India, South Korea, Rest of Asia-Pacific)
LAMEA (Brazil, Saudi Arabia, South Africa, Rest of LAMEA)

Key Market Players
Medtronic, Abbott, Boston Scientific Corporation, Direct Flow medical, Inc., CryoLife, Inc., LivaNova PLC., MERIL LIFESCIENCES, JenaValve Technology, Inc., Micro Interventional Devices, Inc., Edwards Lifesciences Corporation