Prosthetics Market Outlook - 2027
Prosthetics refers to an artificial substitute or replacement of a part of the body such as a tooth, eye, facial bone, hip, knee or another joint, the leg, an arm, etc. Prostheses are intended to restore the normal functions of the missing body part. They can be created by hand or with the use of technology with the help of computer-aided design (CAD), a software interface that helps creators design and analyze the creation with computer-generated 2D and 3-D graphics as well as analysis and optimization tools. Advances in the technology of prosthetic components have improved the possibility of successfully fitting the geriatric amputee with prosthesis. Innovations in socket designs, lightweight components, improved suspensions, and stable knee design options contribute to improved prosthetic tolerance and better functional outcomes for elderly amputees. There are two types of prosthesis, the preparatory prosthesis includes basic components that are easily adjusted but is not finished cosmetically while definitive prosthesis is the finished product with all the appropriate components and cosmetic touches. A patient with fragile skin or sensitivity in the residual limb may benefit from soft insert materials, such as silicone, that are designed to dissipate shock and shear forces.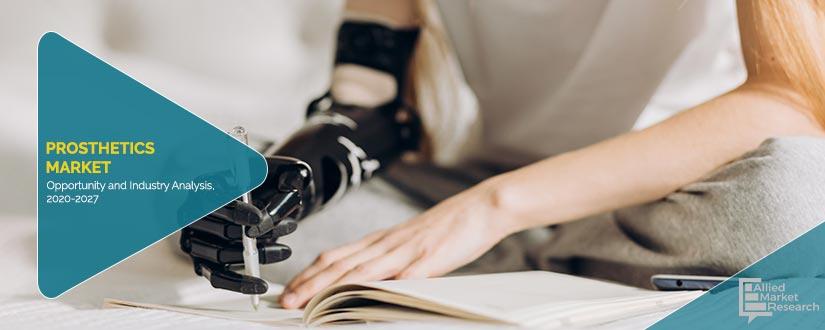 COVID-19 scenario analysis:
To take care of infected population, the demand for medical supplies is increasing. Respiratory support devices, such as atomizer, life-support machine, oxygen generator, and monitor, are among the majorly used medical devices in primary clinical treatment. Moreover, COVID-19 has led to a huge surge in demand for medical supplies, such as personal protective equipment, including masks, gloves, and protective eyeglasses. 
With rise in number of COVID-19 cases worldwide, the need for medical supplies keeps on rising both from healthcare professionals and civil population for precautionary measures. Manufacturers of these products have a chance to capitalize this increased demand for medical supplies to ensure adequate and continuous supply of personal protective equipment in the market. 
This pandemic has affected the manufacturing and availability of essential medical devices, such as braces & support products, prosthetics, and others, as majority of healthcare, pharmaceutical, and biotechnology organizations have concentrated on diagnostics kits, safety wearables (PPE kits, face shields, masks), treatment therapies, and medication against the novel coronavirus. 
Top impacting factors: Market scenario analysis, trends, drivers, and impact analysis
There is immense increase in injuries related to lower and upper extremities. According to US Department of Health and Human Services, around 8.7 million sports and recreation injuries were reported in 2018 in the U.S. and out of these, 72% were injuries related to lower and upper extremities. Moreover, injuries are increasing at a rapid rate and are a major factor for the growth of the prosthetics market. In addition, incidences of osteosarcoma are also increasing the demand for prosthetics products. A report published by the National Cancer Institute estimated around 3,450 new cases of bone and joint cancer in 2018, resulting in 1,590 deaths globally. With increase in deaths due to bone and joint cancer, people are becoming more reliable on prosthetics product, which is expected to surely lead to the growth of the market. Innovation, acceptance, and awareness about advantages of prosthetics products are the driving factors of the prosthetics market. 
Top advancements in prosthetics
Bionic arms are the state-of-the-art prostheses, which use muscle sensors connected to the skin, allowing the user to operate the limb effectively by utilizing electricity and robotics to create movement. 
Nerve detectors are similar to bionic limbs. They control the prosthetic, utilizing the user's mind to think they are actually moving the limb. The technology behind it operates via spinal motor neurons, instead of just muscle such as bionic arm. This allows more commands to be detected by the sensors, permitting the prosthetic to move more freely rather than be limited to a smaller amount of movements.
With the advancement in 2D and 3D printing, some countries, such as Sudan, where children are injured by firearms, landmines, and rival groups, the 3D printed prosthetic limbs provide children and teenagers with a chance to gain some normality back. As technology improves, the sophistication of these 3D-printed limbs is expected to further increase. 
New products that boost the market
Restoring leg length, joint stability, and range of motion involves distinct surgical challenges. The Zimmer M/L Taper Hip Prosthesis with Kinectiv Technology is a product of Zimmer Biomet that introduces a system of modular stem and neck components designed to help the surgeon restore the hip joint center intraoperatively by addressing leg length, offset, and version independently. The resulting array of neck options efficiently targets a broad range of male and female patient anatomies. Furthermore, many prosthetics products are available in the market and more innovations are being introduced to expand the prosthetics market. 
Key benefits of the report:
This study presents the analytical depiction of the market along with the current trends and future estimations to determine the imminent investment pockets.
The report presents information related to key drivers, restraints, and opportunities along with detailed analysis of the prosthetics market share.
The current market is quantitatively analyzed from 2020 to 2027 to highlight the prosthetics market growth scenario.
Porter's five forces analysis illustrates the potency of buyers & suppliers in the market. 
The report provides a detailed analysis based on competitive intensity and how the competition will take shape in coming years. 
Questions answered in the prosthetics market research report:
Which are the leading market players active in the market?
What are the current trends that will influence the market in the next few years?
What are the driving factors, restraints, and opportunities of the market?
What are the projections for the future that would help in taking further strategic steps?
 Key Market Segments
Segments
Sub-segments
By Type

Preparative Prosthetics
Definitive Prosthetics

By Design

Exoskeletal Design
Endoskeletal Design

By Products

Upper Extremity Prosthetics
Lower Extremity Prosthetics
Liners
Sockets
Modular Components
Others

By End Users

Prosthetics Centers
Hospitals
Others

By Region

North America
Europe

Germany
UK
France
rest of Europe

Asia-Pacific

China
Japan
India
rest of Asia-Pacific

Latin America

Brazil
Mexico
rest of LATAM

the Middle East
Africa
 
Key Market Players
Zimmer Biomet Inc.
Blatchford Ltd
Bock Healthcare GmbH
DePuy Synthes
Fillauer LLC
Ohio Willow Wood Co.
Smith and Nephew PLC
Stryker Corporation
Touch Bionics Inc.