Protein Labeling Market Overview:
The protein labeling industry is valued at $2,002 million in 2015 and is estimated to reach $5,350 million by 2022, growing at a significant CAGR of 14.9% during the forecast period.
Proteins are the largest and most important biomolecules in a living organism, as they are vital to the functioning of an organism. Once they are formed within a cell, proteins interact with other biomolecules and carry out roles to keep the cell alive. Therefore, more importance is given to research the protein binding mechanism through specialized fields of studies, such as proteomics and protein chemistry. Most of these techniques focus on the ability to specifically tag proteins by creating genetic fusions, and thereby, imparting distinctive properties for selective protein visualization, manipulation, and entrapment within complex biochemical environments. Various strategies are used to carry out successful protein labeling.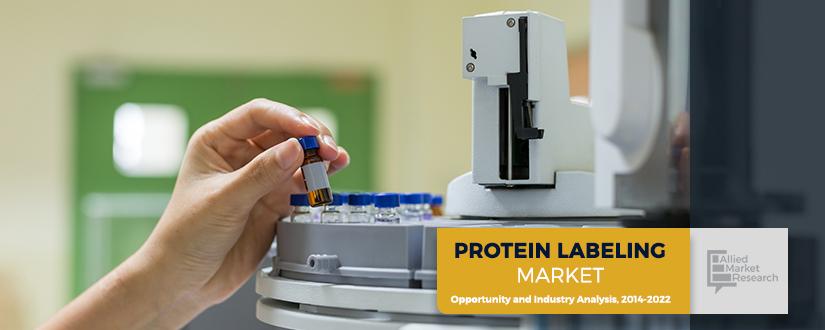 The report analyzes the protein labeling industry into four segments—labeling method, application, product type, and geography. By labeling method, the market is segmented into in vitro labeling, in vivo labeling, and bioorthogonal labeling. In vitro labeling is further segmented as nanoparticle labeling, site-specific labeling, dye-based labeling, co-translational labeling, and enzymatic labeling. On the other hand, in vivo labeling can be segmented as radioactive labeling, and photoreactive labeling. Based on application, the protein labeling market is mainly categorized into five segments—cell-based assays, fluorescence microscopy, mass spectrometry, immunological techniques, and protein microarray. Based on products, the protein labeling industry is segmented as, kits, reagents, and services. Reagents can be further segmented into enzymes, monoclonal antibodies, probes/tags, proteins, and other reagents. Based on end users, the market is segmented as research laboratories, hospitals, and diagnostic centers. Based on geography, the protein labeling market is categorized into North America, Europe, Asia-Pacific, andLAMEA.
GLOBAL PROTEIN LABELING MARKET SEGMENTATION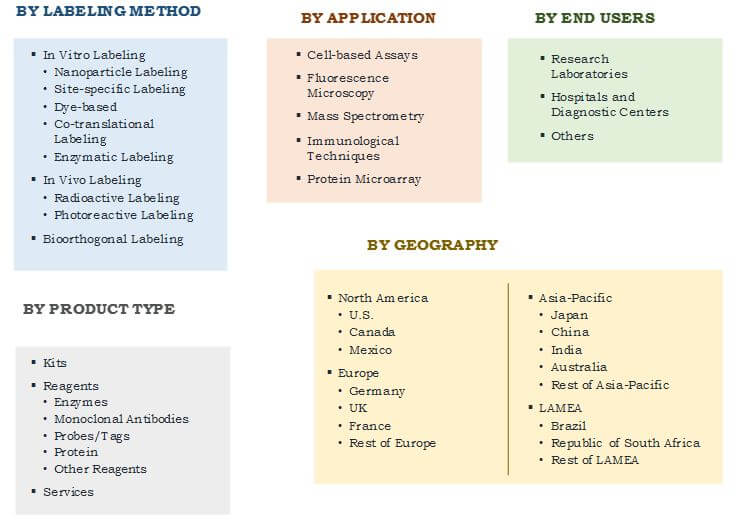 The protein labeling market is growing at a steady pace due to the increase in investments in the healthcare sector by government, thereby, fueling investments on R&D and proteomics research. Smaller companies enter the market with customized protein labeling kits, while the larger companies have focused on new product launch to customize according to the researchers' requirements. Moreover, the acquisition of individual and private firms has helped the key players to increase their product portfolio and R&D activities in this market. For instance, in January 2016, Merck acquired IOmet Pharma Ltd., a private drug discovery company based in Edinburgh, UK to expand its immune-oncology program.

Agreement is another key strategy adopted by the larger companies to enrich their product portfolio and establish themselves. Moreover, to resolve the issue of high cost and wastage associated with the protein labeling process, many new and improved products are introduced in the market. For instance, in June 2016, Roche launched a product called Cobas e 801 module, which was a high-volume testing immunoassay solution. It offers high flexibility and continuous operation, while saving time, and reducing the amount of waste generated.

The key players profiled in this report include General Electric Company, Kaneka Corporation, LI-COR, Inc., Merck & Co., Inc., New England Biolabs, Inc., PerkinElmer, Inc., Promega Corporation, F. Hoffmann-LA Roche AG, Seracare Life Sciences, Inc., and Thermo Fisher Scientific, Inc. There are other players in the protein labeling market, which include Qiagen N.V., Active Motif, Inc., Takara Bio USA, Inc., Candor Bioscience GMBH, Innova Biosciences Ltd., Luminex Corporation, Bio-Rad Laboratories, Agilent Technologies, Inc., Caprion Biosciences, Nanotemper Technologies GMBH, and Biotium, Inc.
PROTEIN LABELING MARKET REVENUE, BY GEOGRAPHY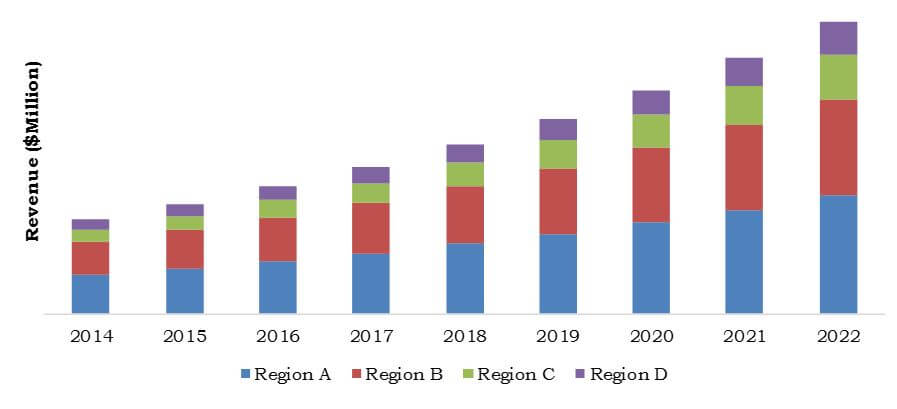 Asia-Pacific possesseshigh market potential for growth of protein labeling due to rise in demand for drug discovery and increase in focus on biotechnology industry. In addition, the increase in the use of proteomics has led to rapid developments in the market. The human proteome project by China is an attempt to decode the entire human genome to establish the basis of human physiology and pathology. Various government organizations and private companies, such as Celera genomics, and pharmaceutical and analytical instrumental companies have invested heavily in the human proteome project.
MEXICO PROTEIN LABELING MARKET, 2014–2022 ($MILLION)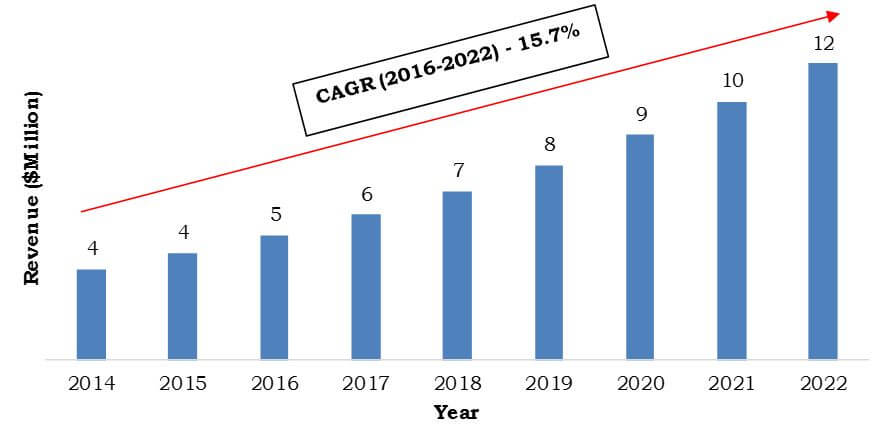 Mexico protein labeling market is projected to grow at a CAGR of 15.7% during the forecast period. Protein labeling research has achieved a boost in North America owing to the funding support provided by the government. For instance, in 2012, a scientist from Scripps Research Institute in California, U.S., received a grant of $1.5 million from the National Institutes of Health (NIH) to develop a new method for targeting RNA in genome. This new computer-based design method is anticipated to enable targeting the RNA in the human genome to discover new therapeutics.
KEY BENEFITS FOR STAKEHOLDERS
The report on protein labeling market provides an extensive analysis of the current trends and highlights the market potential from 2014 to 2022, in terms of value.
The market scenario of protein labeling industry is comprehensively analyzed with respect to the labeling methods, application, end users, and product type.
Extensive analysis of the patents is provided to determine the prevailing opportunities.
Recent developments, key manufacturers, and market shares are listed in this report to analyze the competitive scenario of the market.
In-depth analysis of the market based on geography gives an understanding of the regional market, which assists in strategic business planning.

GLOBAL PROTEIN LABELING MARKET KEY SEGMENTS
The global protein labeling market segmentation is explained below:
By Labeling Method
In Vitro Labeling

Nanoparticle Labeling
Site-Specific Labeling
Dye-Based Labeling
Co-Translational Labeling
Enzymatic Labeling

In Vivo Labeling

Radioactive Labeling
Photoreactive Labeling

Bioorthogonal Labeling
By Application
Cell-Based Assays
Fluorescence Microscopy
Mass Spectrometry
Immunological Techniques
Protein Microarray
By Product Type
Kits
Reagents

Enzymes
Monoclonal Antibodies
Probes/Tags
Protein
Other Reagents

Services
By End Users
Research Laboratories
Hospitals and Diagnostic Centers
Others
By Geography
North America
Europe

Germany
France
UK
Rest of Europe

Asia-Pacific

Japan
China
India
Australia
Rest of Asia-Pacific

LAMEA

Brazil
Republic of South Africa
Rest ofLAMEA