Protein Sequencing Market Outlook - 2026
The global protein sequencing market size was valued at $ 5,399.9 million in 2018 and is expected to reach $ 9,926.7 million by 2026, registering a CAGR of 7.8% from 2019 to 2026. Protein sequencing is a de novo sequencing method for determination and analysis of the amino acid sequence from the mass spectrum. The process enables researchers to obtain information about protein conformation. Protein sequencing has established itself as a high-throughput proteomic technique and has several applications. One of the prominent applications is in target-based drug discovery. A range of various computational methods and experimental methods, notably Edman degradation and mass spectrometry, are used for protein sequencing. Several biotechnology and pharmaceutical companies are making sizeable investments on utilizing protein sequencing in drug development. Further, innovative developments in high-throughput technologies has allowed rapid and parallel sequencing of proteins. High-resolution sequencing of even small amounts of protein can help in characterization of gene products and subcellular structures.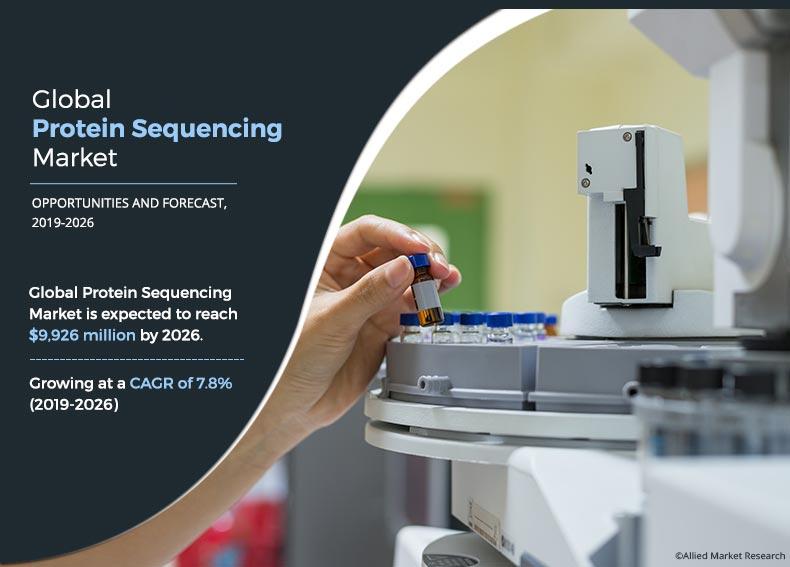 Increasing focus on target-based drug development activities by biotechnology and pharmaceutical companies in various developing and developed regions is a key factor driving the protein sequencing market. Recent advances in de novo peptide-sequencing methods and analytical methods, with the application of neural networks, have opened new avenues in the market. Technological advances in mass spectrometer is a case in point. In addition, progressions in nanopore sensors and single-molecule fluorescence devices is able to detect specific residues on a peptide. Rising funding on proteomics research in numerous developing and developed nations is a key factor boosting the market. Rise in demand for protein biomarkers in the drug development process is a key trend fueling the rapid expansion of the protein sequencing market. However, the uptake of protein sequencing method is restricted by the high cost of infrastructures and equipment, such as that of mass spectrometers. Further, monitoring peptide location and positioning is a crucial technical obstacle in the development of next-generation protein-sequencing modalities. The growing application of protein sequencing technique for identifying novel peptides in human antibodies and antigens is also boosting the protein sequencing market. Furthermore, the paucity of adequate technological expertise and laboratory infrastructures in some parts of the world are factors that hinder the market to realize its full potential. Nevertheless, technological advancements for the identification of isobaric residues in protein sequences are expected to unlock vast potential prospects in the global protein sequencing market.
Global Protein Sequencing Market Segmentation
The protein sequencing market is segmented based on product & service, technology, application, end user, and region. Based on products and services, the market is divided into reagents and consumables, instruments, analysis product, protein sequencing services. In addition, the instrument segment is further bifurcated into Edman degradation and mass spectrometry. Based on technology, the market is categorized into mass spectrometry and Edman degradation. Based on application, the market is bifurcated into academia research, biopharmaceuticals and biotechnology research. Region wise, the market has been analyzed across North America, Europe, Asia-Pacific, and LAMEA.
Technology segment review
By technology, the Edman degradation segment accounted for 58% of the total market share in 2018 and is expected to exhibit a prominent growth rate in the near future, owing to its wide usage for protein sequencing. Further, the Edman degradation is the most significant technique in protein sequence analysis. It includes stepwise degradation of peptides with phenyl isothiocyanate, starting at the N-terminus of the polypeptide. However, the mass spectrometry market is anticipated to grow at the fastest growth rate during the forecast period. This is attributed to the increased usage of mass spectrometry technique for fast, rapid, and long chain protein sequencing.
Protein Sequencing Market

---
By Technology
Mass spectrometry is projected as one of the most lucrative segments.
Application segment review
Based on protein sequencing market analysis, by application, the biopharmaceuticals segment dominated the protein sequencings market in 2018 and is anticipated to maintain its dominance during the forecast period. This is attributed to the increased usage of protein sequencing in development of novel biotherapeutics. Further, the classification of biologic drugs by protein digestion to their component peptides is essential to ensure a full sequence coverage of the biopharmaceutical molecule.
North America is the leading revenue contributor to the global protein sequencing market, owing to technological advancements in sequencing platforms and increase in applications of protein sequencing in this region. Europe has the second largest share in the global market. Increase in demand for protein sequencing along with surging awareness are the key factors that are expected to fuel the growth of the protein sequencing market in Europe region.
Protein Sequencing Market

---
By Application
Protein Sequencing Services segment is projected as one of the most lucrative segments.
Comprehensive competitive analysis and profiles of major market players such as Bioinformatics Solutions Inc., Charles River Laboratories, Agilent Technologies, Inc., Proteome Factory, Rapid Novor Inc., Selvita, SGS, Shimadzu Corporation, Thermo Fisher Scientific Inc., and Waters Corporation are some of the key players in the global protein sequencing market are provided in this report
Protein Sequencing Market

---
By Region
Asia-Pacific region would exhibit the highest CAGR of 9.2% during 2019-2026.
Key Benefits for Protein Sequencing Market:
The protein sequencing market share and analysis is based on a comprehensive analysis of key developments in the protein sequencing industry.
The development strategies adopted by the key market players are enlisted to understand the competitive scenario of the global market.
The study provides an in-depth analysis of the market trends to elucidate the imminent investment pockets.
The global protein sequencing market trends are studied from 2018 to 2026.
Information about key drivers, restrains, and opportunities and their impact analysis on the market size is provided.
Porter's five forces analysis illustrates the potency of buyers and suppliers operating in the industry.
The quantitative analysis of the global protein sequencing market forecast from 2019 to 2026 is provided to determine the market potential.
 Protein Sequencing Market Report Highlights
Aspects
Details
BY PRODUCTS & SERVICES

Reagents & Consumables
Instruments

Edman Degradation
Mass Spectrometry

Analysis Product
Protein sequencing services

BY TECHNOLOGY

Mass Spectrometry
Edman Degradation

BY APPLICATION

Biopharmaceuticals
Biotechnology Research

BY REGION

North America (U.S, Canada, Mexico)
Europe (Germany, France, UK, Italy, Rest of Europe)
Asia-Pacific (Japan, China, Australia, South Korea, Rest of Asia-Pacific)
LAMEA (Brazil, Saudi Arabia, South Africa, Rest of LAMEA)

Key Market Players
CHARLES RIVER LABORATORIES, SHIMADZU Corp, Agilent Technologies (USA), Thermo Fischer Inc, Selvita (SA), Rapid novor, SGS (SA), Proteome Factory, Bioinformatics solution, Water Corporation